The LittleBird Family Pass Top Picks October Half Term & Halloween Celebrations Sorted
We've rounded up some great events, spooky experiences and fun filled activities to help you and your family stay entertained, inspired and active throughout the October Half Term and Halloween celebrations with the only problem, how to fit it all in! So get comfy, put the kettle on and get reading.
If you find our guide useful, please share Top Picks with your family and friends and sign up to the newsletter.
Brought to you by The LittleBird Family Pass – saving families money all year round. To find out how, click here
TOP PICKS OF THINGS TO DO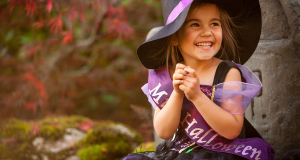 With a new Trick or Treat live show, creepy caves to explore, vile villagers of wildwood to avoid, Potion Creation Station, fun and games with Witch from Room on the Broom and more!
Tickets from £36 and includes full theme park and zoo entry. Find out more here
If you fancy picking your own pumpkin this Halloween, head to Tulleys' Farm. Whether you want to carve a ghoulish face, make a delicious pie or decorate your house with unusual gourds so there's an ideal pumpkin for everyone. There's a total of 20 acres of pumpkins, producing around 150,000 pumpkins.
Tickets vary between £4 to £7 depending when you go and you'll need to book a time slot plus you can pick your own pumpkin at night!
To find out more and book your slot, click here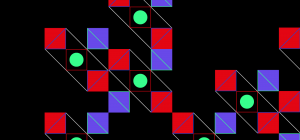 Experience the sights, sounds, tastes and smells of the Festival of Light, and enjoy a range of free live music and performances, family activities, art displays and more. As the Sun sets, join in an atmospheric light parade through Greenwich.
A free event, find out more here
LittleBird Top Tip: And to find out what's going on throughout the Half Term at Royal Museums Greenwich, click here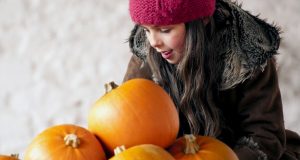 Enjoy some terror-ific Halloween adventures with the National Trust this half term. With Halloween trails, spooky storytelling and pumpkin craving on offer at various places, all you have to do is decide which spook-tastic event you fancy.
To find a Halloween event near you, click here
Day tickets; Adult, £13.00, Child £6.50 Family £32.50 or find out about an annual membership, click here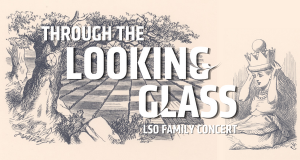 Venture through the looking glass this half-term with the London Symphony Orchestra for Paul Rissmann's brand-new interactive concert.
Meet some of Lewis Carroll's most colourful characters and enjoy music from John Williams.
Join in the musical fun by playing or singing along to the audience participation piece and don't miss the free music, singing and craft activities before the concert from 12.30pm.
Aimed at ages 7- to 12 and tickets start at £5 for under 18s & £10 for adults. To find out more and to book your tickets, click here
From dusk until darkness, join a new spooky fun-filled trail for all the family. Watch out for flickering flames in a fiendish fire garden, daring fire artists and grinning pumpkins aglow. Wind your way through the illuminated haunted woods filled with creepy neon cobwebs, ghastly ghouls, wicked witches, larger-than life spiders and beastly bats. Enjoy a fiendishly good hot toddy or devilishly decadent hot chocolate.
Ticket; Adult £16.50, Child (age 3-16) £12 with family tickets (2 x adults and 2 x children) £54.
To find out more & to book tickets, click here

Celebrate Day of the Dead with all the family at Kew Gardens during October Half Term.
Immerse yourself in the vibrancy of Mexican culture with a whole day of fun, family activities, from dress-up stations, carnival dance workshops, parades, through to unique art installations in the Temperate House that bring Mexico to life. Remember to keep your eyes peeled for the slumber of jungle sloths!
Book tickets here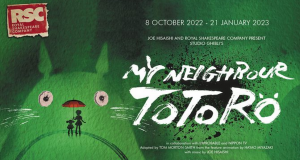 A global premiere as Joe Hisaishi and the RSC bring Studio Ghibli's enchanting classic coming-of-age film to the stage.
Exploring the magical fantasy world of childhood and the transformative power of imagination, My Neighbour Totoro follows one extraordinary summer in the lives of sisters Satsuki and Mei as they are swept up in exciting adventures with their new neighbours – transported to a long-forgotten realm of spirits, sprites, and natural wonder.
Tickets from £10. Find out more here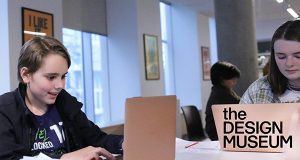 Calling all future designers, try your hand at one of these design camps including;
25th Oct: Autumn Robot Olympics – Learn how to use code to control electronics with BBC Micro:Bit.
26th Oct: Coding Your Own Adventure – Where you learn how to use the coding engine Twine to create your own story inspired by games.
27th Oct: Remake and Reuse – Aimed at ages 11 – 14, all workshops run from 10am to 4pm and cost £80 per young person.
To find out more & to book, click here
This newly opened immersive genre-defying exhibition will offer a once in a lifetime adventure through the cosmos to explore visions of the future through the science of today.
Guided by an artificial intelligence of alien origin, you will be placed at the heart of an exciting science fiction story. Board and explore a unique spaceship, scout an unknown planet, and investigate how scientists and science fiction creators have imagined and built new worlds to better understand our own.
Tickets: Adult £20, Ages 8+ £18, Under 7s Free. Find out more here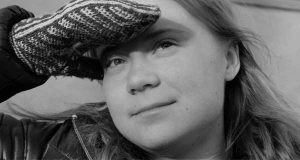 Now in its 15th edition the London Literature Festival unites readers of every age to celebrate the written and spoken word. With a mixture of in-person and online events, free and ticketed, there's something for everyone. Greta Thunberg closes the festival on 30th October launching The Climate Book and if you can't make it to the Southbank Centre, you can access the event online for free.
To find out more & to book tickets, click here
Craft your own broomstick using plant materials foraged at the Chelsea Physic Garden. Learn about the craft of broomstick-making from around the world, customise your broomstick to suit your personality, then enjoy a broomstick ride around the garden at the end of the workshop to learn about some of the plants in the garden.
Aimed at ages 4+. , Tickets, Adults: £15, Child: £10 (includes entry to the gardens)
To find out more & to book tickets, click here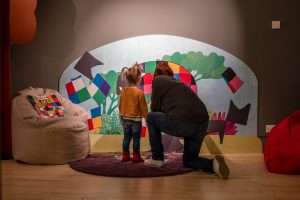 Step into David McKee's colourful world in this first ever major retrospective of illustrations and celebrate over 30 years of Elmer the Patchwork Elephant.
Visit Elmer's world, where you will be greeted by a big magnetic Elmer game and enjoy the ultimate Instagram moment. The adventure continues as you walk through Elmer's jungle, encountering characters and stories along the way. There will be original artwork from Not Now Bernard, Mr Benn and an original storyboard of King Rollo. Visit the fancy-dress costume shop featured in Mr Benn, with dressing up and reading areas.
Tickets; Adult: £5, Child £2.50. To find out more & to book tickets, click here
LittleBird Top Tip: And don't miss the Halloween Fair on Saturday 29th October with spooky magic, spectacular science, a fancy dress parade, rides, face painting, craft stalls and more.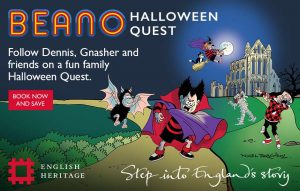 Follow Dennis, Gnasher and friends to solve creepy clues on fun family quests around the grounds of over 20 English Heritage sites.
As the days shorten and the evenings grow darker, you can also join our ghost-hunting storytellers on family-friendly walks through the shadows of our sites.
Ticket: Adult £14.20, Child (5-17) £8.50 but vary at locations and if you're a member, they are free. To find an event near you, go here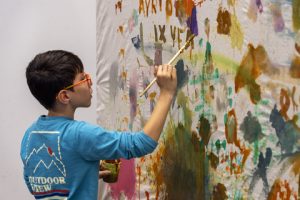 Taking inspiration from abstract artworks by Agnes Martin, Cy Twombly and Huguette Caland, Tate Modern invites you to get 'painterly' with them! Unleash your inner artist with water blasters, brushes, squeegees and even your own hands onto our giant canvases.  This one is messy, so Tate suggest you leave your white T-shirts at home!  
Free event, no booking required. The paint is water based and non-toxic.
To find out more, click here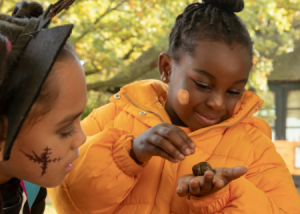 Take part in a host of free creepy-crawly Halloween-themed activities including guessing the gruesome contents of The Lookout's feely boxes, exploring an eerie nature trail and discovering fascinating facts along the way, listening to a spooky interactive story and learning about the brilliant bats in the Royal Parks.
Free to attend, find out more here
Join Art Hoppers at Rich Mix and experiment with colour mixing and lighting effects.
Experiment with anaglyph drawing by offsetting two colours of the same outline – you'll be amazed at how easily your image jumps to life when you look at it through 3D glasses.
Design your own garment with light sensitive paints which take on a dramatic effect under UV lighting. Finally, try your hand at light drawing! You'll have fun as you think big and draw big, moving your body to mark out the shapes with a hand held torch. We'll capture your image on a long exposure camera and email the results after the event!
The event is free but you will need to book a ticket. To find out more, click here
With UK wide events throughout October, find a Big Draw 2022 event near you, click here
This immersive experience from Layered Reality allows you to step back in time to 1605. The fuse of rebellion is lit. The peace of the nation balances on a knife edge. Who will you trust?
You won't just witness the action, you'll play an active role in one of the greatest stories in British history. Your mission: go undercover, infiltrate the plotters and become part of history's most daring conspiracy!.
Aimed at ages 10+, Tickets from £40
To find out more & to book your tickets, click here
LittleBird Top Tip: Save £10 when you buy 2 or more standard tickets for dates in October . Enter code BIRDY10 at checkout to claim your discount (not valid on Saturdays).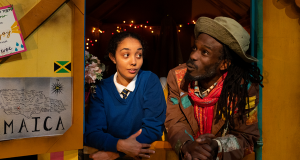 Celebrate Black History Month and join the intrepid characters in Grandad Anansi, an exciting collaboration showcasing the humorous and heartfelt intergenerational adventure between Abi and her Grandad. Featuring evocative live music, Grandad Anansi is an uplifting tale of love, courage and letting go.
Aimed at ages 4 -9. Tickets only £10.
To find out more & to book tickets, click here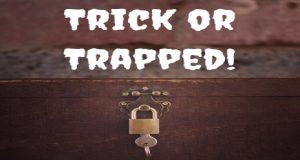 The mischievous Marley's Ghost has trapped Scrooge's heart deep inside a locked box! It's your mission to set his heart free and stop the miserable old man from being so heartless.In this escape room-style activity, you and the family will be taken on a series of ghostly challenges to solve a series of clues to uncover Scrooge's lost heart.
Plus, check out the newly opened Dickens, Ghost and the Supernatural exhibition that explores Dickens's famous ghost stories, including A Christmas Carol.
Trick-or-Trapped is aimed at ages 10+ Tickets: Adult £15 Child £10. To find out more & to book tickets, click here
LittleBird Top Tip: The museum is a short walk from Coram's Fields, a 7 acre playpark for kids that includes an adventure playground, paddling pool and sandpit. Explore here
As part of the autumn Family Day Make Your Mark, explore the theme of drawing, at this workshop led by artist and illustrator, Rachel McGivern. You'll find still life installations set up, alongside an array of materials and creative prompts. Invent your own rules or put other's suggestions to the test. Booking a ticket will guarantee you a space but the Royal Academy will accept walk-ins on the day.
Sessions for families Workshop; 11am — 1pm & 2pm – 4pm
To find out more, click here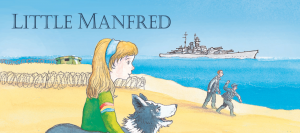 Based on the book by Sir Michael Morpurgo, it is the summer of 1966. Charley and her little brother Alex are walking their dog Manfred on the beach when they notice two older men staring out to sea. A chance encounter brings them together. Slowly, Charley and Alex learn of their mother's past, and of the friendships that can be formed in difficult circumstances.
The cast includes serving and veteran military personnel and their family members.
Aimed at ages 7 – 12. Tickets from £10. Find out more & to book tickets, click here
Frieze Sculpture returns to Regent's Park this year. Exhibited in an open-air setting, you can explore 19 outdoor works by internationally acclaimed artists including John Giorno, Ro Robertson and Ugo Rondinone. For the free audio tour by curator Clare Lilley (Director of Programme, Yorkshire Sculpture Park) and interactive map, click here
A free exhibition, find out more here
MCM returns to ExCeL for an epic three-day celebration of all things pop culture. Promising celebrity guests, panels, gaming as well as The Treehouse interactive family fun and shows all weekend and so much more. Fancy meeting your favourite stars from anime, film and TV? Of course you do! You can now book photo ops and autographs through MCM partners at Epic for guests at MCM London.
Tickets: Adults from £22, Kids 10 and Under go free
To find out more & to book tickets, click here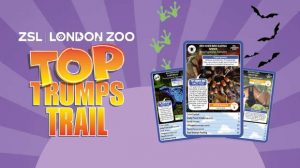 Grab a tournament card at the entrance, then head off around the Zoo in search of the most impressive residents and London Zoo's giant Halloween Top Trumps cards. Choose which animal you want to play and pick a category to see which animal species can eat the most, run the fastest or live the longest.
Play the ultimate game of Top Trumps while discovering spine-tingling, Halloween-related facts about London Zoos animals and warm up with marshmallow toasting – the perfect mid-tournament snack.
Tickets from: adult £26.50 and child £17.25. Pre-booking is essential. Find out more here
LittleBird Top Tip: And if you fancy heading to ZSL Whipsnade Zoo too, find out about Boo at the Zoo here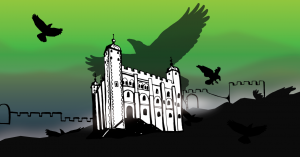 Follow in the footsteps of the Tower of London's infamous prisoners as you wander the Tower grounds at the spookiest time of the year. Immerse yourself in mystical projections and eerie sound effects designed to chill your bones. Listen carefully and you'll hear the whispers and mutterings of Walter Raleigh brewing deadly elixirs, or the menacing tales of George, Duke of Clarence and Everard Digby who spent their final days within these ancient walls.
Explore notorious sites such as Traitors' Gate, the Scaffold Site and the Bloody Tower, you'll come face to face with the roaming ghosts of the Tower's legendary inmates…
Tickets: Adult £29.90, Children £14.90
To find out more & to book tickets, click here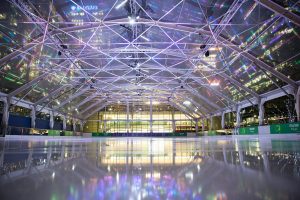 Canary Wharf's ice rink opens in time for half term and promises a magical winter experience with over 1,000 twinkling fairy lights. Plus, it's an ice rink with a roof so there's no chance of rain canceling this year's ice skating.
Tickets: Adult/Teen (over 13's only) £19.95 & Children (4 – 12 years) £14.95
To find out more & to book tickets, click here
LittleBird Top Tip: To find out what else is going on at Canary Wharf this half termand throughout October, click here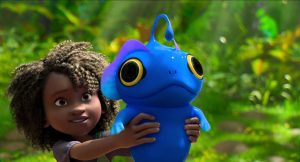 This year's Barbican's Family Film Week, dedicated to young film fans, celebrates the best new movies from all over the world alongside live introductions, free workshops and activities, flash film quizzes and more. This year's films feature adventure and discovery, so look out for some great new big screen innovators, imagineers, inventors and risk takers!
To find out more, click here
The exhibition promises to immerse you in scenes inspired by the beloved film. Board the ferry to Isla Nublar and walk across the massive Jurassic World gates. Walk under a majestic Brachiosaurus, come face-to-face with ferocious raptors, and get a rare up-close look at the most vicious dinosaur of them all, the Tyrannosaurus rex.
Aimed at all ages. Tickets from £15. Children under two years – free
To find out more & to book tickets, click here
LittleBird Top Tip: If the kids are dinosaur mad, Dippy, the nation's favourite dinosaur, is back at the Natural History Museum, but only until December so the holidays are the perfect time to go & say Hi! Find out more here
Swing, bounce and zoom from dusk and into the night. Thrill seekers are invited to become a creature of the forest with Go Ape's night-time adventures.
Tackle mega-high platforms in the darkness or feel the speed of a zip wire as the sun goes down. With minimal lighting, these sense heightening experiences really do add a new level of excitement into the mix.
To find your nearest location, click here
LittleBird Top Tip: To discover exclusive Go Ape savings, join the Family Pass. Find out more here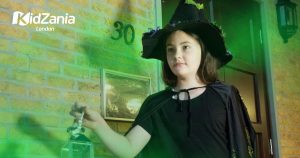 KidZania's Festival of Fright marks the arrival of Halloween with a celebration that is not to be missed this October half term! The Festival of Fright will see the mini-city for kids transformed into a spook-filled spectacular.
Kids can try their hand at new eerie activities and take a proactive role in investigating the city's paranormal happenings. Try the Halloween Dance, or join the ghoulish City Trail or Ghost bus tours. Why not visit the music studios to make a terrifying tune!
Tickets from £27 for kids and £16 for adults. To find out more & to book tickets, click here
LittleBird Top Tip: Save on your tickets with the LittleBird Family Pass. Sign up for £1, find out more here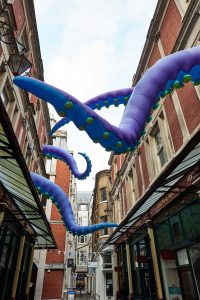 Leadenhall Market will hold their Halloween celebrations that will undoubtedly bring magic and monstrosity to all its visitors. This includes an exclusive pop up by Hoxton Street Monster Suppliers; a six metre tentacle creeping out of its Victorian windows; goulish products for witches and wizards of all ages to devour and a walking tour to discover the ghostly side of the market.
As the days draw in, Leadenhall Market's dark side will be revealed in the 'Burials, Bombs and Fantastic Beasts' walking tours, led by City of London guides. Taking place on Wednesday 5th, 12th, 19th and 26th from 6.30pm – 8pm. Suitable for all ages, tickets need to be booked in advance and are available at the subsidised price of £7 (plus fees).
Find out more here
Inspired by the hit ITV show, Ninja Warrior UK offers supervised activity and fitness venues throughout the UK. You can climb, balance, jump and swing across different obstacles using and developing your Ninja skills. A great place for supervised family activities and for keeping fit.
Aimed at ages 5+, tickets from £12
Find out more here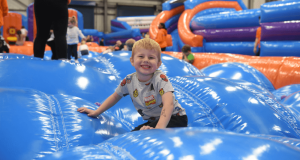 With tons of park activities on offer at all locations, Inflata Nation ticks everyone's box. There are Inflata Super Slides, quadruple obstacle courses, Inflata climingin walls, bumpy slides, tipping slides, ball pools, duel platforms, inflatable bubbles, and more! Plus, there's a mini inflatable area for the under 4's including a ball pool and soft play.
Tickets from; Ages 4 to 15 and Adults – £9.99, Under 4 – £5.99. Find out more here
LittleBird Top Tip: To discover exclusive Inflata Nation savings at the Manchester location, join the Family Pass. Find out more here
Head to the Science and Media Museum and experiment with spooky science, discover how special effects can bring weird and wonderful creatures to life and get hands-on with interactive activities for the whole family.
Find out more here
CINEMA RELEASES
A historical epic, starring the brilliant Viola Davis, inspired by true events that took place in The Kingdom of Dahomey, one of the most powerful states of Africa in the 18th and 19th centuries.
After 45 years, the most acclaimed, revered horror franchise in film history reaches its epic, terrifying conclusion as Laurie Strode faces off for the last time against the embodiment of evil, Michael Myers, in a final confrontation unlike any captured on-screen before. Only one of them will survive.
Based on the best-selling book series by Bernard Waber, Lyle, Lyle, Crocodile is a live-action / CGI musical comedy that brings this beloved character to a new, global audience.
Nearly 5,000 years after he was bestowed with the almighty powers of the ancient gods – and imprisoned just as quickly – Black Adam starring Dwayne Johnson and Viola Davis, is freed from his earthly tomb, ready to unleash his unique form of justice on the modern world.
Sleep all day. Party all night. Never grow old. Never die. It's fun to be a vampire! Re-watch this classic or introduce it to the next generation!
Looking ahead – Cinema Releases…
Black Panther: Wakanda Forever (11th Nov), Roald Dahl's Matilda The Musical HFSS (25th Nov), Avatar: The Way of Water (16th Dec)
ONLINE ANYTIME
English Heritage has some fun Halloween crafts to keep you entertained at home. To find out how to carve a Halloween Turnip and the history behind, head to YouTube here and if you'd rather create a Spooky lantern, click here or download their Halloween Mask activity inspired by mythical beasts here
High in the mountains lies a sleepy, peaceful mountain town. But recently rumours have been spreading about a monster that lives in the forest. Some say it's big and slimy, others say it's covered in flies and made of fire!
George, aged 8, doesn't believe in monsters. But one night, whilst tucked up in bed, he hears a howling from deep within the forest. George decides it's time to solve the mystery once and for all. The mystery of The Scaryglow!'
Watch it here
The online show is available for free, but if you're able to make a donation it would be much appreciated.
Let the kids get creative with an easy-to-follow recipe for a 'squashed' sandwich, or try their hand at Cubism with our step-by-step guide to creating a Picasso-style portrait. To access these online activities and more, click here.
To find out how you can get 6 free issues delivered to your door, click here
Whether you can visit Tate Modern this half term or not, discover the Top 5 Monsters in their collection here
MAKE THIS
Great fun to make, enjoy these savoury fearsome pies and let the kids decide if their pie pumpkin faces are scary or friendly.
Start baking here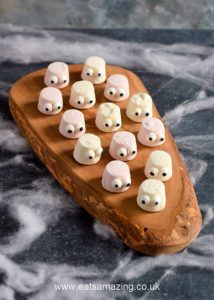 A quick and easy spooky party food or a great halloween activity at home from the brilliant Eats Amazing. All you need are some marshmallows, white chocolate and edible candy eyeballs. And if you're in need of some more spooky inspiration, click here
Get your marshmallow's at the ready here
Get messy with the Science Museum at home and create a substance called oobleck, which can behave like both a solid and a liquid, depending on how hard you hit it.
Get your aprons on and get stuck in here
LittleBird Top Tip: For more things to do at home inspired by Science Musuem's Wonderlab, click here for Wonderlab+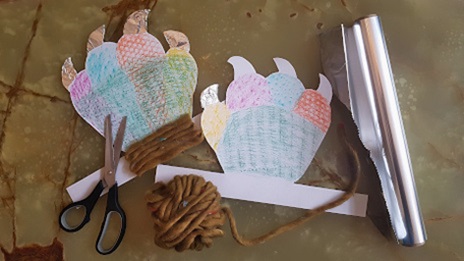 Have you ever wondered what it would be like to have big furry paws like a wild beast? Or perhaps scaly wings like a dragon?
If your Halloween costumes require paws with claws then look no further than this activity from The British Library. Become a magical creature with this simple and sensory craft activity. Make paws with claws inspired by the wonderful and magical characters found in children's books.
Create your claws here
READ THIS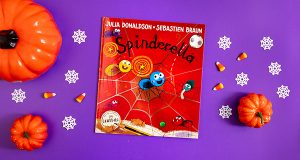 Spinderella the spider has a passion for football! She tries to play a match with her brothers and sisters, but she doesn't know how many spiders should be on each team. Even worse, she can't count the goals! Luckily for Spinderella, her Hairy Godmother has a plan..
Find out more here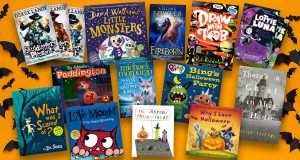 There's something for everyone here, from trick or treating with the Crayons from The Day the Crayons Quit and making a new friend in Lottie Luna, the werewolf with super-powers, to learning to draw all their Halloween favourites with Rob Biddulph and exploring the spine-tingling world of Skulduggery Pleasant. Plus you can save 30% on all orders.
Find out more here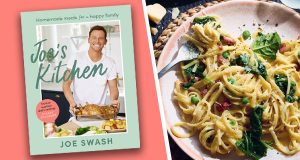 Joe's Kitchen is the debut family cookbook from King of the Jungle and MasterChef 2021 finalist, Joe Swash. Packed with 100 tasty, nutritious meals the whole family will love. Joe's simple recipes are guaranteed crowd-pleasers. Filled with personal anecdotes about his own family, this book is a joyful celebration of how food can help us reconnect with memories and forge new ones together. You can download a free recipe for his Carbonara here.
Find out more here
LittleBird Top Tip: Check out some of our great competitions and Win £100 worth of Halloween Books from Farshore, a £130 worth of books from Harper Collins and £200 to spend on groceries + a signed copy of Joe Swash's new book!
WATCH THIS
A teen is glum about moving to a small town until he falls for his new neighbor. But her dad is a horror writer whose scary world soon turns real.
When an overscheduled girl befriends an eccentric aviator, he regales her with tales about the adventures of an unusual boy who lives on an asteroid.Jeff Bridges and Rachel McAdaams voice.
There's no escaping the night. This Marvel Special Presentation stars Gael García Bernal and Laura Donnelly.
Rosaline offers a fresh and comedic twist on Shakespeare's classic love story Romeo & Juliet, told from the perspective of Juliet's cousin Rosaline, who also happens to be Romeo's recent love interest. Heartbroken when Romeo meets Juliet and begins to pursue her, Rosaline schemes to foil the famous romance and win back her guy.
LISTEN TO THIS
The most famous Ghost ship of all-time, the Mary Celeste — a ship which was found sailing completely unoccupied in 1890's. But rather than build more on the myth (which is really fun), we wonder why it is the most famous ghost ship in history — because it's a thing that's happened dozens of times. Spooky!
Andrew & Polly talk about my 4 year old's favorite song, 'Ghostbusters'. It was a blast to hear how the song came together, and I even learned about a new instrument! The theremin! Andrew & Polly's own podcast Ear Snacks just returned for season 2. Don't miss it.
Why do people believe in ghosts? And can science ever prove that they don't exist? We take a road trip with Dennis Waskul, a sociologist who traveled to graveyards and "haunted" houses to hear ghost stories from the people who lived there. He wanted to find out why 50% of Americans believe in ghosts. What he discovered might spook you — in a good way! (Note: This episode is NOT scary.)
DOWNLOAD THIS
If you are looking for something fun and festively Halloween for your kids to play, check out these fun and free Halloween apps for kids filled with spooky fun and learning.
If your child is learning how to spell and read, they can do it with this fun app! They can explore words with adorable monsters and watch silly videos.
Halloween wouldn't be the same without having plants fight off zombies. A kid (and adults) favorite app. One that is perfect for the Halloween season.
Solve puzzles, explore rich visuals in cool storybook.
LOOKING AHEAD TO CHRISTMAS
This year, you must book your tickets in advance to keep everyone safe. Immerse yourself in all things festive with Santa Land, ice skating, Zippos Circus, Christmas Markets, an ice slide and ice Sculpting, fairground rides, entertainment, food, drinks and so much more.
Entry is free during off peak periods with tickets £5 & £7.50 in peak period. Rides are an additional cost.
To find out more & book tickets, click here
The award-winning and visually spectacular lantern and light festival, Lightopia returns for 2002. Explore interactive exhibits, immersive light installations, and the magical illuminated trails. Each location promises a unique themed Christmas light trail for you to experience.
Tickets from £22.50 for adults, £14.50 for kids (may vary depending on location) To find out more & book your tickets, click here
LittleBird Top Tip: And why not enter our Lightopia competition to win a family ticket to Lightopia, London. Enter here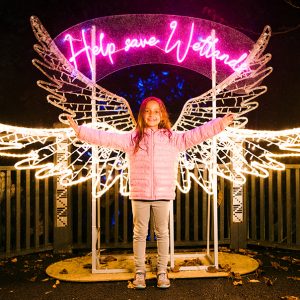 Explore WWT London after dark and get closer to nature as, guided by larger-than-life illuminated sculptures, you embark on a glowing animal adventure.
Tickets; Adults £18.50, Child £14.50, under 4's visit free. Running 4.30pm – 9.00pm
To find out more & to book tickets here
A train with a twist – adorned with hundreds of colourful lights and specially illuminated lineside displays, on board narration and music it promises a magical experience. With a specially designed show to highlight Epping Ognar Railway stations, rural setting and woodlands, that you can experience from the comfort of a train carriage.
Tickets are £20 per person inclusive of train travel.
To find out more, click here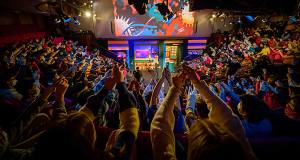 The world-famous Christmas Lectures are back and Professor Dame Sue Black will reveal the secrets of forensic science. Sue will explain why we shouldn't believe everything we see in our favourite TV crime dramas. She'll explore the huge leaps forward forensic science has made and will reveal how real life can be far stranger than fiction.
The lectures will be broadcast on BBC Four between Christmas and New Year and the audience is made up of young people aged 11-17. To find out how you can be in the audience for the live filming, click here
If you find our guide useful, please share Top Picks with your family and friends and sign up to the newsletter.
Brought to you by The LittleBird Family Pass – saving families money all year round. To find out how, click here