A Day out at ZSL London Zoo
LittleBird's Alex jumped at the opportunity to visit ZSL London Zoo with two little (lovable!) monkeys of her own to find out more about the good work of ZSL, the animals, the facilities and the fun factor of a day out at the zoo with the family!
Welcoming over 1 million visitors per year and thriving for almost 200 years, ZSL London Zoo covers almost 35 acres in the heart of London. Situated next to the leafy Regents Park, it is an oasis in our capital and home to over 19,000 living animals and a staggering 750 different species. As a working conservation charity, the Zoo is tirelessly working for wildlife around the world, to protect animals and their environment and encourage life-long learning for its' visitors. The intentions of zoos are often misunderstood but with 22% of species at the zoo listed as extinct, critically endangered, endangered or vulnerable, their vital work in the protection of animals is paramount to our future natural world.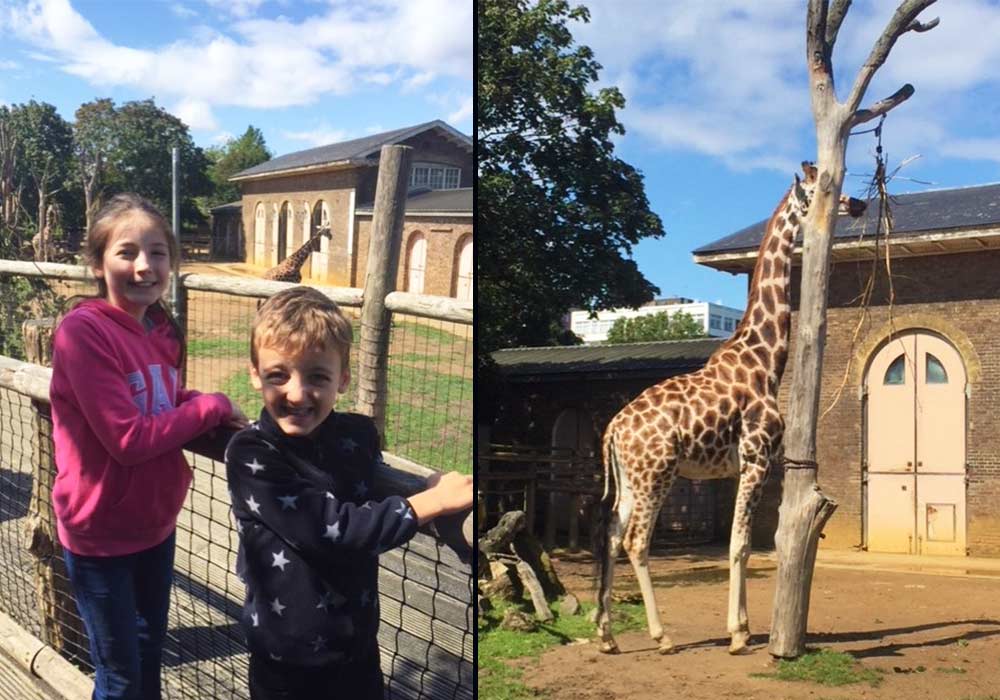 We literally saw it all! First we headed into Africa to see the Giraffes, Zebras, Okapis and Hippos, learning along the way that the giraffes are housed in the oldest zoo building in the world used for its original purposes and that zebras, who, with their different stripe patterns are as unique as fingerprints!  And I never knew Okapi could clean their own ears with their 35cm tongues, quite a feat!
Taking the long route via the tranquil woodland walk, we popped into the rainforest life area to be greeted with some impish monkeys (being closely watched by the zookeeper!) who came close enough to touch and we saw the new baby sloth, Elio, nestled with its parents too. A hit with our little ones who I compare them to regularly when getting ready for school….I am sure all parents everywhere will identify 😊.
Next we saw the Meerkats and Otters before heading to the Gorilla Kingdom to see the famous inhabitants followed by the Sumatran Tiger in its' Indonesian styled habitat aka Tiger Territory, the Camels, Gibbons, reptiles and the Outback with Wallabies and all things Antipodean.
Next the Land of the Lions, where we were lucky enough to see Bhanu, the resident Asian lion roar in greeting, the Monkey Maze, the vast Aquarium, Reptile House, Penguin Beach and the new and fabulous B.U.G.S house, home to any number of creepy crawlies. A highlight for the children was the spider walk, where you could walk through with large (!) arachnids overhead….the zoo keeper was very helpful and informative, keen to impart his knowledge but needless to say, I didn't stay in there long!!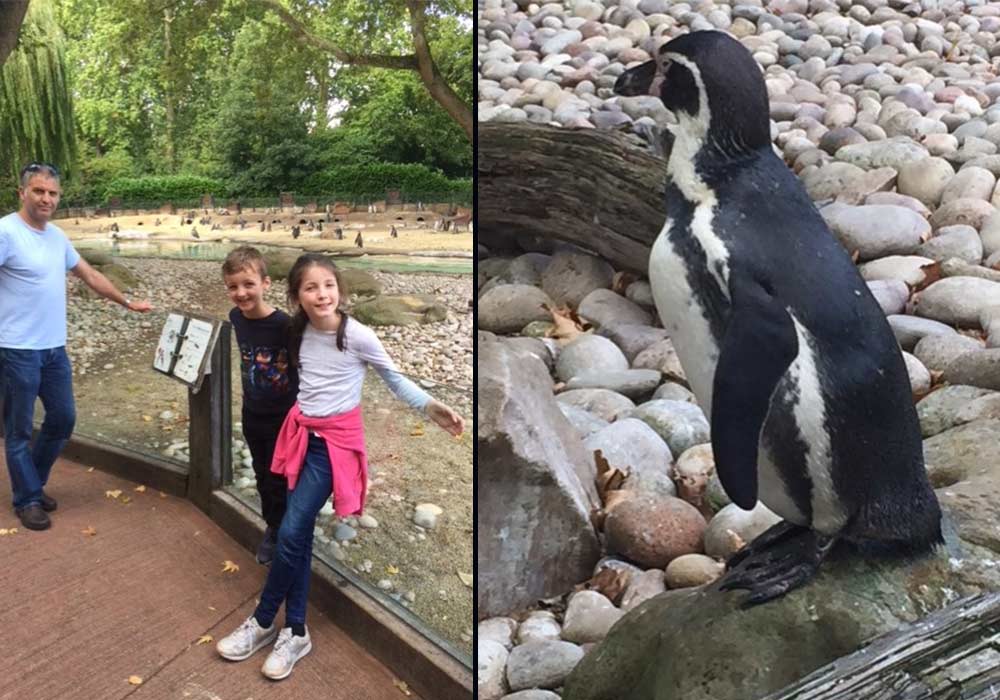 Wandering at our own pace through the zoo, we peppered our visit by taking advantage of the talks and demonstrations occurring every 15/30 minutes throughout the day. Well worth attending, they are an opportunity to learn more about the animals, see them being fed, how they are cared for, watch their super-skills and see them close-up. We loved seeing the penguin talk, seeing them guzzle their fish and swim underwater and also the Super Species Live! in which we saw the majestic Cerval and other friends up close.
I was really impressed with the fact files, interactive exhibits, games and challenges too for children along the way, there is genuinely so much to take in and much for adults to learn too. Everything was clearly signposted and although I was braced for the crowds on a Sunday in London at the zoo, it didn't feel at all busy. We encountered no queues, no jostling and it was wonderfully refreshing!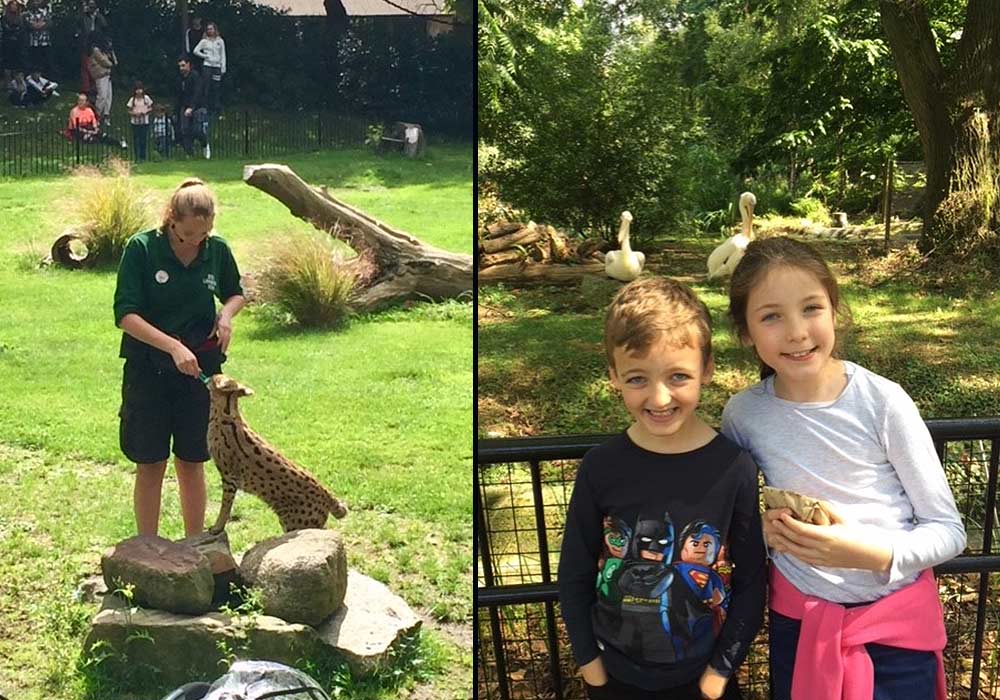 One key area for children is the new Animal Adventure and Farmyard areas, with animal petting and handling opportunities. With a brand new play area, water splash zone (including changing rooms!), a café, seating and so much for little ones to enjoy, it is the perfect refuelling area for parents whilst children let off some steam and explore!
There are also additional opportunities to "Be a Zookeeper" for the day, stay overnight in one of the ZSL London Zoo Lodges (right next to the lions!), "Meet the Animal" experiences, take part in a "Bedbugs" Sleepover, do a photography workshop and even a programme to overcome your fear of spiders! With our 8 year old daughter's GAP year (!) now sorted (she wants to be a zoo-keeper for a year) and our 6 year old son's summer job to stay-over with the bugs (he may have to take Daddy on that one!) we feel that they have been truly inspired by their day out and in their appreciation of all living species.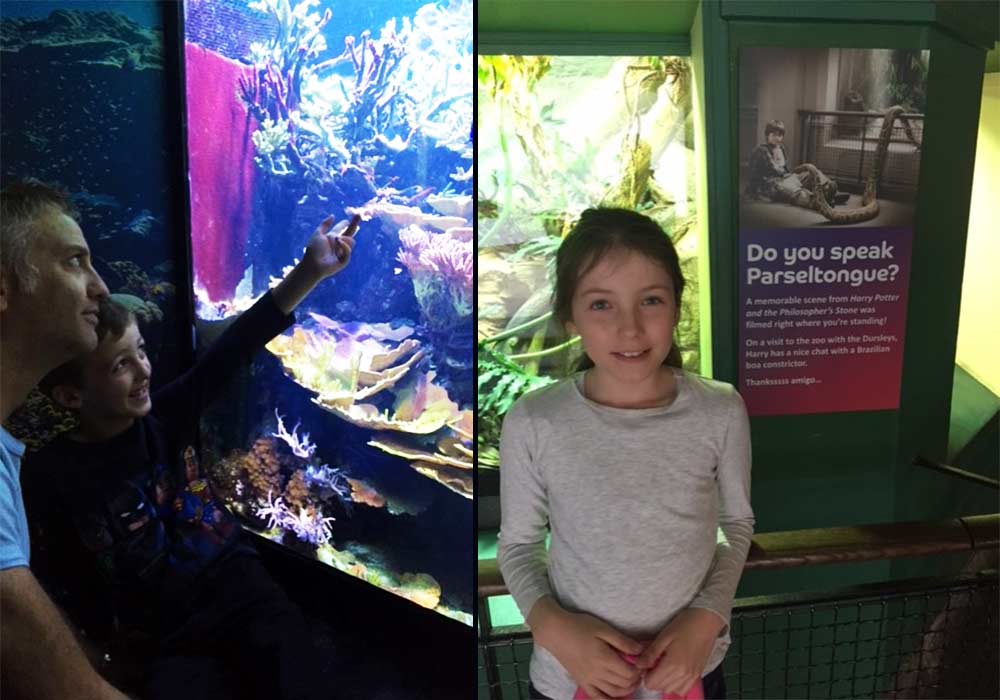 Thank you ZSL London Zoo for just a fabulous day out, I would highly recommend a visit for any family not only to see the animals and enjoy the whole experience but to educate, inspire and empower young people to continue any efforts in the conservation and protection of our incredible wildlife and environment for future generations.
Harry Potter fans will be able to spot the exact spot Harry talks Parseltongue to the snake in the famous movie too!
PPS. Don't miss the bin at the exit to recycle any unwanted leaflets too!
Save money on ZSL London Zoo
Have a LittleBird Family Pass? Don't forget you can save on Entry Tickets with the Family Pass here.
Don't have a Family Pass and you want to save on entry too? Start your trial today, and enjoy all the benefits of the Family Pass for just £1 for 30 days here