A Family Day Out at Shrek's Adventure
Once upon a time, there was an ordinary family of four who were invited to meet the legendary Shrek in a kingdom far, far away……here's what Alex and her family thought of Shrek's Adventure London and their fairytale day.
It is not every day you are invited to hop on board a bus to meet an illustrious ogre in his homeland, none-the-less a fairytale kingdom far, far away. But, as we are believers, we jumped at the opportunity and arrived at Shrek's Adventure London to embark on our epic journey. Ticketed, relieved of our coats and bags (no need for them in fairytales…), we were ready.
Greeted by our uber usher, we were whisked to meet the beautiful Princess Fiona to summon our bus to the magical land through the power of song. Vocal challenge completed (with a touch of dancing!) and replete with glasses, we took to the skies in a mind-blowing 4D adventure accompanied by Toothless, Hiccup, Kung Fu Panda and a coven of wily witches. But shock horror, the bus crashes, we squash Rumpelstiltskin's favourite witch, land in a swamp and have to escape the clutches of Rumpelstiltskin, find Shrek and most importantly ultimately find our way back home!
And, so, adventure followed. We were whisked to meet the captivating Cinderella, followed by the fallible but fantastic fortune teller and the Divine Doris in the Poison Apple Pub with a little help from the infamous Puss In Boots. We rescued a petrified Pinocchio from a grizzly game-show end, tackled the mesmerizing mirror maze, met a somnolent and bewitching Sleeping Beauty, helped make a sizzling potion under the watchful eye of the Gingerbread Man and escaped capture (and rats!) from the hands of Rumpelstiltskin courtesy of Agnes and Shrek himself. But how did we escape the clutches of Rumpelstiltskin and leave far, far away and get back to earth?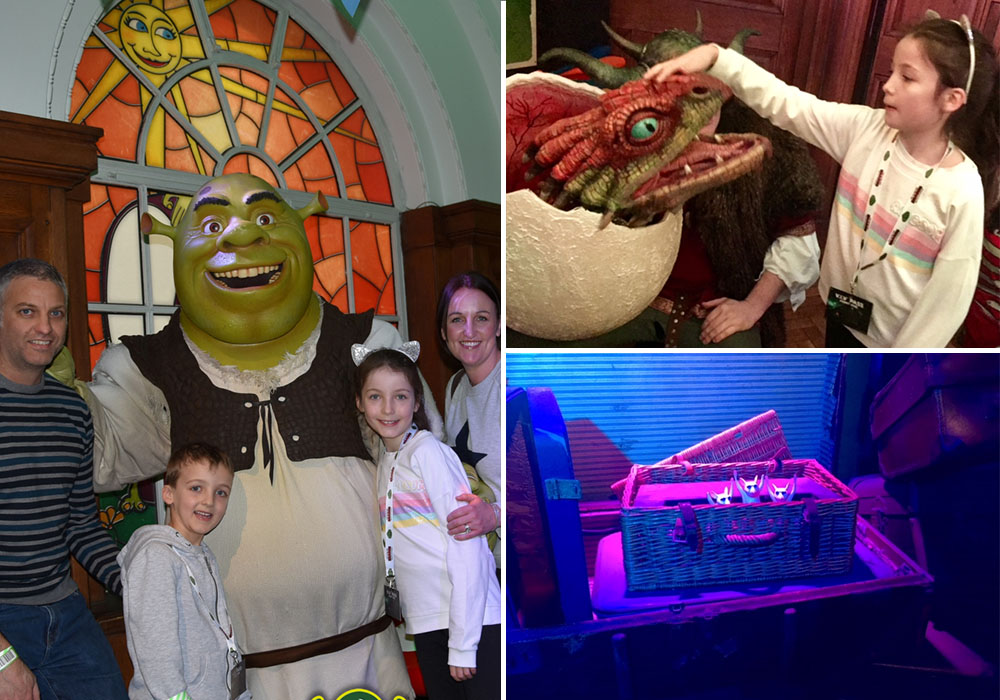 Shrek's Adventure really was that. With something unexpected around each corner, you are emerged in the fantasy-tales that has you questioning reality – talking donkeys, melting witches, eye-phones, magic transport, Princesses cleaning swamps? Yes, and in abundance. In this ogre-sized experience you can expect hilarious audience participation (Dad's watch out!), a clever plotline, quite brilliant acting by the various fairytale characters and a senses overload with a large dollop of humour for both adults and children to boot.
The attention to detail was incredible and everything was very cleverly brought to life, the children adored it all and were entranced by the magic of the story and the characters they met on the tour. As an interactive walk through adventure, the children were eager to go from room to room, tugging our sleeves to find the ingredients for our magic portal spell.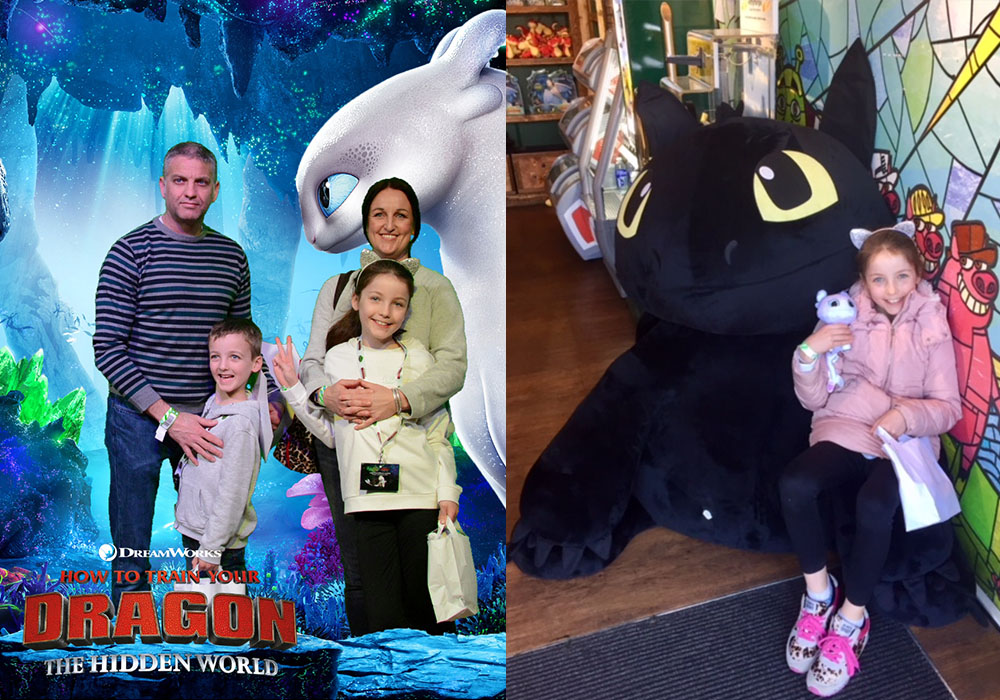 Back to earth with a bump, we then had the opportunity to meet Shrek for a photo opportunity and take a journey through Madagascar to get up to mischief with Marty, Gloria and the pesky penguins and a visit to The Valley of Peace to test your wits against the legendary Kung Fu Panda and pals. New for 2019 is also the incredible Toothless, Hiccup and the Light Fury feature – a highlight of our children's day (they think they are Vikings…) before we bade farewell to our fairytale adventure and headed home (watch out for the surprise in the lift!).
Thank you Shrek's Adventure team for a Shrektacular day out! All the team were so welcoming, in character and really made the event special for all of us. See you again in a Far, Far Away Land!