What's On This Weekend? February 14th – 15th
FUN & FANTASTIC THINGS TO DO WITH THE KIDS IN LONDON THIS WEEKEND
SATURDAY 14TH & SUNDAY 15TH FEBRUARY
IMAGINE FESTIVAL AT THE SOUTHBANK CENTRE
*THIS WEEKEND AND THROUGHOUT HALF TERM*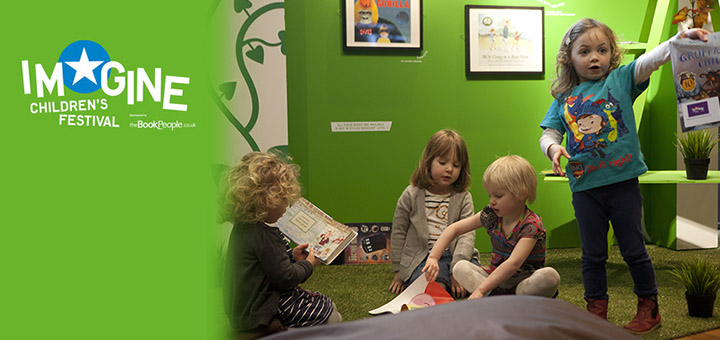 The Southbank Centre have done it again curating a fantastical festival for all the family celebrating children's theatre and literature.  The Imagine Festival opened this week on Monday 9th February and runs through to the 22nd offering a cornucopia of theatre, storytelling, art, dance and of course marvellous music for all the family; some events are ticketed, some are free with lots offering plenty of interactive fun through workshops and an array of free activities throughout.
Highlights include performances of Charlie and Lola's BestBestest Play, The Princess and the Pea and the London premiere of Brundibár, alongside authors Russell Brand, Judith Kerr and Anthony Horowitz.
The Imagine Festival is also celebrating the wonderful world of Lewis Carroll's Alice in Wonderland, 2015 being the 150th anniversary since it's publication. Enjoy a dance adventure at the Imaginarium of Alice; dressing-up day, interactive installations and a game of Flamingo Croquet.
When: Saturday 14th to Sunday 22nd February
Where: Southbank Centre, SE1 8XX (various venues)
Age: Families
Cost: A mixture of free and ticketed events
LittleBird's Top Tip: A selection of Southbank Centre restaurants have offers and events for children during the Festival this year. Kids under 10 eat free at Skylon, there's a free babyccino with every kids-size scone at Le Pain Quotidien and kids eat for free at Las Iguanas.

LONDON CHILDREN'S BOOK SWAP AT JACKSON'S LANE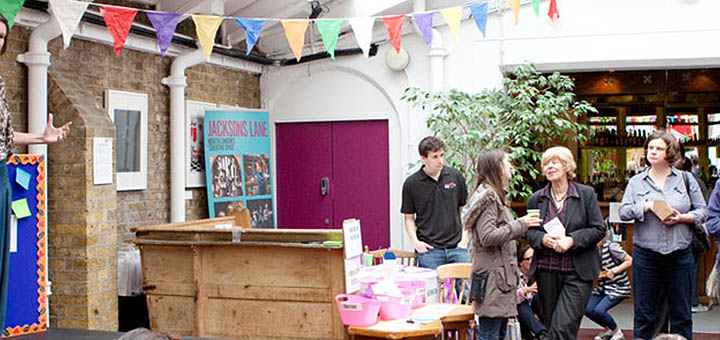 As part of the London Children's Book Swap Jackson Lane will be offering free storytelling sessions in the foyer. Listen to writer Lissa Evans read from popular children's books, including Small Change for Stuart and Big Change for Stuart.
New writer Celia Purcell will read from her young teenage novel Jonathan's Leap about a young boy dancer's struggles and final route to stardom.
Also being read on the day will be Snail and the Whale, part of Jacksons Lane family theatre season with Tall Stories.
Take your old books and swap them for favourite children's stories from their book swap shelves in the foyer all week.
When: Saturday 14th February, 10am – 12pm
Where: Jackson's Lane, N6 5AA
Age: Families
Cost: Free
LittleBird's Top Tip: There are 38 top family friendly arts and cultural venues across 17 London boroughs taking part in the this years London Children's Book Swap including the Southbank Centre, William Morris Gallery, Greenwich Heritage Centre and Discover.
SMASHFEST UK AT DEPTFORD LOUNGE
*THIS WEEKEND AND THROUGHOUT HALF TERM*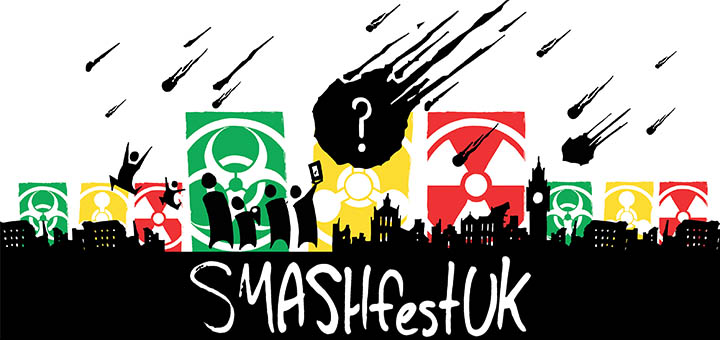 Smashfest UK  is an innovative, exciting, and unique new festival for all the family offering a glorious mash up of entertainment through workshops, theatre shows, music and comedy performances and lots to see and do.
This Saturday, you can visit Deptford Lounge and immerse yourselves in Impact Exhibit  Using spectacular images, film and exhibits, explore how asteroids and comets have shaped our solar system, and what we can learn from them. You can also take part in Survival Supermarket Sweep. Imagine you have just 30 seconds to gather everything that you need to take into your Survival Shelter to escape the Moment of Impact. In an apocalyptic mini-market, that's exactly the situation you'll find yourself in. Grab a basket, the countdown clock will begin and you need to make decisions FAST about what your survival strategy will be!
When: Saturday 14th February, drop in all day – festival runs throughout half term
Where: Deptford Lounge, SE8 4RJ
Age: Families
Cost: Free
LittleBird Top Tip: If you can't go this Saturday, there are an array of events and shows taking place during half term with the festival running until 22nd February.  Taking place at Deptford Lounge and at The Albany,  there are a mixture of free and ticketed events.
WILD CLUB AT SPITALFIELDS CITY FARM PLUS POTATO DAY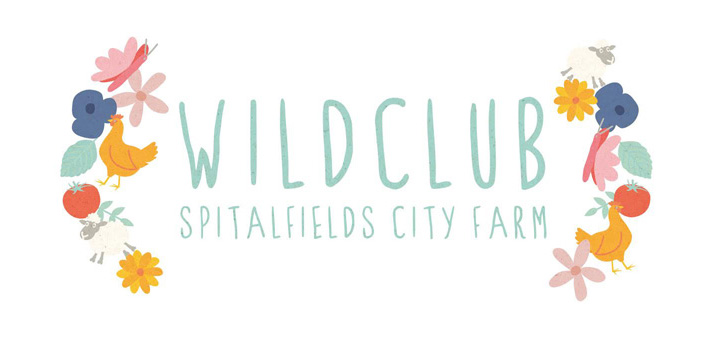 Let the kids enjoy nature themed activities this Saturday at Spitalfields City Farm's Wild Club. The Wild Club offers the opportunity to learn environment crafts, enjoy outside play and be inspired by nature. There are sessions in the morning and the afternoon depending on the age of your kiddies.
Saturday 14th February also happens to be Potato Day! Enjoy potato themed activities for the family, delicious spud snacks plus free expert food growing advice – it's happening between 12pm – 3pm. Love a spud!
When: Saturday 14th February 10:30am – 12pm for ages 4 – 7 (Parents to stay on the farm) 1.30pm – 3pm for ages 8 – 12. Love a spud activities take place between 12pm – 3pm
Where: Spitalfields City Farm, E1 5AR
Age: Two sessions, morning and afternoon,  catering for 4 – 7 year olds and 8 – 12 year olds. Potato Day activities are for everyone
Cost: Free but booking required for the Wild Club
LittleBird's Top Tip: Spitalfields Market is a stone's throw away from the farm and is a must if you have time. Groovy stalls and yummy eats await!
PLANTASTIC AT THE HORNIMAN MUSEUM
*THIS WEEKEND AND THROUGHOUT HALF  TERM*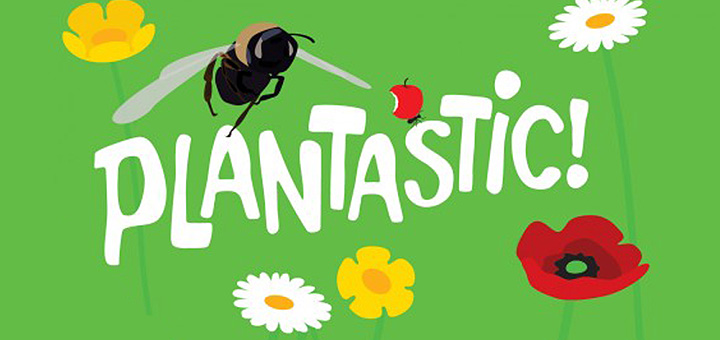 Ever wondered how a bee sees the world? How can a plant move when it's rooted in the ground? And why is dung so important?
Plantastic brings the miniature world of plants to life on a massive scale. From super seed pods and exploding cucumbers to sun-seeking flowers and a huge crawl-through root system, interactive exhibits and games will bring visitors up close to all kinds of fantastic plant life, to reveal how plants feed, move, reproduce and survive.
The exhibition explores how we use plants in our daily lives, and how essential they are for the world's survival.
When: opens 14th February at 12.30pm
Where: Horniman Museum, SE23 3PQ
Age: Families
Cost: Although entry to the museum is free, the Plantastic exhibition is ticketed – a family ticket costs £16.50
LittleBird Top Tip: The Horniman has an aquarium, a family ticket costs £7.50 or you can get a combined ticket to both Plantastic and the Aquarium for £22.
Make a day of it?
With the farmers market and free hands on family workshops plus their art makers sessions (£3 per ticket) taking place this Saturday 14th February – not to mention the cafe and gardens; you could quite easily spend the whole day here and why not?
VALENTINE'S DAY FUN: MAKE A LOVE BIRD PUPPET AT BATTERSEA CHILDREN'S ZOO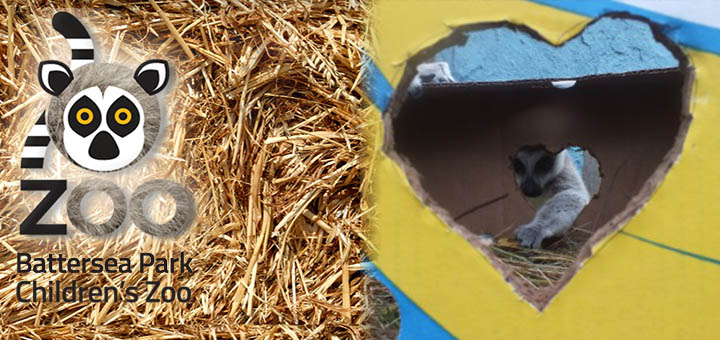 Did you buy your LittleBird promotion last week? This could be perfect day to enjoy your vouchers. Visit Battersea Children's Zoo and  join in the heart shaped fun & Lovebird puppet making…
At various animals' feeding times help the zookeepers to prepare their food in different heart shaped ways! You can watch the meerkats, ring tailed lemurs, rabbits & guinea pigs monkeys and more.
Make a Love bird Puppet These birds are so named because they often sit close together and look like they're kissing! PLus there will be lots of colouring and sticking fun! Cost £1
When: Saturday 14th February, Lovebird Puppet making at 11am – 12.30pm & 1.30pm – 3.30pm Drop in
Where: Battersea Children's Zoo, SW11 4NJ
Age: Families
Cost: Adults, £8.75, Kids £6.50 plus £1 for the Puppet Making.
LittleBird's Top Tip: The Lemon Tree Cafe is encircled by the zoo's bird aviaries, so be sure to listen out for a unique greeting from the African Grey Parrots while you enjoy a cake and coffee. There is a fab play area too!
DIGITAL KIDS AT THE V&A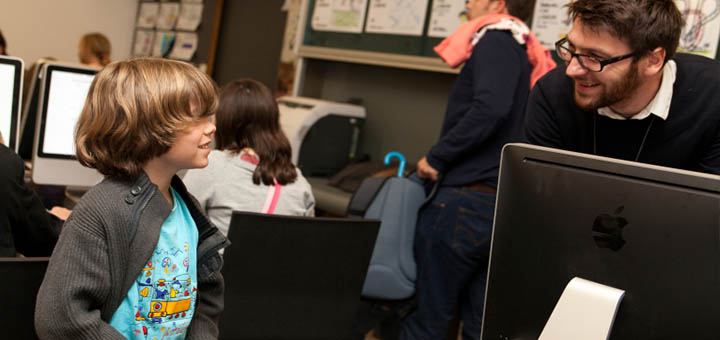 Make a date to enjoy a day at the V&A this Saturday and let the kids enjoy the V&A's Digital Kids activity. Create an interactive blue and white art landscape using digital tools.
From digital to fine art, don't miss Nursery Classics: Frederick Warne's Fine Art Picture Books display in the National Art Library. In 1901 a little known illustrator, Beatrix Potter, approached Frederick Warne's firm with a story of a naughty little rabbit; The tale of Peter Rabbit (1902) was an immediate success and assured Warne's presence in children's publishing to date. This a free exhibition and a perfect contrast to digital art.
Perfect for kids of all ages, there's plenty to keep the whole family  entertained for the day including Family Art Fun Trails, Back-Packs and Hands-On exhibits in the Galleries.
When: Saturday 14th February, 10.30am – 5pM
Where: V&A, SW7 2RL (meet at the Learning Centre Reception)
Age: 5+
Cost: Free
LittleBird's Top Tip: The main Café, is great for children, with a wide range of food for all tastes. High chairs are provided and main meals are half-price for children under 10. If a couple of hours is all the kids will last for at the V&A, Hyde Park is just up the road for running wild and free in the fresh air!
Make a day of it? If you and the kids have the stamina, you're in the right place to Museum hop with the Natural History Museum and the Science Museum all a few minutes walk away.
BRICKS IN THE SKY 2015 AT THE ARCELORMITTAL ORBIT
*THIS WEEKEND AND THROUGHOUT HALF TERM*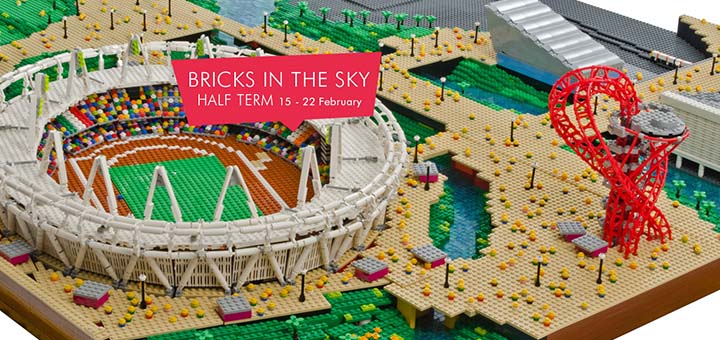 London's most famous landmarks arrive at the ArcelorMittal Orbit this February half-term – made entirely from LEGO® bricks. Families can explore this exhibition of London-inspired models including miniatures of the famous London 2012 venues of Queen Elizabeth Olympic Park created by professional LEGO artist Warren Elsmore.
The exhibition includes miniature sculptures of the former Olympic Stadium, St Paul's Cathedral, Big Ben and The 02 as well as iconic London symbols; the routemaster bus, the black cab, the penny farthing and red telephone box – all made entirely from LEGO. With the view from the ArcelorMittal Orbit (standing 80m tall, you can experience view of London up to 20 miles), you'll be able to view the real landmarks of London and inspect their sculpted miniatures.
Warren Elsmore will be in residence at the ArcelorMittal Orbit throughout half-term to answer your questions. You'll be able to watch as Warren 'live builds' a 2m tall scale model of the ArcelorMittal Orbit using 100,000 tiny bricks; there will be a stash of bricks on hand to play with so you can try your hand at LEGO sculpturing.
When: Sunday 15th February (runs throughout half term until 22nd February)
Where: Arcelormittal Orbit, E20 2AD
Age: Families
Cost: Adults £15, Children £7 – buy online and save 20%
LittleBird Top Tip: With so much to see and do surrounding the ArcelorMittal Orbit you're spoilt for choice; there's the Queen Elizabeth Olympic Park, Copper Box Arena, Lee Valley VeloPark and Westfield Stratford City to name a few.
Make a day of it? Have a literary adventure of your own making and be inspired at Discover Children's Story Centre – the perfect place to play, create and imagine.
MINI MAESTRO: GREAT OPERA FOR LITTLE EARS AT ST-MARTIN-IN-THE-FIELD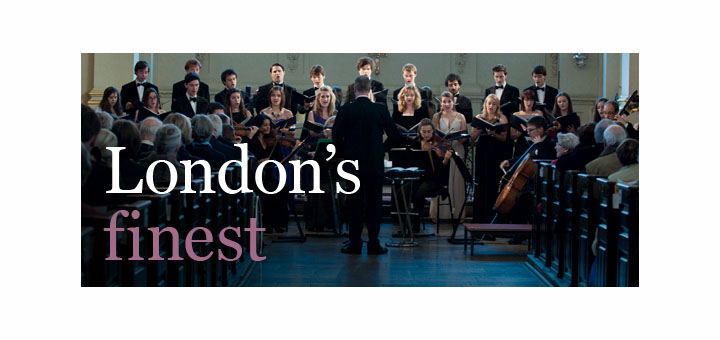 Fun for those of all ages: enjoy John Landor's Mini Maestro Family Concert; a musical feast of discovery, imagination and fun with some of opera's greatest works.
Experience this enjoyable and accessible introduction to opera for children. It's full of lively characters you'll be able to hear close-up, including sensitive Soprano, magnificent Mezzo, temperamental Tenor and boisterous Baritone.
When: Saturday 14rth February at 4.30pm
Where: St-Martin-In-The-Field, WC2N 4JJ
Age: Families
Cost: £8.50
LittleBird's Top Tip: As you're on Trafalgar Square's doorstep, visit the Lions, the blue (yes I said blue!) cockerel on the fourth plinth and of course the main man himself, Admiral Horatio Nelson!
PRINT IT: TRUTH & MEMORY AT THE IMPERIAL WAR MUSEUM
*THIS WEEKEND AND THROUGHOUT HALF TERM FUN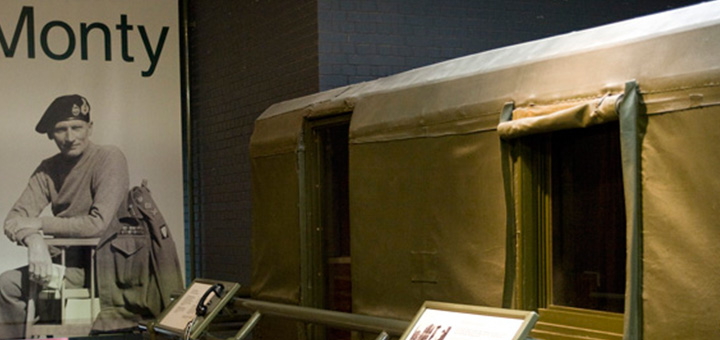 Roll up your sleeves and enjoy this free family printing activity.
Have a go at drawing your favourite artworks on display in major exhibition Truth and Memory: British Art of the First World War and then transfer your design into a print you can keep, in the Imperial War Museums art studio.To find out about other family friendly activities and events including story telling and crafts, throughout half term at the musuem, click here
When: Saturday 14th February, 11.30am – 12.30pm, 2.30pm – 3.30pm (taking place throughout half term until Sunday 22nd February)
Where: Imperial War Museum, SE1 6HZ
Age: Families
Cost: Free
LittleBird Top Tip:  Did you know the IWM is right next door to the Geraldine Mary Harmsworth Park. There's lots to enjoy: a cafe, a playground, an Ice Age Tree Trail plus sculptures in the Tibetan Peace Garden.  
Planning to go out during Half-Term? Pop over and take a look at our Half Term Guide!