What's On This Weekend – Saturday 4th & Sunday 5th July
FUN & FANTASTIC THINGS TO DO WITH THE KIDS IN LONDON THIS WEEKEND
 SATURDAY 4TH & SUNDAY 5TH JULY
KIDZANIA, LONDON WESTFIELD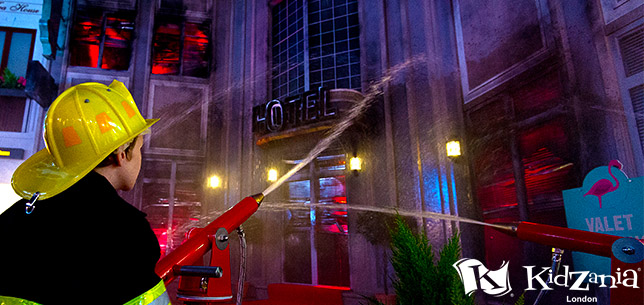 Imagine a whole city built for kids; they run the city, get paid (in Kidzo's) and then decide what to spend their wages on. No need to imagine anymore, role-play heaven has arrived and KidZania's doors have opened in Westfield London.
Let the Kids spend the day being a pilot, a radio DJ, a dentist, a fruitologist, a firefighter, and a doctor or newspaper editor.  There are more than 60 real life role-play activities in the bank, on stage, in a science lab, a hotel, a recycling centre, fashion studio, dance club and chocolate factory. Each experience is crafted to teach kids life skills including creativity, critical thinking, communication, teamwork and independence. Most of all though, it's learning through hands on experience and plenty of fun!
When: Open 7 days a week
Where: Westfield London, W12 7GA (KidZania London is located on the first floor between Marks & Spencer's and Gap)
Age: 4 – 14
Cost: Adults £16.50, 4 – 14 year olds £28, 1 – 3 year olds £10, under 1s free
LittleBird's Top Tip: Every child is given a tracking monitor that they wear on their wrist so you know where your child is at all times which means you can enjoy The Parents Lounge. Take a book and enjoy the quiet reading area, enjoy free Wi-Fi Internet access, computers plus there's that all important coffee shop too!
NAVRATTAN, TANGLE & THE COLOUR OF TIME IN STRATFORD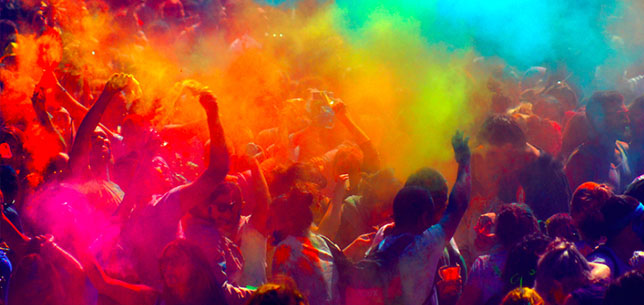 The Greenwich & Docklands International Festival comes to a close this weekend and there are plenty of fabulous free events to experience all taking place at the Queen Elizabeth Olympic Park. Navrattan invites the kids on an unforgettable journey to explore nine rooms of Emperor Akbar's palace to discover the missing jewels from the Emperor's favourite pendant, the Navrattan – interactive storytelling, shadow puppetry, Kathak dance and craft workshops are promised.
Tangle looks superb and promises a large scale, totally interactive elastic weaving event, created live and on the spot by you and the kids. It is part spectacular live art, part performance, part playground and total chaos. Don't miss The Colour of Time on Sunday at 4pm – a reinvention of India's traditional Holi festival – follow a choreographed parade towards a huge finale, where gulal powder will be thrown in the air in a joyful celebration of unity and diversity. Check out this year's Festival programme online, or view or download the brochure.
When: Saturday 4th & Sunday 5th July, various days & times
Where: Queen Elizabeth Olympic Park, Stratford, E20
Age: families
Cost: Free
LittleBird's Top Tip: While you're in the park let the kids enjoy some wild time in the Tumbling Bay Playground featuring rock pools, sand pits, tall treehouses, and wobbly bridges, as well as slides, swings and plenty of space to run about in. Why not make a day of it and enjoy a park trails too.
RHS HAMPTON COURT PALACE FLOWER SHOW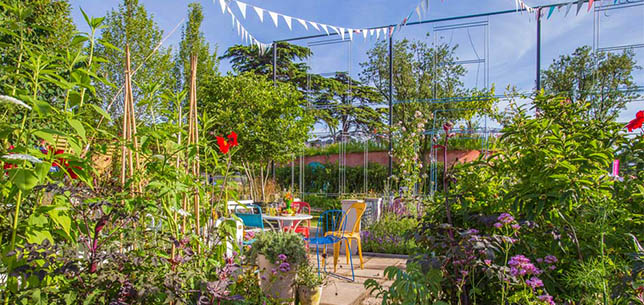 This year's RHS Hampton Court Palace Flower Show celebrates its 25th anniversary and offers inspirational zones, great gardens and plenty of family friendly fun. Enjoy gardens celebrating the 150th anniversary of Alice in Wonderland and the 90th anniversary of Winnie the Pooh, as well as the Henri le Worm children's garden, overseen by Blue Peter gardener Chris Collins to inspire and teach children about the importance of gardens.  
The Cookery Theatre hosts a pop-up Children's' Cookery Class focusing on the significance of a balanced diet plus there is a special maze that includes rose scents, smoke machines and tunnels to entice intrepid explorers to discover the surprise in the centre. There's also a scarecrow trail to guide you across the showground, finishing at the scarecrow competition that includes entrants from local schools and a giant 7m high scarecrow as its centrepiece.
When: until Sunday 5th July
Where: Hampton Court Palace, KT8 9AU
Age: Families
Cost: Adult £35 on gate, £30.50 advance – kids are free
LittleBird's Top Tip: Go after 3pm on Saturday and tickets are £22 on gate, £19.50 advance.
TIGER, MOG AND PINK RABBIT: A JUDITH KERR RETROSPECTIVE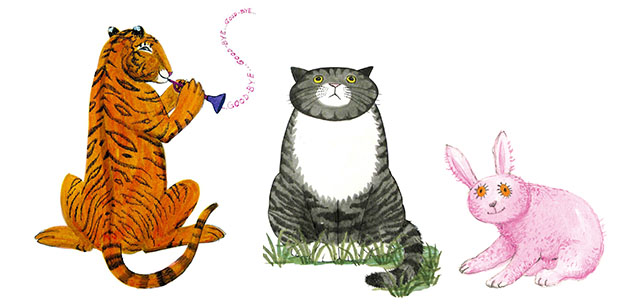 Loved by all, read by millions – Judith Kerr is a household name. This summer the Jewish Museum invites families to enjoy this exhibition of almost 80 years of original artwork and illustrations by one of Britain's best loved authors in Tiger, Mog and Pink Rabbit: A Judith Kerr Retrospective .
You can have tea with a life-size Tiger or curl up in Mog's basket with one of Judith Kerr's classic picture books, and discover the childhood drawings of a girl escaping Hitler's Germany. Daily storytelling takes place at 10.30am and there are arts and crafts too plus a family trail to enjoy exploring the museum with.
When: Until 14th October 2015
Where: Jewish Museum London, NW1 7NB
Age: Families
Cost: Adults £7.50, Children £3.50, under 5s free
LittleBird's Top Tip: The kids will love the giant installation of a kitchen with a life-size plush tiger in resident. Children can  have a cup of tea with the tiger and feed him tiger food from the kitchen!
WAR HORSE PUPPETRY FAMILY WORKSHOP, SOUTHBANK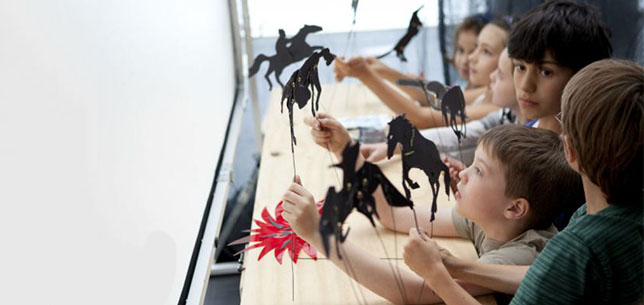 Read the book, seen the play, and watched the film? Now the kids can experience what it actually feels like to be a War Horse puppeteer.  This Saturday, at the National Theatre, they can discover how the famous life-sized puppets were created at the War Horse Puppetry Family Workshop. As a family, explore the world of puppetry and let the kids try out some simple puppetry skills using sticks and a balloon to bring their own War Horse to life.
While you're at the National, discover what goes on behind the scenes and take a wander with the kids along the Sherling High-Level Walkway.  Be inspired by this unique birds eye view into the National's busy backstage production workshops and watch set construction and assembly, scenic painting and prop-making.
When: Saturday 11am & 2pm
Where: National Theatre (Clore Learning Centre), SE1 9PX
Age: 6+
Cost: Adults £5, Children £3
LittleBird's Top Tip: The National is a great space to hang out with eateries a-plenty and a gloriously big open plan book shop. You're on the Southbank so head towards the OXO tower and you can enjoy a stroll around Gabriel's Wharf. If there's a low tide, look out for the sand sculptors in front of Gabriel's Wharf, down on the Thames beach – they always think of innovative and entertaining ways of getting you to part with a few pence and well worth it! Carry on past the OXO Tower and Tate Modern and Shakespeare's Globe awaits.
BURLINGTON GARDENS FESTIVAL, MAYFAIR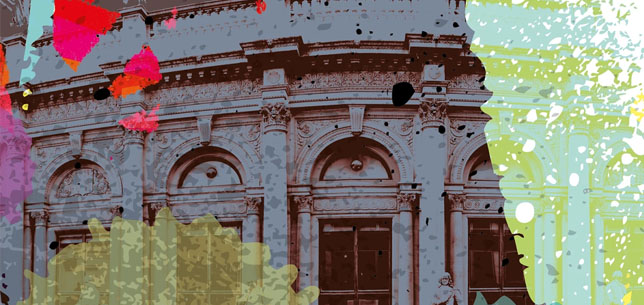 Head to Burlington Gardens in Mayfair this Saturday as the Royal Academy takes to the streets.   Pedestrianizing Burlington Gardens, the RA will be filling it with artists, live music, installations, performances plus artisan food stalls and refreshments as well as American food for Independence Day (well it is the 4th July) and a prosecco cart – mmmmm
There will be live acoustic performances, dance, an interactive live T Shirt press, as well as print-making and drawing workshops as well as special activities just for the kids including LEGO building.
When: Saturday 4th July, 12pm – 6pm
Where: Burlington Gardens, W1S
Age: Families
Cost: Free
LittleBird's Top Tip: Under 16s can visit the Royal Academy exhibitions for free and as the Royal Academy is right by Burlington Gardens, you could check out this years Summer Exhibition.
BATTLEDRESS AT SOMERSET HOUSE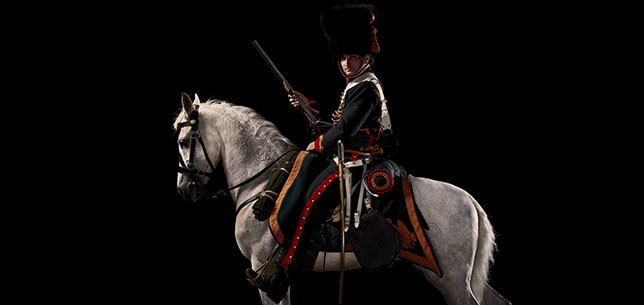 Commemorating the Battle of Waterloo (fought on Sunday 18th June 1815) Somerset House Family Workshop asks you and the kids  to take your cues from military dress worn at the Battle of Waterloo and colour and collage authentic miniature soldiers drawn by artist Craig Coulthard. Uniforms don't have to be uniform…..
While you're here, why not go on an adventure trail and enjoy Father Thames: the bearded river god trail at Somerset House. Download the activity sheet here before you go and discover Somerset House's unofficial mascot.
When: Saturday 4th July, 12pm – 3pm
Where: Somerset House, WC2R 1LA (Embankment Galleries, South Wing)
Age: 6 – 12 year olds
Cost: Free
LittleBird's Top Tip: The fountains in the Edmond J. Safra Fountain Court in the heart of Somerset House have been switched on so pack a towel and prepare for the inevitable – wet (but happy!) kids and note Covent Garden isn't far and always worth a visit – why not treat yourselves to an ice cream and enjoy the street theatre and opera singers.
DANCING CITY & THE JUNGLE BOOK AT CANARY WHARF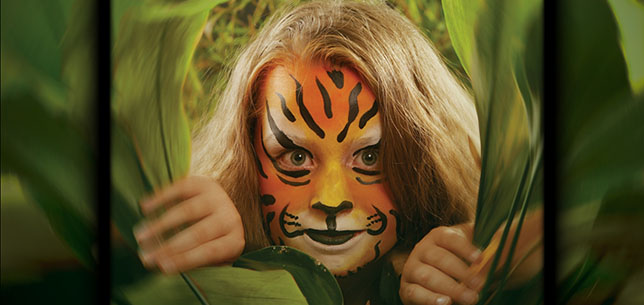 Dancing City (29th June – 4th July) offers full performances as well as bite sized al fresco dance treats from some of the best UK and international dance companies and artists.  This Saturday choose from Danger of Risk Falling by Parkour Dance that takes place in a bespoke scaffolding structure, Solo 2 by Brodas Bros: exploring street dance, hip hop and snowboarding and Turn Around Boy by Le Grand Jete: acrobatic interaction with a traditional circus wheel.
On Sunday, head to Jubilee Gardens for some free outdoor children's theatre. Chapterhouse Theatre Company are performing Rudyard Kipling's The Jungle Book at 3pm. The advice is to turn up early to this free event and remember it is outdoors.
When: Saturday 4th July, 1p – 5pm (Dance City) & Sunday 5th July, 3pm (Jungle Book)
Where: Throughout Canary Wharf (Dance City) & Jubilee Gardens (Jungle Book), E14
Age: Families
Cost: Free
LittleBird's Top Tip: If the sun is still shining, pack a picnic and make a day of it. Canary Wharf now has one of the UK's largest collections of Public Art: download the latest art map and create your own art trail of discovery.
BIG FAIR, HAMPSTEAD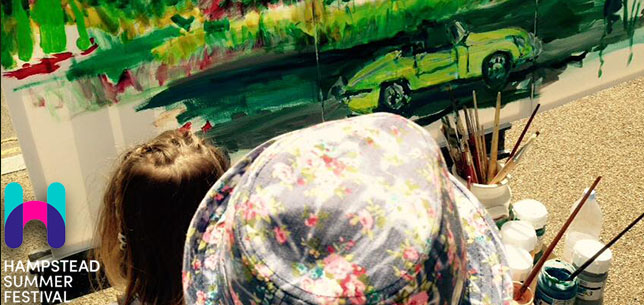 Hampstead's Summer Festival comes to a close this Sunday with the Big Fair – a massive street party promising a carnival atmosphere and a great family day out.
There's  live music and street entertainment, a traditional fun fair, street circus, and family attractions plus festival stages showcasing established and local talent from the music, theatre and dance scenes including hip hop and contemporary performances, classical and traditional. If the kids have got more energy than you, head for the SportsZone – an energetic hub of activity including kids mini tennis and gymnastics, for a rest, enjoy Artisan scrumminess in the Chess Cafe.
When: Sunday 5th July, 11am – 5pm
Where: Heath St, NW3
Age: Families
Cost: Free
LittleBird's Top Tip: Finding yourself more centrally based on Sunday and looking to wave a flag to celebrate Independence Day? Head to Portman Square for 2015 Annual American Independence Day Picnic – yes, not actually on the 4th July….. But promises American food, live music, entertainment for the kids and traditional games on offer and note, you need to ask your American friend to buy them – only US citizens can!