What's On This Weekend? Saturday 12th & Sunday 13th December
Fun and fantastic things to do with the kids in London this Weekend
Saturday 12th & Sunday 13th December
BRICK 2015, BUILT FOR LEGO FANS, LONDON'S ROYAL DOCKS – SAVE UP TO 54% WITH LITTLEBIRD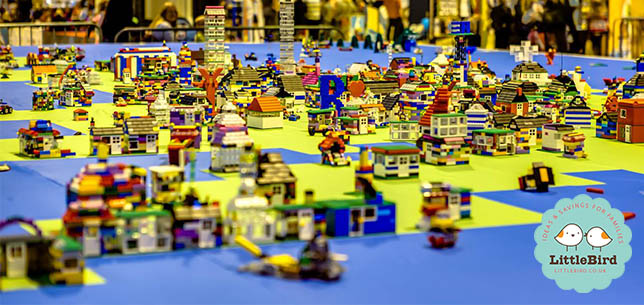 Love LEGO? Love BRICK 2015! Built for LEGO Fans, this promises to be a best day ever! The kids can build their own house and place it on the UK's largest LEGO map, help build a huge Minecraft terrain out of LEGO brick or create a monster LEGO mosaic.  Why not build your own custom cars and enjoy family races down ramps or take a trip through history together and visit the seven ancient wonders of the World. In need of a sit down, why not watch BRICK flicks and enjoy iconic movie scenes created in LEGO or let the kids play their favourite LEGO video games with experts on hand to guide.  Maybe best of all, you can enjoy giant BRICK pits together (boasting over 3 million bricks to build with) and create your own masterpieces and build whatever you can imagine!
When: Friday 11th – Sunday 13th December (Fri: 3pm – 8pm, Sat: 10am – 6pm, Sun: 10am – 5pm)
Where: ExCel Centre, Royal Victoria Dock, E16 1XL
Age: Families
Cost: Save up to 54% on tickets for Friday and Sunday with LittleBird. Saturday tickets £23.75
LittleBird's Top Tip: Don't miss the Merry BRICKMAS area with festive displays, winter white BRICK pits and plenty of Christmas gift ideas and watch BRICK London as it attempts to break and set even more Guinness World Records.
THE ILLUSTRATOR'S CHRISTMAS FAIR, KINGS CROSS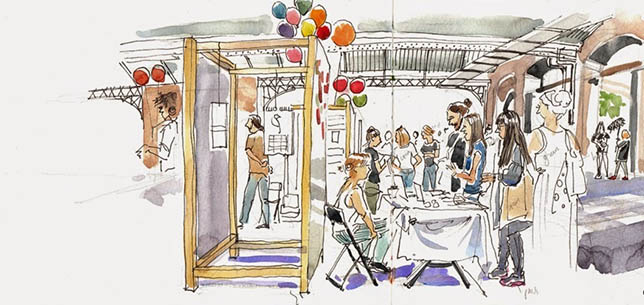 Stuck for Christmas presents ideas or haven't even started your Christmas shopping? Well, you're in luck! The House of Illustration is taking over the Crossing in the Granary Building filling it with a hand-picked selection of over 100 emerging and established illustrators. There'll be limited edition prints, handmade books, jewellery, bags and much much more.
There's lots to keep the kids entertained including storytelling sessions in honour of the 50th anniversary of the classic children's television programme Jackanory. Actors will be reading out stories accompanied by live illustrations.  Plus there are drop-in collage and drawing workshops, a large-scale cityscape line drawing the whole family can add to  as well as the chance to make Christmas tree decorations.  There's the Lauren Child's Dolls' House exhibition next door at the House of Illustration or just let the kids enjoy some wild time with some fountain fun in Granary Square.
When: Saturday 12th December, 12pm – 6pm
Where: 2 Granary Square, N1C 4BH
Age: All
Cost: Free
LittleBird's Top Tip: While you're here, enjoy Christmas Under The Canopy – if you've not bought your Christmas tree yet, you can wander through the fir tree forest, choose your Christmas tree and decorations or simply soak up the festive atmosphere and enjoy a tasty treat or two.
THE SNOWMAN AT PEACOCK THEATRE, CENTRAL LONDON – SAVE 50% WITH LITTLEBIRD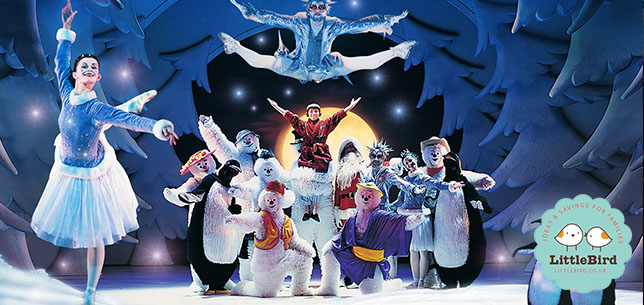 We're walking in the air…..come on, I know you know the next line! Yes,  Raymond Briggs much loved The Snowman is back in London. This production has been delighting generations of children and their families for the past 18 years enchanting young and old alike,  becoming quite simply a festive family tradition.
Mixing storytelling, dance, magic and  the legendary music and lyrics by Howard Blake that brought us Walking in the Air, The Snowman transports families into the wintery world of a boy and his magical snowman.  As a friendship is kindled, the two embark on a starry-skied adventure to the North Pole, where they meet dancing penguins, reindeer, Father Christmas and escape the clutches of Jack Frost.
When:  3rd Jan 2016
Where: Peacock Theatre, WC2A 2HT
Age: All ages
Cost: Enjoy a 50% saving with LittleBird on selected performances – book now
LittleBird's Top Tip: You're not far from Lincoln's Inn Fields; London's largest public square. With sports grounds, sculptures and the yummy scrummy Benugos Fields Bar & Kitchen where you can enjoy wood fired pizza or check out their Christmas menu.  Benugo donates a percentage of every purchase you make to the nearby Sir John Soane's Museum, so you can enjoy your meal in the knowledge that you're helping to support the museum's work.
THE WHIPPERSNAPPER WINTER WONDERLAND EXPERIENCE, DULWICH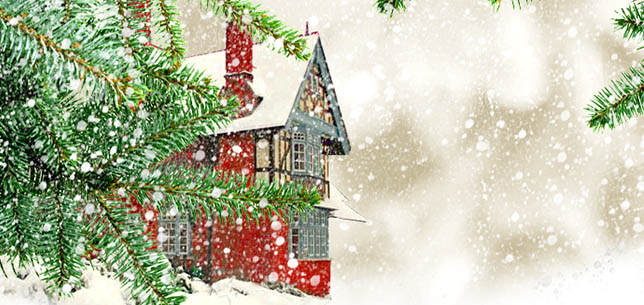 Enjoy the Whippersnapper Winter Wonderland Experience in Dulwich. The children get to dress-up to help the Elves in the Log Cabin Toy Workshop, get an invitation to visit Santa's classroom where lessons on how to decorate Traditional Gingerbread Christmas Tree decorations with none other than Mrs Claus take place.
With a fairy, face painting, a wishing tree, hot chocolate and mince pies, Christmas crafts, the chance to build a sensory 'snowman' and a traditional Christmas sing-a long – a unique and magical experience is promised and  this is all before they've even met the big man in the red suit!
Where: Dulwich College Lodge, Dulwich College Park, SE217BQ
When: until 23rd December
Age: Families
Cost: Children £18.50 (includes photo), adults £7 – booking required
LittleBird's Top Tip: The Whippersnapper experience lasts one hour so there's plenty of time to enjoy Dulwich Park – it has a great playground, outdoor table tennis (bring your own bats and Ping-Pong's) and the Pavilion Cafe with its very family friendly menu and there's the Dulwich Picture Gallery with their current Escher exhibition.
HANS CHRISTIAN ANDERSEN'S TINDERBOX AT THE CHARING CROSS THEATRE – SAVE 36% WITH LITTLEBIRD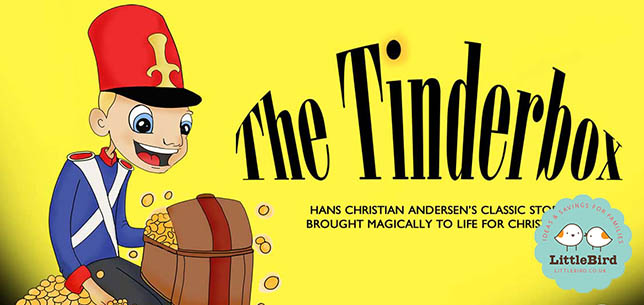 Generations of readers have been enchanted by Hans Christian Andersen's famous tales including the renowned Thumbelina, The Ugly Duckling and The Princess and The Pea. This Christmas the Charing Cross Theatre presents a brand new version of classic folk tale, The TinderBox.
Families are promised a fun filled musical featuring an array of colourful characters, cleverly combining classical music and story-telling with comedy. There's lots of audience interaction plus a few surprises along the way! Based on a Scandinavian folk tale Andersen learned in his childhood, families are asked to join the loveable cheeky hero, Brian the Brave, a penniless soldier returning from war who acquires a magic tinderbox and embarks on a quest to find his true love.  
When: until 3rd January 2016
Where: The Charing Cross Theatre, WC2N 6NL.
Age: 3+
Cost: Enjoy a 36% saving only with LittleBird with tickets £12.50 only
LittleBird's Top Tip: You're a 5 minute walk from Trafalgar Square so why not pop along and see the wonderful majestic Norwegian Christmas tree – an annual gift since 1947 from the people of Oslo thanking Britain for its support and friendship during World War Two.
CHRISTMAS COSTUMED TOURS AT THE CHARLES DICKENS MUSEUM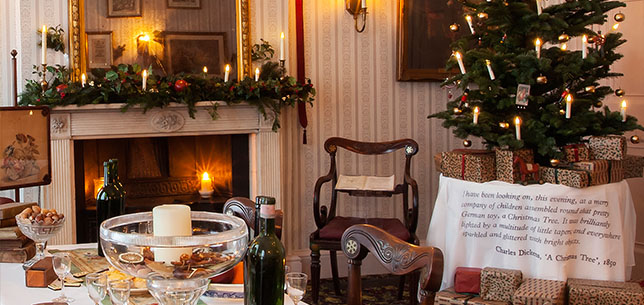 If you've been getting into the Christmas spirit and reading or watching Charles Dickens classic A Christmas Carol with the kids, then this opportunity is unique. Travel in time back to 1839 and experience Christmas in the home of the famed author himself, Mr Charles Dickens.
Whilst Dickens and his young family are attending a Christmas Ball at the home of Ms Burdett-Coutts, their housemaid is up to no good! Taking a break from her many duties, you are invited to 48 Doughty Street to walk in the footsteps of the celebrated young author as you enjoy an exclusive tour of Dickens 'house in town' filled with festive greenery and authentic Victorian fayre.
You're not far from the fabulous Coram Fields – with playgrounds, a city farm and a cafe too plus a large adventure play area including an aerial slide.
When: Saturday 12th December at 10am, 10.45am & 11.30am
Where: Charles Dickson Museum, WC1N 2LX
Age: Families
Cost: Adults £18, Children £10
LittleBird's Top Tip:  If you have kids 12+, they might enjoy a candlelit performance of A Christmas Carol, with selected performances from 18th to 29th December.
THE SNOWMAN AND THE SNOWDOG AT PICTUREHOUSE CENTRAL, PICCADILLY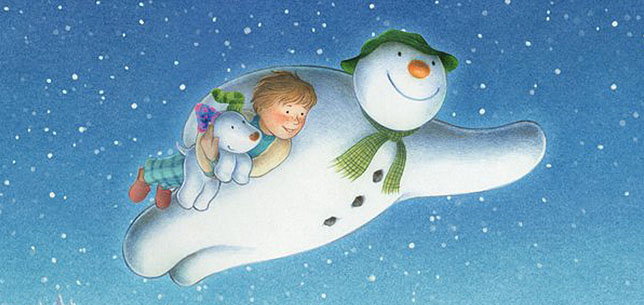 If there is still Christmas shopping to be done but you know your suggestion will be met with moans and groans then this could be the perfect bargaining tool. Head over to the recently opened chic and wonderfully spacious Picturehouse Central, a few minutes' walk from Piccadilly Circus, for some seriously festive fun this Saturday.  In honour of the Picturehouse's screening of The Snowman and The Snowdog at 11.30am, there are lots of fun family friendly activities planned in the foyer from 10am onwards.  You can grab a coffee in the rather wonderful Ground Floor Cafe and  the kids can enjoy Christmassy crafts, face painting, and the opportunity to meet The Snowman himself – plus, plus, plus – there's  goodies for every child to take home. This event is in support of The British Red Cross.
When: Saturday 12th December, activities from 10am with the film at 11.30am
Where: Picturehouse Central, W1D 7DH
Age: 2 – 7 year olds
Cost: £6
LittleBird Top Tip: Ripley's Believe It or Not is a hop skip and a jump away – enjoy a Christmas family treat with a meal at Planet Hollywood, an adventure at Ripley's plus enjoy their interactive Christmas trail and save 25%  in the shop – perfect for Christmas shopping. Only with LittleBird, book now.
ALICE IN WONDERLAND AT THE ROYAL ALBERT HALL, KENSINGTON – SAVE 15% WITH LITTLEBIRD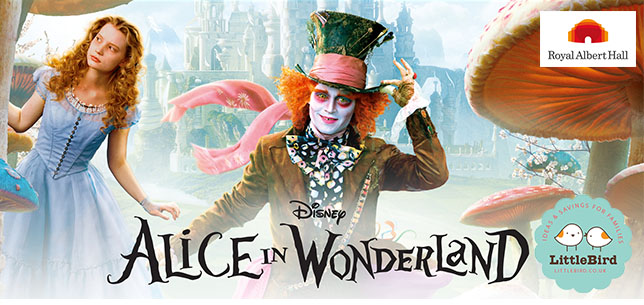 This Saturday enjoy this feast for the eyes, ears and heart! Watch Tim's Burton's award winning Alice in Wonderland on the big screen in high definition at the Royal Albert Hall featuring the music of Danny Elfman performed by the Royal Philharmonic Concert Orchestra.
This screening will be the World Premiere performance of a newly scored soundtrack for the film's finale. Danny Elfman, who composed the original score, has written a new ending which will be played live by orchestra and choir, and soloist (to be announced). Elfman himself will be in attendance for this special event.
The Royal Albert Hall is opposite Hyde Park and if you're attending the matinee performance it's a great place to let the kids run around and enjoy some fresh air before.
When: Saturday 12th December, 2.30pm & 7pm
Where: Royal Albert Hall, SW7 2AP.
Age: Film rated PG
Cost: Save 15% on Circle seats with LittleBird, book now.
LittleBird's Top Tip: If the kids have enjoyed 2015 being all about Alice, check out the British Library's free exhibition Alice in Wonderland – it's on until 17th April 2016.
SANTA'S GROTTO IN THE VICTORIAN WALK AT THE MUSEUM OF LONDON, IN THE CITY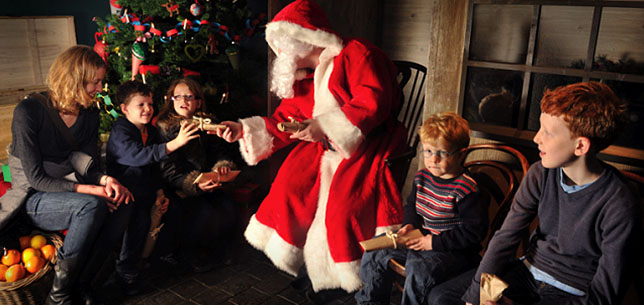 Meet Santa in his secret grotto in the Museum of London's festive 19th century Victorian Walk. He's ready and waiting to find out those Christmas wishes and everyone who's been good this year will receive a special gift.
While you're here, there's plenty of family favourites at the Museum not to be missed including walking around Roman London, stepping inside a life-size Saxon house plus enjoy a reconstructed Georgian Pleasure Garden. On Saturday the kids can enjoy Hands on History and on Sunday, Museum Explored.  Download Museum of London free Streetmuseum appbefore you leave and let the kids discover a unique perspective of old and new London on your way home. Plus, did you know kids eat free at the London Wall Restaurant!
When: until 23rd December
Where: Museum of London, EC2Y 5HN
Age: Families
Cost: £7 – £9 depending on the timed slot. Booking is essential to avoid disappointment. .
LittleBird's Top Tip: If Canary Wharf is easier for you to get to, check out the Victorian Santa's Grotto in Sailortown at the Museum of London Docklands plus, this Saturday, the kids can enjoy Fun at the Frost Fairs –  a free art drop in between 12pm – 1.30pm.
THE NUTCRACKER THE MUSICAL AT THE PLEASANCE THEATRE, ISLINGTON – SAVE UP TO 22% WITH LITTLEBIRD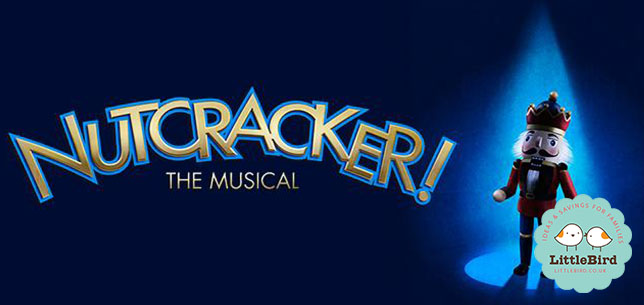 Synonymous with Christmas, The Nutcracker is a firm family favourite and this production at the Pleasance Theatre breathes new life into Tchaikovsky's famous ballet creating a brand new musical. A story of magic, faraway places, fairy tale kingdoms, friendship, love, family and most importantly imagination, The Nutcracker! The Musical will intrigue and enchant everyone.
With teenager Marie and her old Uncle Drosselmier, families will journey to a time long ago where a beautiful Princess Pirlipat has been magically disfigured by the evil Mouseyrinks, Queen of the Mice. King Wilhelm enlists the help of the mystical Royal Clockmaker to break the curse and to discover the secret of the nutcracker.
When: until 3rd January with LittleBird savings until 13th December
Where: Pleasance Theatre, N7 9EF
Age: 6+
Cost: Tickets from £11 with LittleBird only – book now
LittleBird's Top Tip: Looking to save on festive and fun family theatre this Christmas, you're in the right place!  LittleBird has tons of great theatre including a The LittleBird That Stayed for Winter (save 50%) at the Roundhouse and Once Upon A Christmas (save 20%) and The Snow Child  (save 35%) at The Unicorn. Check out LittleBird's Things To Do this Christmas.