The LittleBird Family Pass Festive Top Picks for the 1st – 13th December
---
December has arrived! And whilst Christmas is no doubt going to be different this year, there's still plenty going on to get you in the festive spirit. So we've rounded up some great activities and events to help you and your family stay entertained, inspired and active over the next two weeks.
If you find our guide useful, please share Top Picks with your family and friends and sign up to the newsletter. We publish our blog every two weeks but we promise the fun below lasts a lot longer than that.
VIRTUAL EVENTS DATED
Mother Christmas, Little Angel Theatre
From Tuesday 1st December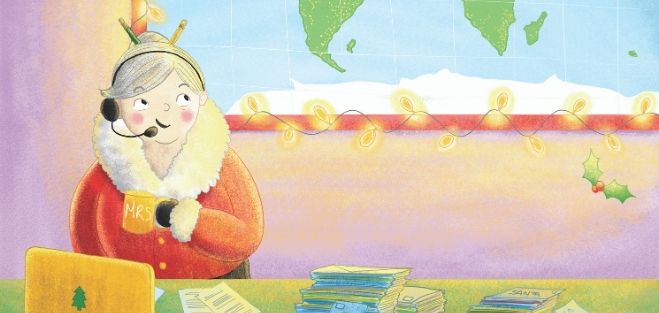 Father Christmas, Santa Claus, St Nick… we think we know who's responsible for delivering our presents on Christmas Eve. But who plots the sleigh's route, triple checks the presents and manages air traffic control on the all-important night? Mother Christmas, of course!
This light-hearted and lively tale will introduce you to a new festive hero, and bring much-loved Christmas traditions careering into the 21st Century. The Little Angel Theatre are offering this online show for free, but if you're able to make a donation it would be much appreciated.
Watch the show here and to help the theatre achieve their fundraising goal (with donations matched by The Reed Foundation) click here.

Panto Online, Jack & The Beanstalk
Friday 4th December – 10th January
With many panto's cancelled this year, 'Blue Peter' legend Peter Duncan has come to the rescue to make sure that panto-loving audiences don't miss out on this special Christmas experience.
Peter, a critically acclaimed Panto Dame, Writer and Director, has decided to use his own 'Giant' back garden to film JACK AND THE BEANSTALK – a socially distanced pantomime complete with ingenious sets, fabulous costumes… and even a real beanstalk! Boos, cheers, 'he's behind yous', a sing-a-long song and all the classic panto antics are promised.
To find out more and enjoy an exclusive saving with The LittleBird Family Pass, click here
Borough Market's Festive Kitchen
3rd – 18th December
Inspire your festive table this Christmas with three weeks of mouth-watering entertainment from Borough Market, beamed live into your home. At the Festive Kitchen, three curators will host a packed schedule of activities, with guests including Anna Jones, Gizzi Erskine, Romy Gill and Calum Franklin. Plenty of Market traders will also be sharing their expertise too.
Among the highlights will be six live digital cookalongs. If you live in London, for three of the cookalongs you'll be able to treat yourself by having a full recipe kit delivered direct from the Market, ready for you to join in with the fun. Grab your diary and check out the schedule here.

Selfridges Crafty Cut-Out Cards
Saturday 5th December @2pm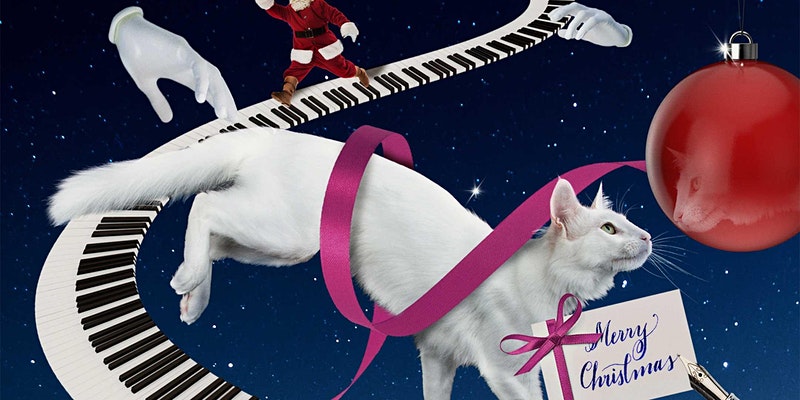 Join a virtual visit to Santa's workshop and learn some new festive skills, for a Christmas with a personal touch. Santa will be joined by card-maker extraordinaire Poppy Chancellor to make cut-out greetings cards in the Selfridges online workshop.
Poppy Chancellor is a London based illustrator specialising in papercutting and has taught hundreds of people at iconic venues such as The Royal Academy of Art, The V&A Museum and The Southbank Centre.
Register for this free workshop here and find out about the other Saturday workshops on offer.

Father Christmas Reads The Polar Express
Saturdays & Sundays in December at 5pm
Storystock, in association with Andersen Press, presents a live streaming from Father Christmas's fireside chair straight into your home. Sit snugly in your pyjamas and listen to Father Christmas reading you his favourite story, The Polar Express, and personally sending you his Christmas wishes.
This online immersive experience aims to get everyone in the mood for Christmas and Storystock has been working closely with Santa's elves to put together a truly festive bundle of fun.
Tickets start at £12.50 when booking with the The LittleBird Family Pass -find out how to book here.
Scholastics Festive YA at Home
Saturday 5th December @ 5pm
Start the Christmas season in style with this special #YAatHome event. Beth Garrod and Laura Wood will be talking about their new festive Young Adult books with Sarah Shaffi. Join for a merry chat and jolly games! Bring along your favourite Christmas snack to enjoy. Register your spot now.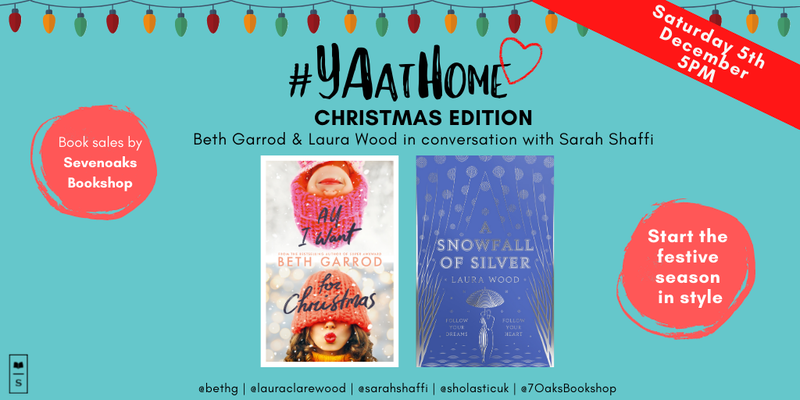 About the books:
ALL I WANT FOR CHRISTMAS
by Beth Garrod
A brand-new snowy rom-com. US-based Elle is a social-media influencer, and decides to swap places with one of her followers for the holidays. Holly lives in a small English village, and LOVES Christmas more than anything. Will they find all they want for Christmas when they swap?
A SNOWFALL OF SILVER
by Laura Wood
In the Autumn of 1931, Freya leaves her family in Cornwall to follow her dream of becoming an actress. She joins a theatrical company and, amidst all the enchantment and bustle of stage life, falls in love with the handsome leading man. Neither being an actress nor having a love affair lives up to Freya's grand expectations.
NASA LIVE Space Q&A
Saturday 5th December @7pm

Join special NASA guest, Jason-Flor Sisante, a cerebrovascular scientist, dedicated to STEM education initiatives, for a free live Space Q&A to answer your questions regarding the past, present and future NASA space missions, as the National Space Centre focuses on the moon, Mars and beyond!
Join the Q&A live here or visit the National Space Centre on Facebook after the event for you to watch at any time
Unicorn Theatre, Huddle
10th December – 13th February
The Unicorn Theatre have teamed up with Filskit Theatre to reimagine their 2019 festive show Huddle as a brand new Christmas digital theatre experience. 
Huddle is a moving tale of a daddy penguin and his new chick learning how to thrive in spite of the odds. This online version, narrated by Madeline Appiah, uses instrumental music and beautiful hand-drawn animation to bring this atmospheric, snow-filled story to life.
Watch it on their YouTube from 10th December onwards.
Make your own Clay Decorations
Saturday 12th December @11am
Find out how to make your own homemade air drying clay Christmas. This simple technique uses simple household ingredients to make your own clay that can then be made into Christmas decorations or Christmas bunting.
Ingredient list: Corn flour, Cooking oil, PVA Glue, Body lotion, Spoon, Bowl, Pencil, Clay tool / knife and a Plastic Bag.
To learn more and to access the video here

The Night Before Christmas, by CCC and RSNO
Saturday 12th December @2pm
Join CCC (Childrens' Classic Concerts) RSNO (Royal Scottish National Orchestra) and get into the Christmas spirit with seasonal singalongs, letter writing to Santa and a virtual trip to Lapland!
It's snow joke, popular presenter and percussionist, Owen Gunnell, has only gone and slept through the first 12 days of December. He's made his list and checked it twice, but now the countdown to get ready is well and truly on.
Cue a mad rush to fit in all the festivities – seasonal singalongs, letter writing to Santa (easy peasy on his Typewriter) and a virtual trip to Lapland to see he delivers the Orchestra's Christmas wishes…we'll be Walking in the Air if he manages it!
The Night Before Christmas will premiere live on the STV Player and the RSNO and CCC's Facebook pages and YouTube channels. It will be available to watch for 30 days. Tune in here
Save the Snowman Game
Saturday 12th December @ 2pm
Stay in with Maths On Toast for an interactive live make-a-long event. Find out how to make a circle snowperson tree decoration and create a wintery scene with numbered snowflakes to make them happy.
The aim? To save them from melting! To join the event for free and find out what you need to take part, click here.
Maths On Toast is a UK charity with a mission to make everyone, kids and parents too, positive about maths.
LSO, A Singalong Christmas
Sunday 13th December @ 3pm
O come all ye faithful for the LSO's (London Symphony Orchestra) annual Christmas spectacular. From the comfort of your sofa, dust off those high notes and sing along as the LSO delve's into festive favourites and well-loved gospel classics. What better way to start your Christmas countdown?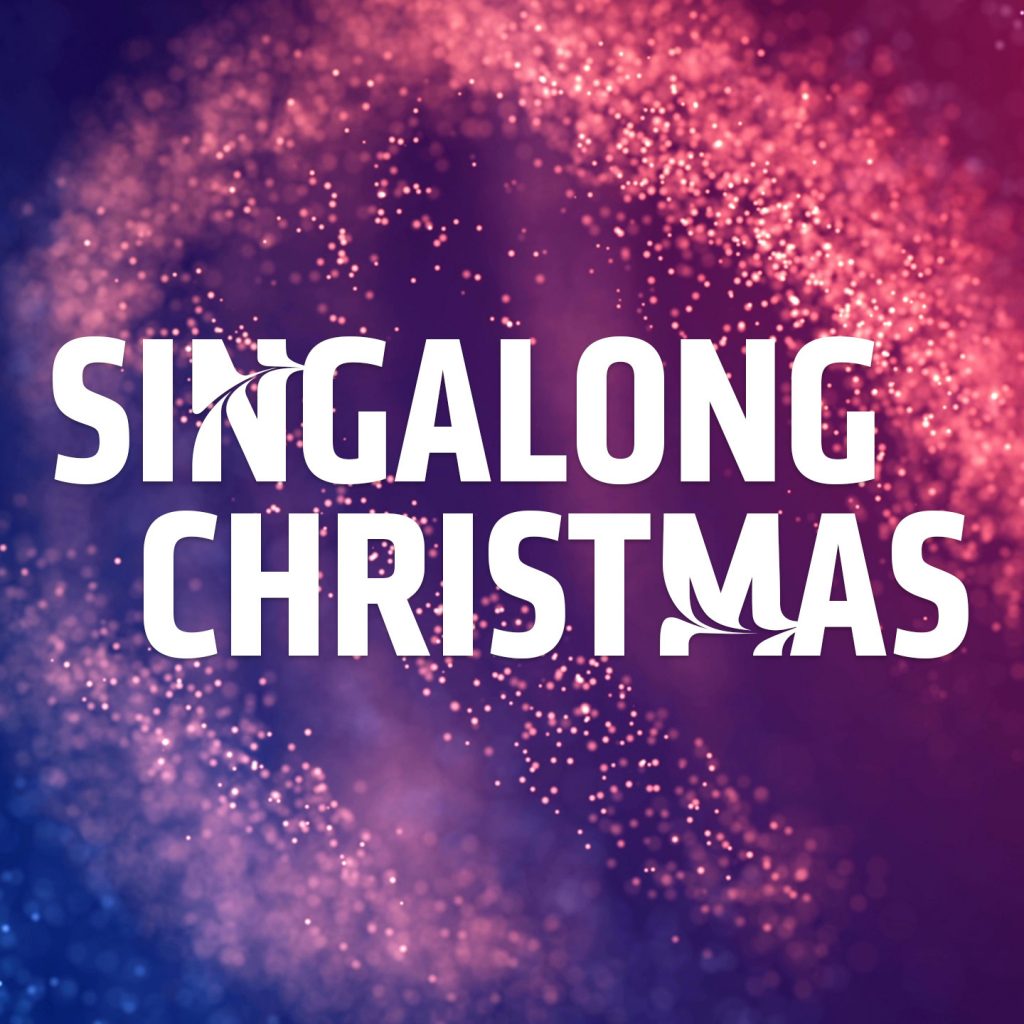 Led by LSO Choral Director Simon Halsey, we'll hear Sleigh Ride, Hark! The Herald Angels Sing and The First Nowell, alongside some yuletide discoveries from around the world. Get your festive season off to a flying start with A Singalong Christmas.
The concert will be broadcast for free on the LSO's YouTube channel and available on demand for 90 days. Join in here.

Big Dreamers Winter Festival
Until 20th December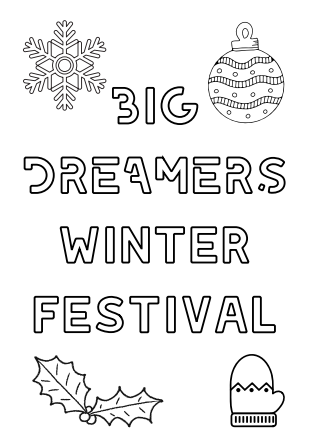 Harnessing the joy and wonder of the winter season the Big Dreamers festival offers three weeks of some of the best theatre for children and families' bringing some of the best touring companies in the UK together.
Offering adventures to far off lands, tales from arctic animals plus intergalactic inspiration. Access to the shows is free via Big Dreamers Festival YouTube channel.
Plus there's a colouring pack to get you into the festive spirit, check it out here
To find out what's on and when, access the festival programme here.

Maggie's Virtual Christmas Fair: a 360° Experience
Until 20th December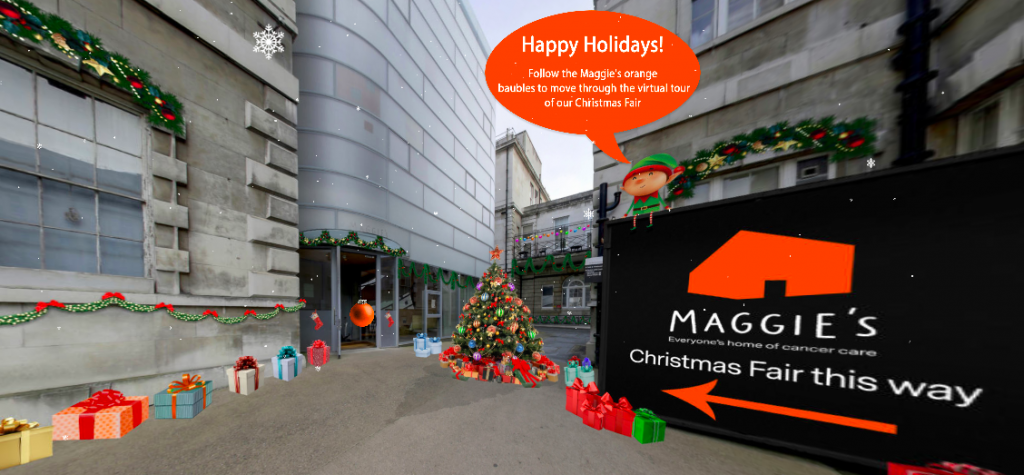 While you might not be able to get to an outdoor Christmas market this year, that doesn't mean you'll miss out on the festive fun. Maggie's St BartsCentre have created a free virtual 360° winter wonderland experience for 2020.
Follow Maggie's orange baubles to move through the virtual tour of the Christmas Fair. Start the experience here.

---
IN-PERSON EVENTS DATED
Queen's House Ice Rink, Greenwich
Saturday 5th December – 24th January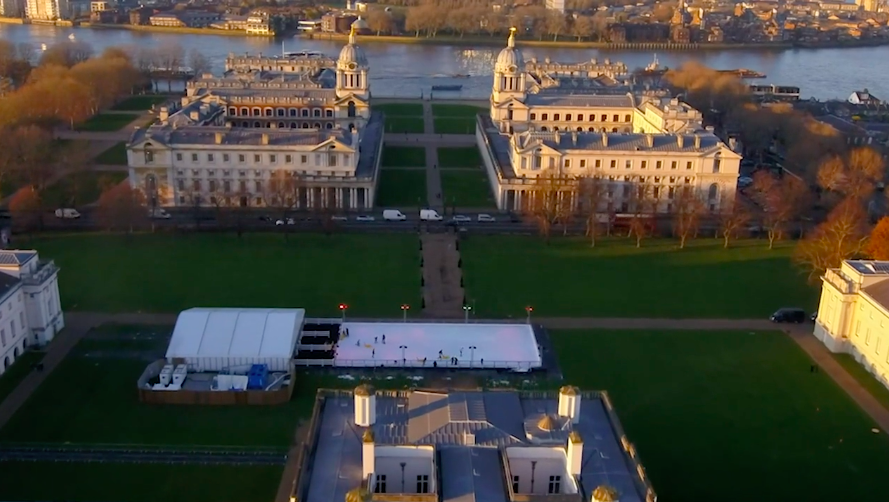 Get your skates on at the Queen's House Ice Rink, Greenwich. Located within a UNESCO World Heritage Site and the spacious grounds of Royal Museums Greenwich, the Queen's House Ice Rink is a magical place to skate.
Enjoy unbeatable views of the River Thames and Greenwich Royal Park as you weave (or wobble) your way around the rink. Tickets from £14.50 (adults) and £7.25 (kids) Find out more and book tickets here.
The Gruffalo's Child Live On Stage – 3+
Saturday 5th December – 3rd January
Follow the Gruffalo's Child on her adventurous mission in Tall Stories' enchanting adaptation of the much-loved picture book by Julia Donaldson and Axel Scheffler.
One wild and windy night the Gruffalo's Child ignores her father's warnings about the Big Bad Mouse and tiptoes out into the deep dark wood. She follows snowy tracks and encounters mysterious creatures – but the Big Bad Mouse doesn't really exist… does he? Let your imagination run wild with songs, laughs and scary fun for everyone.
Running time 55 minutes (no interval) and tickets from £13. To find out more and book tickets, click here.

Christmas Lights Tour
Friday 4th – Sunday 20th December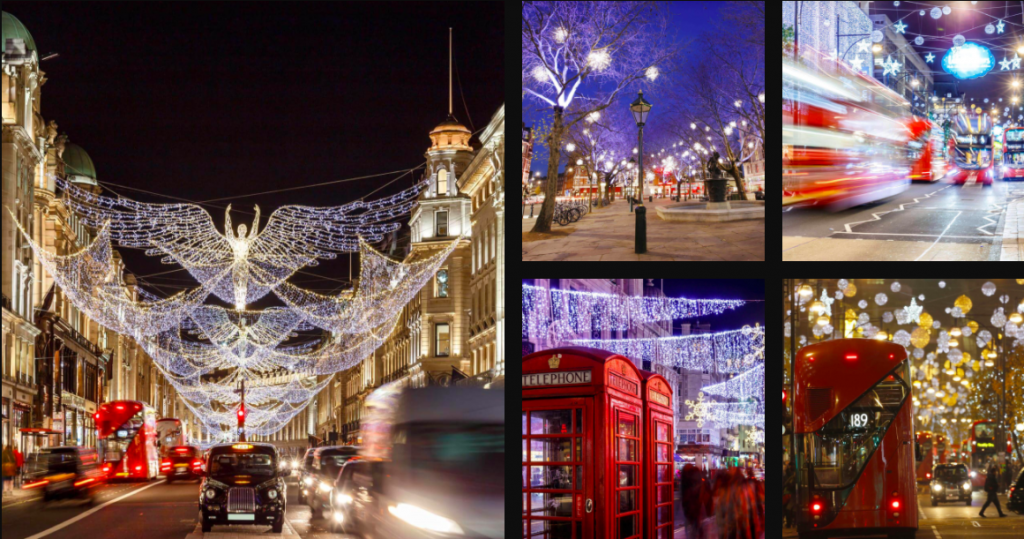 Take in the Christmas lights of London travelling on a restored 50-year-old Vintage bus.  The tour features live commentary with the route including  Oxford Street, Regent Street and Knightsbridge, as well as The London Eye and the famous Christmas tree at Trafalgar Square.
When booked through LittleBird tickets start at £14 (£25 elsewhere). To enjoy a saving, click  here.

---
LIGHT DISPLAYS
The Kings Cross Christmas Tree(s)
Until 4th January
There are not one but three magically unconventional trees in Kings Cross this year.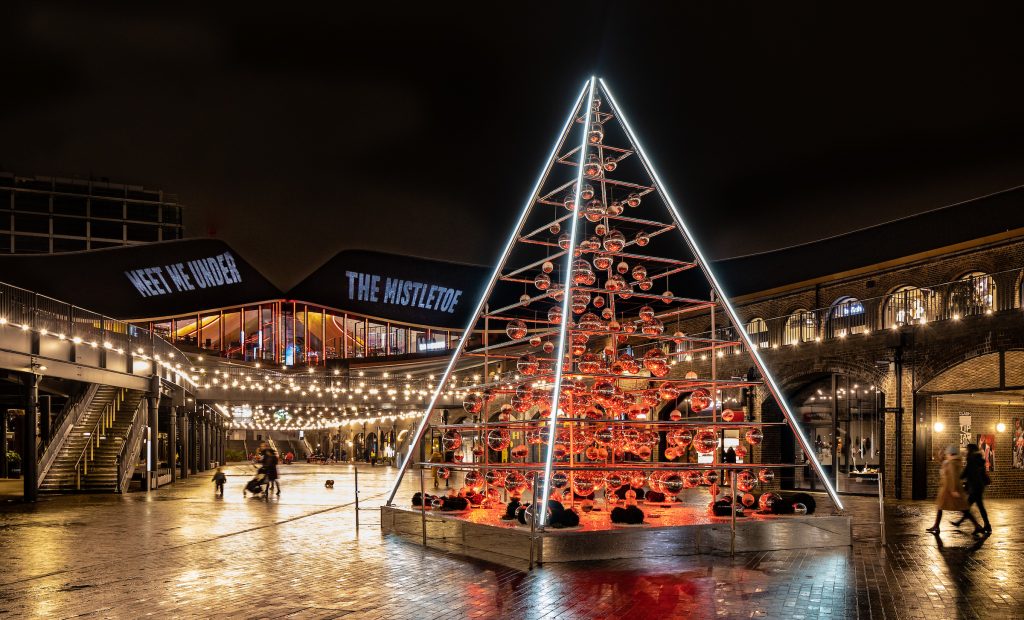 In Granary Square is the Electric Nemeton Tree which merges a fairy-tale forest with modern architecture. In Coal Drops Yard Botanical Boys have designed a Terrarium Tree made up of 70 living, miniature gardens.The terrariums are surrounded by 168 mirrored baubles in differing sizes and will grow throughout the festive season and then be re-homed in 2021. And in Battle Bridge Place is the People's Tree, an interactive multi-coloured installation that's literally 'powered by the people'.
Find out more and learn more about these unique trees, check it out here.

Chila Kumari Singh Burman's remembering a brave new world, Tate Britain, until 31st January
remembering a brave new world, combines Hindu mythology, Bollywood imagery, colonial history and personal memories. Inspired by the artist's childhood visits to the Blackpool illuminations and her family's ice-cream van, Burman covers the façade of Tate Britain with vinyl, bling and lights. 
A celebration of new beginnings, the triumph of good over evil, light over darkness. remembering a brave new world takes inspiration from the luminous struggles and victories of the past to offer hope for a brighter future.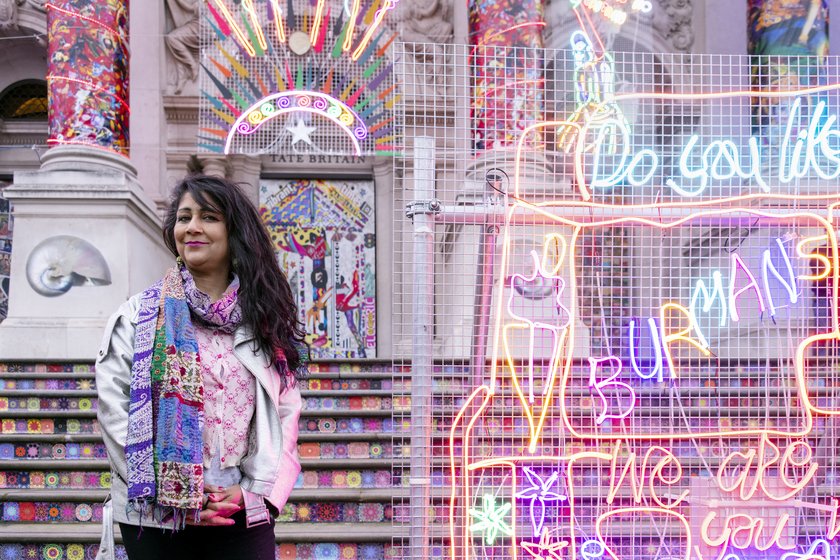 Head to Tate Kids to find out about the fantastical world of Chila Kumari Singh Burman that includes surreal collages, etchings and giant ice creams! Dive into this colourful display here.

Connected By Light, Canary Wharf
2nd December – 27th February
With the Canary Wharf annual Winter Lights festival postponed, Connected By Light brings together 9 specially chosen light artworks that can be appreciated from a distance. Visitors are advised to visit after dusk to experience the pieces dazzling at their best.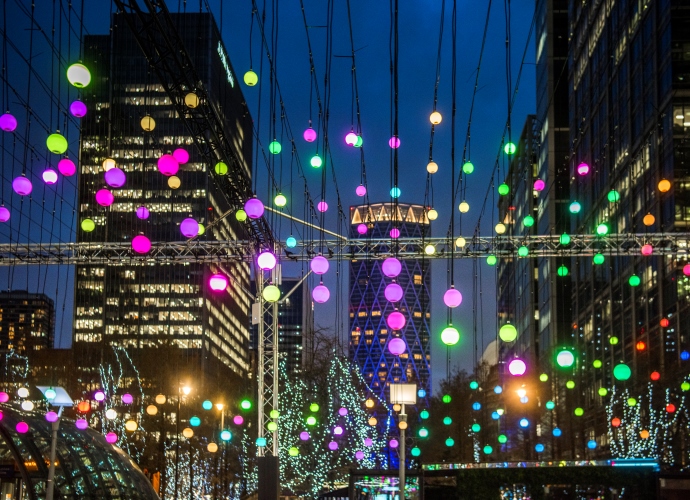 If you arrive before dusk, check out Children's Old Flo Quiz & Artbook. The quiz encourages children to explore art, the history of Henry Moore's Draped Seated Woman, and the process of creating a sculpture.
Don't forget the nearby Museum of London Docklands. It is free to enter, but you'll need to book a time slot. To reserve your time slot click here.
---
ONLINE ANYTIME THIS CHRISTMAS
Harrods x Oliver Jeffers: Virtual Art Class & How to Draw a Penguin
With no Christmas Grotto this year, Harrods are delivering festive moments through the magic of storytelling. In collaboration with children's author and illustrator Oliver Jeffers, they have created an immersive exploration where you'll be transported into Oliver's wonderful world.
Whether you join events in-store or simply tune in from your sofa to enjoy these at-home activities… 
Watch Oliver Jeffers Virtual Art Classes for free online. There are five classes to choose from – Animals, People, Hueys, Transport and Objects. Or, you can watch them all, we know we will be. 
For a Jeffers classic we recommend a free download the How to Draw a Penguin PDF here
Create your own carol service
With travel and church services still limited, this is a lovely idea. Create your own carol service by choosing carols and readings, listen to your favourites, download the words and join in or simply watch it below,
For more details, lyrics and and audio-only version click here.
What was the Christmas Star?
Head over to Royal Museums Greenwich to explore what was the Star of Bethlehem? Was it a Supernova, a comet, a stationary planet?
Over the years many astronomical explanations have been suggested for this key aspect of the Christmas story, discover more here.

---
MAKE THIS
Make your own wrapping paper
Check out Tate Kids 'Make your own wrapping paper' activity. Using potato printing you can create some colourful arty designs or get festive and sketch out some christmassy designs on your potato stamp. Start creating here.
Candy Cane Hot Chocolate Stirrers
'Tis the season for hot chocolate – and why not add to the fun by making some candy cane hot chocolate stirrers. You'll need candy canes, some chocolate to melt and dip the candy cane into and then something to decorate; mini marshmallows, Christmas sprinkles or edible glitter. Alternatively, stick the candy cane in a big marshmallow and dip that in chocolate and decorate. Simple and yummy. Find inspiration here.

---
WATCH THIS
We think it's time to truly get into the festive season and whack on a Christmas movie or two or three!
Jingle Jangle: A Christmas Journey – Netflix (PG)
Decades after his apprentice betrays him, a once joyful toy maker finds new hope when his bright young granddaughter appears on his doorstep.
Combining live action sequences with stop-motion and CGI animation, Netflix's 2020 Christmas offering has already won critical praise, and looks set to be a festive classic for years to come.
Klaus – Netflix (PG)
Netflix's contemporary animated classic – an alternate origin story of Santa Claus independent from the historical take of Saint Nicholas – should soon be seen as one of the best festive features going!
The film was Netflix's first animated original film to be nominated for an Academy Award (it lost out to Toy Story 4) It won Best Animated Film at the BAFTAs.
The Muppet Christmas Carol – Disney+ (U)
Who would have thought a cast of fuzzy puppets could outdo a Charles Dickens classic?
That's exactly what The Muppets did in the early 90s with this esoteric take on the Victorian novel, which employs plenty of artistic license to suit the aesthetic of the Muppets, but otherwise follows Dickens's original story closely.
---
DOWNLOAD THIS
Christmas Countdown & Christmas Photo App
The Christmas countdown app is more like an app that gets you all hyped up with the special countdown feature. So, the app basically counts down the days until Christmas with an appealing snowy countdown. The best part, it unwraps a little gift with every day of advent, sounds exciting, right!
You'll get a variety of holiday themes featuring Santa, you can also listen to Classic Christmas music without any ads and theres an option to get a new gift throughout December. Find out more here. Download on the App Store.

Portable North Pole
Best Merry Christmas App – Free
With this Christmas app, you can create and also share some cinematic personalised messages consisting of some holiday magic from Santa himself.
In addition to this, the Santa application will also help you in encouraging good behaviour this holiday season for kids, teenagers and grown-ups alike!
It consists of free games along with an advent calendar with bedtime stories an option to get a picture-in-picture video that users can even download
Download for FREE on the App Store or Google Play
---
LISTEN TO THIS
The Santa Daily
Daily episodes from 1st December
Santa Claus is telling Fun Kids Radio what he's doing in the lead-up to December 25th and is chatting about all the things he likes most about his favourite time of year. (Hint: Mince pies.)
Santa Daily is available wherever you listen to podcasts or you can listen directly on the Fun Kids Radio website.

How To Fail With Elizabeth Day is a podcast that celebrates the things that haven't gone right. Every week, a new interviewee explores what their failures taught them about how to succeed better. From actors to reality stars, authors to Gloria Steinem! If you aren't already a fan you soon will be!
Learn more about the podcast here. Streaming on Spotify and Apple Music.
---
Brought to you by The LittleBird Family Pass – unmissable savings on all aspects of family life, all year round. Plus virtual festive experiences and online Christmas shows too! Sign up here