The LittleBird Family Pass Top Picks Christmas 2021 Bumper Guide
We've rounded up some great activities and events to help you and your family stay entertained, inspired and active throughout the festive holidays with the only problem, how to fit it all in!
There's plenty of festive fun to be had from Ice skating to Christmas films, from meeting santa to seeing fantastical light festivals! Plus if you can't get anywhere or prefer the comfort of home, why not check out A Christmas Carol – The Virtual Performance by Charles Dickens Museum
or an online panto! Plus there's Christmassy crafts galore including elf baubles, how to make your own wrapping paper and reindeer sprinkle dust as well as our top picks of festive podcasts, with something for everyone.
And don't forget to check out our Book Forward to Look Forward highlights.
If you find our guide useful, please share Top Picks with your family and friends and sign up to the newsletter.
Brought to you by The LittleBird Family Pass –  saving families money all year round. To find out how,  click here 
TOP PICKS OF THINGS TO DO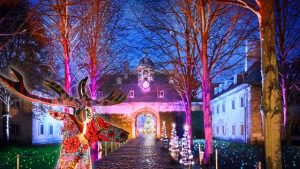 Explore the grounds of your favourite National Trust garden, park and estate after dark and see dazzling winter light displays throughout the Christmas holidays that promise to lift your spirits.
If you prefer to cozy up at home in the evening, there's plenty going on in the day with Father Christmas visits, Christmas markets and fairs, plus there's a Percy the park Keeper Trail.
Find out what's on this Christmas near you here
There's no better way of getting into the Christmas spirit than cosying up to watch classic films alongside family and friends in fittingly festive surroundings. With a selection of drive-in and indoor screenings at venues including Kensington Palace, Battersea Arts Centre, the NEC and Brands Hatch, you can expect all the classics with Luna Cinema's Winter season.
With Christmas-themed food and drink items available at both the drive-in and Luna indoor venues from mulled wine to hot chocolate, there's also a limited-edition Festive Box, which contains sweet treats, mince pies and popcorn.
Join the Family Pass and get 10% off your tickets, to find out more, click here
Expect the unconventional and mesmerising from this mini edible city. The Gingerbread City™ is an annual exhibition where architects, designers and engineers create an entire city made of gingerbread. Aiming to connect the public with architecture through an innovative display designed for the holiday season, the exhibition raises money to support the Museum of Architecture as a charity and helps to create programming, exhibitions and events. There are workshops running too where you can make your own gingerbread house.
Tickets are £14 for Adults, Under 12's- £8.50
To find out more and book tickets, click here
This year, you must book your tickets in advance to keep everyone safe. Immerse yourself in all things festive with Santa Land, ice skating, Zippos Circus, Christmas Markets, an ice slide and ice Sculpting, fairground rides, entertainment, food, drinks and so much more.
Entry is free during off peak periods with tickets £5 & £7.50 in peak period. Rides are an additional cost.
To find out more & book tickets, click here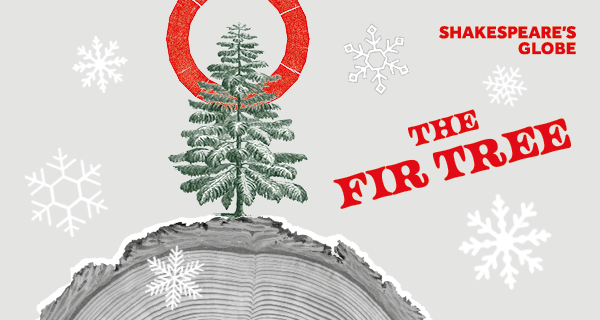 Enjoy a festive treat in the outdoor Globe Theatre for a magical re-imagining of Hans Christian Andersen's fairy tale The Fir Tree.
Let imaginations run wild as the Globe transforms into a forest, take part in carol-singing and tree-decorating, and enjoy a tale that reminds us that we all have a part to play in taking care of our planet.
With a hot chocolate (or mulled wine!) in hand, join Shakespeare's Globe under a wintry sky for this wonderfully festive dose of storytelling, puppetry and hope.
Tickets from £5. Find out more here
From 27th December, you can get 30% off tickets (excluding £5 standing tickets) exclusive to LittleBird using code: 73253. Click here
An award-winning and visually spectacular lantern and light festival. Explore interactive exhibits, immersive light installations, and the magical illuminated trails. Each location promises a unique themed Christmas light trail for you to experience.
Tickets from £20 for adults, £13.50 for kids (may vary depending on location)
To find out more, click here and for 20% off London tickets, click here
A train with a twist – adorned with hundreds of colourful lights and specially illuminated lineside displays, on board narration and music it promises a magical experience. With a specially designed show to highlight Epping Ognar Railway stations, rural setting and woodlands, that you can experience from the comfort of a train carriage.
Tickets are £20 per person inclusive of train travel.
To find out more, click here
Circus 1903 is back this Christmas, bringing all the spectacular thrills and daredevil spills of the golden age of the big top. Expect acrobats, contortionists, trapeze artists, a death-defying high-wire act and sensational life-sized elephants, created by the puppeteers behind War Horse.
To get up to 35% off your tickets click here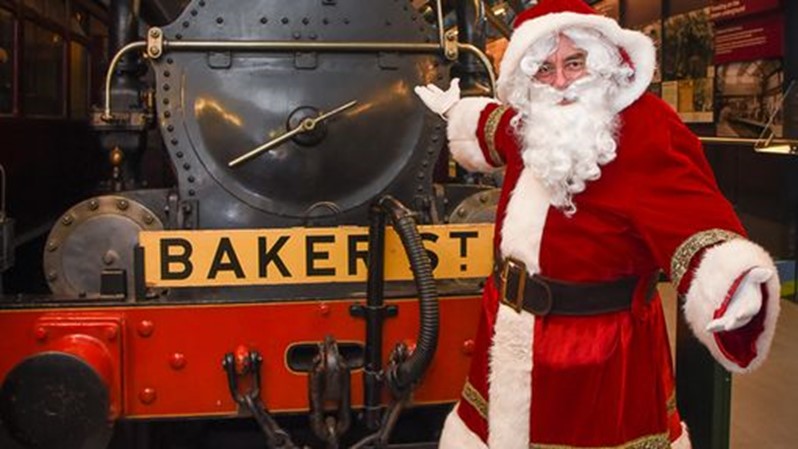 If you're heading to Covent Garden for some Christmas shopping, make time for a visit to the London Transport Museum. With tons of festive fun promised including the brand new interactive 'Fix Santa's Sleigh!', the chance to meet Santa and his Elf in a magical winter garden (from 11am-3pm until 23 December), plus a festive trail around the Museum galleries with weekly prizes up for grabs.
Adults £18.50 with tickets valid for a year – children go free, plus all events are free once you're in.
To find out more and book tickets, click here
While you're in Covent Garden, make sure you grab a selfie in front of this year's pink Christmas Tree!
Delighting audiences for 23 years, this magical stage adaption of Raymond Briggs' much-loved book, and the film directed by Dianne Jackson and produced by John Coates, has transported a generation of children and their families into the wintery wonderland of a boy and a snowman that comes to life.
Tickets from £17. Check it out here
Get your skates on at the Queen's House Ice Rink, Greenwich. Located within a UNESCO World Heritage Site and the spacious grounds of Royal Museums Greenwich, the Queen's House Ice Rink is a magical place to skate. Enjoy unbeatable views of the River Thames and Greenwich Royal Park as you weave (or wobble) your way around the rink.
Tickets from £15 adults and £8.50 kids
To find out more and book tickets, click here
This Christmas, prepare to be swept up in a whimsical world of planets and stars on an enchanting new light trail at Hampton Court Palace. As dusk falls across this magnificent former royal home, an atmospheric, fantastical wonderland of clocks, moons, planets and sundials is just waiting to be discovered.
Tickets Adult £12.50, Kids £8.00, Under 5's go free and do not need a ticket.
Explore English Heritage historic places with a festive family-friendly adventure quest. Follow the trail, find the clues and discover amazing stories and secrets.
To find out more, click here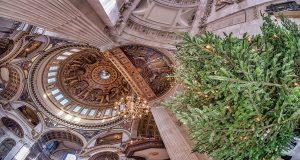 Enjoy family trails and multimedia guides, sparkling Christmas trees, and amazing views from the Dome Galleries.
Tickets: Adults £17.00 and kids go free from 17th December 2021 – 9th January 2022.
Click here for Kids Go Free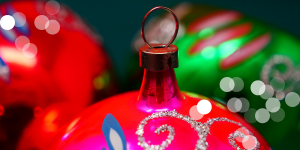 The Museum of the Home has reinstated their Rooms Through Time that are dressed to show how people have celebrated Christmas and other Winter events in their home over the past 400 years.
From the Midwinter festival to the Millennium party, enjoy the chance to explore and learn how and why homes were decorated and winter events celebrated. Find out where Boxing Day got its name from and why the Christmas tree first appeared in our homes.
To find out more, click here
Throughout December London's Grosvenor Square will be illuminated with thousands of white roses. Visitors can dedicate their own illuminated rose to a loved one online or in person at the garden, in return for a donation to The Royal Marsden Cancer Charity.
To find out more, click here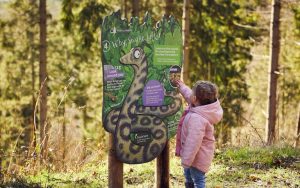 When it's time to get out and enjoy some fresh air, head to the deep dark wood to discover orienteering trails and giant Gruffalo sculptures, plus an augmented reality app.
Before you go, check out Forestry England's Festive Family Activity sheets. From making the perfect decorations to getting arty with leaves collected from the forest floor, enjoy craft ideas here
OUR VIRTUAL TOP PICKS CALENDER DATES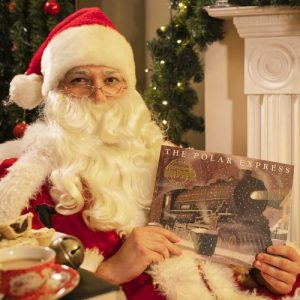 Storystock – in association with Andersen Press – presents a live streaming from Father Christmas's fireside chair straight into your home. Sit snugly in your pyjamas and listen to Father Christmas reading you his favourite story, The Polar Express, and personally sending you his Christmas wishes.
This online immersive experience aims to get everyone in the mood for Christmas and Storystock has been working closely with Santa's elves to put together a truly festive bundle of fun. Tickets from £3.50 per household
Find out more here
You're invited to the Flamingo Land Christmas party which will be streaming live from the Bird and Sealion show. Join via the Attractions Near Me Facebook Page at 12.00pm when a number of stars from the Bird show will be making an appearance. There's lots of interactive fun and live entertainment on offer for all the family. Plus you can join in the fun and let the team know if your children have been naughty or nice and they'll read out their names and their Christmas wish list – which one of the birds will then drop into Santa's postbox! Fill out the form here
Watch the live event on the Attractions Near Me Facebook page here.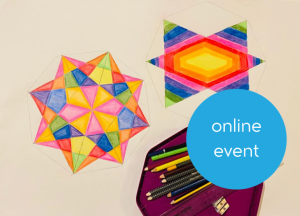 Join Maths On Toast this festive season for some star gazing in this interactive live make-a-long event. Enjoy drawing or doodling your own stars! Did you know that we can use 2D shapes to help create stars with varying numbers of points? Join in to find out how!
Maths On Toast is a UK charity with a mission to make everyone, kids and parents too, positive about maths.
To join the event for free and find out what you need to take part, click here
Back with another festival for Christmas 2021, join Little Suppernovas & Onceupona for another week of children's storytelling and theatre! Enjoy stories including The Snow Bear with Hoglets Theatre, The Gingerbread Man with Above Bounds and A Winter Wander Tale with Wander Tales with Christmas Eve promising Santa's Sing-A-Long & Stories.
Tickets £3.50 per household. Aimed at ages 2 – 8
To find out more & to book tickets, click here
Enjoy Dominic Gerrard's celebrated adaptation of A Christmas Carol. This magical production, directed by the Tony Award-winning Tim Carroll, has been filmed exclusively inside the house where Dickens once lived and wrote.
Shot by candlelight, Dickens' heartwarming narrative is told with haunting puppetry created by Mandarava and a Christmas soundscape led by Alexis Bennett on the violin.
Tickets £15 per device. To find out more & to book, click here
And if you have someone at home studying A Christmas Carol for their GCSE, you might be interested in this Virtual Family Workshop, exploring A Christmas Carol click here
Take part in the V & A's festive online digital workshop and make your own paper creation with graphic designer Bethan Durie. Let your creativity take over as you craft something beautiful for the whole family to enjoy.
Tickets are £7 per device. To book, click here
'Blue Peter' legend and critically acclaimed Panto Dame, writer and director, Peter Duncan is back again this year with even more boos, cheers, 'he's behind you's', a sing-a-long song and all the classic panto antics that we love.
CINDERELLA will be making her debut this December, in cinemas across the land and online. Tickets start at £25. Once purchased, CINDERELLA (approx. 90 mins) can be viewed multiple times until 16 January 2022.
To find out more and enjoy an exclusive 20% saving with The LittleBird Family Pass, click here
ONLINE ANYTIME THIS CHRISTMAS 
Father Christmas, Santa Claus, St Nick… we think we know who's responsible for delivering our presents on Christmas Eve. But who plots the sleigh's route, triple checks the presents and manages air traffic control on the all-important night? Mother Christmas, of course!
This light-hearted and lively tale will introduce you to a new festive hero, and bring much-loved Christmas traditions careering into the 21st Century.
The Little Angel Theatre are offering this online show for free, but if you're able to make a donation it would be much appreciated. To find out more and watch, click here
Learn how to make traditional decorations for a greener Christmas with the National Trusts how to video guides. With simple step-by-step instructions, you can get the whole family involved in the festive fun.
Crafty festive fun starts here
Beauty and the Beast is about to begin, but as you have never heard it before! This interactive online audio experience allows you and the kids to run the lights from the tech box, hear how the Stage Manager keeps everyone in line, help the friendly usher get people to their seats, listen to the football in the green room with a cheeky actor, and find out what they do to make the story come to life. Start at the box office, click to meet our first character, then visit all the different sections and click on them to hear how the story unfolds.
Find out what it takes to put on a show here
High Flying Stories are offering this online experience for free but if you're able to support, please do and click here
Everyone knows the best parties are always in the kitchen! So grab your pots, pans, buckets, salt shakers, wooden spoons, tupperware or anything that makes a noise and join in the fun with the RSNO percussionists.
Find out how to create your own family and friends samba here
Make yourself comfortable as you explore the story of Jesus' birth and create Christmas crafts to bring festive cheer to your home through these festive videos.
Explore here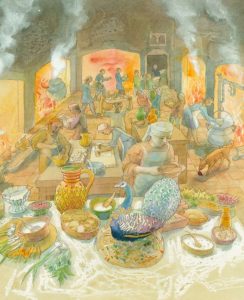 Explore five Christmas highlights from the pantries, butteries, larders and kitchens of medieval England. Special effort was made across the social spectrum within Christian households to mark the occasion, whether with very fancy dishes in the wealthiest of monasteries and castles, or simply a larger portion of food and drink (alcoholic and otherwise) in the homes of peasants across the kingdom.
Find out what they use to eat and drink! on Christmas Day here
CINEMA NEW RELEASES:
Don't miss Steven Speilberg's adaptation of the 1957 musical, West Side Story explores forbidden love and the rivalry between the Jets and the Sharks, two teenage street gangs of different ethnic backgrounds.
A young girl's love for a tiny puppy named Clifford makes the dog grow to an enormous size.
With Spider-Man's identity now revealed, Peter asks Doctor Strange for help. When a spell goes wrong, dangerous foes from other worlds start to appear, forcing Peter to discover what it truly means to be Spider-Man..
The long-awaited next chapter in the groundbreaking franchise, reuniting. Plagued by strange memories, Neo's life takes an unexpected turn when he finds himself back inside the Matrix.
Directed by Matthew Vaughn in the early years of the 20th century, the Kingsman agency is formed to stand against a cabal plotting a war to wipe out millions.
To discover exclusive cinema savings, join the Family Pass. Find out more here
WATCH THIS:
When it's time to stay and get cozy together on the sofa BBC One, BBC Two, ITV, Channel 4 and Channel 5 have a host of classics to tune in for over the festive period, while the likes of Netflix, Sky Cinema, Disney+ and Amazon Prime Video also have impressive line-ups in terms of their new movies this December. So here are just a few highlights…
BBC1
The Secret Life of Pets 2 – 25th December, 1.10pm and 31st December, 10.55am
Mary Poppins Returns – 25th December, 3.10pm
Shaun the Sheep Movie – 26th December, 10.10am
Trolls – 25th December, 11.30am
A Star is Born (2018) – 29th December, 9pm
Zootropolis – 30th December, 1.45pm
The Jungle Book (2016) – 30th December, 3.35pm
Ready Player One – 30th December, 10.35pm
BBC 2
Last Christmas – 23rd December, 9pm
North by Northwest – 24th December, 3.20pm
Casablanca – 25th December, 11.10am
Singin' in the Rain – 26th December, 12.40pm
ITV
Nativity Rocks! – 24th December, 11am
Santa Clause: The Movie – 25th December, 3.10pm
Love Actually – 25th December, 10.40pm
Hotel Transylvania – 27th December, 11.45am
Spectre – 31st December, 9pm
CHANNEL 4
It's a Wonderful Life – 24th December, 2pm
Home Alone – 24th December, 6pm
How to Train Your Dragon – 25th December, 11am
White Christmas – 25th December, 12.55pm
Home Alone 2: Lost in New York – 25th December, 5.15pm
DISNEY+
Diary of a Wimpy Kid – available to watch now
Die Hard – available to watch now
Ron's Gone Wrong – 15th December
Encanto – 24th December
Paddington – 31st December
Paddington 2 – 31st December
NETFLIX
This Polish Christmas comedy sees David, a young boy whose parents have forgotten the meaning of Christmas, befriend an overworked elf named Albert as they journey together to the Tatra mountains to find the true meaning of Christmas.
Another new festive film is British comedy Father Christmas Is Back – with a star-studded cast, featuring Elizabeth Hurley, John Cleese and Kelsey Grammer. Join in on this family reunion during the Christmas holidays as the attempt to have a perfect Christmas results in a family secret being revealed.
Last year's Netflix Original A Christmas Prince proved so oddly addictive it bagged itself a sequel, suspiciously well-timed with our own royal events. Amber and Prince Richard prepare to tie the knot, causing Amber anxiety she's not fit to be royal. It's not any better than the first, but remains as inexplicably watchable.
MAKE THIS
Check out Eats Amazing advent calendar of Christmas fun food ideas. From Snowman Sandwich Balls to Tin Can Mini Christmas Cakes, from Candy Cane Smoothies to Marshmallow Penguins.
All you need to do to find each daily festive fun food idea is click on the numbered 'door' for the day. You'll be taken to the blog post where you'll find all the details you need to help you make each recipe or tutorial.
Find your edible festive fun here
On Christmas Eve night, as Father Christmas is rushing from house to house to deliver presents to all the good girls and boys, his reindeer helpers often need a quick snack to keep them going on their busiest night of the year. Get ready to guide Santa's reindeers to your home on Christmas Eve with this RSPCA recipe that doesn't include glitter, which is very bad for flying reindeer and other garden wildlife.
Find the recipe and how to make it here
Using found pine cones and craft materials, find out how to make your own colourful Christmas elf baubles. Use them to decorate your festive tree, or to spread yuletide cheer around your home.
Aimed at ages 7+ with their grown ups.
To find out what materials you'll need and to watch the video, click here. There's also an activity sheet to download too.
Check out Tate Kids 'Make your own wrapping paper' activity. Using potato printing you can create some colourful arty designs or get festive and sketch out some christmassy designs on your potato stamp.
Start creating here
These no bake mini gingerbread houses look super cool and most importantly, super easy.
Follow the recipe here
LISTEN TO THIS
Kids Podcasts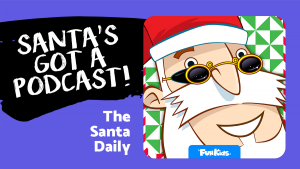 Follow Santa Claus as he gets ready for his big day. Listen as he tells you all about what he's up to in the lead-up to the big day. Plus he'll also be chatting about all the things he likes most about Christmas.
Start listening here
If your countdown to next Christmas starts at midnight on Dec. 26, then this is the podcast for you. The year-round series hosted by Comedian Tim Babb covers everything that makes the holidays quirky and magical, from obscure holiday specials like Emmet Otter's Jugband Christmas, to the top Hallmark Christmas ornaments to score this year.
Find out more here
If your inquisitive tots have a million questions about why we chop down trees and put fragile ornaments on them every year, or who decided that fruit cake was an edible food, then look no further than the Christmas Past podcast for all those curious answers. This podcast tells the nostalgic stories behind all those Christmas traditions you love.
Start exploring here
Grown ups + Family 
All things holly, jolly and odd-ly…
A podcast to delve into strange traditions and odd facts surrounding the festive holiday.
Start discovering here
Love all things Christmas and Podcasty? Look no further then…
The voices behind the podcast are just three super Christmas nerds who love anything and everything Christmas. So what can you expect from this group of misfit toys? Every week they look at a different Christmas movie, special, or TV episode.
Find out more about the podcast here
Step into England's story courtesy of English Heritage. A weekly podcast, join presenter Charles Rowe as he brings the history of English Heritage sites to life with news, views and expert interviews.
And you can discover how Christmas has been celebrated throughout history by finding out what royals ate for their festive dinners, explore the origins of the Christmas carol, and much more!
Dive in here
A daily Kids, Family and Fiction podcast
Ho Ho Ho and Merry Christmas! Santa has his sack just packed full of old time radio shows. And if you are good, Santa will be podcasting these heartwarming and family fun shows from the Golden Age of Radio.
Find out more here
DOWNLOAD THIS
This Christmas, amaze your loved ones by creating a personalized video message and phone call from Santa Claus! (offers in-app purchases for personalised message etc)
Draw beautiful Christmas pictures with glitter brushes in this fun app. You don't need any experience and skills, teach yourself how to draw the beautiful Christmas pictures step-by –step.
BOOK AHEAD
Travel back to 1912 through photographs, handwritten letters, wayward keepsakes, and other personal belongings telling countless stories about the fates and heroic deeds on board.
Titanic: The Exhibition is far more than a display of historic items: it is a unique narrative experience, a tale of the people aboard history's most legendary ship on its maiden and final journey.
To find out more & to book tickets, click here
Set twelve years before Philip Pullman's epic His Dark Materials trilogy, two young people and their dæmons, with everything at stake, find themselves at the centre of a terrifying manhunt. In their care is a tiny child called Lyra Belacqua, and in that child lies the fate of the future.
Nicholas Hytner returns to Pullman's parallel universe to direct a gripping adaptation by Bryony Lavery.
Tickets from £15. Suitable for 8+
To find out more & to book tickets, click here
Celebrating 20 years of Imagine Children's Festival, the largest festival of its kind in the UK, Imagine Children's Festival is dedicated to families experiencing and enjoying all kinds of art and culture together.
To find out more & to book tickets, click here
Step into the pages of the comic and take a trip into Beanotown to explore this beloved icon of British comics. Come face-to-face with the Beano gang – including Dennis and Gnasher, Minnie the Minx, Bananaman and the Bash Street Kids – through original comic artwork and amazing artefacts, plundered from the Beano's archive.
So whether you want to be inspired by fearless artistic mavericks, revisit a much-loved childhood comic masterpiece or explore the Beano's larger-than-life characters with your own little rebels, this exhibition will prove that there really is no age limit on the art of breaking the rules.
Tickets: Adults £16, Concessions £12.50 concessions and Under 6s free
To find out more & book tickets, click here
Celebrating the life and work of one of the best loved children's authors of the 20th century, this family friendly exhibition will take visitors on a journey to discover Potter's life as a scientist and conservationist, exploring the places and animals that inspired her most beloved characters. In collaboration with the National Trust.
Tickets: Adults £14.00, Under 12s go free
To find out more & to book tickets, click here
Brought to you by The LittleBird Family Pass –  saving families money all year round. To find out how,  click here