Legoland Holidays – Things to Know Before You Go
From One Parent to Another…
What does a Legoland Holiday involve you may wonder? Well at its most basic level, you can expect a day of family fun at the Legoland resort, followed by an overnight stay to allow you to rest your weary feet and get some much needed R+R for a second (and most importantly free) day in the Legoland park. Enjoy the park at a more leisurely place (if there is such a thing with kids + theme parks) and make the most of a free breakfast which is included in the package.
From one parent to another, here is some advice on what to expect and how to make the most of your trip…
(Note: this is largely aimed at Holiday bookings onsite but those staying off-site may still find useful information.)
Things to think about before
Where do we stay?
You can stay at either the Legoland Resort Hotel or Legoland Castle Hotel, or at a choice of partner hotels nearby.
Staying at one of the onsite Legoland Hotels is generally more expensive but it ticks the box on novelty factor, plus the folks behind the scenes really go out of their way to make your stay special, with a free Lego gift in the room and kids treasure hunt, plenty of activities and entertainment, on top of the already-awesome top-to-toe Lego theme. Everything is 'Lego-fied' as one 10-year-old aptly described it!
Staying at one of the onsite hotels gives you exclusive early access to the park from 9:30am, half an hour before the general gates open.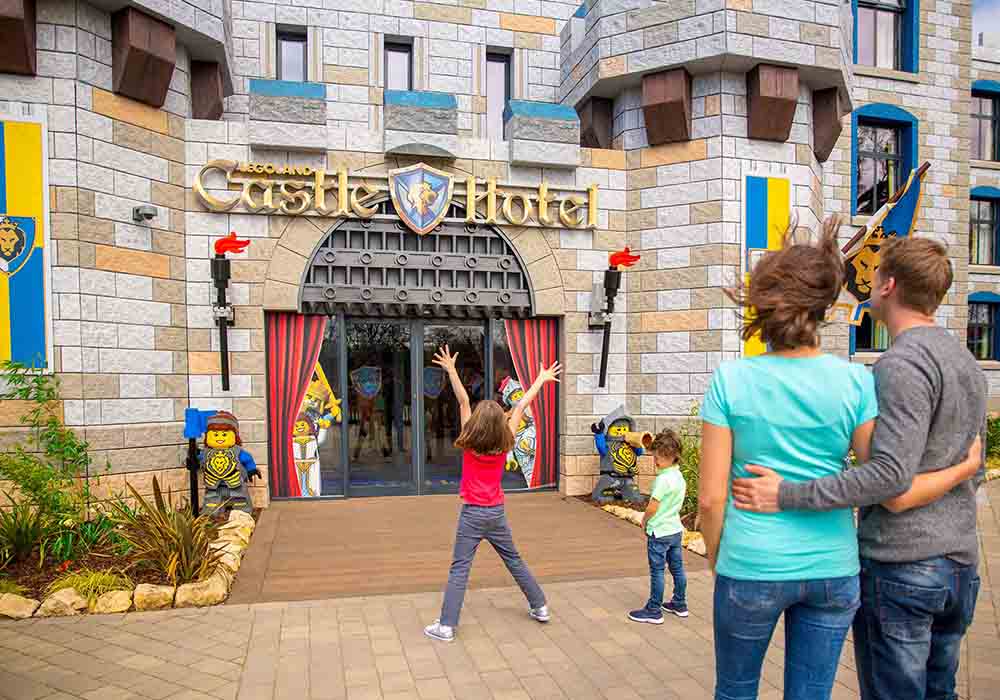 Both hotels are an impressive sight right from the get-go; the Legoland Resort Hotel with its mighty entrance guarded by a giant green Lego dragon and the Castle Hotel with its regal turrets.
The Resort Hotel has a range of themed and premium rooms to stay in: Adventure, Kingdom or Pirate-themed. They've also just added Ninjago-themed and LEGO Friends rooms to the mix as well.
The Legoland Castle Hotel is the newest addition to the resort and comprises over 80 million Lego bricks! Within the castle walls lie two themed rooms to choose from: Knights or Wizards. It is probably the most premium accommodation option, with a number of special extras included in packages. Each room for example features a PS4 or Xbox, Nespresso coffee machine, LEGO drinks bottle and swim bag. Kids can also meet various Lego characters during your stay.
What facilities are there?
Rooms have free Wi-Fi, TV (with dedicated Lego TV channel), tea and coffee facilities, telephone, and en-suite bathroom with shower. Children's sleeping areas also have their own tv which they love. Both hotels have kids playgrounds, exclusively for guests, so if you find the kids have some extra energy to burn, this is a great place for it. There is also a gym for adults if you find yourself with some extra energy (or wanting some time out)!
The Castle Hotel playground features an awesome adventure playground complete with towers and an assault course.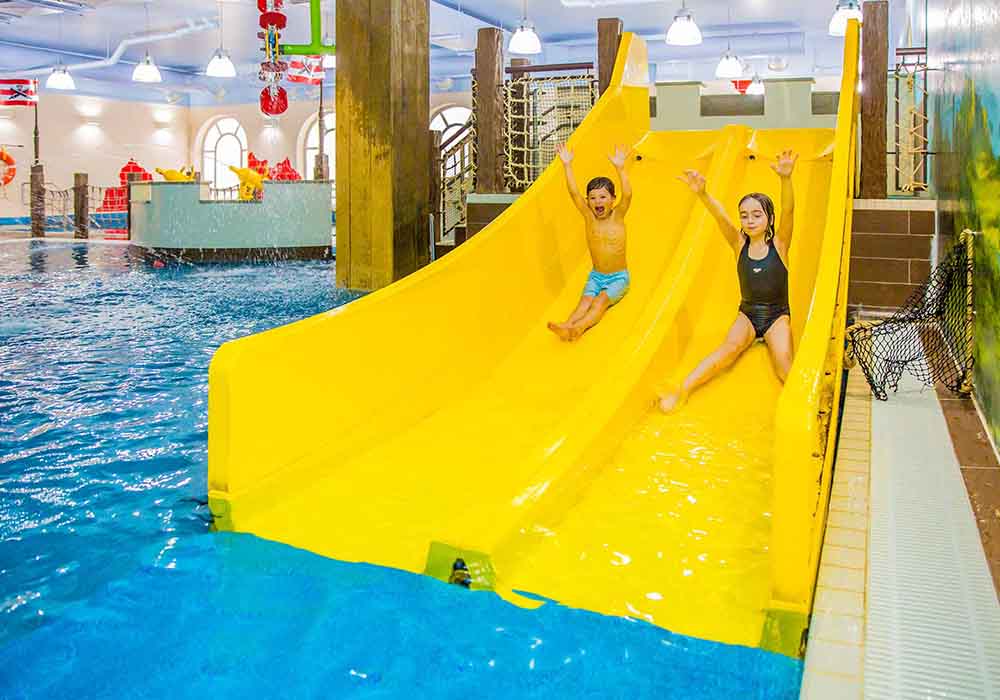 Both onsite hotels have access to an awesome indoor swimming pool which features a pirate-themed water play area where kids can enjoy the slides or soak each other with water guns. You do need to book this in advance to get the slot you want. Find out more here.
What do we do about food?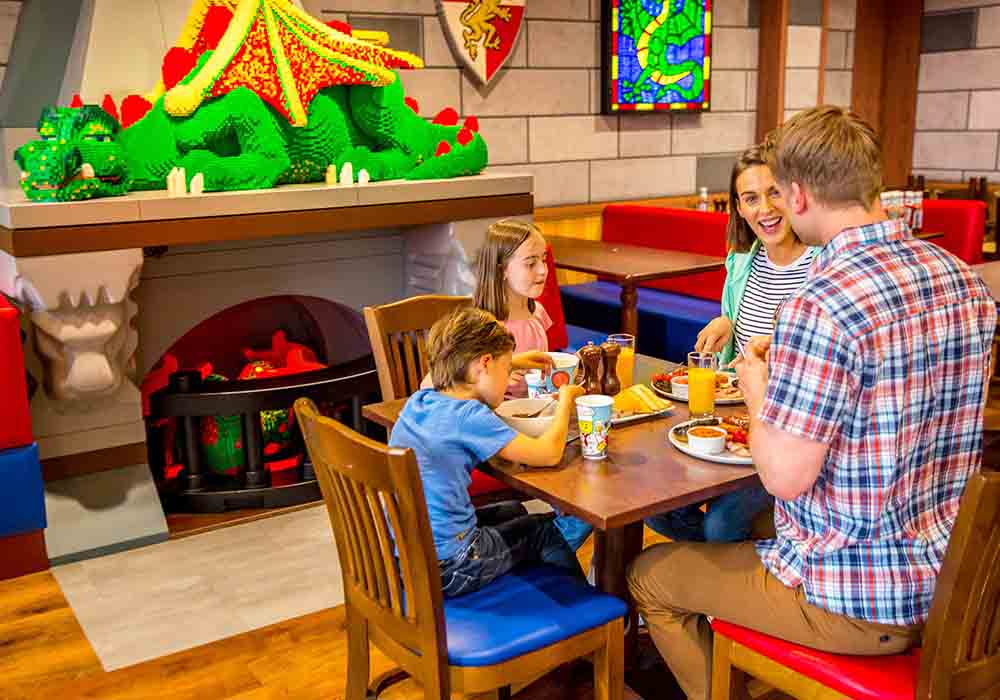 Breakfast is included with either an onsite or offsite Legoland Holiday. The Legoland Resort Hotel has a buffet breakfast at the Bricks Restaurant, which is packed full of cereal, fruit, pastries and even a Full English if you want to build up your strength for the day ahead.
The Legoland Resort Hotel has either the Bricks restaurant or Skyline bar, both of which have kid-friendly menus and healthy-eating options. The Bricks restaurant offers more of a buffet style dinner, including a tempting chocolate fondue fountain…!
If you're staying at the Legoland Castle Hotel you can either choose to eat at the Tournament Tavern (a grill restaurant – pictured above) or head over to the Legoland Resort Hotel to the Bricks Restaurant or Skyline Bar.
What else is there to do?
If you're staying at the Resort Hotel, there is a packed schedule of evening entertainment, including magic shows and mini-disco. So the kids can be kept busy while you enjoy a well-earned drink.
The Resort Hotel also features a cinema, lego-building room and not one, but two play-station rooms.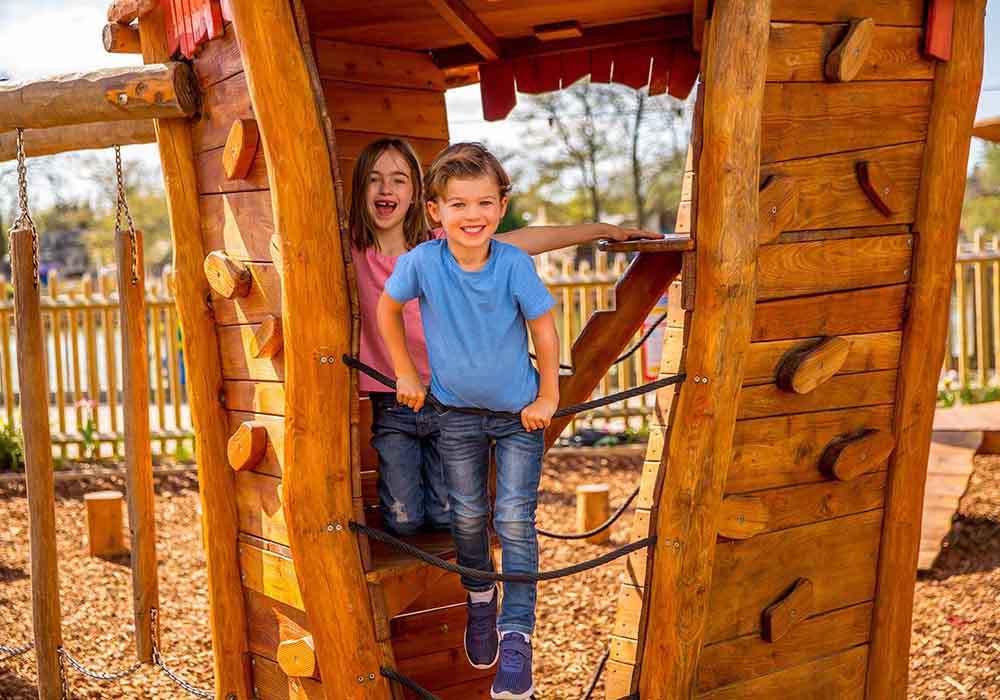 Parking
Legoland Hotel guests can make the most of free parking opposite the hotel.
Check In/Check Out times
Earliest check-in time at the resort hotels is 3pm and the latest check-out is 10am. If you arrive earlier to enjoy the park in the day, you can leave your luggage in the car and then come back later to check-in when you're ready.
Special Offers
Our friends over at Legoland are lovely and like to offer LittleBird families a saving every now and then. Check here for the latest savings available.
If you want to discover more useful family tips for visiting the theme park and making the most of your day, have a read of our Things to Know Before You Go to Legoland blog here .