LittleBird's October Half Term & Halloween Top Picks
We've rounded up some great activities and events to help you and your family stay entertained, inspired and active throughout the October Half Term and Halloween celebrations with the only problem, how to fit it all in! So get comfy, put the kettle on and get reading.
If you find our guide useful, please share Top Picks with your family and friends and sign up to the newsletter.
Brought to you by LittleBird.co.uk – ideas and saving for families all year round. To receive our weekly newsletter full of inspiration and family fun, click here
TOP PICKS OF THINGS TO DO
LONDON
Explore how music shapes our lives in this landmark interactive exhibition and discover why music has such a hold over us? What is it about music that drives us to create, perform, feel, connect with others? After a hugely popular run at the Science + Industry Museum in Manchester, Turn It Up: The power of music moves to the Science Museum, London this autumn.
Tickets: Adults £10, Children £8. Family discounts available. Ages 4 & under go free.
To find out more & to book tickets, click here
LittleBird Top Tip: If your kids are 11+, don't miss a visit to Technicians, an exhibition that opened last autumn. It allows young people to step into the fascinating world of STEM careers. Experience what it's like to create visual effects on a blockbuster film set, analyse blood samples in a medical laboratory, operate a robot in a manufacturer's workshop, and more.
For the first time ever Patagotitan mayorum will be going on display in Europe. At four times heavier than Dippy the Diplodocus and 12 metres longer than Hope the blue whale, this gigantic creature is a truly spectacular sight! Don't miss your chance to come and see this extraordinary dinosaur up close at our fun, interactive exhibition for all the family.
Ticket: Adults: £16, Children: £9
To find out more & to book tickets, click here
LittleBird Top Tip: If your kids can't get enough of these prehistoric reptiles, find out tons more fun facts, quizzes and activities here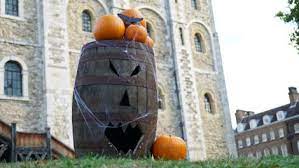 With a thousand years of history housed within the Tower's walls, can you find spirits of the past this Halloween?
As you make your way through the Tower, you might find a wisp of white sweeping by you on the stairs, or the trail of a Tudor gown swishing past a doorway. Catch sight of a medieval queen upon a crooked throne, spot a Roman soldier near the remnants of the London Wall, or glimpse the Wizard Earl concocting potions in his apothecary.
Pick up a trail when you arrive and keep track of the ghosts that you spot on your visit.
Tickets: Adult £37, Children £18.50
To find out more & to book tickets, click here
Take an exciting and atmospheric trip through Japan – and explore how landscape and folklore have influenced Japanese art, technology and design. You're encouraged to play and create inside the exhibition, with a range of activities from origami and music-making to creating a growing manga installation.
Tickets: £10. Under 4s free. Free 'Repeat visit' for the duration of the exhibition
To find out more & to book tickets, click here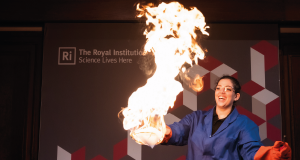 Packed full of talks, demonstrations and hands-on science don't miss the Ri's Family Fun Day. Get hands on with a whole host of exciting activities, experiments and demonstrations exploring every corner of the world of science. From things disappearing to things bouncing in a weird way, you will be sure to find something unexpected along the way.
Aimed ages 7 – 12. Tickets: Adults £16, Children £10
To find out more & to book tickets, click here
LittleBird Top Tip: Check out the Ri's new Family Membership; a flexible way to save money on your science, and don't forget to watch the CHRISTMAS LECTURES on TV later this year.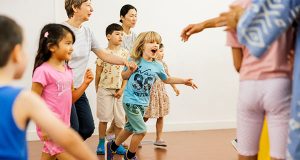 Head to Shakespeare's Globe to gather together for exciting Storytelling performances of Romeo and Juliet, Macbeth and The Winter's Tale for ages 5—12 (and their grown-ups), or bring the characters and stories to life yourselves in creative Family Workshops. Discover an interactive Short Course for aspiring Young Actors ages 8—10, or explore the spooky side of Shakespeare this Halloween in a Ghosts and Ghouls Family Tour for ages 7+.
Tickets from £10
To find out more & to book tickets, click here
Make, build, and photograph at this workshop for families. Head to the Royal Academy to enjoy this workshop inspired by Catherine Opie's Portraits of Artists. You and the kids will work with artist Eva Jonas to reflect on your hobbies, interests, and passions to stage your own hand portraits with props and backdrops.
Drop in sessions for families workshop; 11am — 1pm & 2pm – 4pm
To find out more, click here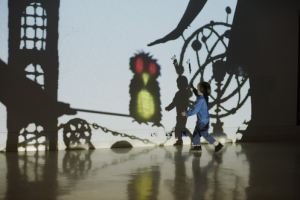 Have fun casting shadows and exploring enchanting light play this free drop-in workshop at Tate Modern.
Create dream-like spiritual worlds and imagined futures using immersive light, glowing and translucent objects and mirrored surfaces. Watch as your magical scenes, shapes and textures project with light and shade on Tate Modern's glow wall in the underground tanks.
Free walk up event, no booking required for families of all ages
To find out more, click here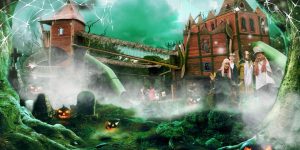 Don't miss spooky Halloween fun this October at Hobble'ween! There's pumpkin trails, bug brunch, monster ball and much more! So put on your creepiest costume and come ready to take part in scare-tastic fun.
Plus, meet farm and zoo animals, get lost in mazes, bounce about on jumping pillows, or hide in underground tunnels.
Hobbledown Hounslow has an enormous indoor play barn and Gripped is just next door for aerial adventures. Hobbledown Epsom's indoor Thinkery hosts regular storytelling sessions and singalongs.
Tickets from £18 per person.
To find out more & book your tickets, click here
LittleBird Top Tip: Enter 'LittleBird15' online to get 15% off at Hobbledown Heath, Hobbledown Epsom or Gripped *
The Walt Disney Archives has opened its vault of treasures, showcasing hundreds of extraordinary objects, including many of Disney's "Crown Jewels" – more than 250 rarely-seen artefacts and works of art, costumes and props, and incredible memorabilia. A chance for families, children and loved ones to celebrate their love of Disney's most timeless stories!
Tickets: Adult for £28. Children £20, Under 5s go free
To find out more & to book tickets, click here
The first major UK exhibition to map the design evolution of the skateboard from the 1950s to today – a story of design, performance and communities progressing together. The exhibition will showcase innovative skateboards and components and track how skateboarders have taken over sidewalks, swimming pools and skate parks designing new boards to suit their performance, style and surroundings.
To find out more & to book tickets, click here
Frieze Sculpture returns to Regent's Park this year. Exhibited in an open-air setting, you can explore 20 outdoor works by internationally acclaimed artists including new work by Ayşe Erkmen, Ghada Amer and Hank Willis Thomas, among many others.
A free exhibition, find out more here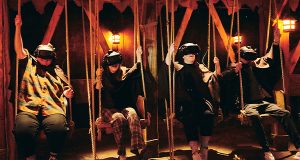 This immersive experience from Layered Reality allows you to step back in time to 1605. The fuse of rebellion is lit. The peace of the nation balances on a knife edge. Who will you trust?
You won't just witness the action, you'll play an active role in one of the greatest stories in British history. Your mission: go undercover, infiltrate the plotters and become part of history's most daring conspiracy!.
Aimed at ages 10+, Tickets from £40
To find out more & to book your tickets, click here
Canary Wharf's ice rink opens in time for half term and promises a magical winter experience with over 1,000 twinkling fairy lights. Plus, it's an ice rink with a roof so there's no chance of rain canceling this year's ice skating.
Tickets: Adult/Teen (over 13's only) £20.95 & Children (4 – 12 years) £15.95
To find out more & to book tickets, click here
LittleBird Top Tip: To find out what else is going on at Canary Wharf this half term and throughout October, click here
Whether you love Horrible Histories or just want a sightseeing tour of the Thames, this is the trip for you and your family whatever the weather. Climb aboard and prepare to hear the horrible history of the most famous river in the world!
Take a dive into the stories of King Henry VIII, Anne Boleyn, Julius Caesar, Queen Boudicca, Jack the Ripper and Captain Kidd, in this history of the Thames with the nasty bits left in!
Family tickets from £60 with sailings from Tower Bridge Quay.
To find out more & book tickets, click here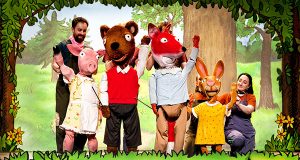 Julia Donaldson and Axel Scheffler's beloved Tales from Acorn Wood stories are brought to life on stage for the first time in an enchanting lift-the-flap experience. Packed full of toe-tapping songs, puppetry, and all the friends from Acorn Wood,
Aimed at ages 1+. Tickets from £12
To find out more & to book tickets, click here
Step back in time with Brick Dinos! Discover the Jurassic and Cretaceous Periods like never before and meet dinosaurs and other prehistoric giants face to face, each one masterfully built using LEGO® bricks.In this family-friendly exhibition, some of the largest beasts to ever walk the earth have been recreated in miniature form by artist Warren Elsmore and his team.
The exhibition also features rarely seen specimens from the Horniman's stores, and a range of hands-on activities for children to enjoy including the chance to make their own dinosaur bag.
Tickets: Adult £9, Children £4.50, under 3s free
To find out more & to book tickets, click here
LittleBird Top Tip: Don't miss the Horniman's Halloween Fair on Saturday 28th October – tons of fun is promised including circus skills, hooping, make & take workshops and a disco!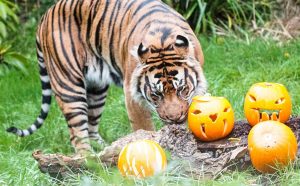 Whether you're looking for traditional Halloween crafts, hair-raising animal facts, or a session in sorcery, we've got you covered for half term activities.
Enjoy plenty of spooky fun at London Zoo including crafting a menacing mask, navigating through the extinct species graveyard, tuning into terrifying animal talks and devilish demonstrations and partying away in the bubble boogie. Looking to learn some spells, then head to Ghoul School.
Tickets from: adult £27 and child £18.90, Pre-booking is essential. Find out more here
LittleBird Top Tip: And if you fancy heading to ZSL Whipsnade Zoo too, Boo at the Zoo activities are happening there too, find out more here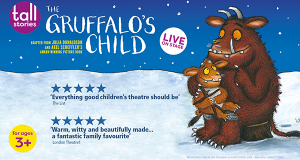 One wild and windy night the Gruffalo's Child ignores her father's warnings about the Big Bad Mouse and tiptoes out into the deep dark wood. She follows snowy tracks and encounters mysterious creatures – but the Big Bad Mouse doesn't really exist… does he?
Let your imagination run wild with songs, laughs and scary fun for everyone as you follow the Gruffalo's Child on her adventurous mission in Tall Stories' adaptation of the much-loved book by Julia Donaldson and Axel Scheffler.
Aimed at 3+. Tickets from £12
To find out more & to book tickets, click here
This Halloween there's lots of gore in store for families! With 'Creepy Critters' and a family trail 'Ghastly Guts, Gory Gravy and gunpowder!' Plus storytelling, facepainting and crafts.Zoolab are back with their animal handling sessions, but this time the creatures are even more spine-tingling! Hairier and scarier!
Wed 25th – Fri 27th October, at various times. Tickets: Adult £14, Children £7
To find out more, click here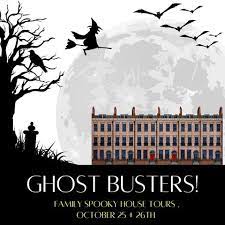 Head to the museum for some family ghost tours of Dickens's former home and learn all about Victorian supernatural beliefs. Learn about Dickens the Magician, try your hand at a few ghostly-related games, and unearth some spooky facts about life in the Victorian era. There'll even be some smells and objects to bring the past to life!
Aimed at ages 8+ Tickets £10 per person
To find out more & to book tickets, click here
LittleBird Top Tip: The museum is a short walk from Coram's Fields, a 7 acre playpark for kids that includes an adventure playground, paddling pool and sandpit. Explore here
The old River Thames was a scary place, full of monster bacteria! Find out where the water comes from and see the science that cleans the mini monsters from London's water. Plus, with a monster tour, scavenger hunt, and a community art project there's lots for the whole family to enjoy.Join every weekday morning for the 'Meet the Monster Tour'! (running time: 20-30 minutes)
There will be a limited number of spots each day, so claim your spot with a donation upon arrival at the museum. First come first serve.
Day Adult Ticket £11.50 Child (up to 16 yrs) Free. To book tickets, click here
To find out more and to book tickets, click here

Get ready to wiggle into your wellies and head off on an adorable adventure of discovery. This sensory adventure will wind across the Lake and into the Arboretum – home to some of Kew's most magnificent trees and visiting wildlife.
Based on the award-winning animation We're Going on a Bear Hunt and bestselling picture book, this is an adventure for all to enjoy as you explore different landscapes and make muddy memories in Kew Gardens this autumn.
Tickets: Adult £17, Children £5, Under 4s go free.
Take part in a host of free creepy-crawly Halloween-themed activities from bug hunting and learning about bats to Halloween crafts and spooky storytelling.
Free to attend, find out more here
World-famous Shakespearean Professor, Nick Bottom, is about to present his talk on A Midsummer Night's Dream – but there is a technical problem. Professor Bottom's laptop cannot contain the magical forces at play and the sprites in the software want to tell the story in their own words. 
Prepare to be  drawn into a timeless world of love, fairies, and ridiculousness in Norwich Puppet Theatre's sideways take on Shakespeare's classic play.
Aimed at ages 6+, tickets from £14
Tio find out more & to book tickets, click here
NATIONAL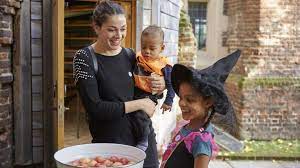 Enjoy a range of phantom-tastic family-friendly events at sites across the country this Halloween. Enjoy ghoulishly good days out where you can gather round for tales from spooky storytellers and solve creepy clues in a Halloween Quest. You can also join ghost-hunting storytellers on family-friendly walks through the shadows of the historical sites.
Save 10% on tickets if you book in advance. See here for more details on specific locations and activities.
To find out what's going on and when, near you, click here
If you fancy picking your own pumpkin this Halloween, head to Tulleys' Farm. Whether you want to carve a ghoulish face, make a delicious pie or decorate your house with unusual gourds so there's an ideal pumpkin for everyone. There's a total of 20 acres of pumpkins, producing around 150,000 pumpkins.
Tickets vary between £6to £8 depending when you go and you'll need to book a time slot plus you can pick your own pumpkin at night!
To find out more and book your slot, click here

This Halloween experience the UK's only comedy-horror theatre sightseeing experience on wheels. See top attractions while being immersed in a theatre show experience. Enjoy a comedy horror sightseeing show narrated by the creepy conductor and learn about the creepier side of the city.
Aimed at 7+ Ticket prices vary per location
To find out more & to book tickets, click here
LittleBird Top Tip: To enjoy 20% off with LittleBird's code, click here
Your October adventure awaits! The castle's spookiest residents invite you to join them for half-term Halloween fun at The Haunted Castle. Enjoy mysterious mazes, eerie entertainment, and frightful delights for the whole family as over a thousand years of haunted history come to life this October half-term.
Tickets: Prices vary depending on date and availability. Tickets Individual (3+ Years) £21, Under 3s go free
To find out more & to book tickets, click here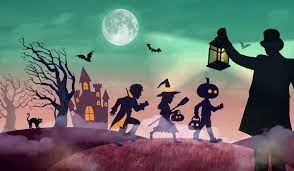 Carve the spookiest pumpkin, follow ghoulish trails and settle down for a ghost story or two. Get stuck into creepy crafts and uncover the magical history of historic places. Don't forget to check out the natural play areas and dress up corners, and enjoy acres of space to run around in.
Tickets: Adult £12, Children £6
To find out which events are near you, click here here
The LEGOLAND Windsor Resort will be transformed into a pumpkin-filled wonderland for what is sure to be the most frightfully fun event of the year. Returning for 2023, enjoy BRICK OR TREAT – where the LEGO® Monsters are taking over and throwing a Monster Party to celebrate their favourite time of the year!
Tickets: Prices vary depending on date and availability. Tickets from £34 For Child (90cm – 15 Years) and Adults.
To find out more & to book tickets, click here
MAKE THIS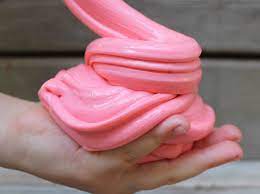 It's gooey, stretchy, slimy and most of all, brilliant fun – find out how to make your own slime here
Make your own mythical critter. Learn how to make your own collage paper using various mark-making techniques, and combine them to create a creature from your imagination.
For ages 5 – 12. Find out how to get started here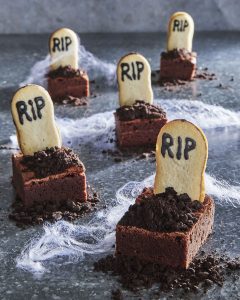 Have some spooky fun making these!
Find the recipe here
Bring the colours of the rainbow to your pumpkin this Halloween and see what fun can be had when you melt crayons.
Watch the video here
Give your pizza decorating a seasonal twist and create your own edible spiders or make your own creepy crawly bugs out of your favourite toppings.
Get started here
DO THIS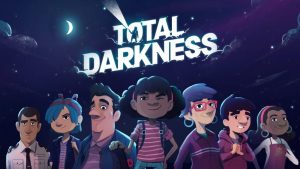 When the power goes out, it's time for action in the Science Museum's web-based game. Using digital storytelling Total Darkness helps kids recognise how the skills they have and use everyday are useful to STEM.
Venture into the dark, explore different locations, meet new characters and discover the real reason behind the sudden darkness covering the whole town.
Hit play here
A surprising trick that gives you the great excuse to threaten to pour water over your family. Put their trust to the test as you turn a full glass of water upside down over their head!
Start your experiment here
Find out why we celebrate Halloween and learn all about the history as well as why they used to carve turnips.
Watch the video here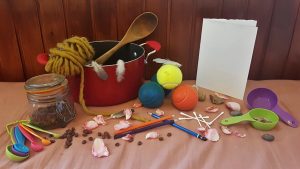 Would you like to eat a soup full of scrumptious rat tails, a handful of witch's warts, and just a pinch of giant's nose hair? Does that sound tasty?
The British Library shows you how to find inspiration from your favourite books and follow some simple steps to create your own imaginary and sensory soup full of silly, awful and maybe even terrible ingredients.
Get creative here
For more fun activities with a literary twist, head here
The Museum of London has got a lot of stinky things, from Roman toilets to Medieval wee pots. Play their stinky card game to find out more and see who comes out… bottom?!
Simply print and cut out the cards to play here
WATCH THIS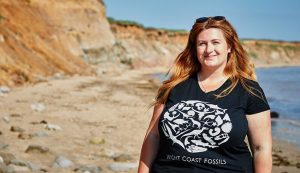 Co-founder of the fossil hunting experience company Wight Coast Fossils and lifelong collector, Megan Jacobs is no stranger to finding fossils but even for a seasoned professional, finding a near complete dinosaur that could be a new species might be a once in a lifetime discovery.
Watch her story here
Ivan is a young and foolish Prince who wants to take things for himself. After capturing The Firebird only to set her free when he feels a sadness in his heart, she gives him a feather that will help him if he needs it…
Based on Michael Rosen's poem, The Firebird is a puppet opera composed by Noah Mosley and co-produced by English Touring Opera and Little Angel Theatre.
The online film is available for free, but if you're able to make a donation it would be much appreciated. Watch Firebird here
LISTEN TO THIS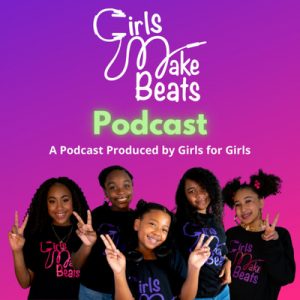 Girls Make Beats Podcast is a fun safe space for young girls to discuss topics relevant to them such as; Music, School, Fashion, Food, Creativity, Current Events, Hot Topics and more!
Be inspired here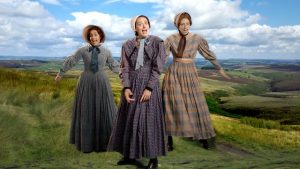 CBBC's Horrible Histories have brought together some of the most remarkable figures in history and imagined what they'd do with their own podcasts! There are two series to dive into!
Get listening here
For Grown Ups
Love and Radio features in-depth, otherworldly-produced interviews with an eclectic range of subjects, from the seedy to the sublime. Get inside the mind of a rogue taxidermist. Or spend time with an artist who gives away her life savings every night. You've never heard anything like it before.
Press play here
LOOKING AHEAD TO CHRISTMAS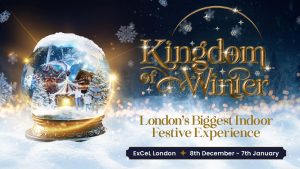 This Christmas, whisk your family away on a magical adventure and Journey to the Kingdom of Winter. This is London's only indoor festive experience designed with all the convenience that families need to make a perfect day out. Step into another world and enjoy a host of attractions, including a winter themed circus, ice skating, fairground rides, an immersive ice expedition trail, an alpine-style Christmas market and a tantalising range of festive food and drink all under one roof!
Tickets: Entry tickets from £5.50 per person. No booking fees.
To find out more & to book tickets, click here
The Southbank's Winter Festival returns in October 2023, sprinkling magic. Wrap yourself in the spirit of the season with joyous shows, brilliant art and twinkling markets.
To find out more, click here
Once again, you'll need to book your tickets in advance. Immerse yourself in all things festive with Santa Land, ice skating, Zippos Circus, Christmas Markets, an ice slide and ice Sculpting, fairground rides, entertainment, food, drinks and so much more.
Entry is free during off peak periods with tickets £5 & £7.50 in peak period. Rides are an additional cost.
To find out more & book tickets, click here
Don't miss Tall Stories' enchanting adaptation of the much-loved picture book by Julia Donaldson and Axel Scheffler
One wild and windy night the Gruffalo's Child ignores her father's warnings about the Big Bad Mouse and tiptoes out into the deep dark wood. She follows snowy tracks and encounters mysterious creatures – but the Big Bad Mouse doesn't really exist… does he?
Follow the Gruffalo's Child on her adventurous mission!
To find out more & to book tickets, click here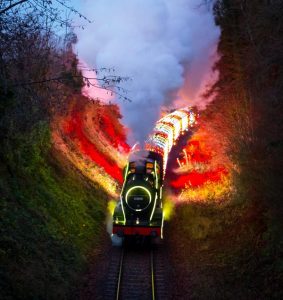 The Epping Ongar Lights Express promises an incredible light show on and in a steam train, consisting of thousands of coloured LED lights and LED wristbands, creating a kaleidoscope of different colours and flashing patterns.
Join the festive action on board and get in the party mood with a festive DJ mix of music the whole family will love. Each passenger will receive their own interactive LED wristband which is synchronised to the music, meaning you become part of the show!
Tickets from £20 per person inclusive of train travel.
To find out more, click here
Featuring colourful sets and extravagant costumes, exuberant dancing and a memorable soundtrack, don't miss the magical stage adaptation of Raymond Briggs' iconic children's book, The Snowman, now on its 26th year.
Be transported to the wintery wonderland of a boy and a snowman who comes to life on Christmas Eve and relive a festive classic that once again will not disappoint.
Tickets from £18 with family tickets available & 16–30-year-olds pay £10 with a free Barclays Dance Pass
To find out more & to book, click here
This interactive light trail invites you to expect the unexpected and allow the Christmas spirit to take over as you take a stroll through the grounds of Kenwood.
Surprises are around every corner, and festive food, and picture perfect moments add to the unique spectacle that will have you captivated as you enjoy an enchanted Christmas experience.
With light trails at various locations throughout the UK, click here to see if ones near you.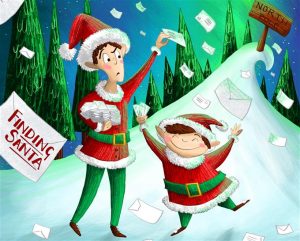 Enjoy this interactive Christmas adventure for all the family. Ever wondered how letters for Santa Claus get to the North Pole? What if something goes wrong along the way? How will Santa's elves make sure his mail is delivered on time?
A comical adventure full of quirky characters and puppets, where the audience helps decide how the story unfolds.
Aimed at 3+ Tickets from £13
To find out more & to book tickets, click here
LittleBird Top Tip: For a Family Group of 2+ Persons, you can enjoy 20% off using promocode: GROUPFS
If you find our guide useful, please share Top Picks with your family and friends and sign up to the newsletter.