A Trip Back In Time to Dinosaurs in the Wild
It is not every day you are cordially invited to time travel back to the late cretaceous period over 67 million years ago, so when LittleBird's Alex was offered the chance by the Dinosaurs In The Wild team to experience their latest invention, her and her family leapt at the chance…
Arriving at Waterloo, a quick hop on the Jubilee Line and we alighted at Greenwich North before following the signs and embarking on a swift 10-minute walk towards the Dinosaurs In The Wild hangar.
Upon entry: a ticket check, a quick bag search to ensure we had no possessions harmful to dinosaurs and unsuitable for time-hopping, we were happy to leave our coats and bags  in the free cloakroom and wait in the departure area for  queue for our revolutionary vehicle to arrive to escort us into the past.
An official Chronotex employee explained that we would become part of a pioneering adventure, travelling back to the late cretaceous period to visit a Scientific Research Station named TimeBase67 – where Chrononaut Scientists research, care for, observe and breed actual living dinosaurs.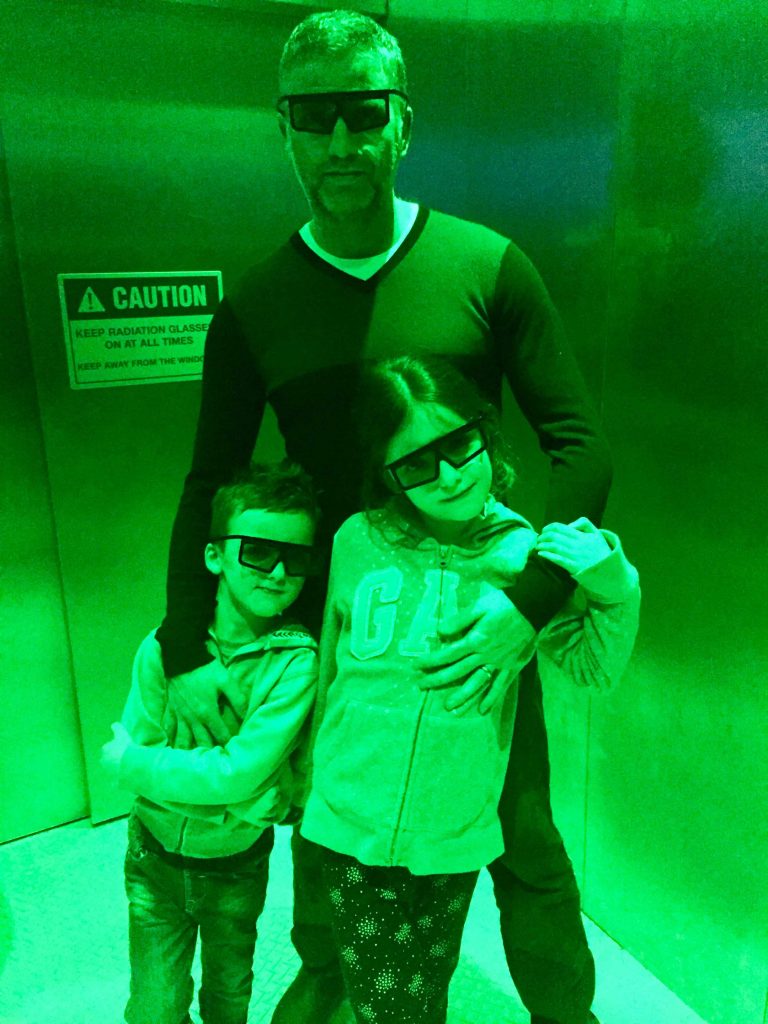 Armed with our 3D glasses, we entered the time capsule, waited and held on as we bumped through the black hole, soon reaching our destination. Gazing out, we saw a myriad of different dinosaur species lumbering through the wild and who were keenly interested in our time travel buggy!
TimeBase67 was a wildly clever, creative and trailblazing research station where we were led from room to room and were captivated by the ingenuity of the displays, labs, staff, research, breeding and care for these cretaceous creatures. From examining dinosaur poo to watching a live dinosaur autopsy;  witnessing dinosaurs master the art of escapology to observing a Triceratops hatch; watching a dinosaur's heart pumping to inspecting bones, our group was deftly led around the research station with our knowledgeable guide.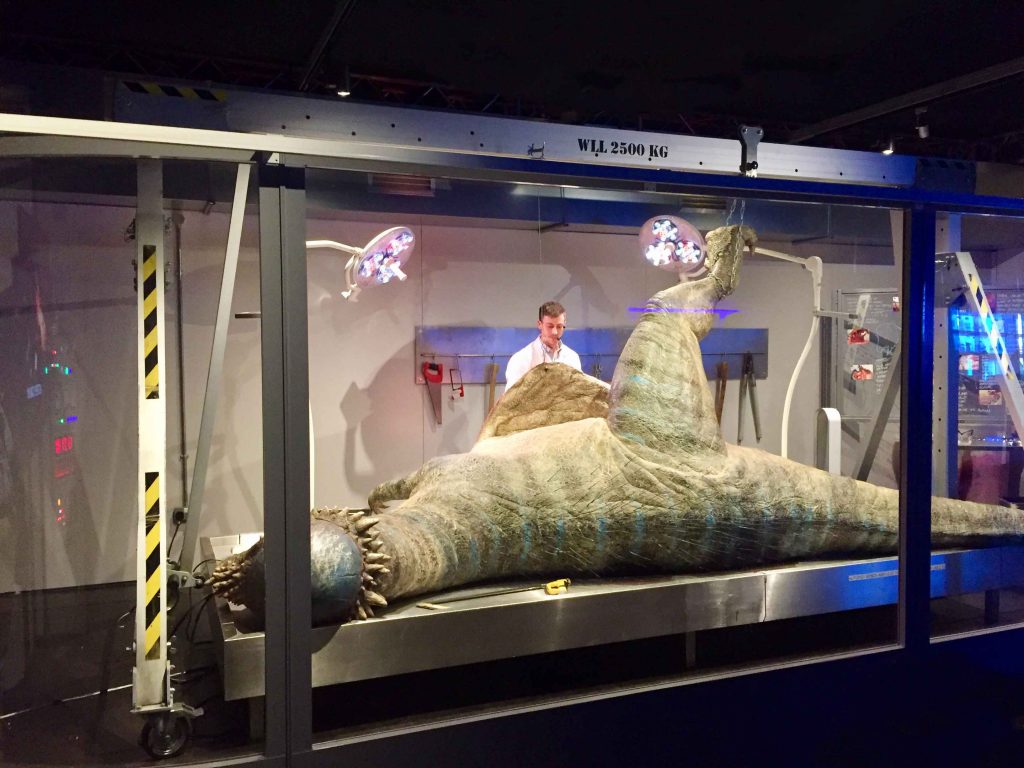 The tour culminated in the pièce de résistance: the look-out tower, where we were able to witness a 360-degree view of the dinosaurs wild in their own habitat; from the crested to the horned, from the winged to the armoured.
But was all as it seemed? Were we safe in the look out tower from our prehistoric ancestors? Might the fearsome creatures be planning an ambush? That, we will leave you to find out for yourself but suffice to say, we are relieved to announce that we made it safely back to 2018 in one piece!
The children were absolutely mesmerized throughout, we had non-stop questions. They were entranced, inquisitive, believing and it really ignited their interest in dinosaurs and their pre-historic lives. The whole experience was clever, surreal and enchanting and the staff (who all delivered Oscar-worthy performances) were professional, friendly and accommodating. Even I had trouble separating reality from fantasy, the whole adventure was so cleverly orchestrated and I would highly recommend this trip to anyone with (or without!) children – a must-see and a must-do.
Thank you so very much Dinosaurs In The Wild for inviting the Little Bird team to review your unique experience.
Great news – we've got more dates for Dinosaurs In The Wild on LittleBird. Save up to 41% here…