What's On This Weekend? Saturday 9th & Sunday 10th January
Fun and fantastic things to do with the kids in London this weekend
Saturday 9th & Sunday 10th January 2016
DATA VIS' FOR KIDS  AT SOMERSET HOUSE, THE STRAND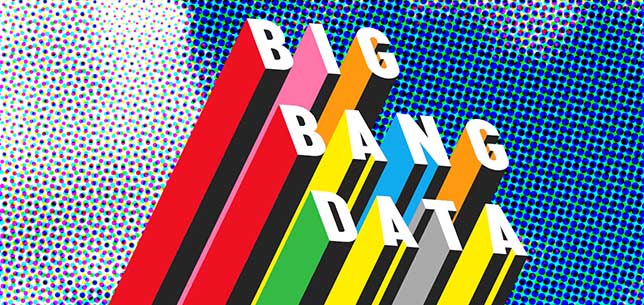 To compliment Somerset House's current Big Bang Data exhibition analysing how data is transforming our world, let the kids enjoy a data detox with Adam and Tobias of Graphic Digital Agency. You and the kids will spend the afternoon enjoying data themed activities looking at what we bring to the world both on and off screen and learning about this data explosion created through the new ways in which we communicate and learn e.g. emails, selfies, google searches.
While you're here, there's lots of other family fun to be had. It's Skate at Somerset House with Fortnum & Mason's  final weekend plus TINTIN: Hergé's Masterpiece free exhibition is still on (closing 31st January) – head to the Terrace Rooms in the South Wing. You can also enjoy a family trail at your own pace and discover more about Father Thames: the bearded river god.  Download the activity sheet here before you go and discover Somerset House's unofficial mascot.
When: Saturday 9th January, 12pm – 3pm
Where: Somerset House, WC2R 1LA (South Wing)
Age: 6 – 12
Cost: Free, no booking required but limited spaces to arrive early to avoid disappointment.
LittleBird's Top Tip: You're a 10 minute walk from Covent Garden and the London Transport Museum with its family galleries. Or you can just enjoy hanging out and watching the street performers.  Look out for the Opera Singers in the Market Building (Lower Courtyard) performing outside the Eric Snook Toyshop; a treasure trove of wonderful, weird and wacky toys and a great place to spend any Christmas money.  There's a Cyber Candy nearby too full of an amazing array of American sweeties including Unicorn Poop
GO APE IN BATTERSEA PARK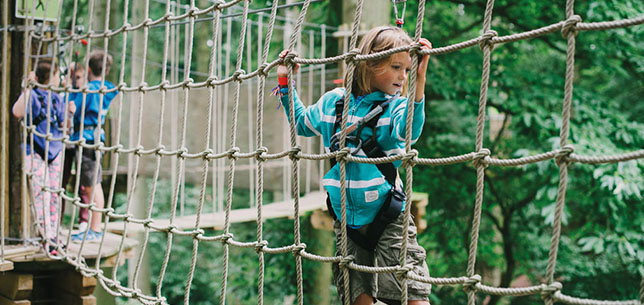 Go Ape has finally arrived in London – yaaay! Head to Battersea Park and share an exhilarating and thrilling family experience – or simply watch your own monkeys Go Ape. You'll feel as though you have achieved the almost impossible  – or become Tarzan and Jane –  as you climb, swing, crawl, jump and leap around the tree top course, negotiating wobbly crossings, swinging from tree to tree and from tree to net, not to mention flying down the best zip wires out there.  You and the kids are  in for a  two – three  hour experience and you'll be talking about it for the rest of the week.
If you've been to a Go Ape before, Battersea Park promises to have the highest obstacle crossings –  double the height of most Go Ape courses with many  twice as long as usual, making them extra wobbly and challenging.
When: Tree Top Adventure is open daily with Tree Top Junior open on weekends and holidays.
Where: Battersea Park, SW11 4NJ
Age: 6+
Cost: Mini Tarzans (over 1m) £18, 10 – 15 year olds £25, 16+ £33
LittleBird's Top Tip: Situated in the historic Battersea Park, there's a playground for the younger ones and an adventure playground aimed at 5 – 16 year olds, a cafe and of course Battersea Park Zoo and The Pumphouse Gallery.
THE LONDON TIME TOUR BUS, TRAFALGAR SQUARE – SAVE UP TO 58% WITH LITTLEBIRD
Think Bill and Ted's Excellent Adventure and learn about history the fun way….by  going back in time whilst voyaging around London's famous sites on a classic 1960s Routemaster bus.  Enjoy this unique tour of London and journey through time as you visit iconic landmarks in central London. Let the quirky and enthusiastic Professor Quantum shares his time travelling tales with live theatrics and a quizzical air of mystery! The London Time Tour Bus brings history alive in this imaginative, time travelling experience.
When: Tours depart weekends at 2.40pm until 22nd January
Where: Tours depart on Saturday & Sunday from Northumberland Avenue, just off Trafalgar Square
Age: Families
Cost: Single tickets £10 including guide book –  buy now with LittleBird, Under 5s go free
LittleBird Top Tip: A hop, skip and a jump from Trafalgar Square, there's lots to enjoy before or after your tour. St James Park is a 5 minute walk with pelicans, a playgrounds with a giant sandpit, deck chairs and a cafe. Or pop into the National Gallery or the National Portrait Gallery
THE REACH CLIMBING WALL, WOOLWICH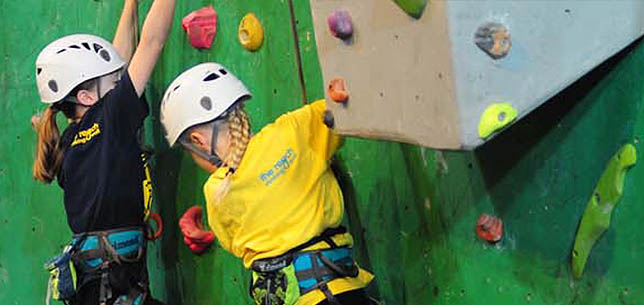 Looking to start the New Year with new family experiences? Then head to The Reach Indoor Climbing Wall. Located right by the Thames, The Reach  offers one of the most impressive climbing walls in the country. The climbing facilities on offer are designed to be enjoyed by climbers of almost any age or ability. You can climb as a family or book the kids into a classic 'Young Climber' session – they last 1.5 hours and are perfect for beginners.
Check out  the photographic tour of the myriad climbing challenges at The Reach, including around 80 roped lines up to 11 metres high, with around 50 lead climbs; there is also around 650 sq metres of bouldering surface on the mezzanine floor, as well as a huge free-standing 4 metre high boulder on the ground floor…there's a cafe too so that after you have climbed the dizzy heights you can sit and marvel at your achievements!
When: Open every day
Where: The Reach Climbing Wall, SE18 5NU
Age: 7 – 17
Cost: Adults £20, under 18s £10 – harness hire is an extra £2.50
LittleBird's Top Tip: Wrap up warm – if it's cold outside, it'll be cold inside – there's no central heating at The Reach!
MICHAEL ROSEN'S BEAR HUNT, CHOCOLATE CAKE & BAD THINGS AT DISCOVER IN STRATFORD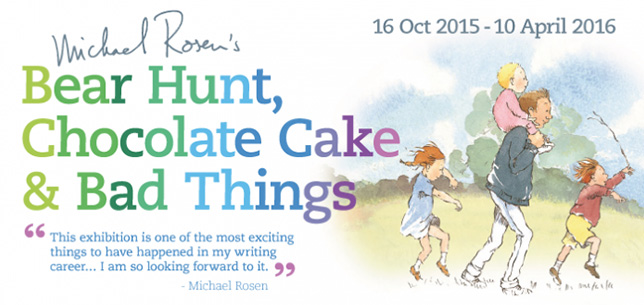 Head to Discover Children's Story Centre and enjoy the interactive exhibition  Michael Rosen's Bear Hunt, Chocolate Cake & Bad Things. Swishy swashy and splash splosh your way with the kids through a Bear Hunt – I'm not scared! Who  will be the first to step inside a humongous chocolate cake and explore a secret larder? And dare you explore the Bad Things in the Dread Shed?
Discover hidden rooms and brilliant clues that show what inspired Michael Rosen's writing including his Grandparents' sitting room and his classroom. Those of you with little ones can enjoy a Bear Hunt trail, whilst older children can go on a fun fact finding mission on Michael Rosen and create poems of their own to take away.
If you go this Saturday, you can enjoy nonsense poem sessions at 12.30pm & 2.30pm to make everyone smile and laugh out loud.
When: until 10th April 2016
Where: Discover Children's Story Centre, E15 4QZ
Age: 0 – 11
Cost: £5 adult / child, £18 for a family of 4
LittleBird's Top Tip: There's lots to do at Discover including the Story Trail and Story Garden plus a cafe and a lovely shop full of great pocket money toys.
SHAKESPEARE'S GLOBE, BANKSIDE – SAVE AN EXCLUSIVE 11% WITH LITTLEBIRD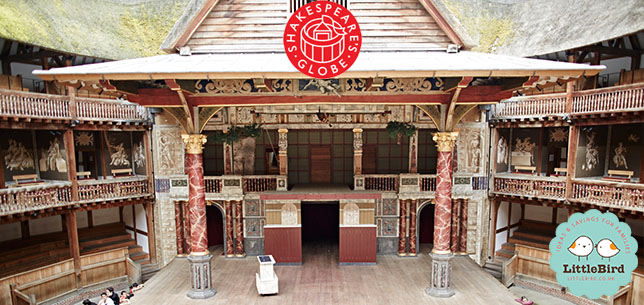 Head to the Bankside and imagine Shakespeare Globe as it would have been: the centre of what was once London's most notorious entertainment district, surrounded by raucous taverns and bawdy-houses. Explore and experience, discover and learn together about the world's most famous playwright – William Shakespeare. Shakespeare's Globe Exhibition and Tour lets the kids explore the life of Shakespeare, the London where he lived, and the theatre for which he wrote.
Every weekend there are demonstrations that take place throughout the day, including stage fighting and Elizabethan clothing. Learn about Elizabethan stage combat techniques as well as the  intricacies of  Elizabethan dressing  as you watch a volunteer (it could be you!) be dressed as a character from a Shakespeare play. Don't forget to pick up a copy of the Family Trail when you arrive and there's a free children's audio guide for the exhibition to enjoy too. Download the app or enjoy the Globe fact sheets before you go with the kids and get ready for your historic family day out!
When: Open Daily and save 11% with LittleBird only at the weekends
Where: Shakespeare's Globe, SE1 9DT
Age: All ages
Cost: Adults, £14, Children £8, Family Tickets £40 – book now
LittleBird's Top Tip: If you can't make this weekend – get your tickets for next weekend and combine your day out with an early evening stroll around Trafalgar Square as Lumiere London arrives (14th – 17th January) – download the map here. See iconic architecture transformed with interactive installations and 3D projections – it looks amazing!
MAKE A MANGA COMIC  AT THE BRITISH MUSEUM, HOLBORN
Enjoy the British Museum's Digital Workshops that run every weekend. This Sunday the kids can Make a Manga Comic  learning the secrets of manga comic artists before being able to create their  own manga-inspired comic with characters from the Museum to print and take home. If you can't make this Sunday, the kids can enjoy  creating news reports on Saturday from 11am.
Once you're here, don't miss Scanning Sobek mummy of the crocodile god. Head to Room 3 and come face to face with an enormous mummified crocodile from ancient Egypt, covered with small mummified crocodile hatchlings. There are family trails too plus a selection of gallery backpacks that offer free activities to inspire – Be an Archaeologist, Jobs in Roman Britain, Life in Ancient Greece and many more – different backpacks are aimed at different ages and there is something for all.
When: Sunday 10th January, 11am – 1pm & 2pm – 4pm
Where: British Museum, WC1B 3DG (Samsung Centre)
Age: 7+
Cost: Free but with limited spaces – sign up on the day.
LittleBird's Top Tip: Kids into their technology? Then the British Museum's new app could help keep them engaged. Go on a treasure hunt with Baron Ferdinand and find out what it takes to become a famous collector? Download the app here – it's free. Plus kids eat free at the Gallery Cafe – get one free child's meal when you buy an adult main meal.
CAPTURE A CREATURE  AT THE NATIONAL GALLERY, TRAFALGAR SQUARE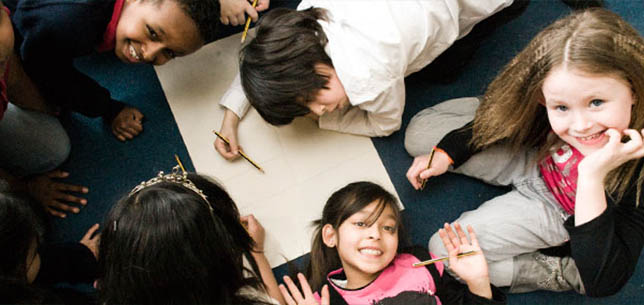 Budding artists in the family who would love to have their artwork displayed at the National Gallery? Then you're in luck! Take the kids to the National Gallery this Sunday to Capture A Creature and enjoy the chance to create two colourful prints. They'll be asked to find their favourite creature in the gallery and turn it into their own wonderful creature.  The kids will be able to take one print home and asked to leave the other at the Gallery. All prints will then become part  of a huge banner showing the creatures that stalk the Gallery. The banners will be displayed in the Education Centre during the Easter holidays so you and the kids can return over the school holidays to see their work hanging in the National Gallery, no less!
If you fancy going around the gallery at your own pace, enjoy fun free family printed trails and audios. Print out the trails before you go including Katie's National Gallery Adventure and Marvellous Blooms.
When: Sunday 10th January, 11am – 1pm & 2pm – 4pm
Where: The National Gallery, WC2N 5DN
Age: 5 – 11
Cost: Free but limited spaces, get there early to be avoid disappointment
LittleBird Top Tip:  Why not head into Leicester Square after and let the kids wander around M&M World. Did you know you can even personalise these little chocolate treats with messages and photos! Chinatown lies directly behind and if you fancy a different culinary experience, try some dim sum at Joy King Lau; delicious!
FAMILY BOUNCE AT OXYGEN FREE JUMPING IN ACTON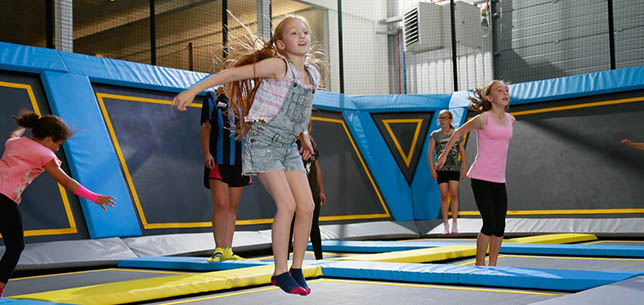 Have a jumpin' time with the kids at Oxygen Free Jumping this weekend.  The  trampoline park boasts 150 connected trampolines, an obstacle course and foam pit, slam dunk basketball hoops, dodgeball, runway and airbag. Enjoy a Family Bounce session at the weekends in the morning (for those of you with kiddies both under and over 5's)  or if you'd rather arrive later in the day and your kids are 5+, you can book a free jump session . You and the kids  can  jump,  flip, twist,  laugh and giggle your way through a one hour session. There's a cafe for you to hang out in after and discuss who did the best backflip!
When: Family Bounce (weekends only, 9am – 11am)  Free Jumping – Open Daily
Where: Oxygen Freejumping, W3 0AF
Age: All ages
Cost: Tickets from £10 –  Sessions must be booked and last for an hour.
LittleBird's Top Tip:  Wear sporty comfortable clothes that you can move easily in like shorts and T Shirts and note everyone that jumps needs to invest in a pair of grippy socks that cost £2.
WALTHAMSTOW WASSAIL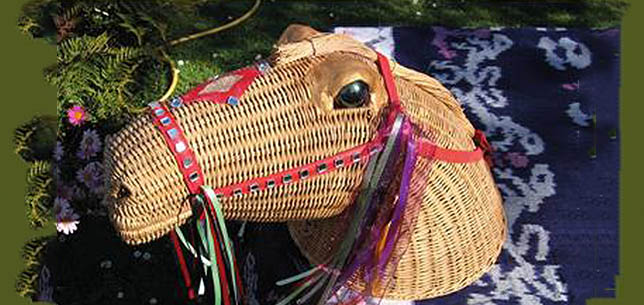 Ever heard of Wassailing? Wassailing consists of lots of singing and toasting good health to apple trees and a hopeful  good harvest. A medieval german drinking ritual,  Wassailing intended to ensure a good cider apple harvest. So where better to start the Walthamstow Wassail than the Vestry House Museum that has mature apple trees in it's garden.
There are crafts and singing at the Museum and the family wassail will be making a "hobby horse".  The procession starts from the Museum garden at 3pm and the 'hobby horse' will then be carried around the village. Apple-themed refreshments will be available – of course!
When: Sunday 10th January, 1.15pm – 4pm
Where: Vestry House Museum, E17 9NH
Age: Families
Cost: £1 donation per child for the activities
LittleBird's Top Tip: If you like the idea of Wassailing – check out  Wassail at One Tree Hill Allotments next weekend and Camley Street Wassail Awakening Party on Friday 22nd January.