What's On This Weekend Saturday 31st October & Sunday 1st November
Fun and fantastic things to do with the kids in London this Weekend
Saturday 31st October & Sunday 1st November
HAPPY HALLOWEEN!
DAY OF THE DEAD AT THE BRITISH MUSEUM, HOLBORN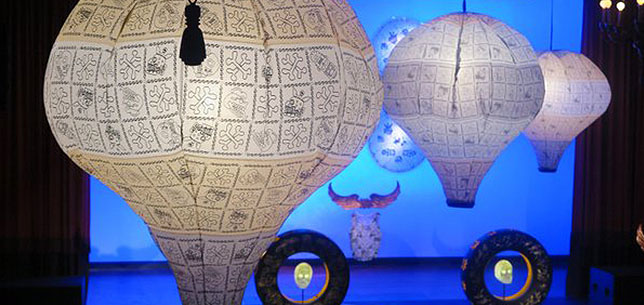 Enjoy the British Museum's Days of the Dead Family Festival this weekend. Discover and learn all about Mexico's annual festival Day Of The Dead, dating back over 3,000 years, where families get together to remember the dead. The Museum, Great Court and Forecourt will be decorated with specially created art installations by Mexican artists including hot air balloon skulls, sugar shrines and an incensed lined entrance. An array of art, music, films, storytelling, dance and digital workshops in the Samsung Digital Discovery Centre are promised ensuring family fun for all ages!
Once you're here, you can't leave without seeing the Egyptians plus there are family trails and gallery backpacks. With a selection of backpacks that offer free activities to inspire – Be an Archaeologist, Jobs in Roman Britain, Life in Ancient Greece and many more – different backpacks are aimed at different ages and there is something for all.
When: Saturday 31st October & Sunday 1st November, 11am – 4pm
Where: British Museum, WC1B 3DG (Great Court & Samsung Digital Discovery Centre)
Age: All ages
Cost: Free
LittleBird's Top Tip: Did you know you can borrow crayons, pencils and pads from the Families Desk in the Great Court? All you need to do is ask. Plus kids eat free at the Gallery Cafe – get one free child's meal when you buy an adult main meal.
FRAMED FILM CLUB: SPOOKY SILENTS AT THE BARBICAN, IN THE CITY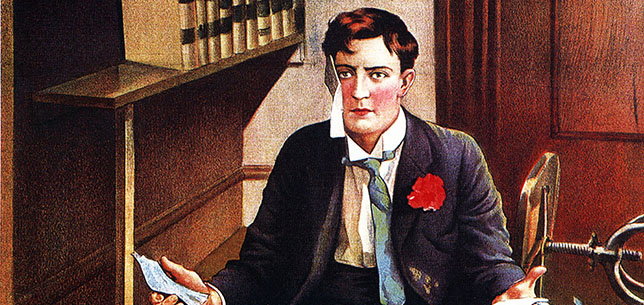 Enjoy a workshop and film experience this Saturday morning. Head to the Benugo Café for 10am and create your own spooky musical soundscape in this free drop in workshop before settling down to enjoy a special selection of scary silent movies with a live musical accompaniment  from Neil Brand. With a selection sure to get young film fans in the mood for trick-or-treating there's Buster Keaton slapstick and Lotte Reiniger's fairy tales including Cinderella and The Golden Goose.
After the film, take the kids on The Big Barbican Adventure – a free do-it-yourself trail encouraging you to discover the secrets of the Barbican through cryptic clue solving, drawing and games. Plus there are plenty of places to eat and drink and of course the new exhibition in the Art Gallery, The World of Charles and Ray Eames.
When: Saturday 31st October, 10am work shop, 11am film
Where: The Barbican, EC2Y 8DS (Cinema 2)
Age: Films are PG rated
Cost: Adults £5, Children £3
LittleBird's Top Tip: If you love a bit of Tim Burton at Halloween, Frankenweenie can be enjoyed at the Gate Cinema in Notting Hill and Picturehouse Clapham as part of the Picturehouse's Kids Club – tickets are £1.50 for adults and kids.  
FIRE FESTIVAL AT VAUXHALL PLEASURE GARDENS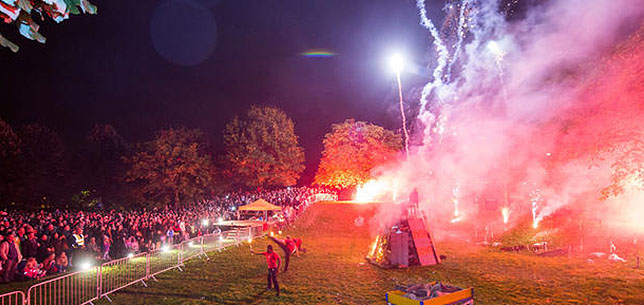 Enjoy a firework display with a difference and get ready to imagine…then enter Asgaard, the home of the Norse Gods.  A world of fire, light, celebration, beauty and music, an eternal Pleasure Garden. This is the setting of the 2015 Vauxhall Pleasure Gardens Fire Festival.  A combined arts spectacular featuring dancers, fire performers, poets, musicians and pyrotechnics. An evening of wonderment is promised that starts with a theatre show, performed in front of the Vauxhall Bonfire, depicting the story of how Thor got his hammer.  Families are then promised a fiery cabaret, Elgar's Cello Concerto and of course fireworks.
With refreshments and plenty of stalls, plus the Bohemianauts band playing gypsy swing while the bonfire burns into the evening, a unique experience awaits.
When: Saturday 31st October, 6.30pm
Where: Vauxhall Pleasure Gardens, SE11 5HY
Age: All ages
Cost: Free
LittleBird's Top Tip: Take your own glow sticks – most pound shops sell tubes of 10 – and buy your own sparklers to add to the fiery fun!
HALLOWEEN GHOST SHIP AT THE NATIONAL MARITIME MUSEUM, GREENWICH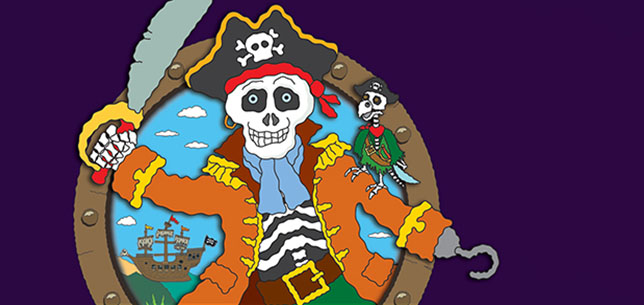 Join the skeleton crew at the National Maritime Museum this Halloween for a day of spooktacular fun, activities and stories. Fancy dress is more than encouraged so that your sea-monsters, pirates, mermaids and sharks can get into the spirit before they start their spooky voyage through the Museum.
The kids will get the chance to create their very own dragons, serpents and tidal terrors before discovering what the sea-witch in training is brewing – a watery keepsake is promised! There's a ghost hunt and the chance to build a haunted wreck before it's time to listen to a skeleton pirate recount tales of ghost-ships and spooky goings on at sea! The sea is a scary place don't you know…
When: Saturday 31st October, 10am – 4pm
Where: National Maritime Museum, SE10 9NF
Age: Families
Cost: Adults £10, children £6
LittleBird's Top Tip: Greenwich Market is a perfect place to grab a bite to eat and have a wander around the markets and if it's a nice day, take your market morsels and find a seat by the Cutty Sark – maybe even fit in a spooky  walk under the Thames.  If you have any energy left – enjoy Greenwich Park and visit the Astronomy Centre– it's free.
GHOST HUNTERS ICY TRAIL AT HAM HOUSE & GARDEN, RICHMOND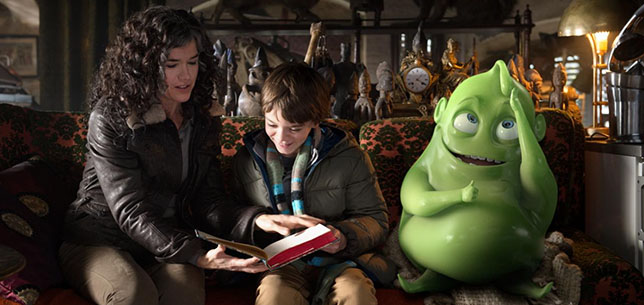 Ham House is renowned for being one of the most haunted houses in Europe. Numerous people have had unexplained encounters with strange reflections and apparent ghosts so what better place to enjoy a ghostly garden trail with spooky prizes and themed arts and crafts activities than Ham House and Garden. Get the kids to dress up in a Halloween outfit too and enjoy the spooky fun. …
To get you into the spirit, why not enjoy these spooky videos plus pumpkin carving top tips from our friends at the National Trust. Family ghost tours are also available at Ham House – tickets required.
When: until 1st November, 10am – 5pm
Where: Ham House, TW10 7RS
Age: Families
Cost: Kids go free if accompanied by a paying adult (£10). Trail costs £2 per person
LittleBird's Top Tip; If you're around Richmond before the weekend arrives, check out The Big Hullabaloo on Wednesday 28th (today!) and Thursday 29th October for Luna Cinema family friendly films, The Amazing Bubble Man and Gastronaut – Eat My Science. Save 55% with LittleBird and book your tickets today.
HALLOWEEN HARRY POTTER AT THE DULWICH PICTURE GALLERY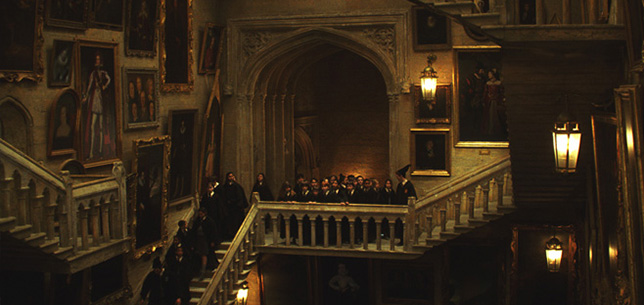 Part of the UK wide Museum's at Night Festival of after-hours events, experience Dulwich Picture Gallery like never before. Listen to Gallery tales, explore The Amazing World of M. C. Escher and let the kids create their own artwork with Anita Chowdry's Iron Genie in the evening, when the gallery is usually closed and then enjoy Harry Potter and the Philosopher's Stone on the big screen in the Gallery. Perfect for all Potter fans – young and old, plus there will be prizes for the best Potter-inspired Halloween costumes too so don't forget to get the kids to don their glasses and cape and find those wands!
When: Saturday 31st October, 6pm – 10.15pm
Where: Dulwich Picture Gallery, SE21 7AD
Age: Families
Cost: £24 adults, £15 Children
LittleBird's Top Tip: Inspired by the Hogwarts train, check out the Kent & East Sussex Railway Halloween Fun Week – until 30th October and save 25% with LittleBird and book your tickets here.
HAUNTED HOUSE – SONS & SONS AT SUTTON HOUSE, HACKNEY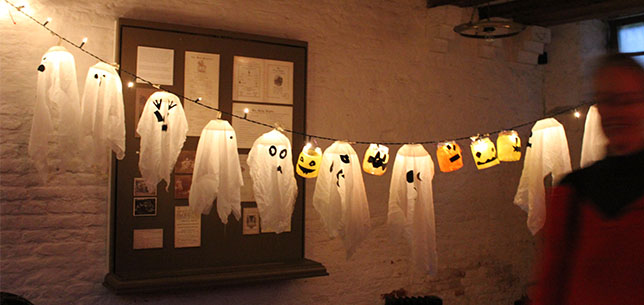 Cobwebs and pumpkins fill Sutton House's old halls and chambers this Saturday. Hear haunting stories from Sons & Sons, dare to test some home-made potion with a wicked witch and create a shadow puppet to tell your own spooky story with.
Sutton House has family trails and treasure chests so you and the kids can spend time exploring and discovering the lives of the people that lived in Sutton House through puppets, costumes and even a  soft textile tea set – anyone fancy a cuppa?
Don't miss Sutton House's Breaker's Yard garden complete with bouncy tyres, a magical 2-storey caravan and a big greenhouse bus. The Breaker's Yard is Sutton House's new Pocket Park designed by Dan Lobb in collaboration with The House Fairy Tales. Inside the caravan is the National Trust's smallest stately home…
When: Saturday 31st October, 12pm – 4pm
Where: Sutton House, E9 6JQ
Age: Families
Cost: Adults £3.90, Children £1.10
LittleBird's Top Tip: If you can't make this Saturday, there's half term Halloween fun during the week; Weds 28th – Fri 30th October – Haunted House spookiness is promised!
SPOOKFEST AT THE LONDON MUSEUM OF WATER & STEAM, BRENTFORD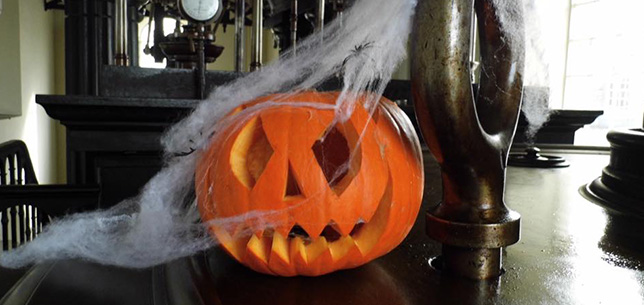 Fancy a Spookfest? Then the London Museum of Water & Steam is the place to go this weekend. Get ready to help discover the spooky secrets of the historic engine houses and maybe even meet a few of their past occupants! There'll be plenty of Halloween craft activities for everyone to enjoy as well as a ride on the Ghost Train and a trip through the creepy wood!
As well the Splash Zone, there is the museum garden plus the new Waterworks gallery with interactive exhibits, a cafe and shop.
When: Saturday 31st October & Sunday 1st November
Where: London Museum of Water & Steam,  TW8 0EN
Age: All ages
Cost:  Museum entry adults £11.50, 5 – 15 £5, under 5s go free
LittleBird's Top Tip: You're about a 15 minute walk from Kew Gardens – enjoy The Great Spice Heist this half term and why not download the Families at Kew discovery and activity map: Family day out at Kew map; epic adventures await!
HALLOWEEN, PUMPKINS & SQUASHES IN KINGS CROSS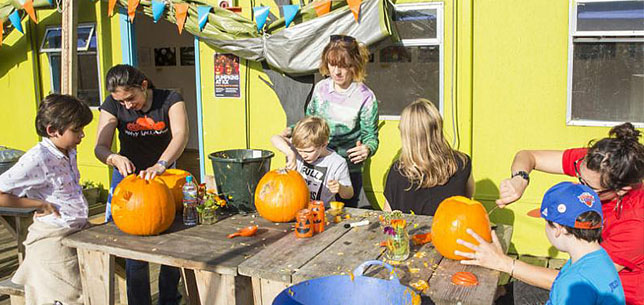 One Granary Square is a great place to spend the day hanging out with the kids and this Sunday is no exception. Pop along to the Skip Garden and enjoy free family activities to celebrate all that autumn has to offer.  Everyone will have the chance to get creative with leftover pumpkins through art, crafts and sweet and savoury cooking. You can get creative with crafts, turn your hand at cooking or try some gardening along with other local families, finishing up with a home-cooked lunch.
Discover Kings Cross with trails and tours galore – there are maps and apps to interact with and you must download Granary Squirt. The app turns your smartphone into your very own fountain remote control between 5pm and 8pm everyday – excellent fun!
When: Sunday 1st November
Where: Skip Garden Cafe, N1C 4UZ
Age: Families
Cost: Roaming around the garden will cost you nothing, but your food expenditure will depend on what you eat!
LittleBird's Top Tip:  The House of Illustration is close by with the new Lauren Child exhibition opening this Friday 30th October to see her hand crafted doll's house on display for the first time plus don't forget the King's Cross Pond Club – go for an open air swim with the kids…if you dare!
BP FAMILY FESTIVAL: BRING YOUR TRIBE AT TATE BRITAIN, MILLBANK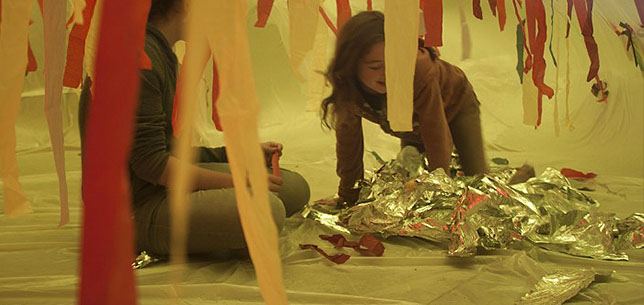 If you're feeling a little pumpkined out by the weekend, then head to Tate Britain for something a little different – it's time to get tribal! To celebrate tribal connections and common culture, Tate Britain is calling all 8–14's to bring their tribe along this weekend, join some new ones and take over the gallery!
This year's BP Family Festival lets the kids enjoy the chance to join a hip hop-classical mash-up performance, contribute to a growing sculpture and play team sports as works of art. Be ready to take part, create with others and enjoy the show.  Heart n Soul of Deptford presents Digital Pop-up Band Electric Fire, there are creative sessions by artist Ben Connors, and a performance by singer Lizzie Emeh.
While you're here, experience sound-scapes especially created for families by musicians and sound artists. Borrow a set of headphones (from the Clore Room) and an MP3 player and discover what sound art is – there are nine different trails to choose from and don't forget to enjoy the Pick Up Activities from the front desk.
When: Saturday 31st October & Sunday 1st November, 11am – 4pm
Where: Tate Britain, SW1P 4RG
Age: 8 – 14 year olds
Cost: Free
LittleBird's Top Tip:  Make a day of it and walk down to Westminster (about a 20 minute walk) and enjoy a sight seeing cruise on the Thames with your family – hop on and hop off at your leisure.  Save 50% on tickets with LittleBird and book your tickets here.