What's On This Weekend – Saturday 24th & Sunday 25th October and throughout Half Term
 Fun and fantastic things to do with the kids in London this Weekend
Saturday 24th & Sunday 25th October and throughout Half Term
GET CREATIVE FAMILY ARTS FESTIVAL 2015, UK WIDE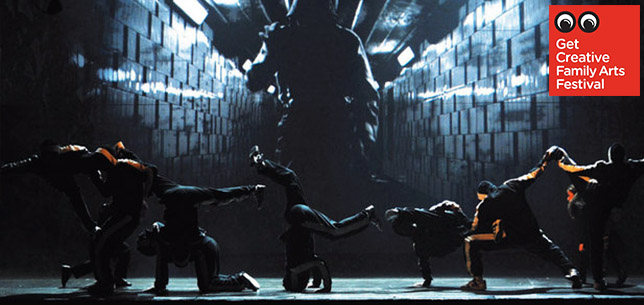 *Runs throughout half term*
LittleBird are proud partners of this year's  Get Creative Family Arts Festival 2015 – a UK-wide festival of art events, designed with families in mind This year's festival offers over 5,000 UK wide events and runs throughout half term; click here to find your nearest event.
This week, in London,  you can choose from, The Magic of the Music Hall Family Weekender at Wilton's Music Hall 24th & 25th Oct, Where Caterpillars Go at the Half Moon Theatre on 24th Oct, ZooNation's  Into The Hoods: REMIXED at The Peacock Theatre until 14th Nov, Peg Playmates at the Museum of London until 27th Oct, Digital Kids at the V&A until 1st Nov plus, Victorian Stereoscopes at the Foundling Museum 30th Oct, The Nodines at The Place 30th & 31st Oct, The World of the Celts at the British Museum 26th – 30th Oct and Raymond Briggs The Bear at the Polka Theatre until 1st Nov. There's an eye-boggling amount to choose from – you'll be spoilt for choice this half term. To find your nearest event this weekend and throughout half term, pop your post code in here.
When: The Family Arts Festival runs until 1st November
Where: Across the UK, click here to find your nearest event.
Age: Varies
Cost: Event dependent
LittleBird's Top Tip: Get into the spirit of the Family Arts Festival and have some eye boggling fun with the festival's Family Portrait app and if some theatre tokens would come in handy this Christmas – why not send your family portrait in and see if you win some theatrical prizes!
GIANT LEGO® BRICK ANIMALS AT THE LONDON WETLAND CENTRE, BARNES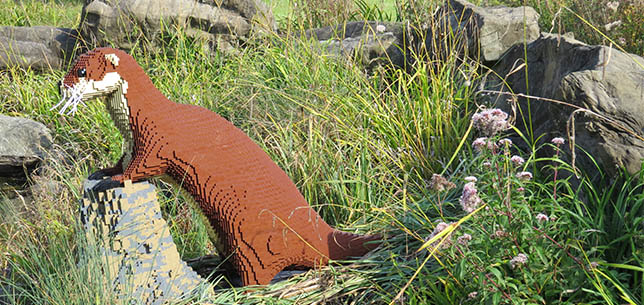 *Runs throughout half term*
Take the family to the London Wetland Centre this weekend or during half term and enjoy this trail with a difference. Discover nine LEGO brick sculptures sitting among some of their real-life cousins including a giant otter, a massive mallard and a huge model of the world's rarest goose.
Throughout October and November there will be three one hour workshops perfect for LEGO® fans running every weekend plus daily workshops throughout half term. Let the kids get creative with LEGO games and leave with their very own model to take home. Workshops are ticketed, £8.50 per person.
London Wetland Centre is a great family day out; there's the outdoor adventure playground with zip wires, climbing walls, giant water vole tunnels and water games! Plus there are the Pond Zone and the Discovery Centre – great environments for the kids to explore, discover and experience and of course don't miss the Otters: feeding times are 11am & 2pm daily.
When: until 18th November
Where: London Wetland Centre, SW13 9WT
Age: Families
Cost: The trail is included in the normal admission (adults £12.75, children £7) prices.
LittleBird Top Tip: Kids can't get enough of Lego? Did you know BRICK is back – yaaaaaay! With Birmingham and London dates – revel in this live show for Lego fans of all ages!
LITTLE LAB OF HORRORS AT THE SCIENCE MUSEUM, SOUTH KENSINGTON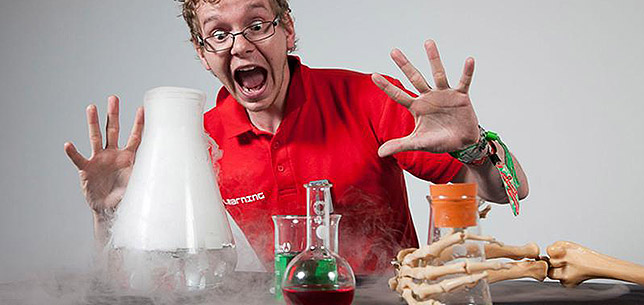 *Runs throughout half term*
Enjoy Little Lab of Horrors at the Science Museum this weekend and throughout half term where you and the kids will have the opportunity to explore some of the museum's spookiest objects, help dust them off and investigate some scary science. Witness luminous liquids, help to bust some ghosts, and have a hair-raising experience!
Why not also visit the  Cravings  exhibition and explore how food affects your body, brain and eating habits. Help Heston Blumenthal find out more about how our senses can affect how we enjoy our food – you can take part in this experiment right now; click here  – snail porridge anyone?
If you decide to visit on a Weds, Fri or Sat (before 31st Oct) you can take part in a live experiment….How much do you like to eat? Help the Science Museum's Live Science researchers  discover more about whether you find it easy to control what you eat or do some foods tempt you so much that you can't resist them? It only takes 10 – 15 minutes and anyone over the age of 7 can take part.
When: Sat & Sun: 1pm & 3,30pm / Mon – Fri: 11.30am, 1.00pm, and 3.30pm
Where: Science Museum, SW7 2DD
Age: 8+
Cost: Free
LittleBird's Top Tip: The Natural History Museum is just round the corner with lots of half term fun planned including the opportunity to become a scientist for the day (24th, 25th, 31st Oct & 1st Nov), Wolf Tales, a puppet show,  (24th, 25th & 30th Oct) plus the opportunity to meet Charles Darwin (24th Oct). Click here for full details.
THE COMEDY OF ERRORS + FAMILY WORKSHOPS AT THE NATIONAL THEATRE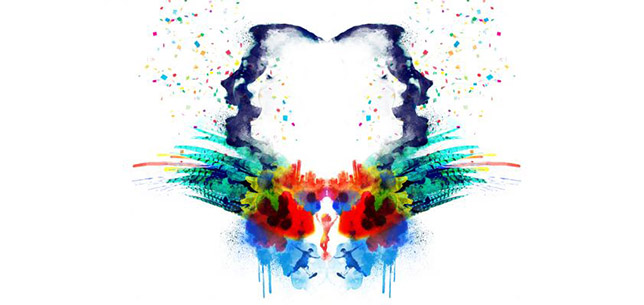 *Runs throughout half term*
Discover together who's who and what's what in The Comedy of Errors Explored family workshops this half term. Take part in a playful pre-show workshop ensuring you and the kids get into the spirit of Shakespeare's hilarious farce. Then settle down and watch this fast-paced and energetic re-telling of Shakespeare's The Comedy of Errors. Two sets of identical twins seek each other amidst a riot of music and colour after being separated for many years. Comedic confusion, arrests, and multiple mistaken identities ensue before a final reunion.
While you're at the National Theatre, discover what goes on behind the scenes and take a wander with the kids along the Sherling High-Level Walkway.  Be inspired by this unique birds eye view into the National's busy backstage production workshops and watch set construction and assembly, scenic painting and prop-making.
When: Performances until 6th November
Workshops run on Sat 24th Oct & Tues 27th – Sat 31st Oct 11am – 1pm
Where: National Theatre (Performances take place in the Temporary Theatre & Workshops take place Clore Learning Centre), SE1 9PX
Age: 8+
Cost: Performance Adults £12, Children £8 / Workshop Adults £5, Children £3 – booking required
LittleBird's Top Tip: The National Theatre is a great space to hang out with eateries a-plenty and a gloriously big open plan book shop. You're on the Southbank so head towards the OXO tower and you can enjoy a stroll around Gabriel's Wharf. If there's a low tide, look out for the sand sculptors in front of Gabriel's Wharf, down on the Thames beach – they always think of innovative and entertaining ways of getting you to part with a few pence and well worth it! Carry on past the OXO Tower and Tate Modern and Shakespeare's Globe awaits.
RIPLEY'S HALLOWEEN WEEK – SAVE UP TO 46% WITH LITTLEBIRD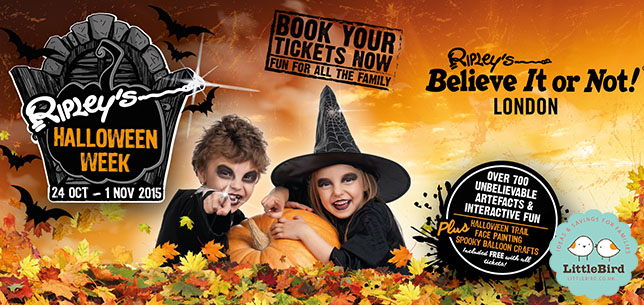 *Runs throughout half term*
Mwahaha….feeling spooky this half term? Then head to Ripley's Believe It Or Not where ghoulish goings on are guaranteed. Dare the kids to go on a haunted trail (with treats promised at the end if you solve the riddle!) or listen to spooky tales, let them learn how to turn a balloon into a pumpkin or decide whether they want to be a zombie, a vampire or a scary fairy this Halloween with fun and freaky face painting.
While you're here, don't miss Adventures in Wonderland as you and the kids get to step into Alice's world and grow like a giant or shrink like a rat. With over 700 amazing artefacts and oddities at Ripley's plus interactive exhibits including the mirror maze and laser challenge – quite frankly, the kids won't want to leave.
When: Saturday 24th October – Sunday 1st November
Where: Ripley's Believe It Or Not, W1J ODA
Age: All ages
Cost: Enjoy 46% off fast tracked tickets with LittleBird, 2 Fast Track Tickets £29, 3 Fast Track Tickets £43.50 – book now.
LittleBird's Top Tip; When you buy your tickets through LittleBird, you can have some fun in the shop with an exclusive and extra 15% off at the Gift Shop stuffed with tons of spooky Halloween fun and great gift ideas.
DAZZLE CAMOUFLAGE ON THE HMS BELFAST, SOUTHBANK
FREE VOUCHER SAVING 25% OFF FAMILY TICKETS WITH LITTLEBIRD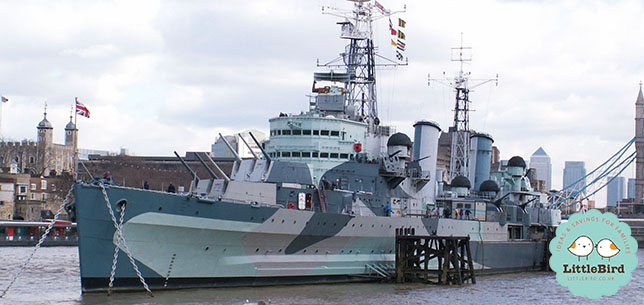 *Runs throughout half term*
Enjoy Dazzle Camouflage on the HMS Belfast throughout half term with the kids and discover how you hide a ship at sea. Using animation, the kids will learn how dazzle camouflage was used to keep HMS Belfast from being discovered by other ships as they get the chance to create their very own camouflage in a workshop. All camouflage designs will be turned into a short film available to view after Half Term.
The HMS Belfast makes for a great day out. Let the kids climb up and down the ladders of a real warship that fought in the largest military operation in history and explore the 9 decks – go from the bowels of the ship where the Engine and Boiler rooms are all the way up to the Compass Platform where you can take in the views of London from the Captain's chair. You can all feel the rumbles of a real battle in the Gun Turret Experience and then test your navigation skills in the Operations Room. Aye aye captain!
When: until 1st November, 11am – 12.30pm & 2pm – 4pm
Where: HMS Belfast, The Queen's Walk, SE1 2JH
Age: Families
Cost: Save 25% off Family Tickets with LittleBird's downloadable voucher!
LittleBird's Top Tip: Fancy more wartime history? Discover the history of aviation in times of war and peace at IWM Duxford in Cambridgeshire and see what half term activities are going on here. Save 25% off Family Tickets with LittleBird's downloadable vouchers – valid until the 31st December 2015.
THE BIG DRAW AT THE ARCELORMITTAL ORBIT IN STRATFORD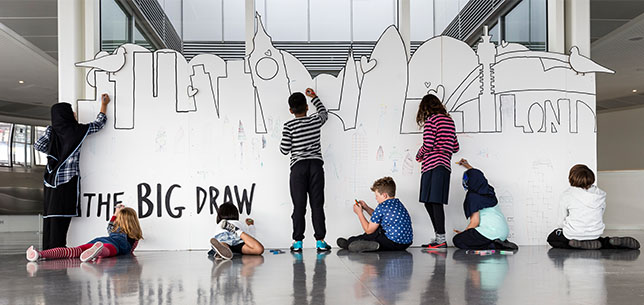 *Runs throughout half term*
The World's Biggest Drawing Festival is back – the wonderful Big Draw (running throughout October). This year's theme is Every Drawing Story Tells A Story and there are 100s of events throughout the UK to inspire, celebrate and enjoy with the kids.
This half term the ArcelorMittal Orbit will be transformed into The Big Draw's London showpiece as your budding artists are invited to create their own masterpieces on a giant 2m high London landscape community artwork, shaped as iconic buildings from the London skyline including The Shard, the London Eye and Canary Wharf, as well as the famous red London buses and black taxis. The kids will be encouraged to become part of the ArcelorMittal Orbit's story and work on the giant blank canvas which can be drawn all over with colourful pencils and pens as they are inspired by the view.
The Big Draw runs until 31st October across the UK and there are tons of great things to do with the kids so  click here to find your nearest event this half term.
When: until the 1st November
Where: ArcelorMittal Orbit, E20 2AD
Age: Families
Cost: Online advance booking (24 hrs before) Adults £10, Children £5
LittleBird Top Tip: With so much to see and do surrounding the ArcelorMittal Orbit you're spoilt for choice; there's the Queen Elizabeth Olympic Park home to the Copper Box Arena and Lee Valley VeloPark to name a few plus Westfield Stratford City.
SHAKESPEARE'S GLOBE, BANKSIDE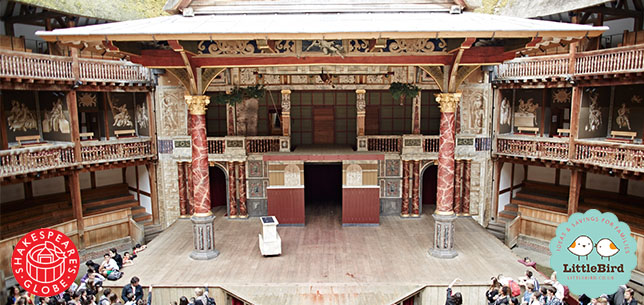 *Runs throughout half term*
Head to the Bankside and imagine  Shakespeare's Globe as it would have been: the centre of what was once London's most notorious entertainment district, surrounded by raucous taverns and bawdy-houses. Explore and experience, discover and learn together about the World's most famous playwright – William Shakespeare. Shakespeare's Globe Exhibition and Tour lets the kids explore the life of Shakespeare, the London where he lived, and the theatre for which he wrote.
This half term there are demonstrations that take place throughout the day, including stage fighting and Elizabethan dressing. Learn about Elizabethan stage combat techniques as well the  intricacies of  Elizabethan clothing  as you watch a volunteer (it could be you!) be dressed as a character from a Shakespeare play. Don't forget to pick up a copy of the Family Trail when you arrive and there's a free children's audio guide for the exhibition to enjoy too.
When: 24th Oct – 1 Nov
Where: Shakespeare's Globe, SE1 9DT
Age: All ages
Cost: Adults, £13.50, Children £8, Family Tickets £36
Feeling inspired and fancy enjoying the whole Shakespearean experience by seeing a play too – check out Shakespeare Untold (6+) this half term.
LittleBird's Top Tip: Kids love re-enacting history? A ten minute walk from the Globe, let the kids experience Tudor Fundays and / or Tudor Battle Experiences throughout half term on Sir Francis Drake Golden Hinde. Book your tickets through LittleBird and save 20% – book now.
THE LONDON TIME TOUR BUS, TRAFALGAR SQUARE – SAVE 50% WITH LITTLEBIRD
*Runs throughout half term*
Voyage around London's famous sites on a classic 1960s Routemaster bus.  Enjoy this unique tour of London this half term and journey through time as you visit iconic landmarks in central London. Let the quirky and enthusiastic Professor Quantum shares his time travelling tales with live theatrics and a quizzical air of mystery! The London Time Tour Bus brings history alive in this imaginative, time travelling experience.
When: Every Saturday & Sunday, 2.40pm plus Monday – Friday during half term
Where: Tours depart from Northumberland Avenue, just off Trafalgar Square
Age: Families
Cost: Tickets £12 – 50% off with LittleBird, click here to purchase your voucher, Under 5s free
LittleBird Top Tip: A hop, skip and a jump from Trafalgar Square, there's lots to enjoy before or after your tour. St James Park is a 5 minute walk with pelicans, playgrounds, deck chairs and a cafe. Or pop into the National Gallery or the National Portrait Gallery and don't forget to look out for the fourth plinth new commission by Hans Haacke, Gift Horse on route.
KIDZANIA'S HALLOWEEN, LONDON WESTFIELD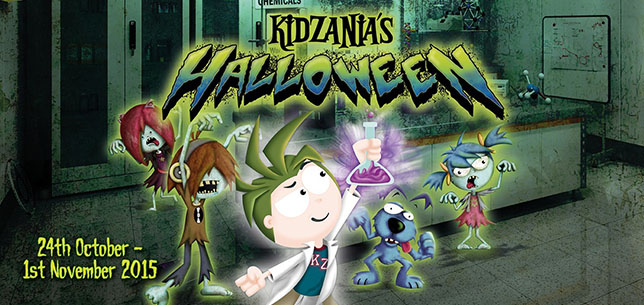 *Running throughout half term*
Imagine a whole city built for kids; they run the city, get paid (in Kidzo's) and then decide what to spend their wages on. No need to imagine anymore, role-play heaven has arrived – it's time to head for  KidZania's in Westfield London.
Let the Kids spend the day being a pilot, a radio DJ, a dentist, a fruitologist, a firefighter, and a doctor or newspaper editor.  There are more than 60 real life role-play activities in the bank, on stage, in a science lab, a hotel, a recycling centre, fashion studio, dance club and chocolate factory. Each experience is crafted to teach kids life skills including creativity, critical thinking, communication, teamwork and independence. Most of all though, it's learning through hands on experience and plenty of fun!
This half term, KidZania has been transformed into a spooky town – there's plenty of hocus pocus promised including a  Zombie epidemic… can your kids join the Emergency Response Team and help find the antidote to the outbreak – and save KidZania!
When: open 7 days a week
Where: Westfield London, W12 7GA (KidZania London is located on the first floor between Marks & Spencer's and Gap)
Age: 4 – 14
Cost: Adults £16.50, 4 – 14 year olds £28, 1 – 3 year olds £10, under 1s free
LittleBird's Top Tip: Every child is given a tracking monitor that they wear on their wrist so you know where your child is at all times which means you can enjoy The Parents Lounge. Take a book and enjoy the quiet reading area, enjoy free WI-Fi Internet access, computers plus there's that all important coffee shop too!