What's On This Weekend? Saturday 19th & Sunday 20th September
FUN & FANTASTIC THINGS TO DO WITH THE KIDS IN LONDON THIS WEEKEND
SATURDAY 19TH & SUNDAY 20TH SEPTEMBER
OPEN HOUSE JUNIOR IN THE CITY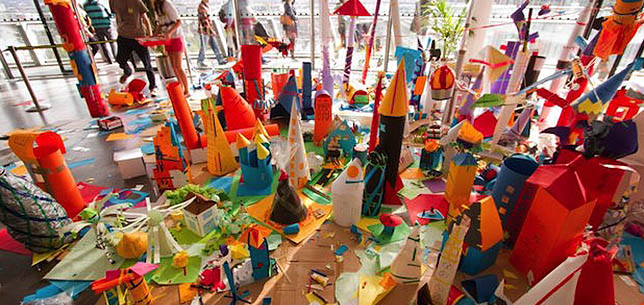 Part of the London Open House, London's largest Festival of Architecture and Design, Open House Junior  is hoping to inspire the next generation of Londoners  and the junior programme is full of fun and free architectural activities. Help create the next generation of architects and watch the kids build skate parks, stadiums and school stations at City Hall and create their very own sculptural artwork in Leadenhall Market.
Throughout the Open House Weekend many of the buildings opening their doors are offering lots of family friendly activities. Head to Temple Inns of Court and the Temple Church  and find out where Magna Carta began to reveal its role in our modern world. There will be guided building and garden tours, mock trials and children's courts, family friendly theatre productions and musical entertainment, plus an array of fun activities.
When: 19th & 20th September
Where: Various locations across the city, click here for Open House Junior programme details
Age: Families
Cost: Free
LittleBird's Top Tip: To find out where more family friendly fun can be found during the Open House weekend, check out the buildings listing – click here.
ROCK, POP & CHARMING AT THE V&A, SOUTH KENSINGTON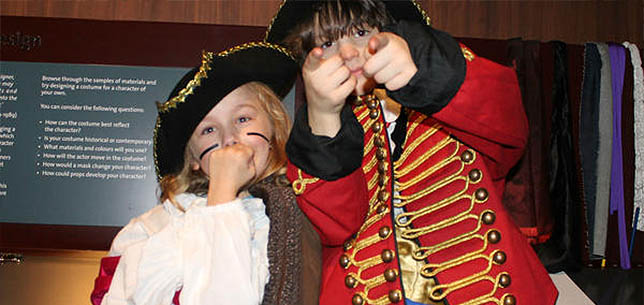 The London Design Festival is a nine day Festival of contemporary design that celebrates London as the creative capital of the world. The V&A is the hub of this annual Festival and there's lots to do. Take the kids and re-live the 1980s in this Rock, Pop & Charming costumes, dance and drama workshop and celebrate the role of costume design in 1980s music scene with your kids.
While you're at the V&A, don't miss Barnaby Barford's massive Tower of Babel.   Standing six metres high, the Tower comprises 3000 bone china shops, each one unique, each depicting a real London shop photographed by the artist.
When: Saturday 19th September at 11am, 1pm & 3pm
Where: V&A, SW7 2RL
Age: 5+
Cost: Free
LittleBird's Top Tip: The London Design Festival runs until 27th September so to find out what else is happening this September click here or to download the 2015 programme, click here.
THE FLOATING CINEMA AT KING'S CROSS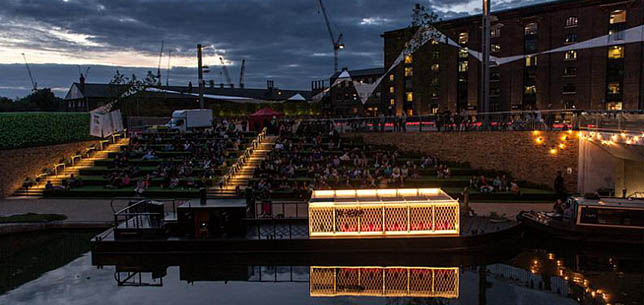 The Floating Cinema is back at King's Cross promising an immersive space odyssey. This weekend explore our relationship with outer space through films and hands on workshops. On Saturday enjoy Cosmic Shorts: a series of short films exploring artist's interpretations of space (booking essential). Explore other worldly planets and join in the workshop where you and kids can create your own tools to survive in space!
Head to the canal on Sunday for CanalCon (Floating Cinema's homage to Comicon) and browse around the open air comic fair Comiket featuring some of London's top independent comic artists and publishers. Illustrators amongst you? Sign up to Wham! Out of this World workshop between 12pm – 2pm and blast into space in this Comic Book Masterclass with Merlin Evans.
When: Saturday 19th & Sunday 20th September, 12pm – 6pm
Where: Canal-side King's Cross
Age: All ages
Cost: Free, booking essential for films, workshop; Sat – drop in, Sun – need to book
LittleBird's Top Tip: If it's a lovely day, why not head to the outdoor art installation that you can swim in while you're here and experience Soil and Water: King's Cross Pond Club. Alternatively, let the kids splash about in the fountains at One Granary Square, there are an incredible 1,080 choreographed jets, each individually controlled and lit – what's not to like about that!
THE REGENT'S PARK HARVEST FESTIVAL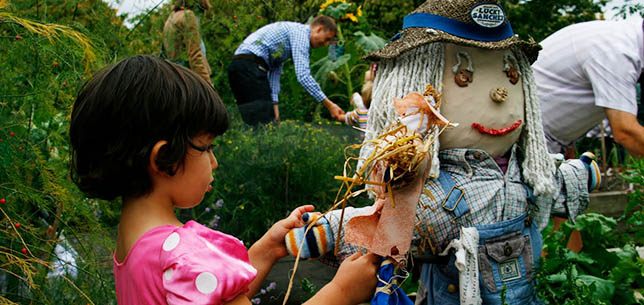 The Regent's Park Allotment Garden  are hosting their annual harvest festival this Saturday  to celebrate this year's food growing and everyone is invited to sample freshly cooked pizzas made using produce from the allotment and wash it down with homemade rhubarb and ginger squash – yummy! Let the kids make a paper pot and plant a seed in it, embark on a garden hunt, and learn how to identify different types of ladybirds.
There will be experts from The Royal Parks Guild on site to answer any question about food growing and a garden hunt has been organised.  Plus there's live music and competition running all day – all for free 🙂
When: Saturday 19th September, 11am – 5pm
Where: Regent's Park Allotment, NW1 4NR
Age: All ages
Cost: Free
LittleBird's Top Tip:   Tell the kids to take a bit of pocket money with them as there will be an array of goodies available for a small donation including herb bath bombs, potted plants and herb salts and potted plants.
DESIGN RIVER RELAY AT THE DESIGN MUSEUM, SHAD THAMES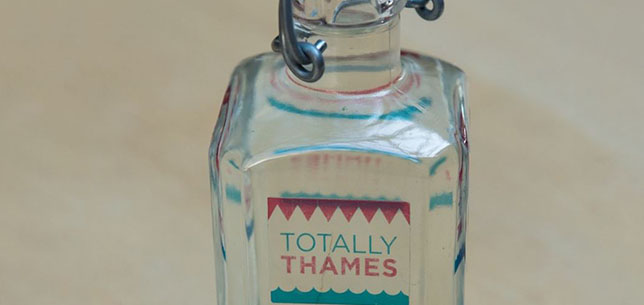 Part of the Totally Thames festival (running until 30th September) enjoy a day of family friendly fun with modelling, sketching and making for all at the Design Museum this Saturday. Explore the design of bottles and the life of the river through different techniques of making, crafting and drawing.
Part of the Totally Thames Source to Sea River Relay, the family fun day is inspired by the journey of the Thames relay bottle which has been filled with water at the Thames's source and passed downstream by walkers, swimmers, rowers, sailors and many others, arriving at the Design Museum this Saturday before continuing on its journey to the sea.
When: Saturday 19th September, 11am – 4pm
Where: Design Museum, SE1 2YD
Age: All ages
Cost: Free drop in with museum entry (adults £13.50, children £6.50)
LittleBird's Top Tip: There are family trails you can enjoy together plus the Design Museum is home to the yummy Blueprint Cafe. There is also the Museum Shop that supports new designers and has an innovative selection of toys including the DIY Electro Dough Kit: want one!
BERMONDSEY STREET FESTIVAL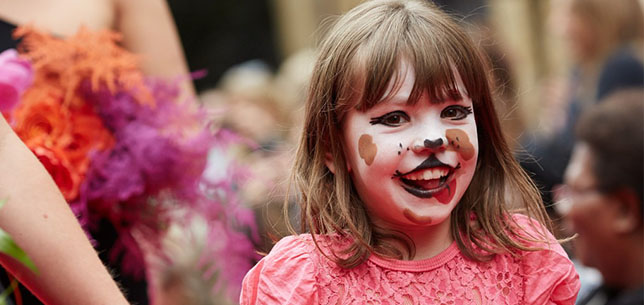 The annual Bermondsey Street Festival arrives this Saturday celebrating this creative hub in the heart of London. Local designers, creatives and artisans food specialists come together every year offering a perfect blend of village fête folksiness with Bermondsey street style.
The Unicorn Theatre will be there discovering what makes a good villain. Children are encouraged to come in fancy dress as their favourite villain and join the parade that starts at 11.15am in Bermondsey Square with prizes to be won. Animals from Vauxhall City Farm are on hand for meet and greets, plus there will be face painting and maypole dancing too.   There's live music in Tanner Street Park from 12.30pm, The Dog Show (register in Leathermarket Gardens from 12pm) and of course a plethora of food and drink stalls – no festival is complete without them!
When: Saturday 19th September, 11am – 6pm
Where: Bermondsey Street, SE1
Age: All
Cost: Free
LittleBird Top Tip: Go on a trail with the kids with City Hunt Bermondsey (part of the Totally Thames Festival) and explore the settings of some of Dickens's tales and find out about the characters who once walked these streets. You can pick up a special kids' map available from start stations on the day, with fun and accessible clues. Head to the Ugly Duck stall on Bermondsey Street, or sign up to play on the website if you want to go it alone!
SPIDERS AT BOW BEASTIES, TOWER HAMLETS
Bow Beasties is Tower Hamlets Cemetery Park wildlife watch club for all of the family to enjoy! Join Ken and Zoe (along with their two children, and dog Quinn) for an exciting range of activities, all of which take place within the fabulous resource of the Cemetery Park. This Saturday it's all about Spiders, slugs and snails and Bow Beasties have got their very own spider expert too! The Park, with its ponds, flower rich woodlands and meadows is now a designated Local Nature Reserve and a Site of Metropolitan Importance for Nature Conservation.
Bow Beasties happens every 3rd Saturday of the month (except for August). It's FREE and there is no need to book (unless otherwise stated). Remember to dress for the weather as Bow Beasties are likely to be outside come rain or shine!
When: Saturday 19th September, 10.30am – 12.30pm
Where: Tower Hamlets Cemetery Park (meet at Soanes Centre)
Age: Families
Cost: Free
LittleBird's Top Tip: If you fancy spending the whole day out in the fresh air you're not far from Mile End Park, and there's plenty to do, see and enjoy including an Ecology Park and Pavilion, the Arts Park and Pavilion plus a playground, climbing wall and skate park. You can walk through Mile End Park and end up in Victoria Park; London's oldest public park with a boating lake, Chinese pagoda and fab children's playground. Check out forthcoming park events here.
THE ELVES & THE SHOEMAKER AT CANARY WHARF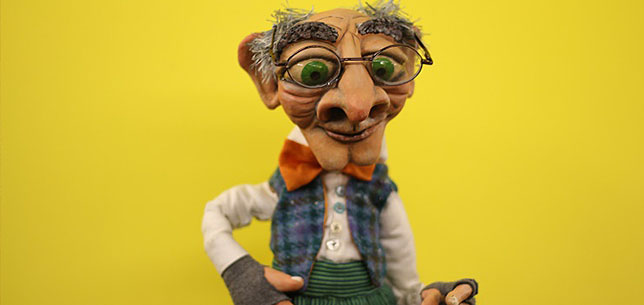 If you missed the Spiegeltent at Canary Wharf last weekend, don't worry! Finishing this weekend, head to Canada Square Park for a puppet show not to be missed.  Enjoy The Elves & The Shoemaker. This well-loved tale made popular by the Ladybird Classic has been re-heeled by the fabulous Theatre of Widdershins in their own wonderful style. No one makes shoes like an elf!  If you prefer a bit of cabaret and you're only around this Sunday? Then enjoy Huggers Family Cabaret at 11am & 3pm (tickets £7).
When: Sat 19th Sept @ 11am & 2pm – with the doors opening half an hour before.
Where: Canada Square Park, Canary Wharf, E14 5AH
Age: Families
Cost £8 per ticket
LittleBird Top Tip: There are 15 pianos decorated by local, national and international artists dotted throughout Canary Wharf's open spaces, parks, malls and waterfront areas. Play Me, I'm Yours offers a musical canvas to inspire and produce spontaneous creativity! Take it away….
ROSIE'S MAGIC HORSE AT THE ARTSDEPOT, NORTH FINCHLEY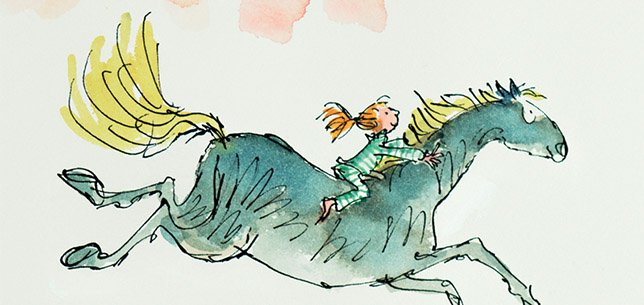 This Sunday  Rosie's Magic Horse arrives the artsdepot. Based on the book by Russell Hoban and illustrated by Quentin Blake, the kids will love this magical tale of aspiration, friendship, adventure sprinkled with a little bit of mischief.
Little Rosie collects ice-lolly sticks and puts them in an old box. As Rosie dreams of helping her parents pay off the bills, her stick collection dreams of becoming something greater. And so, at the stroke of midnight, magic and dreams collide and a horse gallops out of the box! An adventure like none other has begun: ice-lolly mountains by the sea, caskets of gold and scurvy pirates await.
When: Sunday 20th September, 11am & 2pm
Where: artsdepot, N12 0GA
Age: 3 – 8
Cost: £7
LittleBird's Top Tip: During family shows the cafe  (on level 2) has children's lunchboxes available for £4.There's a free soft play area and book corner in the cafe too.
BUILDING STORIES & CERAMIC STORIES – ROYAL ACADEMY, PICCADILLY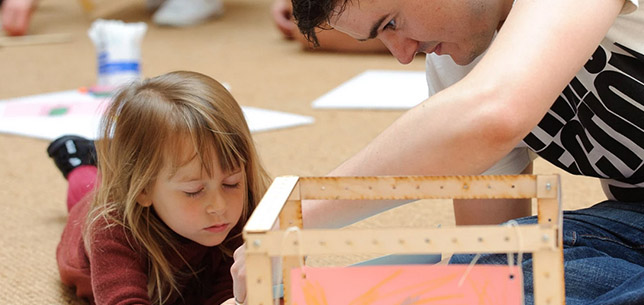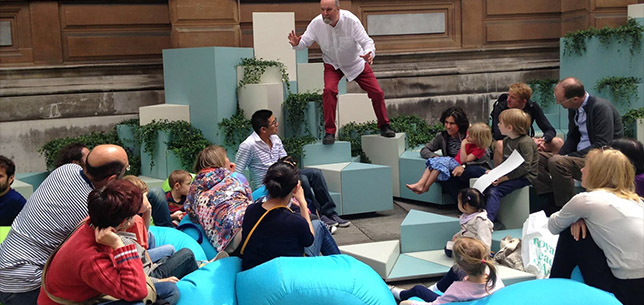 Head to the Royal Academy this Sunday and enjoy two free family workshop.  You can enjoy both workshops as Building Stories, a special workshop for Open House London, runs throughout the day. Celebrating and being inspired by the RA's architectural past, present and future Building Stories, helps you engineer towering tales and build stories as a family.
Then, head to 6 Burlington Gardens at 2.30pm for some storytelling. Ceramic Stories is a programme for Unexpected Hill, a ceramic installation which joins the Royal Academy's Burlington Gardens building and the street into a new public space. It serves as a backdrop for tales, folklore and adventure!
When: Sunday 20th September, Building Stories 11am – 3pm, Ceramic Stories 2.30pm – 3.30pm
Where: Royal Academy, W1J 0BD
Age: Families
Cost: Free, drop in
LittleBird's Top Tip: While you're here, enjoy the RA's Art Detective Family Trails, you can download the Richard Diebenkorn Trail inspired by the recent Richard Diebenkorn exhibition. There's family friendly cafes and the beautiful Annenberg Courtyard – an inspiring space to continue storytelling in or let the kids run around.