What's On This Weekend? 12th & 13th September
FUN & FANTASTIC THINGS TO DO WITH THE KIDS IN LONDON THIS WEEKEND SATURDAY 12TH & SUNDAY 13TH SEPTEMBER
THE GREAT RIVER RACE, DOCKLANDS TO RICHMOND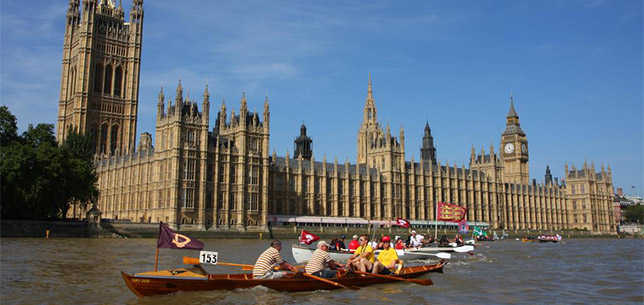 Part of the Totally Thames festival (runs until 30th September) The Great River Race is London's River Marathon. A spectacular boat race up the River Thames, with over 300 boats carrying approx. 2,400 competitors racing for 35 trophies, The Great River Race has become the biggest and most prestigious event of its kind in Europe attracting crews from all over the world. Starting in Docklands and ending in Richmond, click here to find the best bridges to catch the best view from, near you. Like the Marathon, the race attracts serious athlete as well as those who are there to create a laugh through fancy dress and charity stunts.
If you decide to watch the River Race from Tower Bridge around 11.30am, why not pop over to St Katherine's Docks and enjoy The St Katherine's Docks Classic Boat Festival – a celebration of classic boats with opportunities to chat to the skippers and even get on board (the festival runs over the weekend, Saturday & Sunday). 
When: Saturday 12th September, starts at 7:35am, Docklands, finishes at 1:45pm, Richmond
Where: Starting in Docklands, ending in Richmond click here to find the best bridges to catch the best view from.
Age: All ages
Cost: Free
LittleBird's Top Tip: Why not combine the day with a High Speed Thames Jet experience and tour London's iconic landmarks, 007 style! Save 33% off a Thames Jet for all the family with LittleBird – book your tickets here
READY STEADY COLOUR AT CANARY WHARF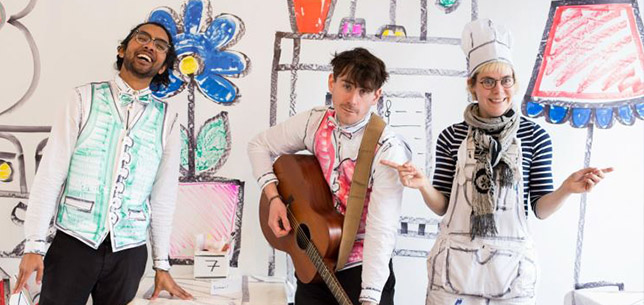 Part of the Spiegeltent at Canary Wharf (running until 20th September), head to Canada Square Park this weekend and enjoy a unique theatre experience, Ready Steady Colour.  You're invited to enter into Ready Steady Colour's make-believe restaurant, grab a table, choose your 'food' and then colour it in. Ready Steady Colour is an interactive theatre experience for all the family so get creative!
Prefer a bit of comedy? Then enjoy Comedy Club 4 Kids on Saturday at 11am (tickets £7) And if dancing en famille is your thang, enjoy Family Rave with Big Fish, Little Fish, also on Saturday, 2pm – 4pm (tickets £7)
When: Sat 12th Sept @ 11am – 12pm & Sun 13th Sept. @ 11am – 12pm, 1.30pm – 2.30pm & 4pm – 5pm
Where: Canada Square Park, Canary Wharf, E14 5AH
Age: 2+
Cost £8 per ticket
LittleBird Top Tip: Canary Wharf now has one of the UK's largest collections of Public Art: download the latest art map and create your own art trail of discovery. If tummies start rumbling, there is plenty of choice including firm family favourites Nando's, Wagamamas and of course Pizza Express!
PEPPA PIG VISITS THE LONDON MUSEUM OF WATER & STEAM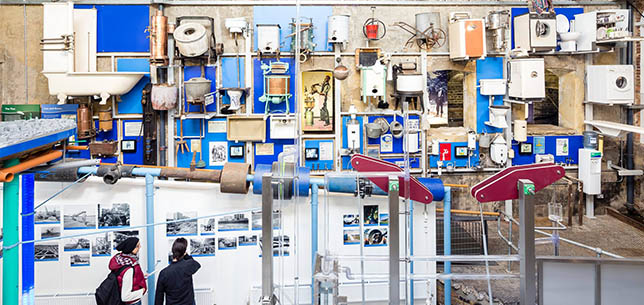 Peppa Pig fans in the house? Then don't miss Peppa Pig's visit to the London Museum of Water & Steam this weekend.
Peppa Pig fans in the house? Then don't miss Peppa Pig's visit to the London Museum of Water & Steam this weekend. Peppa will be popping out to meet museum guests at intervals throughout the day so photo opportunities aplenty – don't forget your camera. The Museum also has its very own little steam train just like Grandpa Pigs. Take a ride on Thomas Wicksteed, the Museum's very own steam locomotive,  as well as enjoy the museums fun interactive displays and wonderfully wet Splash Zone.
There will be plenty of story telling to delight the children with tales of Peppa's adventures plus there's the chance to take part in colouring activities too.
When: Saturday 12th & Sunday 13th September with Peppa Pig appearances between 11am – 4pm
Where: London Museum of Water & Steam, Brentford, TW8 0EN
Age: Peppa Pig fans and their families
Cost:  Museum entry adults £11.50, 5 – 15 £5, under 5s go free – the Peppa Pig event is free with a valid museum ticket.
LittleBird's Top Tip: As well the Splash Zone, there is the museum garden, the new Waterworks gallery with interactive exhibits, a cafe and shop. You're also about a 15 minute walk from Kew Gardens – download the Families at Kew discovery and activity map: Family day out at Kew map; epic adventures await!
SENSATIONAL BUTTERFLIES & CORAL REEFS AT THE NATURAL HISTORY MUSEUM, SOUTH KENSINGTON
•Last chance – finishes this weekend•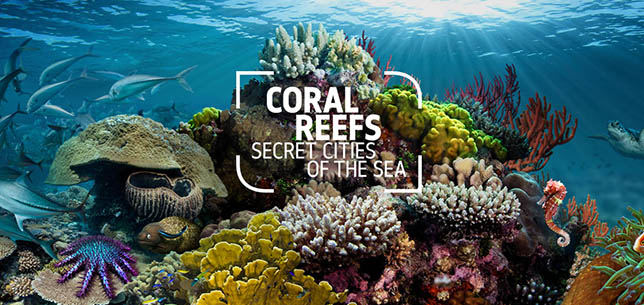 This weekend both Sensational Butterflies and Coral Reefs temporary exhibitions at the Natural History Museum end. So if you didn't make it to the either exhibition over the summer, this weekend is your last chance.  Let the kids experience the magic of coming face to face with 100s of free-flying moths and butterflies as you wander through a tropical butterfly house at the Sensational Butterflies exhibition. Learn together about life cycles, discover species from all over the world, and enjoy the fun interactive displays for children. Encounter 200 strange and beautiful specimens collected by Charles Darwin in Coral Reefs: Secret Cities of the Sea. Take a virtual reef dive, see live sea coral and fish in the aquarium and enjoy spectacular underwater photography.
When: Until 13th September
Where: Natural History Museum, SW7 5BD
Age: Families
Cost: Adults £10, Children £4.50, families (2 adults & up to 3 children) £24.50 – Coral Reef Adults & Children £5.90, families (2 adults & up to 3 children) £19.80 – Sensational Butterflies
LittleBird's Top Tip: Check out the family friendly activities at the nearby V&A and enjoy the free  pop up performance How The Mice Got Rid Of Cats on Saturday 12th September at 11am, 1pm & 3pm (free) or pop to the Science Museum and head for the Launchpad and enjoy the Science Shows; fun, free and interactive!
BARBARA HEPWORTH AT TATE BRITAIN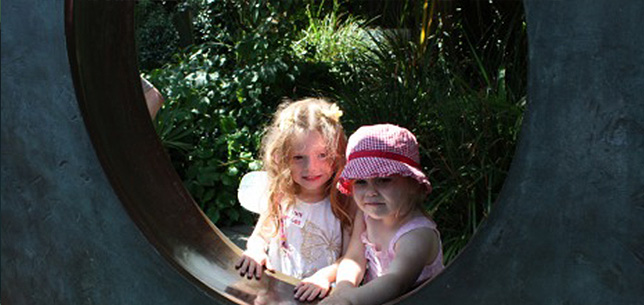 Marvel at the bold and beautiful sculptures of the legendary Barbara Hepworth at Tate Britain. Take the kids to the Learning Gallery and discover Desire Lines , inspired by the exhibition, you'll be asked  to explore, weave and map lines to make your own personal contribution to a collective creation that will grow throughout the exhibition. While you're here, don't miss Tate Britain's first ever garden installation, the Summer Garden, inspired by a Barbara Hepworth textile design. In need of refreshments? The Tate cafes offer children's menus and provide crayons and activities to keep little hands busy and check out the Pocket Art Gallery App – make your own gallery together: a great digital keepsake of the day.
When: Until 25th October 2015
Where: Tate Britain, Millbank, SW1P 4RG
Age: Families
Cost: Adults £18, under 12s go free
LittleBird's Top Tip: Experience sound-scapes especially created for families by musicians and sound artists. To head to the Clore Centre and borrow a set of headphones and an MP3 player and discover what sound art is – there are nine different trails to choose from. Sound-scapes is available at the weekends at both Tate Britain and Tate Modern.
ONBLACKHEATH FESTIVAL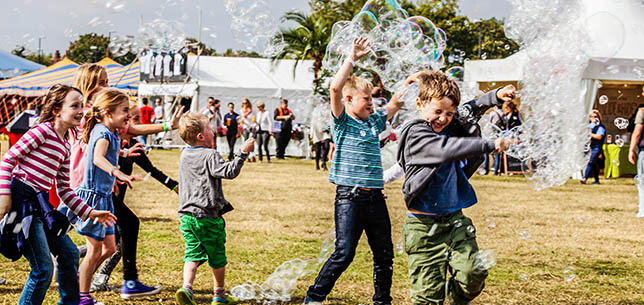 Back for its second year and with headliners Elbow on Saturday and Madness on Sunday, whichever day you go, plenty family fun is promised at OnBlackheath Festival. The festival  celebrates music, food and arts, alongside a vast array of entertainment and activities for families, and friends. Aptly named The Family Playground – let the kids enjoy arts, music and crafts workshops, urban arts experience (including DJ Skills, TV Presenting, animation and Music Production), along with Waterstones Story sessions, a Kids Maze and a Village Green where traditional summer games will be played – think  good ol' egg and spoon and sack races. With multiple music stages, a food village, art installations, roaming performers, interactive street theatre plus workshops for the kids there will be something for all appetites and ages.           
When: Saturday 12th & Sunday 13th September
Where: Dartmouth Field, SE3 OUA
Age: All ages
Cost: Saturday adults £54.50, 13 – 16 £35 & Sunday adults £45, 13 – 16 £25, 12 and under go free
LittleBird Top Tip: The festival doesn't open til 12pm so if you find yourself arriving in Blackheath early, head to the village and search out handmade food – a perfect mix of deli and cafe – for delicious coffee and the best sausage rolls, then pop to Black Vanilla and treat the kids to a gelato before you walk across the heath to the festival.
MICHAEL ROSEN & NEAL LAYTON AT PICKLED PEPPER BOOKS, CROUCH END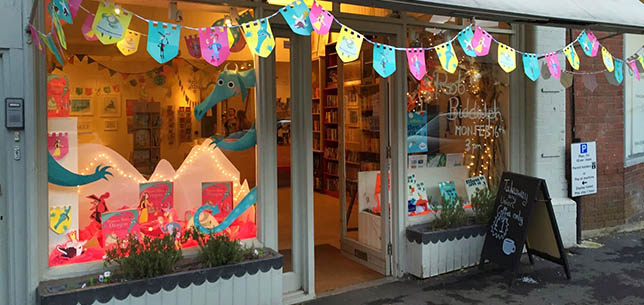 This Saturday at Pickled Pepper Books it's story time with Michael Rosen and Neal Layton. Meet Michael and Neal and hear them reading from Uncle Gobb and the Dread Shed.  Story time starts at 3pm so make sure you're sitting comfortably and if you arrive early you can enjoy a browse around this wonderful bookshop. Pickled Pepper Books is a bookshop for kids and their grown-ups.  It has a yummy cafe and offers an event space that runs events aplenty. With exhibitionstoo and daily activities for all ages – it's worth keeping an eye on this specialist children's bookshop. If you can't make this Saturday Jessica Souhami has a visit planned on Sunday at 2pm and Pickled Pepper Books have a party planned to celebrate Jessica launching her new book Honk Honk!
When: Saturday 12th September at 3pm
Where: Pickled Pepper Books, N8 8PN
Age: Families
Cost: Free
LittleBird's Top Tip: If you live in South London, check out Ottie & the Bea – another independent book (and toy) shop; a treasure trove of wonderful books, toys & puzzles plus they run a book club and host visits from authors and illustrators, offering book signings and workshops.  
DREAM DESIGNS AT THE NATIONAL GALLERY, TRAFALGAR SQUARE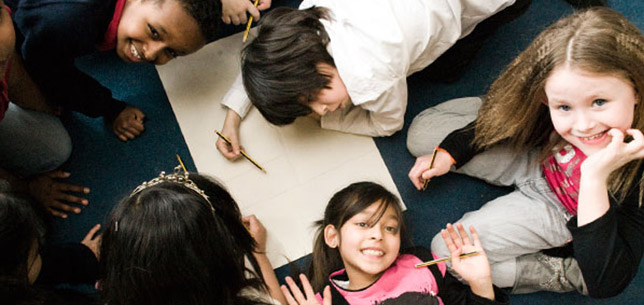 This Sunday let the kids design their own pillowcase to inspire their dreams in this Dream Design free family workshop. These regular family workshops start in the gallery and then move on to an art studio where the kids can get 'hands on'. This Sunday they will join artist Gayna Pelham and be inspired by Raphael's dreaming knight, discuss what exciting adventures or journeys they may dream of when they fall asleep before creating their own pillowcase design; sweet dreams : ) A visit to the National Gallery situated in Trafalgar Square is the perfect opportunity to view the Fourth Plinth's commission Gift Horse by artist Hans Haacke and wander through the mass of street theatre statues that inhabit the space directly in front of the National Gallery's main entrance.  
When: Sunday 13th September, 11am – 1pm
Where: The National Gallery, WC2N 5DN (Pigott Education Centre Entrance)
Age: 5 – 11
Cost: This is a free event but you do need a ticket so go early to sign up and tickets will be issued one hour before the session.
LittleBird's Top Tip: If the kids are feeling inspired, pop into the National Portrait Gallery, free to enter and just round the corner.  There's a digital art space where you can look up particular portraits you'd like to see and create your own tour. Plus there are art stations with free sketch books available.
MR TIGER GOES WILD IN DEPTFORD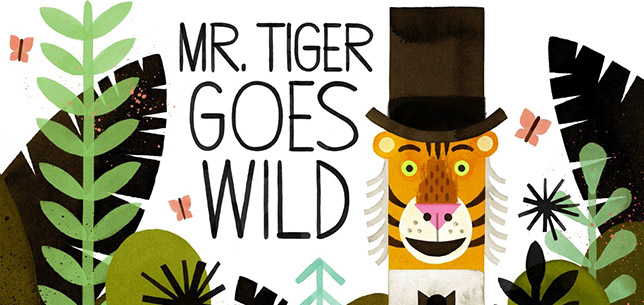 Meet the tiger who came to party! Mr Tiger lived a perfectly proper life in a perfectly proper city and everything was perfectly fine… until the day he had a wonderfully WILD idea! Mr Tiger Goes Wild is a story about being yourself and features original live music, hilarious characters and tons of imagination! Take the family and join Mr Tiger on a rocking musical adventure this Sunday as he journeys from the city to the jungle. Mr Tiger Goes Wild is adapted from the bestselling picture book by Peter Brown.
When: Sunday 13th September, shows at 1pm & 3pm
Where: The Albany, SE8 4AG
Age: 3+
Cost: £7 per ticket or £24 for a family ticket
LittleBird's Top Tip: The Albany's Growing Up Club is on this Sunday too, 2pm – 3pm – Dig, grow, play and discover before or after watching a show in the theatre. Aimed at children 3+, tickets are £3 and accompanying adults don't require a ticket.
SYDENHAM HILL WOOD OPEN DAY
  Join the London Wildlife Trust for their annual Open Day to celebrate 33 years of nature conservation at Sydenham Hill Wood & Cox's Walk. With lots planned, all activities will be signposted throughout the day. Enjoy various walks around the woods including a bird walk and a tree and history walk plus pond dipping and bug hunting. There will be refreshments in the form of cake (yum) and live music too from local folk musicians.
When: Sunday 13th September, 11am – 4pm
Where: Sydenham Hill Wood and Cox's Walk, SE26 6LS
Age: Families
Cost: Free
LittleBird's Top Tip: Inspired by the idea of pond dipping but can't make this event, check out the Nature Detectives pond dipping tips to be enjoyed at a pond near you!