What's On This Weekend? Saturday 8th & Sunday 9th August
FUN & FANTASTIC THINGS TO DO WITH THE KIDS IN LONDON THIS WEEKEND
SATURDAY 8TH & SUNDAY 9TH AUGUST
DANCING WITH WEREWOLVES, SOMERSET HOUSE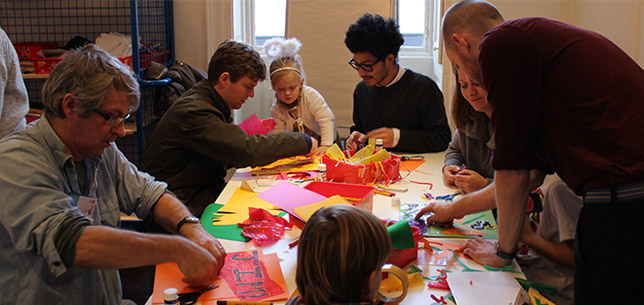 Let the kids go wild this Saturday at Somerset House.  To accompany the free family matinee screening of Where the Wild Things Are at 12pm & 2pm (head to the Screening Room, free with limited spaces), this workshop celebrates all things hairy and scary. Let the kids learn the werewolf dance and create a monster spectacular with storyteller Rosie Tells Tales.
If you've arrive to see the film without a special costume, let the kids have some fun first and join the 'making' workshop to whip something up to fool even Little Red Riding Hood!
While you're here, why not go on an adventure trail and enjoy Father Thames: the bearded river god trail at Somerset House. Download the activity sheet here before you go and discover Somerset House's unofficial mascot.
When: Saturday 8th August, 12pm – 4pm
Where: Somerset House, WC2R 1LA (South Wing)
Age: 6 – 12
Cost: Free
LittleBird's Top Tip: Don't forget the fountains at Somerset House – perfect for Dancing Werewolves…
URBAN WEEKEND AT THE SOUTHBANK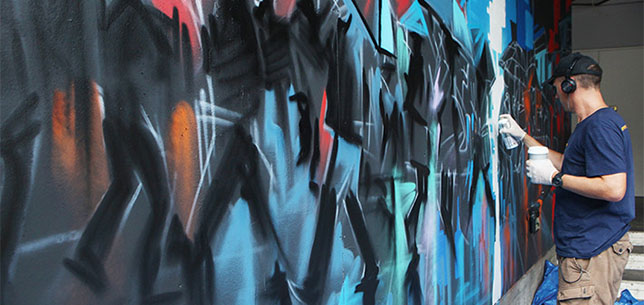 Explore the Southbank's concrete playground this weekend and celebrate all things urban. Discover how urban city environments inspire people to keep fit and become athletes or artists in the Southbank Centre's Urban Weekend.
With so much to choose from over the three day event, check out the programme here. Highlights include a live graffiti jam on Saturday on the Riverside Terrace, Breaking & House Dance Workshops on Saturday in the Clore Ballroom, BMX and parkour stunts on Sunday, and performances by internationally renowned DJs and dancers and emerging local talent. Bouncing Cats and Boom Boom Pups looks like a must and Ten-Minute Dance Parties a brilliant innovation – your 10 minutes of fun, starts….NOW!
When: Friday 7th – Sunday 9th August
Where: Southbank Centre, SE1 8XX
Age: All
Cost: Free and ticketed events
LittleBird's Top Tip: If you're still around the Southbank early evening, head to The Scoop. Part of the More London Free Festival, you can enjoy family friendly free theatre. Captain Show-Off! starts at 6pm and promises audience participation, sing-a-longs, mistaken identities and slapstick galore. If this weekend doesn't suit, the show runs until 30th August, Weds – Sunday. For more info, click here.  
GLADIATOR GAMES AT THE MUSEUM OF LONDON, THE CITY – SAVE UP TO 33% WITH LITTLEBIRD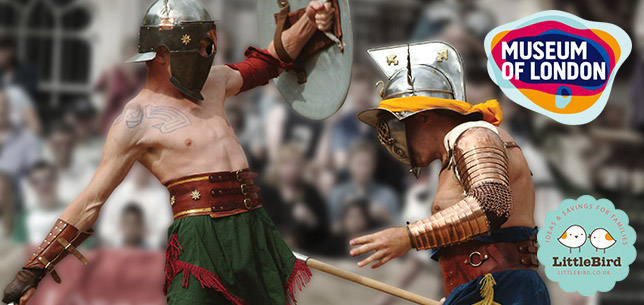 Be transported back to Roman London and decide which Gladiator walks free. Swords, shields, spears and cheers are promised in this unique experience on the site of London's only Roman amphitheatre. The Museum of London's Gladiator Games  will transport you and kids back to Roman London as you watch strength and skill of real-life gladiators take to the stage and fight to win the ultimate glory. Pick your side and decide which fighter walks free, will it be the crowd's choice or the emperor's? Let the battles commence!
Go early and make sure you don't miss the chance to stroll through the streets of Londinium. There's pre-show entertainment in the Guildhall Yard an hour before each show and you'll get to see the original amphitheatre located just under your feet.
When: Saturday 8th & Sunday 9th August, 12-1pm & 3-4pm
Where: The Gladiator Games are held in the Guildhall Yard, off Gresham Street, EC2V 5AE.
Age: 7+
Cost: Tickets start at £8 if you book your tickets through LittleBird
LittleBird's Top Tip: If you can't make it this weekend, you can also experience Gladiator Games on Saturday 15th & Sunday 16th August at the same show times. Why not pop along to the Museum of London before or after the show – to see up to date family events this summer, click here.
FULL OF SPICE AT KEW GARDENS
•Runs throughout the summer holidays•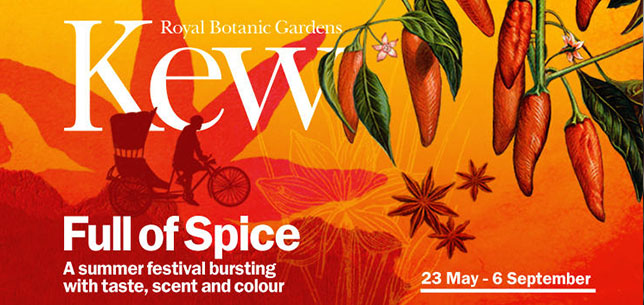 Spice up your life this summer and visit Kew Garden's summer festival Full of Spice. You can make your own blend of spice, visit hands-on sessions and discover what parts of plants are used as spices around the world. There are Rangoli Workshops that offer a chance for the whole family to get involved helping to create beautiful large-scale folk art, spice tours and even a rickshaw ride (max 2 people, £8.50). The kids can enjoy Giant Spices and hands on sessions too.
Plus, there's plenty of family friendly areas to discover and explore at Kew including badger setts, the Climbers and Creepers interactive botanical play zone, a natural play area and log area, the Temple of Imagination and Treehouse Towers – a tree-themed outdoor play area.
When: Until 6th September
Where: Kew Garden, TW9 3AB
Age: Families
Cost: Adults £15, children 16 and under £3.50
LittleBird's Top Tip: Download Spice Stories with Kew's free app and listen to tales about some of the most popular spices. If it's a lovely day, take a picnic and dine al fresco – with 326 acres you'll be able to find your own special spot for lunch!
ADVENTURE IN THE SKY AT THE ARCELORMITTAL ORBIT IN STRATFORD
•Runs until 23rd August•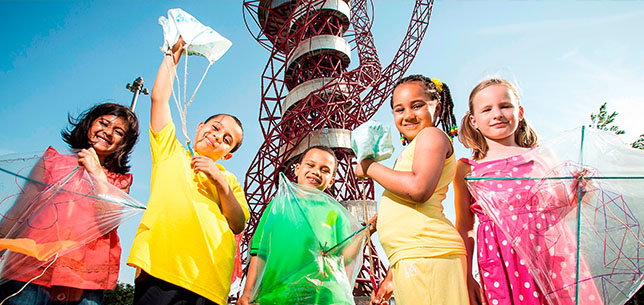 This Saturday sees the beginning of Adventure In the Sky. Head to the ArcelorMittal Orbit with all your mini-Michelangelo's and little da Vinci's and let them invent and create flying machines, parachutes, flying finger puppets and kites for some adventures in the sky…
The kids will join visual artist and art educator Natalie Ryde and learn what makes a good flying machine and then how to create their own as well as take inspiration from birds and bats – they will get the chance to design flying finger puppets as well as build kites before seeing how well they fly at the base of the ArcelorMittal Orbit. What an adventure!
When: Until 23rd August, 12pm – 4pm daily
Where: Arcelormittal Orbit, E20 2AD
Age: Families
Cost: Book in advance and save up to 20% – children £5.95, adults £11.95, family (two adults / two children) £32
LittleBird Top Tip: Enjoy the Go East Fest in the Queen Elizabeth Olympic Park this weekend. Enjoy live performances from some of the best acrobats you've ever seen and dance along to live music, learn new moves in dance workshops and let the kids enjoy storytelling and activities in the Giant Snail!
BRAZIL DAY, TRAFALGAR SQUARE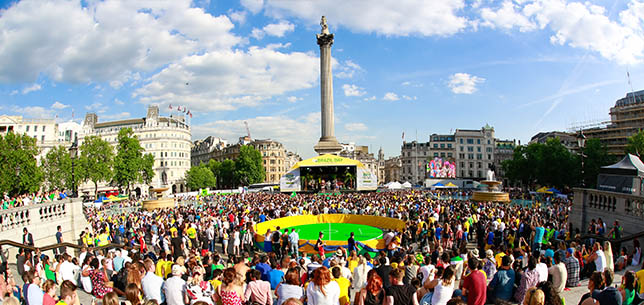 Join the fiesta! It's Brazil Day this Saturday in Trafalgar Square so get ready to enjoy a sizzling summer festival with sport, live music, dance (including a Brazilian forró dance flash mob) and more.
There's beach volleyball, a street carnival bloco planned that invites everyone to follow through Trafalgar Square as well as Brazilian street food galore so if you're need of some churros – you know where to head to!
The event celebrates one year to go until Rio 2016, the first time the Olympic and Paralympic Games have ever been hosted in South America.  The event is supported by the Embassy of Brazil. For more info, click here.
If you're not around this Saturday, enjoy The London South Korean Festival also in Trafalgar Square on Sunday, 12pm – 8pm
When: Saturday 8th August, 1pm – 8pm
Where: Trafalgar Square, WC2N 5DN
Age: Families
Cost: Free
LittleBird Top Tip: If the crowds get too much, take the kids for a wander around Take One Picture the National Gallery's flagship project for primary schools – it's free.
THE RSPB: BIG WILD SLEEPOUT, UK WIDE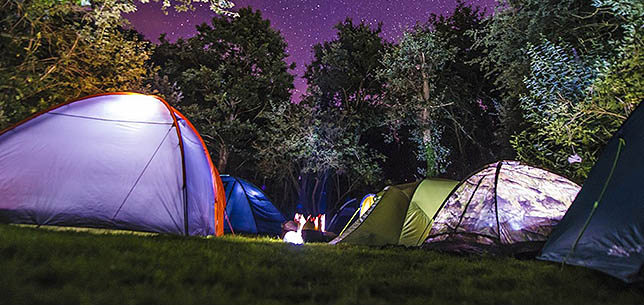 Have a wild time this weekend with the Big Wild Sleepout. Anyone can take part in The RSPB: Big Wild Sleepout – it's all about spending a night in nature's home, exploring, learning and connecting with the natural world all around us. Make your own fun with friends and family by experiencing a night outside sleeping under the stars!
Families throughout the UK are being encouraged to sleep out overnight, either in your own garden or as part of an organised RSPB event. To find an event near you, click here.
Visit the 'Getting ready' page for tips on camping and activities, or simply sign up for your free Big Wild Sleepout explorer pack containing all the info you'll need to take part; click here.
When: Friday 7th – Sunday 9th August
Where: You can sleep in your own garden or as part of an organised RSPB event
Age: Families
Cost: Campsite costs vary but your own back garden is free 🙂
LittleBird's Top Tip: For wild time inspiration, enjoy Project Wild Thing and the Woodland Trust websites.
SPLASH AT DISCOVER, STRATFORD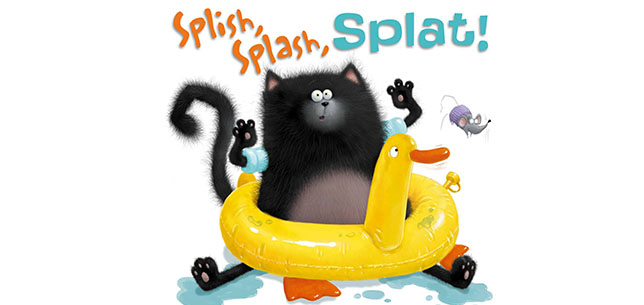 Craft, listen, make and Splash! this weekend.  Let the kids join Discover's story builder for exciting water games outside in the garden (weather permitting). Play Water Limbo, Water Balloon Relay, Don't Get Wet!  There are tons of fun activities promised to get the kids moving around the garden. Let them make and decorate a lolly stick boat and seeing if it will float!
Whilst the kids are in the garden, let their imagination run wild as they sail the seas on the pirate ship, whoosh up to space on the spaceship, drive a taxi, make a den in the play house and have many adventures as they find their way through the wiggly winding paths. There's lots going on at Discover throughout the summer, to download a brochure, click here.
When: until Sunday 9th August, various times throughout the day
Where: Discover Children's Story Centre, E15 4QZ
Age: 0 -11
Cost: £5 adult / child, £18 for a family of 4
LittleBird's Top Tip: If you've got kiddies 6 and under, don't miss the Oliver Jeffers exhibition. Celebrating the 10th birthday of the classic How to Catch a Star, Discover explores Oliver Jeffers' magical worlds bringing his fabulous picture books to life. Let the kids play in their favourite scenes from How to Catch a Star, Up and Down, Lost and Found and The Way Back Home.
SUNDAY FUN-DAY AT CHELSEA PHYSIC GARDEN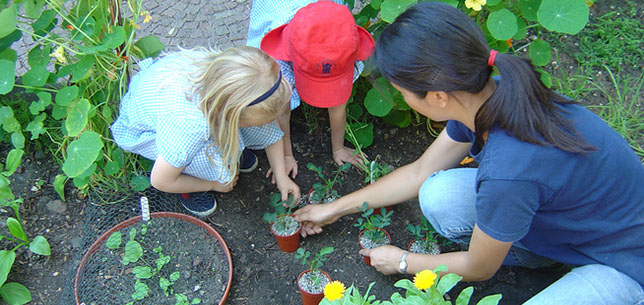 There will be a free drop in sessions for families in the Chelsea Physic Garden between 12 and 4pm this Sunday. Different themes reflecting the changing seasons in the Garden will be explored and all sessions promise to be hands on with activities for all the family. Get to know the Garden together and leave with newly discovered shared knowledge. Download a map and fact sheet before you go, it' full of interesting facts; what plants are edible, which are carnivorous and a warning about the poisonous ones!
In need of refreshments, there's the Tangerine Dream Cafe – serving their renowned homemade Amalfi lemonade; Saluti!
When: Sunday 9th August, 12pm – 4pm
Where: Chelsea Physic Gardens, SW3 4HS
Age: Families
Cost: Free with Garden Admission, Adults, £9, Children £6, under 5s free
LittleBird's Top Tip: You're a 15 minute walk away from the Saatchi Gallery  – free admission – situated in the fabulous Duke of York Square and about 15 minutes walking distance from Battersea Park Zoo so for those of you that brought the discounted membership on LittleBird – it's another perfect opportunity to go.
COWFEST AT SPITALFIELDS CITY FARM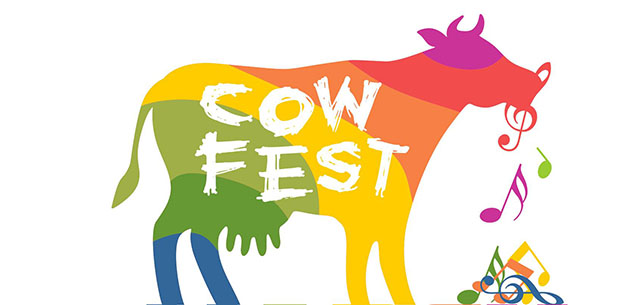 This Sunday visit Spitalfields City Farm for CowFest. All cowboys and cowgirls are invited to join in this unique moosic festival down on the farm. You and the kids can enjoy acoustic performances from udderly fantastic bands and help the farms foster dairy calves, supporting Ahimsa Dairy Foundation.
There are lots of other farm animals for the kids to see including ferrets; Oscar, Marmalade and Marmite and Bayleaf the Donkey, there's the fabulous Tea Hut and shop and make sure you visit the gardens too.
When: Sunday 9th August, 12pm – 4pm
Where: Spitalfields City Farm, E1 5AR
Age: Families
Cost: Free
LittleBird's Top Tip: You're not far from The Power of Poison exhibition at the Truman Brewery – book your tickets through LittleBird and save up to 34%.