What's On This Weekend? Saturday 15th & Sunday 16th August
FUN & FANTASTIC THINGS TO DO WITH THE KIDS IN LONDON THIS WEEKEND
SATURDAY 15TH & SUNDAY 16TH AUGUST
THE KINGS CROSS BEE TRAIL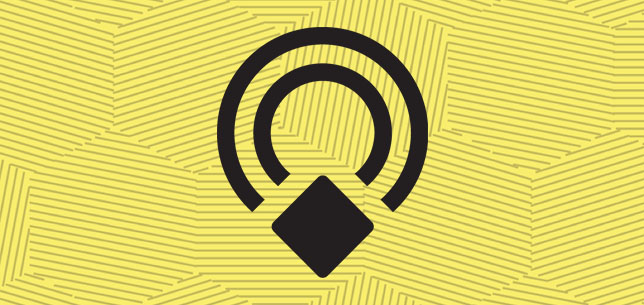 Bees are important! As our top pollinators, they pollinate the majority of the crops that feed 90% of the world and we've not even got onto talking about the flowers! The Honey Club's mission is to create and support networks of bee caring communities in urban spaces – from rooftop to garden, hive to street, business to people.
This summer they have embedded state-of-the-art technology at 7 stops along a 45 minute walking trail in Kings Cross. Let the kids discover the 7 stops and learn about bees, their environment and their relationship to people. They can take part in a citizen science project and become bee-spotters too. Should you need a break, the Bee Trail have teamed up with local restaurants and cafes to offer discounts including the Skip Garden and Dishoom.
When: Until 15th September
Where: Granary Square, look out for the wooden hexagonal signs, the first stop is outside the Caravan Restaurant.
Age: Families
Cost: Free, download the app here
LittleBird Top Tip: Why not visit the House of Illustration while you're in Kings Cross and take a trip down memory lane with the kids at Design by Ladybird, a new exhibition that celebrates 100 years of Ladybird. There's the fountains to splash about and enjoy before you have a quiet moment in the British Library and explore the current Magna Carta exhibition – watch this video narrated by Monty Python's Terry Jones with the kids before you go.
BEACH EAST AT THE PARK, STRATFORD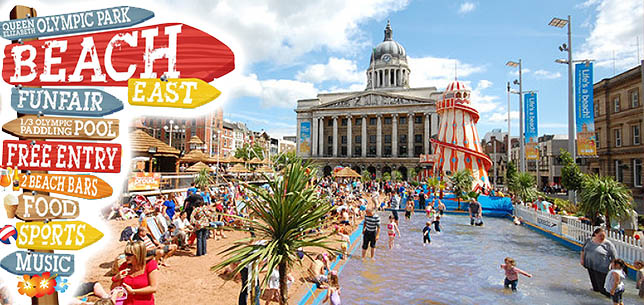 Beach East in Queen Elizabeth Olympic Park boasting one thousand tons of sand spread over 2200 sq. metres of Stratford Waterfront (almost the size of two Olympic swimming pools).  The beach overlooks the canal, Stadium and the beautiful parklands and possibly best of all there is a huge kid's paddling pool, ⅓ of the size of an Olympic pool! Cafe and food stalls await or take a picnic and pick up an ice cream – just don't forget towels and your bucket and spade. Plus there are funfair rides and a host of sporting events and activities promised throughout the summer.
When: until 31st August, open daily 10am – 10pm
Where: Stratford Waterfront, next to Westfield E15 2DU
Age: Families
Cost: Free
LittleBird's Top Tip: There are beaches aplenty across London this summer with free beaches in front of the Royal Festival Hall on the Southbank, the Beach JW3 in West Hampstead and Royal Victoria Beach in Tower Hamlets, and pay to enter (£3) the beach in Brent Cross.
FREE THEATRE AT THE SCOOP, SOUTHBANK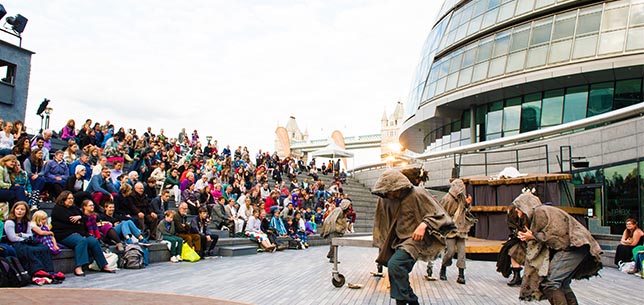 Enjoy free theatre at The Scoop this weekend and throughout August every Wednesday through to Sunday.  Enjoy a wonderful experience of theatre outside, as the evening draws in and you find yourself on the Southbank with Tower Bridge twinkling to your left and the Tower of London behind you.
Part of the More London Free Festival, take the family and laugh along to Captain Show-Off! Starting at 6pm, it promises audience participation, sing-a-longs, mistaken identities and slapstick galore.
For those of you with older children, Women of Troy starts at 8pm. We're told 'As the skies darken so does our story.' The play offers a gripping account of the courageous women on opposing sides of the Trojan War; their sacrifices, triumphs and tragedies. For more info, click here.
When: until 30th August, Wednesday – Sunday, 6.30pm – 7.30pm & 8pm – 10.30pm
Where: The Scoop, SE1 2DB
Age: All
Cost: Free
LittleBird's Top Tip: There are cushions for hire or bring your own padded seat. Take your own picnic and however warm the day, the evening does cool so bring a jumper or jacket – you'll need it.
SELGASCANO AT SERPENTINE PAVILION, HYDE PARK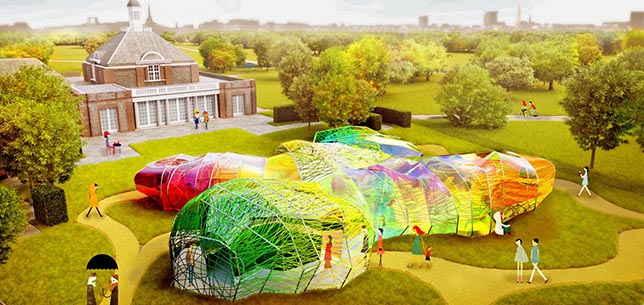 Don't miss the  Serpentine Pavilion temporary structure this summer – with this year's architects, Spanish duo Jose Selgas and Lucia Cano, being the creative talents behind the multi-coloured organic, cocoon like outdoor art. Home to a cafe throughout the summer, it offers a social space to interact, ponder, excite and enjoy.
Situated in Hyde Park – there is so much to do, it's a perfect family day out. With some sunshine, you can go boating on the Serpentine or pack a towel to head to  Diana Memorial Fountain and get your feet wet, if it's a bit rainy, check out what's going on at the  Serpentine Galleries and remember the Selgascano is undercover!
 When: until 18th October
Where: Serpentine Pavilion, W2 3XA
Age: Families
Cost: Free
LittleBird's Top Tip: Make a day of it and pack your swimming bags and refresh in the Serpentine Lido or let the kids play in  Diana's Memorial Playground – inspired by Peter Pan, the playground has a giant pirate ship as its centrepiece plus there's a great cafe too!
THE LONDON TIME TOUR BUS, TRAFALGAR SQUARE
•Runs throughout the summer holidays•
 Voyage around London's famous sites on a classic 1960s Routemaster bus.  Enjoy this unique tour of London and journey through time as you visit iconic landmarks in central London. Let the quirky and enthusiastic Professor Quantum shares his time travelling tales with live theatrics and a quizzical air of mystery! The London Time Tour Bus brings history alive in this imaginative, time travelling experience.
If you can't make it this weekend, your LittleBird voucher is valid until 1st July so grab it now and enjoy 50% off any weekend or save it for a great day out in the May half term.
When: Tours depart everyday at 2.40pm until 30th August
Where: Tours depart on Saturday & Sunday from Northumberland Avenue, just off Trafalgar Square
Age: Families
Cost: Tickets £12 including guide book – 50% off with LittleBird, click here to purchase your voucher, free for under 5s
LittleBird Top Tip: A hop, skip and a jump from Trafalgar Square, there's lots to enjoy before or after your tour. St James Park is a 5 minute walk with pelicans, a playgrounds with a giant sandpit, deck chairs and a cafe. Or pop into the National Gallery or the National Portrait Gallery
CARSTON HOLLER: DECISION AT THE HAYWARD GALLERY, SOUTHBANK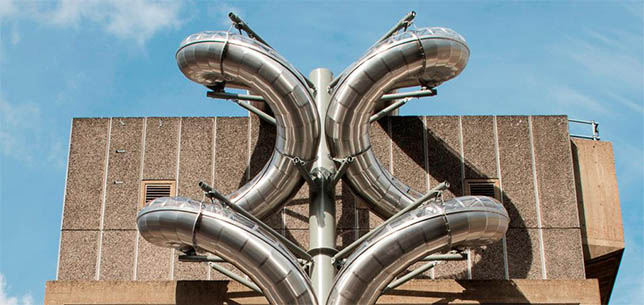 If you haven't noticed the giant slides swirling down the side of the Hayward Gallery yet, as soon as you do, you'll want to book a ticket! Carsten Höller: Decision  opens today and is the artist's largest survey show in the UK to date. Erupting beyond the Hayward Gallery's roof and walls, this fantastical looking exhibition explores perception and decision making; the choice is yours… to use the stairs or go down the Isomeric Slides… mmmm wonder what the kids will choose? Although do note the minimum height for the slides is 120cm/ 4ft.
Confronting you with a series of choices, it features mirrors, disconcerting doubles and mysterious objects which together create an impression of a world where nothing is quite as it seems. When you enter, you're asked to choose between two different entrances, behind which lie separate routes through the first gallery. Once inside, you'll encounter a range of situations – including a flying machine and the invitation to consume a pill, contents unknown. You're then asked to reflect on the process of decision making.
When: runs until 6th September
Where: Hayward Gallery, Southbank Centre, SE1 8XX
Age: Suitable for everyone that loves the book
Cost: Adults £15, 12 – 18 £10, under 12s free
LittleBird's Top Tip: The Festival of Love is in full swing at the Southbank Centre this August plus there's  the beach, art installations galore including Love Story by Richard Woods and the fabulous Appearing Rooms by Jeppe Hein – prepare to get soaked and all the name of love!
FIRST WORLD WAR AIRFIX MAKE & TAKE AT THE RAF MUSEUM IN HENDON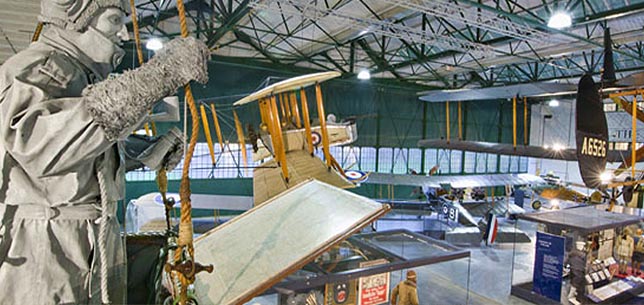 •Runs throughout the Summer Holidays•
Head to the RAF Museum this weekend, pick up an Airfix Trail and set off as a family to explore the Museum. Nearly all of the Royal Air Force Museum's historic collection of aircraft comes in the form of an Airfix kit. As you make your way around the museum, let the kids solve clues and see if they can find all of the Museum's favourite aircraft.
There are lots of things to do, see and experience at the RAF Museum, you can enjoy the new First World War in the Air exhibition and listen to Winston Churchill 'Battle of Britain' speech. For thrills and spills there are flight simulators (£3 per ride) and a 4D theatre (£4 per person, per film); experience a Red Baron Dog Fight or fly through through a ravine; there's lots to choose from.
When: until 30th September
Where: RAF Museum, NW9 5LL
Age: 7+
Cost: £1 per trail
LittleBird's Top Tip: Don't miss the Areonauts – with over 50 hands-on exhibits demonstrating how aircraft fly – Could you become a pilot? Let the kids test their reaction times and vision and take control of a helicopter and have a go at low level hang-gliding!
TALKING STATUES IN LONDON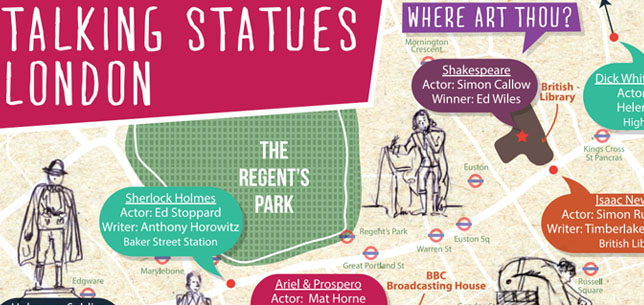 Did you know statues could talk? Well some can thanks to Sing London. If you're out and about in London this weekend you're bound to bump into one! Pass a Talking Statue, swipe your phone on a nearby tag and hey presto: your phone rings. And it's Queen Victoria on the line… or Peter Pan… or Abe Lincoln…. a mixture of drama and humour and a dash of technology breathes new life into the statues that surround us all. Download the map here and note, they're all over Manchester too!
Where: Various – see downloadable map
When: Make the day about these taking statues or simply find your nearest one, depending on where you are.
Age: Families
Cost: Free
LittleBird's Top Tip: If you're up for an adventure and creating your own trail, don't forget the Museum Mile – a brilliant way to enjoy the city's most extraordinary museums and galleries – most of which are free to enter.
SENSATIONAL BUTTERFLIES & CORAL REEFS AT THE NATURAL HISTORY MUSEUM, SOUTH KENSINGTON
•Runs throughout the Summer Holidays •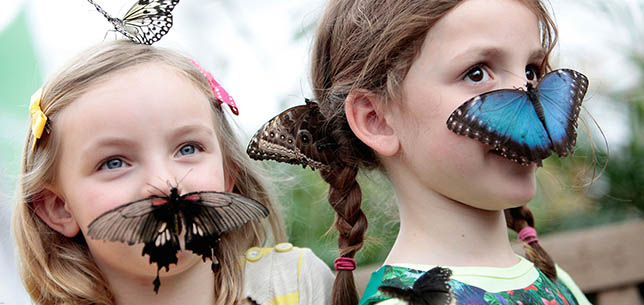 Discover the magic of coming face to face with 100s of free-flying moths and butterflies as you wander through a tropical butterfly house with the Sensational Butterflies exhibition. Learn about life cycles, discover species from all over the world, and enjoy the fun interactive displays for children. While you're here, encounter 200 strange and beautiful specimens collected by Charles Darwin in Coral Reefs: Secret Cities of the Sea. Take a virtual reef dive, see live sea coral and fish in the aquarium and enjoy spectacular underwater photography.
When: until 13th September
Where: Natural History Museum, SW7 5BD
Age: Families
Cost: Adults £10, Children £4.50, families (2 adults & up to 3 children) £24.50 – Coral Reef
Adults & Children £5.90, families (2 adults & up to 3 children) £19.80 – Sensational Butterflies
LittleBird's Top Tip: Check out the family friendly activities at the nearby V&A and enjoy the pop up performance The Wonderful World of Leonardo Da Vinci on Saturday 8th August at 11am, 1pm & 3pm (free) and the Science Museum's new 3D Imax experience Robots.
SPELLBINDING TREASURE AT THE ROYAL ACADEMY,PICCADILLY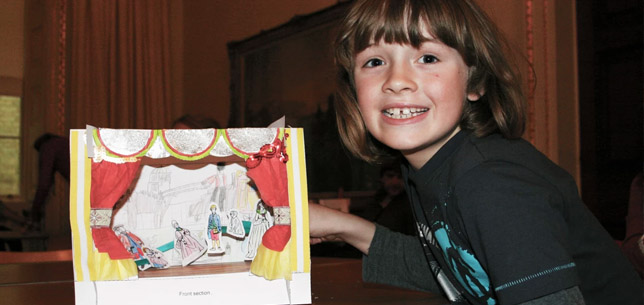 Head to the Royal Academy this Sunday for a free family workshop and experience Spellbinding Treasure. Embark on an imaginary voyage into the magical world of Joseph Cornell and create your own marvellous 'show box', using strange and ancient objects.
 While you're here, enjoy the RA's Art Detective Family Trails. You can download the Summer Exhibition Trail and take it with you, and don't forget that under 16s go free to all RA exhibitions. There's family friendly cafes and the beautiful Annenberg Courtyard – an inspiring space to sit and ponder or let the kids run around.
When: Sunday 16th August, 11am – 3pm
Where: Royal Academy, W1J 0BD
Age: Families
Cost: Free, drop in
LittleBird's Top Tip: During the Summer Exhibition (finishes this Sunday, 16th August) there are art trays available that contain free sketchbooks and pencils so you can take home your own masterpieces.