The LittleBird Family Pass Top Picks: 7th – 16th May
With outdoor activities allowed again, find out what's new at Chessington World of Adventures and Kew Gardens, how to help scientists by recording nature near you and where you can find your nearest Rooftop Film Club. 
And there's still tons of online entertainment  too – celebrate International Nurse's Day with the National Army Museum and learn about Florence Nightingale and Mary Seacole, join Jacqueline Wilson and hear about her new book The Runaway Girls, head to the Dickens Museum for an audience with Simon Callow and find out about snails, dinosaurs and how to mark National Children's Day.  
Plus try your hand at morse code with IWM, build a pyramid with National Museums Scotland, find out how to grow your own loofah with Natural History Museum and how to make jelly boats. 
And don't forget to check out our Book Forward to Look Forward highlights. 
If you find our guide useful, please share Top Picks with your family and friends and sign up to the newsletter. We publish our blog every two weeks but we promise the fun below lasts a lot longer than that!
---
BOOK FORWARD TO LOOK FORWARD
Van Gogh Alive, the Experience
Kensington Gardens London, 4th June – 26th September
Birmingham Hippodrome, 25th May – 11th July
Immerse yourself in the life and works of Vincent Van Gogh in this immersive multi-sensory experience. Having dazzled over 7 million visitors across 65 cities worldwide, Van Gogh Alive arrives in the UK this summer. Step into a thrilling display of over 3,000 inspirational images that transform every surface that surrounds you as you accompany Van Gogh on a journey through the Netherlands, Arles, Saint Rémy and Auvers-sur-Oise, where he created many of his timeless masterpieces. 
Tickets from £14 for kids, £24 for adults
Find out more & book tickets, click here.

The Art of Banksy
Covent Garden
Opening 20th May
The Art of Banksy holds the world's largest collection of privately owned Banksy art.
On display are prints, canvases, screenprints, sculptures, unique works and limited-edition pieces mainly dated between the years 1997 to 2008 and features iconic works such as 'Girl and Balloon', 'Flower Thrower' and 'Rude Copper'. 
Tickets from £14.50 for kids, £21.50 for adults
To find out more & book tickets, click here 

The Very Hungry Caterpillar
ZSL London Zoo's
29th May – 16th July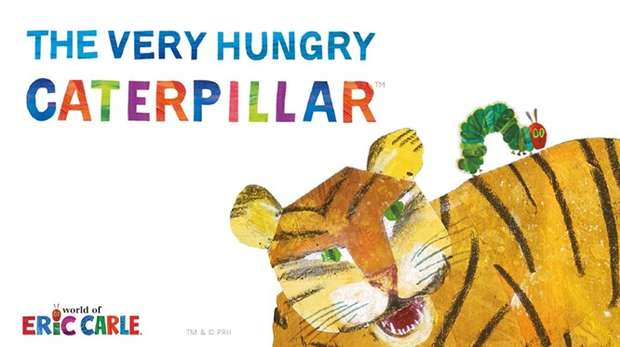 Experience the world of the Very Hungry Caterpillar as the kids step into the caterpillar's miniature world with a series of action-packed activities celebrating the iconic book and its ravenous, wriggly hero. There's interactive storytelling, the chance to 'Munch' through the giant food trail, meet The Very Hungry Caterpillar himself, as well as bug-tastic crafts and the chance to create wildlife-friendly seed bombs for your garden. 
Tickets from £17.30 for kids, £26.60 for adults.
To find out more & book tickets which must be done in advance click here

London Design Biennale
Somerset House
1st – 27th June 
London Design Biennale is a global gathering of the world's most ambitious and imaginative designers, curators and design institutes at Somerset House. Highlights include Es Devlin, Forest for Change designer and Artistic Director of the Biennale, new forest in the courtyard with 400 trees taking root this June. The courtyard was a place where trees had been forbidden when Somerset House was originally conceived 250 years ago. Es decided to "counter this attitude of human dominance over nature, by allowing a forest to overtake the entire courtyard."
Tickets from £11 for kids, £22.50 for adults
Find out more on the Biennale website here or to book tickets, click here
David Walliams Billionaire Boy
Garrick Theatre
17th July – 22nd August 
Birmingham Stage Company are back at the Garrick Theatre in London with this family favourite. Joe Spud is twelve years old and the richest boy in the country! He has his own sports car, two crocodiles as pets and £100,000 a week pocket money! But what Joe doesn't have is a friend. So he decides to leave his posh school and start at the local comp. But things don't go as planned for Joe and life becomes a rollercoaster as he tries to find what money can't buy
Tickets from £19.50 
To find out more & book tickets, click here or why not enter our competition to win a family ticket here.

---
OUTDOOR EVENT DATED
Mental Health Awareness Week: Nature
10th – 16th May

During the long months of the pandemic when we lost all in-person contact, millions of us turned to nature as we re-discovered our need to connect with the great outdoors and how nature helped support our psychological and emotional health. 
With Nature as this year's theme the Mental Health Foundation are asking people to notice nature and try to make a habit of connecting to nature every day. Get involved this week and stop to listen to the birdsong, smell the freshly cut grass, take care of a house plant, notice any trees, flowers or animals nearby. Take a moment to appreciate these connections. There are also opportunities to fundraise, watch videos, listen to podcasts, hear other people's stories and to share your stories too as well as a handy guide to all things mental health and lots more inspiration too. 
Elmer's Big Art Parade
Chessington World of Adventures
Until 31st May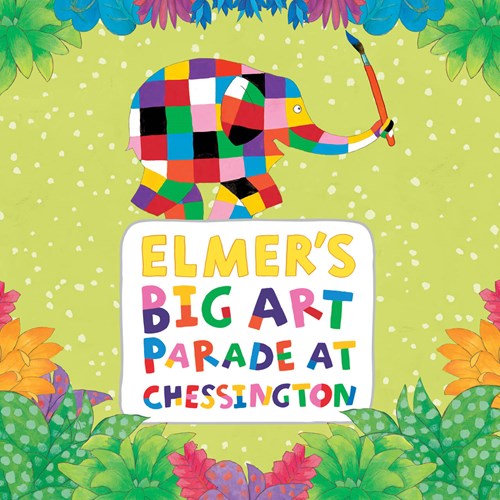 Based on the books by David McKee, encounter everyone's favourite patchwork elephant Elmer on his vibrant sculpture trail around the Chessington World of Adventures and help find all of his statues.  Then why not join the colourful herd and take flight on Elmer's Flying Jumbos before meeting Elmer himself at one of his meet & greet sessions.

Plus check out the new ride for 2021 Croc Drop…
Tickets from £37 and on weekdays during term time, there's an adult & pre-schooler ticket £25. Book here.
Secret World of Plants
Kew Gardens
Until 26th September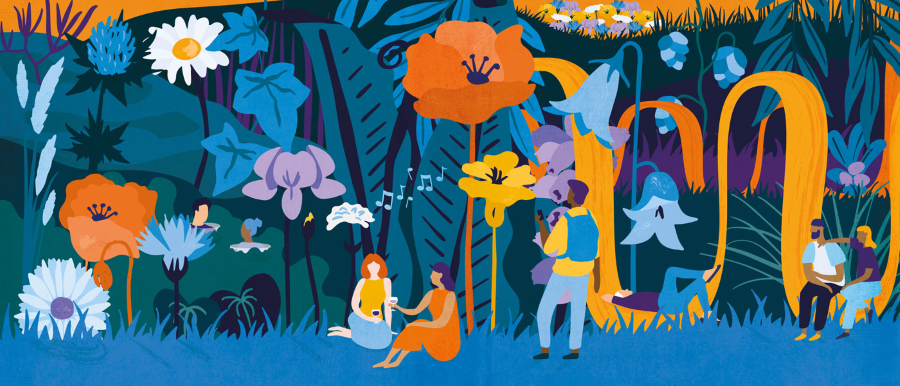 Enjoy immersive experiences and unique art installations as you discover the untold stories of Kew Gardens native plants and landscapes including plantscapes, tree listening, extinction songs and Please be seated, a monumental and playful seating installation. Plus this May half term (29th May – 6th June) there's an  interactive greenhouse puppet show based on The Little Gardener picture book. 
Tickets £5 for kids, £15 for adults
Kings Cross Arts Tour with Russell Tovey
Ongoing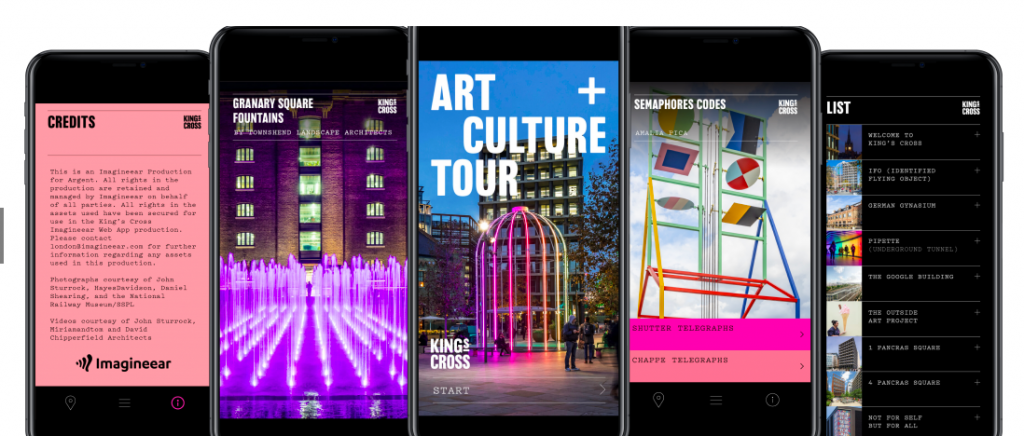 Actor and art aficionado Russell Tovey is inviting visitors to rediscover one of London's most vibrant districts in a new 45 minute audio guide which explores the art, culture and history of King's Cross.
Enjoy this tour that celebrates the rich cultural history of King's Cross, from the smoky heart of Victorian industry and London's underground clubbing heyday to today's vibrant London hotspot. 
The tour takes 45 minutes to complete, to find out more, click here 

Woodland's Trust Nature's Calendar
Ongoing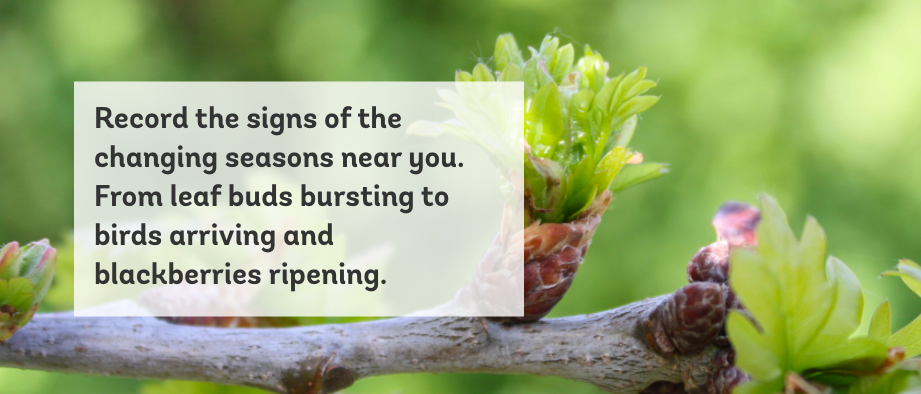 Help Woodland's Trust track the effects of weather and climate change on wildlife near you using their Nature's Calendar. Have you seen your first butterfly or swallow of spring?What effect has recent weather had on wildlife? Does climate change affect timings in nature?
By recording what's happening near you, you'll be helping scientists discover answers to these questions.
Rooftop Film Club
Various London locations
Whether on a rooftop or at a drive in, you can still get your cinema fix with Rooftop Film Club.
Promising city skylines, sunsets, starlit evenings, refreshments galore and great movies on the big screen. 
Tickets from £27.50 per car
Find out where they are and what's showing this May here 

Paradise Wildlife Park
Hertfordshire
Now open
Set in Broxbourne Woods in the heart of the Hertfordshire countryside, Paradise Wildlife Park is home to over 800 fascinating creatures from around the world, including one of the best big cat collections in the UK. With attractions like the iconic World of Dinosaurs, the 'Rex Express' train, On Safari Adventure Golf, plus shows, feeding times and talks – family days out are back! 
Tickets £20 for kids, £22 for adults
Find out more and book family tickets here

---
VIRTUAL EVENTS DATED
Fantastic Florence and Marvellous Mary Family Day
National Army Museum's
Sunday 8th May @ 11am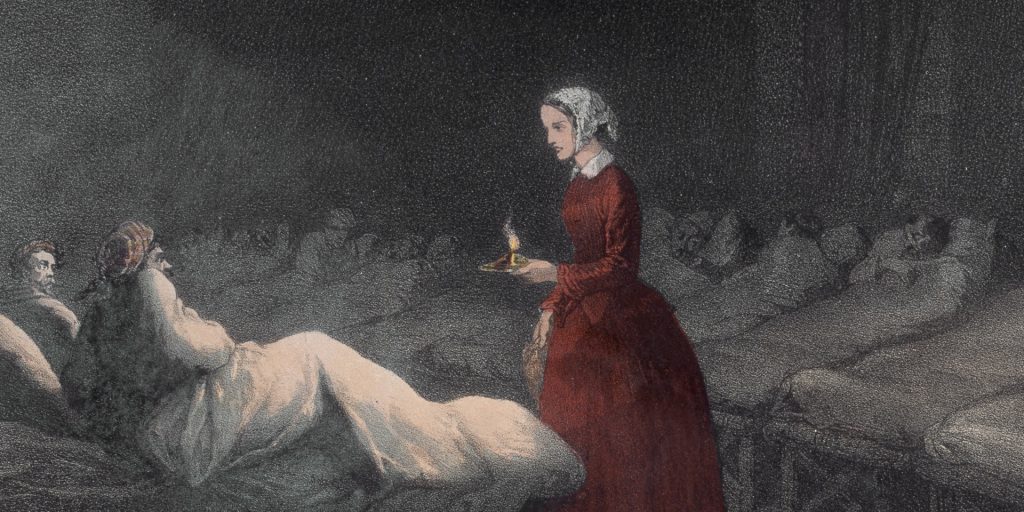 Join the National Army Museum to celebrate International Nurse's Day and highlight the contributions of Florence Nightingale and Mary Seacole during the Crimean War. Discover the stories of these two pioneering women in this live, free online workshop.
Aimed at ages 6+, the event takes place via zoom. 
Find out more about the National Army Museum event here.

Virtual Performance: An Audience with Simon Callow
Charles Dickens Museum
Sunday 8th May @ 7pm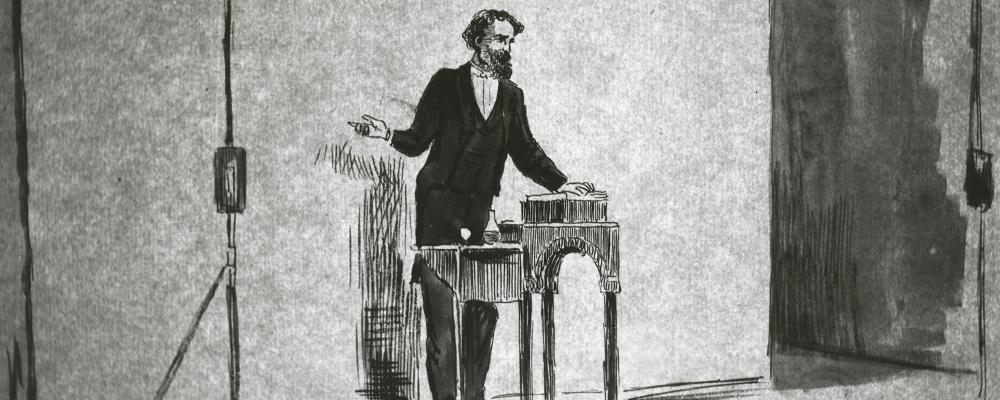 Discover the origins of many a Dickens character born in the study where Dickens wrote, delight in his many strange work habits (every writer has a few!) and delve into extracts brought to life by celebrated actor and Dickens performer – Simon Callow.
Live from Dickens's own drawing room and study where the author and performer himself created and practiced his many tales on friends, Charles Dickens Museum brings you readings, theatre and unique insights into the Doughty Street years.
To find out more and book tickets at the Charles Dickens Museum click here.

Shakespeare's Live Week
10th – 14th May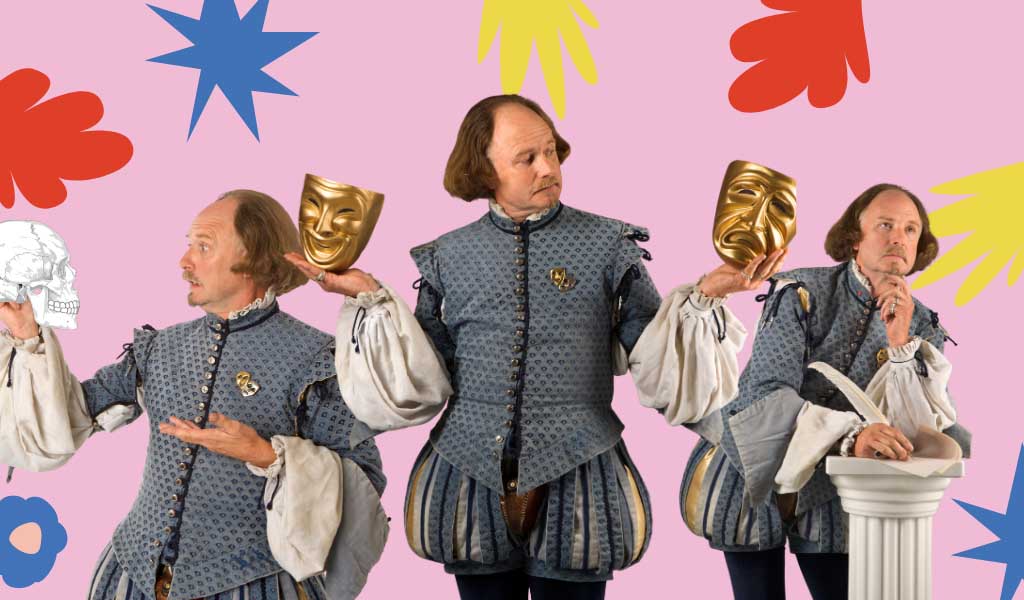 Shakespeare Live! is an online resource run by the Courtyard Hereford Education team bringing home schooling families and schools daily, digital workshops to get excited about Shakespeare! Live workshops explore Shakespeare villains, stage combat, games 
The workshops will go live at 10am every day and can be accessed via The Courtyard's Facebook Live, visit @courtyardarts and to download the activity sheets that accompany the workshops, click here.
To find out more, click here

Nature Live Online: Snails
Natural History Museum
Tuesday 11th May @ 12.30pm
Although sometimes overlooked, there are tens of thousands of species of snail and slugs, and they come in a bewildering array of shapes, sizes and colours. Get introduced to some remarkable species from around the world, while exploring the challenges and stresses we are putting these animals through. Find out more on Nature Live Online: Snails! here.
If you can't catch this live, find the talk here along with lots of other past talks covering subjects including dinosaurs, sharks, volcanoes and plants that bite back! Get comfy and watch below:
Reopening News: the Natural History Museum plans to reopen on Monday 17th May. Find out what's on here and you can book tickets to The Fantastic Beasts The Wonder of Nature exhibition here

Turf's The Secret Gallery Family Art Fun Online
Saturday 15th May @ 11am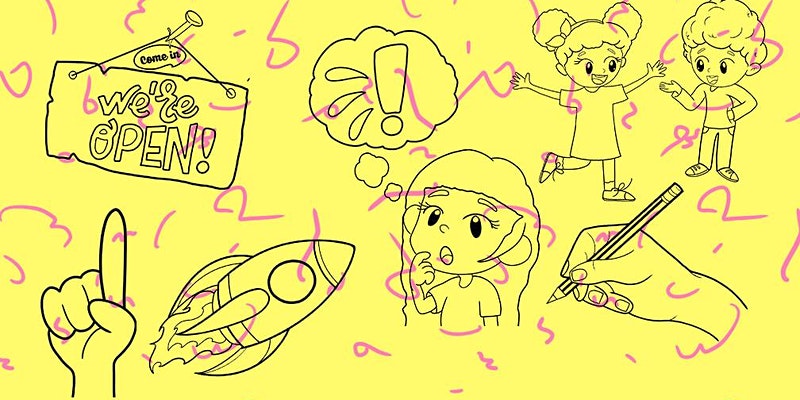 Join Croydon art space Turf online for this family workshop as they plan what things you might see or do at their gallery in the future!
This is where they need help. What if you had a GIANT room you could fill with anything? With fun activities including making our own galleries, and there might even be some some zoom art too!
Aimed at ages 7+. Find out more here and click to register here 

Jacqueline Wilson online event
Saturday 15th May @2pm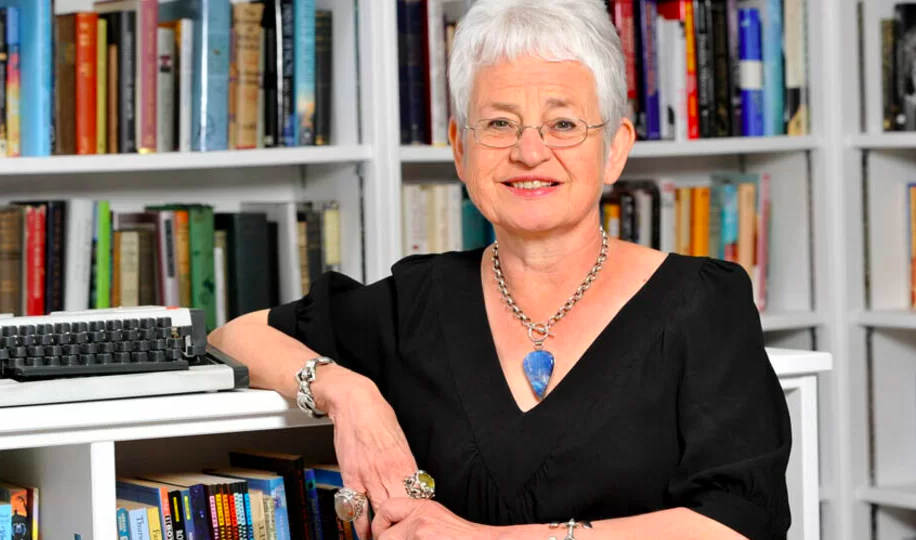 Part of the Brighton Festival (1st- 23rd May), join the much-loved author Dame Jacqueline Wilson online to discover how she started her writing career, find out how she created some of her best-loved characters, and hear about her brand-new book, The Runaway Girls, aimed at readers of 10+. 
The Runaway Girls takes readers back to Victorian London and the world recreated in Hetty Feather. When Lucy Locket runs away from home, she makes friends with the street performer Kitty Fisher. Soon the girls from very different backgrounds find that they can depend on each other to survive, but the streets of Victorian London are dangerous and soon they find themselves under threat from thieves and — even worse — the Workhouse!
Aimed at ages 7+, tickets £5. To find out more, click here 
And to find out what's going on at Brighton Festival click here.

National Children's Day
Sunday 20th May

National Children's Day is inviting children to think about the things they have experienced and learnt over the past year, about what really matters in life. It's asking them to imagine they are an investigative journalist or researcher and to explore a topic that interests them and share on social media using #NCDUK2021
Find out more here

Waterman's Dinosaurs and All The Rubbish
Available until 31st Oct 
Michael Foreman's classic picture book about space travel, dinosaurs, and ecological balance gets a thrilling new lease of life in this three part, online theatre production.
A charming and inventive story, told in a mash up of animation and live theatre about one man's passionate dream to reach the stars leaving the world in ruins. Can the dinosaurs sleeping deep under its surface wake and save Planet Earth?
Aimed at ages 3+, there are three episodes to watch and enjoy.
---
ONLINE ANYTIME
Family Missions
Imperial War Museums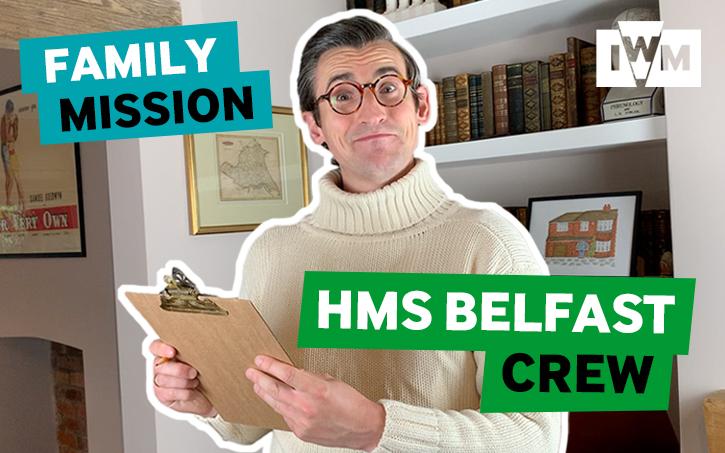 Take on a Family Mission set by the Imperial War Museums and build your skills whilst having fun together. Learn about the Morse code and how to send messages, how to grow your open food and reduce your waste, have a go at some 1940s style games and design your own walkie talkies plus tons more.  
Reopening news: IWM London, IWM North and IWM Duxford will reopen on 19th May, find out what's on here

Milton Keynes Arts Centre's Creative courses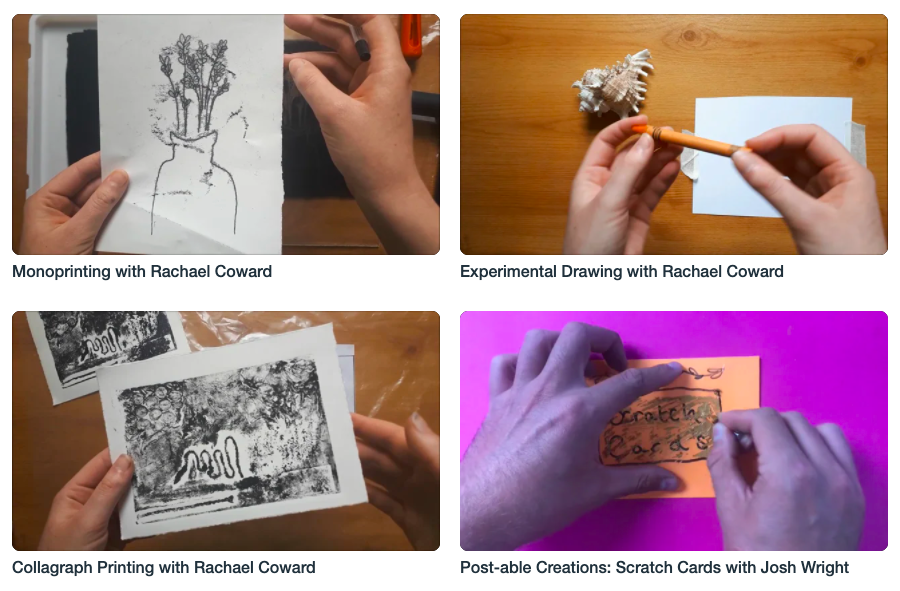 Watch these online creative courses curated by Milton Keynes Arts Centre. Offering expert workshops, tutorials, techniques and demonstrations across multiple disciplines and materials there's something for all ages and abilities. Find out how to make natural dyes, learn how to hand weave, make homemade paper bookmarks and find out about anthotype photography – printing with plants.  
Choose a course and watch the video here

PunchDrunk's The Wild Visitor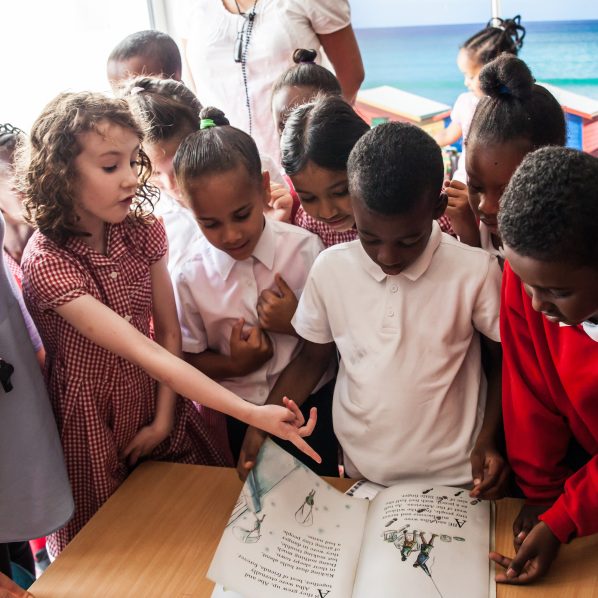 A Hoebble [pronounced hobble] is a guardian of the natural world. Whilst they are rarely spotted, these tiny creatures leave special markers so you can tell one is near: a pile of stones or their collected supplies of old spoons, leaves, and crumbs.

Go on an imaginative adventure with your child: welcome a magical creature into your home and experience the outdoors in a new way. It will be led by you in your home and can involve a journey outdoors, if possible.
To rediscover nature with the help of a special houseguest, click here 
Build a Pyramid with National Museums Scotland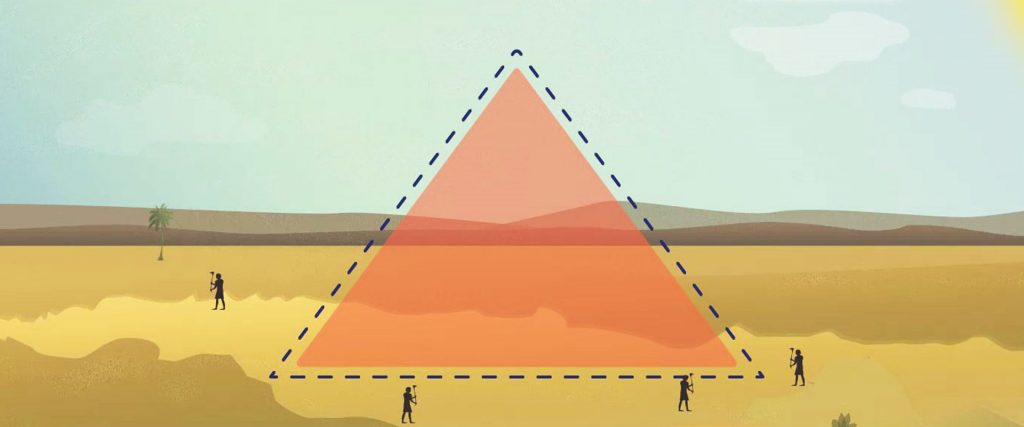 Play and learn with National Museums Scotland online games. See if you can build a pyramid to last for thousands of years or whether your project will simply crumble into dust. Can you build a grand pyramid for the king's tomb? Where will you put it? What size will it be? 
Down the Rabbit Hole with Settle Stories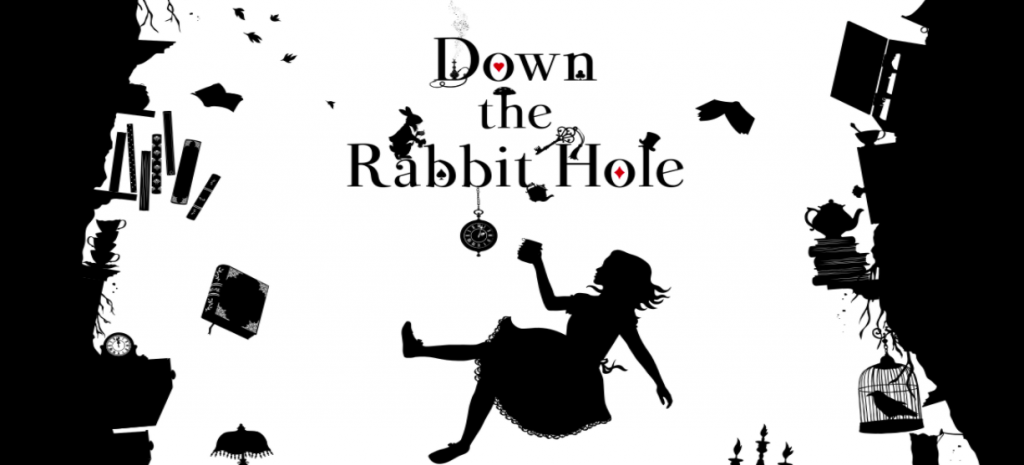 Inspired by Alice in Wonderland you are Lorina, Alice's older sister. Settle Stories have created an interactive adventure where you decide who you meet and where you go. The question is, can you find Alice?
Go Down the Rabbit Hole here

---
MAKE THIS
Stripy Hummus Salad Jars 
We all know that 'eating the rainbow' is important when getting our daily quota of fruit and veg so these layered salad jars are a fab way to get the kids involved – they can choose, design, build and then hopefully eat! The jars look great with an abundance of different colours so might also help getting them to try something new. 
Get prepping your hummus jars here 

Jelly Boats with Annabel Karmel
Using fruit molds for jelly is a fun and easy activity and Annabel Karmel uses orange halves to make cute little boats. 
Set sail with jelly boats here.

Grow your loofah with Natural History Museum 
Growing your own natural sponges will provide you with a supply of more planet-friendly alternatives for your washing up and make a fun gardening project.  
Natural loofah sponges come from the fruits of Luffa plants. When a luffa fruit dries out and is peeled, you are left with its fibrous interior, which can be used as a sponge. Watch the video above or find out more here.
---
WATCH THIS

Jupiter's Legacy
Netflix, TV-MA
7 May
Jupiter's Legacy is the first Netflix series based on a Mark Millar comic is an intergenerational battle between superhero parents The Utopian and Lady Liberty (thinly sketched Superman/Wonder Woman analogues) and their children, Chloe and Brandon. How do you live up to an impossibly perfect mum and dad ? And what do you do when your offspring simply don't share your values?
The Pursuit of Love
BBC iplayer, for the adults
9 May
The BBC injects some period frivolity and fun into the schedules with The Pursuit of Love, the new adaptation of Nancy Mitford's novel about an upper-class British family in the interwar years. Emily Mortimer writes, directs and acts with Lily James, Dominic West, Freddie Fox, Andrew Scott and a star-studded cast.
---
DOWNLOAD THIS

Gener8Ads.com
Gener8Ads is a clever tool which was on Dragons Den (and got the money!) which enables you to put your browser on Rewards mode or Private mode. Rewards mode: In rewards mode you earn points any time your data is used. You can redeem these for products, vouchers or donations to charity.
Private mode: In privacy mode they ensure that you have a private browsing experience by stopping companies from tracking you.
It will also stop cookie banners following you around and stop facebooking from tracking you! 
Click here to download the browser directly to your desktop now.
---
LISTEN TO THIS
Short Stuff: Stuff You Should Know
(Young Adult Podcast) 

Who names a continent? What is El Nino? How is silly putty made? These are some of the topics covered in the Stuff You Should Know podcast (which, incidentally, is brought to you by How Stuff Works). This American podcast is a great way to learn small bits of information that will make you smarter and feed your curiosity.
The show notes for each episode contains lots of reference links and additional reading if you want to learn even more information about a given topic. Each episode is about 45 minutes and released weekly.
Happy Place, Ferne Cotton

Hosted by Fearne Cotton, Happy Place delves into the subject of happiness, with the broadcaster drawing on her own experiences and sharing advice from experts on how to work through feeling blue. With a star-studded line-up of guests, from Robbie Williams and Sam Smith, to Alicia Keys and Daisy May Cooper, Happy Place reflects on how these stars made changes in their own lives on a journey to find inner happiness.
Brought to you by The LittleBird Family Pass – saving families money all year round. To find out how, click here