An Evening at Backyard Cinema's Miami Beach
A Trip to Miami Beach…Without Having to Set Foot on a Plane!
More than just any old cinema and definitely more than any old backyard, Backyard Cinema is set in the heart of the action – easily accessible from Elephant & Castle tube stop and a stone's throw from iconic places such as The Shard, London Bridge and the Ministry of Sound. The cinema itself is part of the Mercato Metropolitano in Newington Causeway, which is a quirky and busy little Italian covered market featuring a number of fab food stalls (for anyone looking for a quick but decent bite to eat).
This Summer Backyard Cinema have brought us Londoners the best of Miami…
Expect plenty of neon, colour, creativity and flamingos! I took my 'seen it all' teen daughter and even she was impressed by the Miami Hotel vibe. It made me want to don my best Hawaiian shirt but getting the teen out anywhere can be tough work, so I decided that was potentially pushing it a bit too far. However, there is no dress code here, so whatever goes, goes!
We went to see Moonlight which I won't focus on here but is a fantastic coming-of-age story about a young man growing up in Miami, coincidentally!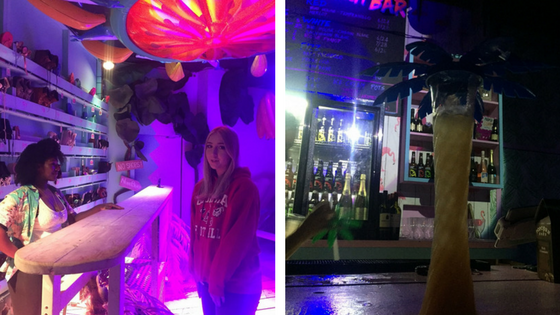 On arrival, we instantly got into the spirit of the beach by kicking off our shoes and donning our complimentary flip flops (not like bowling where you have to give them back!) Whilst you aren't able to bring your own food or drink in, the beach bar at Backyard Cinema is fully-licensed and open throughout performances, serving everything from soft drinks to cocktail pitchers. You can also pick up classic cinema snacks too!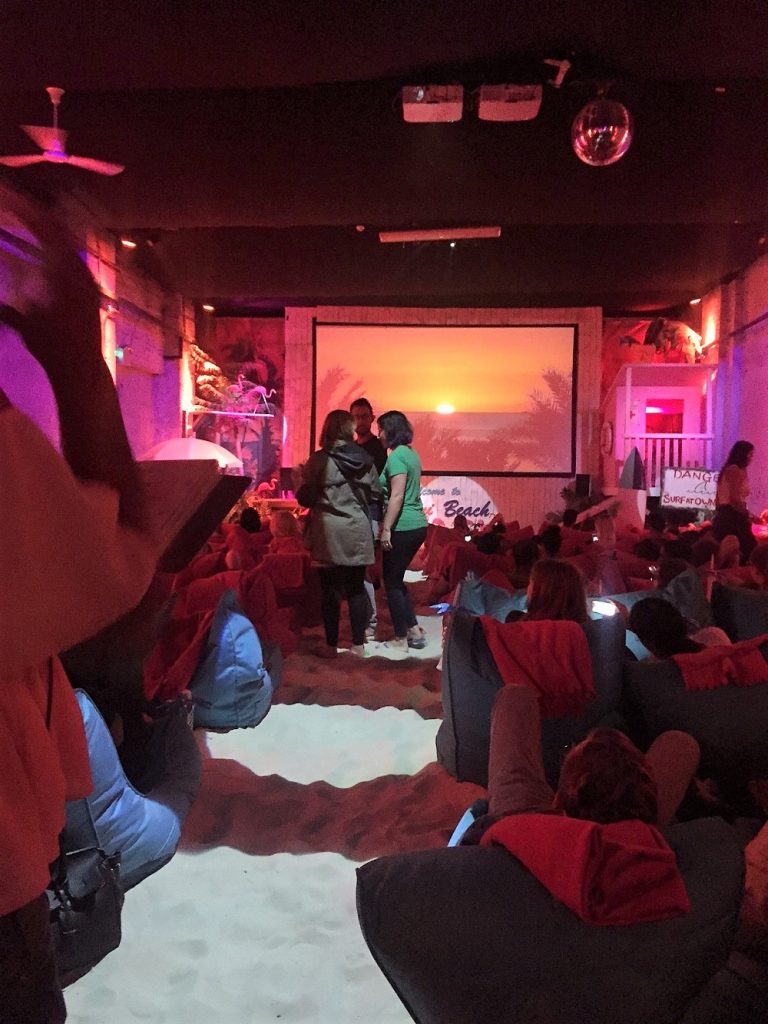 So with our brand new, luminous green and orange footwear on we took up our position on the sandy 'beach', collapsing into our giant lime-green bean bags, chatting (yup – two-way conversation) and scoffing tasty popcorn whilst waiting for the film to begin…
Of course the film was great but it was really fun to enjoy it in a quirky, different cinema experience, where everyone was relaxed and enjoying the best of a summer evening. We had a fab time and I'm already eyeing up other films to go to over the summer – I may even brave taking the nieces and nephews next time…!
Thanks for a great evening Backyard.
Clare
If you fancy a trip to Backyard Cinema, check out their list of family films and get yourself over 30% (plus a free bag of popcorn) on LittleBird here.