The LittleBird Family Pass Exciting Top Picks for the 16th – 29th November
VIRTUAL EVENTS DATED
South Ken Kids Festival Online
16th – 22nd November

Back and bringing it's 23rd edition online, the South Ken Kids Festival welcomes children's writers and illustrators from both sides of the Channel including Quentin Blake, Axel Scheffler, Michael Morpurgo, Perceval Barrier, Benji Davies, Dorothée de Monfreid and many more.
Bilingual throughout, this year's South Ken Kids Festival is an occasion to highlight the themes of Kindness, Fraternity and Diversity in children's writing, illustration, translation, and children's books in all their glory. Discover more here.
Along with one off events taking place, there is also two virtual exhibitions you can visit throughout the festival:
Space … but not as we know it, LSO Family Concert
On demand for 90 days from 18 November
Find out what happens when an orchestra has to keep its distance! Presenter Rachel Leach explores the separation of sounds, how music travels around an orchestra and what you can hear between the notes, in this one-hour family concert with the London Symphony Orchestra aimed at 7–12 year olds.
Watch for free on YouTube for 90 days, and look out for fun activities to do at home to get into the spirit of the concert and help understand more about the music. Access the activities or to learn more.
Fairy Tale Factory, a Zoom Story Workshop
Saturday 21st November @ 11am
Aimed at ages 6 – 11, tickets are £10 per household (via zoom).
Enjoy a digital zoom storytelling session with Seven Stories, the National Centre for Children's Books. Part of a series of Creative Writing Workshop, you can take part each Saturday until 19th December.
Zoom into the Fairy Tale Factory and forget everything you thought you knew about fairy tales. What would Cinderella use a smartphone for? What would happen if Snow White met the Big Bad Wolf? Get ready to switch up times, genres and characters. Book this and other workshops here.
Seven Stories have also digitised three of their exhibitions including exhibitions on Judith Kerr and Enid Blyton that you can enjoy anytime you like. To start exploring the exhibitions, click here.
Make a TetraTREEdron
Saturday 21st November @ 2pm
Stay in with Maths On Toast as they show you how to make a TetraTREEdron to decorate your home over the festive season. After a tough 2020, Maths On Toast want you to use your Tetratreedron to spread a message of hope so why not decorate yours with reflections of the year, messages for the future or any decorative designs you like.
To join this free event and to download resources and templates click here.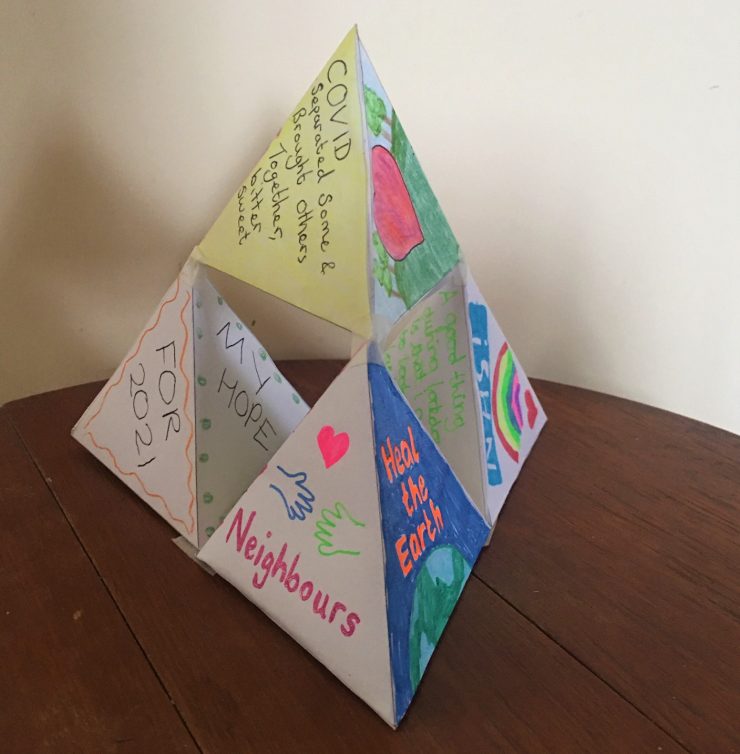 To join this free event and to download resources and templates click here.
Maths On Toast is a UK charity with a mission to make everyone, kids and parents too, positive about maths.
The Anarchists Mobile Library
Saturday 21st November
Interactive story adventures online for D/deaf and hearing children available online until the end on December.
Family theatre company Tessa Bide Productions have adapted their successful interactive live show, The Anarchist's Mobile Library, into an interactive audio and British Sign Language (BSL) adventure for children and their families to play from home. Learn more about this amazing production here and be sure to sign up on Eventbrite for event access.

Shakespeare's Globe EMILIA
Showing until 23rd November
Watch EMILIA, the three-time Olivier Award-winning – including Best New Comedy – West End production by Morgan Lloyd Malcolm, first performed at Shakespeare's Globe in 2018.
400 years ago Emilia Bassano wanted her voice to be heard. It wasn't. Could she have been the "Dark Lady" of Shakespeare's sonnets? What of her own poems? Why was her story erased from history? Emilia and her sisters reach out to us across the centuries with passion, fury, laughter and song. Listen to them. Let them inspire and unite us. Celebrate women's voices through the story of this trailblazing, forgotten woman.
Shakespeare's Globe want everyone to be able to enjoy this recording, so you're invited to pay what you can, from as little as £1. If you can pay more, please do. To find out more and book your ticket, click here.

Virtual Christmas Market
Until 28th November
With so many Christmas Markets cancelled this year, you can now experience a Traditional Christmas Market Online from the comfort of your own home.
With daily festive live events, concerts, DIY Tutorials happening each day, you can sign up to be updated and find out exactly what's going on and when. Grab your Christmas present list and start shopping.
Reindeer Make-Along
Saturday 28th November @ 3pm
Part of the Digital Craft Festival, (27th – 29th Nov) grab yourself some plasticine and join Jim, live on Zoom for a model making masterclass. A senior model maker at world-famous Aardman Animations, Jim has worked on some of the studio's most well-loved productions including Chicken Run and Shaun the Sheep. Hosted by artist Andy Greenacre from Makers Market from Home.
Kit list – Reindeer Make-Along-with-Jim
To take part register here and grab the following bits: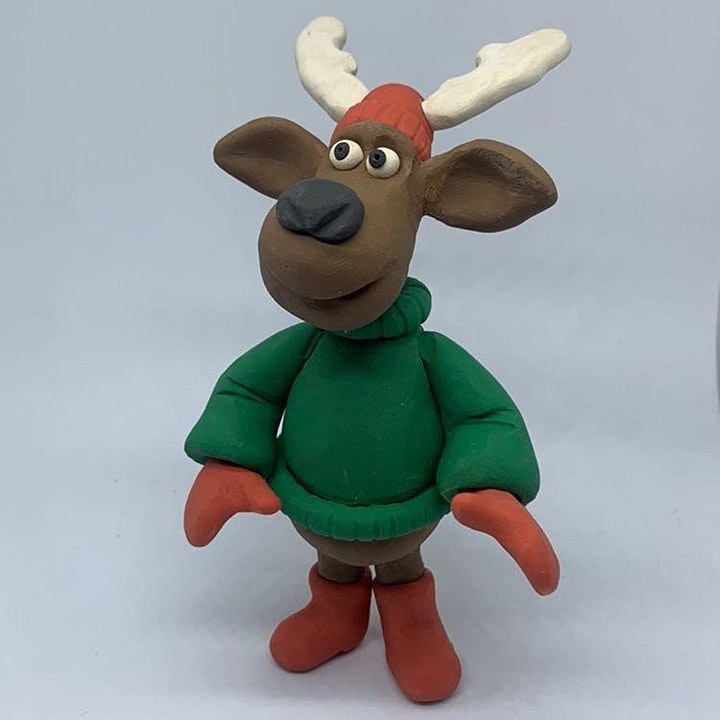 x1 pack rainbow Newplast modelling clay (you can also use playdoh, icing, fimo, air-dry clay)
x1 flat, clear area to work
x1 modelling tools (an old paintbrush and/or pencil is perfect too)
Check out the rest of the activities and workshops for kids in the Children's Craft Lab and Den.
The House That Jackson Built
Saturday 28th November @ 11am
Put your sofa in the front row with a new digital production of The House That Jackson Built, live-recorded at Half Moon Theatre. Aimed at ages 4 – 10.
Jackson's dad is building a new house out of weird and whacky bits and bobs that people have thrown away. The last few years have been hard for young Jackson, living without his mum. Now his dad wants to make a new start, but Jackson isn't ready to move on. Not until he blows the dust off mum's favourite old book and conjures up the Story Fairy.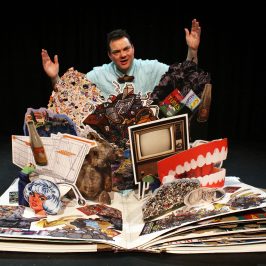 Jackson's dad is building a new house out of weird and whacky bits and bobs that people have thrown away. The last few years have been hard for young Jackson, living without his mum. Now his dad wants to make a new start, but Jackson isn't ready to move on. Not until he blows the dust off mum's favourite old book and conjures up the Story Fairy.
Streamed via Vimeo, you'll be sent a link prior to watching. Tickets are £7 for a small household, £14 for a large household. Book here

For One Knight Only
Sunday 29th November – 7PM – 8.30 PM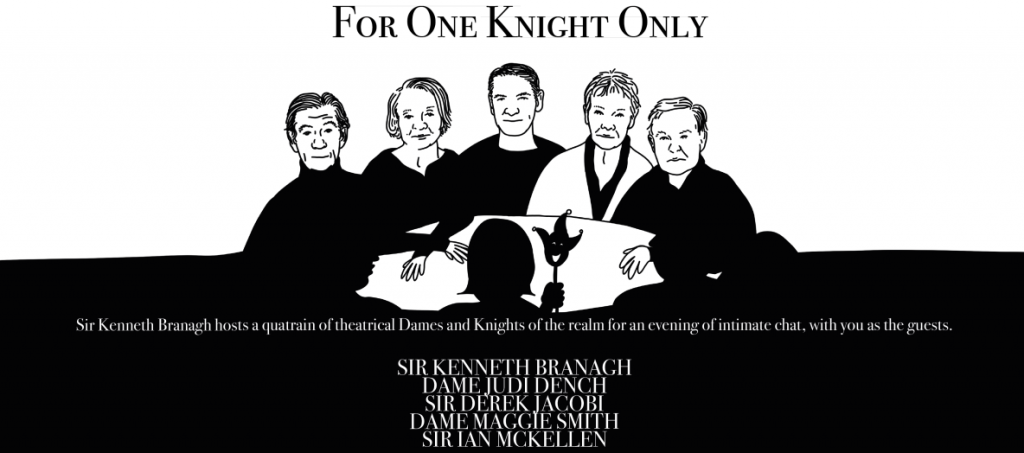 Join Kenneth Branagh for a knight of banter outrageous and laughter contagious, with a live Q&A throughout. Sir Kenneth Branagh hosts a quatrain of theatrical Dames and Knights of the realm for an evening of intimate chat, with you as the guests.
Kennth Branagh is joined by national treasures Dame Judi Dench, Sir Derek jacobi, Dame Maggie Smith and Sir Ian McKellen.
Tickets £45. Book your ticket on Eventbrite.
Roald Dahl's The Twits Online
Only until Monday 30th November
If you haven't managed to catch this theatrical reading of one of Roald Dahl's best-loved books about a most despicable couple, The Twits, the clever Muggle-Wump and the magnificent Roly-Poly Bird, add it to your to do list now – as it's only available until 30th November.
This unabridged reading, filmed in the Unicorn theatre, is gleeful, gunge-filled digital storytelling and not one to be missed! Aimed at ages 6 – 12, the story is split up across three 20-minute episodes.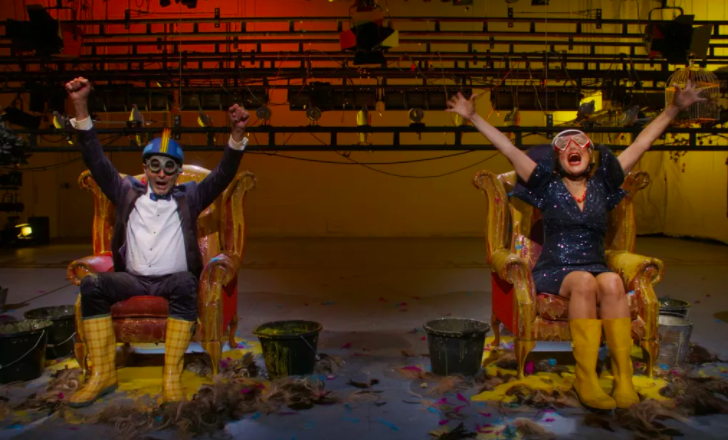 Imagine the worst people you can think of, can you do that? Good. Then you're just about ready to meet Mr and Mrs Twit, the nastiest couple you could ever hope (not) to meet.
Watch it on the Unicorn's YouTube Channel: Part 1, Part 2 and Part 3
Autumnal Rave
Until 30th November
Get dancing this autumn and create friends to rave with, made from items found in nature.
Watch the Foundling Museums fun short film before making some dancing friends. Go to your local park and gather up the items you need to create your new autumnal friends.
Turn the music on and get creating here.
---
DECEMBER COUNTDOWN
If like us, you can't wait for Christmas, here's a bit of inspiration to get you feeling festive and ready for 1st December 2020.
Awesome ideas for Elf on the Shelf
If you're in need of some inspiration for your Elf on the Shelf this year, checkout these ideas. We particularly like the Elf on the Shelf Burrito and Elf on the Shelf Drawing Minions on Bananas, find out more ideas here
Adventures In Pantoland
Starts 1st December
This year, not everyone will be able to go to see a pantomime so Fun Kids Radio have decided to put all the pantomimes they can find into the circuits of Robot from their breakfast show. Tune into this new exciting series here. You'll be able to hear episodes every morning at 7:35am and 4:35pm as well as in the Santa Daily podcast.
Create your own online advent calendar
Upload photos, voice messages and videos to create your personal online advent calendars to share. Find out more about this interactive online advent calendar here.

Track Santa
Starts 1st December
Providing up-to-the-minute information on Santa's journey, get ready to track Santa here from the 1st of December.
12 Tiny Plays for the Festive Season
Sneak peak 1st December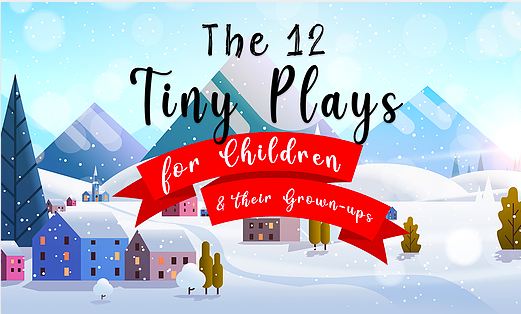 Fly High Stories have asked some of the best contemporary playwrights around to write 12 short, fun FESTIVE play scripts for YOU to act out together at home.
With accompanying music tracks and theatrical design tutorials, as well as other Winter themed activities, including the Interactive Digital story Mrs Scrooge, and the interactive audio Pantologues! This resource aims to encourage families of all ages to act, sing, dance and play together and bring a little bit of winter theatricality and festive fun into their homes.
All content is free & available from December 1st. To learn more or to sign up, click here. To learn more or to sign up, click here.
---
ONLINE ANYTIME
Illustrating the Curriculum
From the House of Illustration, enjoy free downloadable family activities. They are accessible, hands-on activities with step-by-step instructions and examples. Aimed at ages 5+.
Find out more here or download each activity:
The Life of a Blue Whale
Explore the Natural History Museum's whale rich history in this interactive online experience.
Select scenes to learn all about the whale's story, from the ocean to the Museum's collections to the historic Hintze Hall. To find out all about the record-breaking lives of the largest animals on Earth, start exploring here.
A Peter Rabbit Winter Adventure
The National Trust is inviting families to explore and play with Peter Rabbit™ and other favourite Beatrix Potter characters.
Find out more about Peter and his friends with these downloadable activity packs to enjoy at home where you can create a winter decoration, colour in wintry scenes and cook up some heartwarming recipes and learn about nature and be inspired by the natural world with these fun activity packs.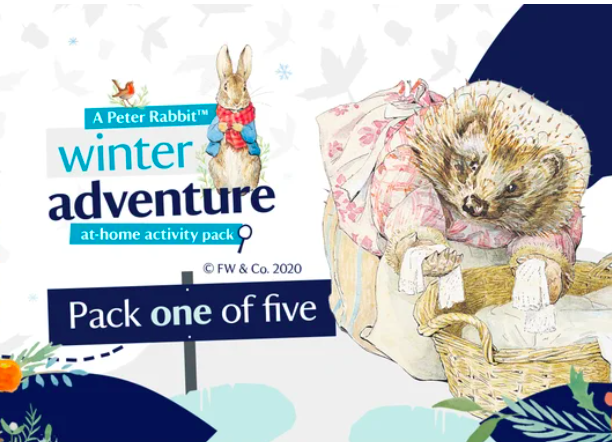 ---
MAKE THIS
Make your own snow globe
There's something magical and festive about a snow globe. And as we all need a little extra magic at the moment and are ready to embrace all things festive even in November this year!
Why not make your own snow glove to bring some Christmassy sparkle to your day or to give as a present. Simple to create; you'll need a clean jam jar, a small toy (that won't be missed!), some glitter and a few teaspoons of glycerine.
If you wanted to make it as a present, tie a ribbon around the lid and add a tag and for any LEGO fans, why not create a small sculpture out of bricks.
Learn how to make your own globe.
Grow a present in a pot
Helping the UK Grow is a brand new First News children's movement to unite the country after a difficult year for so many people. From young to old, First News is urging everyone to play their part in Helping the UK Grow again.
Take part in their #HelpingTheUKGrow challenge by asking everyone to plant something as a symbol of hope and growth for all our futures. It might be bulbs in your garden, a tree at school, or cress on your windowsill.
Growing and gift ideas:
---
WATCH THIS
Once Upon A Time – (12) Disney+ & Netflix
In this fantasy series, a young woman is drawn to a small Maine town and discovers that it's filled with elements of the fairy tale world. Once Upon a Time is the cult Disney television show that brought Disney's many popular characters to live-action to mix and mingle!
Bookmarks – Celebrating Black Voices (U) – Netflix
Celebrity readers share children's books by Black authors to spark kid-friendly conversations about empathy, equality, self-love and antiracism in this series by Netflix Jr. Episodes range from five to 13 mins.
---
DOWNLOAD THIS
Forest App
Can't stop checking your phone? It's time to take back control and unleash your productivity with Forest, the revolutionary timer app that eliminates distraction and plants real trees on Earth.
So far over 900,000 trees have been planted by Forest!
Whether you're studying, revising, working, or just trying to get things done efficiently, Forest will help you put down your phone, take back control and stay productive in this world of digital distractions. Perfect for the winter exams coming up.
There are plenty of productivity apps around but Forest is different – it partners with Maryland tree-planting NGO to plant real trees. However, the app does not "help plant real trees by you downloading and buying the app", instead, it requires long-term effort of the user. Users spend virtual coins they earn by focusing and sticking to their goals, then the Forest team donates to their partner and creates planting orders.
HOW IT WORKS
1. Plant a tree and set the timer
2. Get to work! If you commit to your task without getting distracted before the time is up, you'll get a beautiful, healthy tree; if you cannot resist using your phone, your tree will wither.
3. Grow your very own forest over time!
Download the app on Google Play or the App Store now.
---
LISTEN TO THIS
FOR KIDS
The Past and the Curious (All ages)
Reminiscent of the TV show Drunk History (minus the alcohol!), this funny podcast features people telling interesting, little-known stories from history with an emphasis on fun and humour.
Although it's not specifically a music podcast, each episode contains an often-silly song that's sure to get stuck in your head. There's even a quiz segment, so kids will learn something, too.
FOR YOU
The High Low
A weekly conversation between writers Dolly Alderton and Pandora Sykes, that covers highbrow and lowbrow culture.
The High Low is a weekly pop-culture and news podcast inspired by Vanity Fair editor Tina Brown. Brown coined the term 'high low journalism' in the 1980s to denote an amalgamation of water-cooler gossip and hard-hitting cultural happenings, it's based on the belief that a life well-lived is one that enjoys both the trivial and the political, from errant chin hair to Trumpian politics. Each week, Dolly and Pandora dissect and discuss the zeitgeist with stories found far and wide, from brows high and low.
Brought to you by The LittleBird Family Pass – saving families money all year round. To find out how, click here