Everyone is invited to celebrate Harry Potter Book Day on the 12th October.
A new name, a new time, the magic continues!
The boy wizard Harry Potter has been casting a spell over young readers and their families since 1997.
Harry Potter Book Day on Thursday 12th October is a chance for fans around the globe to celebrate J.K. Rowling's iconic series with events, parties and other festivities.
Watch this trailer to find out more!
The theme for this year's Harry Potter Book Day is MAGICAL PLACES. From platform nine and three-quarters to Hogsmeade, The Burrow to the Ministry of Magic, there's a whole wizarding world to explore!
Each year Bloomsbury creates a downloadable event kit packed to the brim with ideas and activities that can be used to hold your own event – whether you are a bookshop, school, library or want to celebrate at home with family and friends. From invitations, ideas for decorating, fancy dress and food and drink, to quizzes, word searches, colouring and games suitable for all ages, the kit contains everything you need to prepare an event, however big or small.
Whether you celebrate on 12th October or another day of your choosing, there are so many ways to get involved in Harry Potter Book Day!
To sign up to receive a free event kit, click here.
Every year, libraries and bookshops across the world celebrate Harry Potter Book Day with special events.
To find your nearest public event on Bloomsbury's interactive map, click here.
To celebrate this year's Harry Potter Book Day, Bloomsbury have created a virtual headline event hosted by Evanna Lynch (who played Luna Lovegood in the film series), in partnership with Twinkl and Warner Bros. Studio Tour London – The Making of Harry Potter.
This magical event includes a Magical Places creative writing session from the Great Hall, a spellcasting class from platform nine and three-quarters and a How To Draw Hogwarts session with Evanna and Harry Potter illustrator Jonny Duddle. It will be free for parents, carers, or guardians to enjoy with their children at any time once released on 28th September.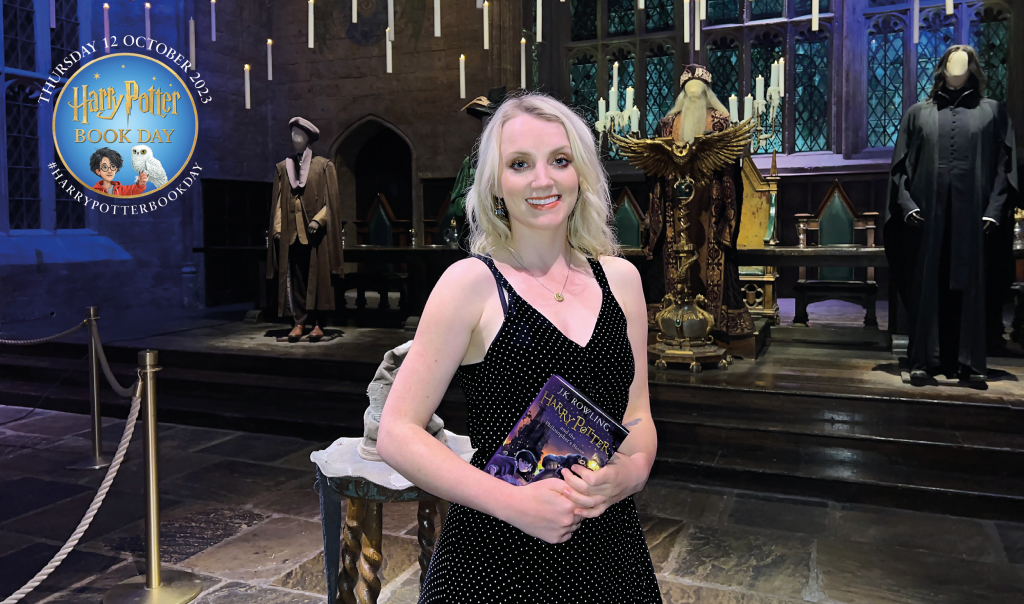 To sign up to receive a link to this free event, sign up to the Harry Potter newsletter here.