The LittleBird Family Pass Top Picks for 12th – 25th February
---
February Half Term Bumper Guide
We've rounded up some great activities and events to help you and your family stay entertained, inspired and active over the next two weeks. The only problem? How to fit it all in!
There's plenty of fun to be had throughout half term plus lots to celebrate with Chinese New Year, Valentine's Day and Pancake Day too!
If you find our guide useful, please share Top Picks with your family and friends and sign up to the newsletter. We publish our blog every two weeks but we promise the fun below lasts a lot longer than that!
VIRTUAL EVENTS DATED
Family Fun at the Southbank Centre
Throughout February half term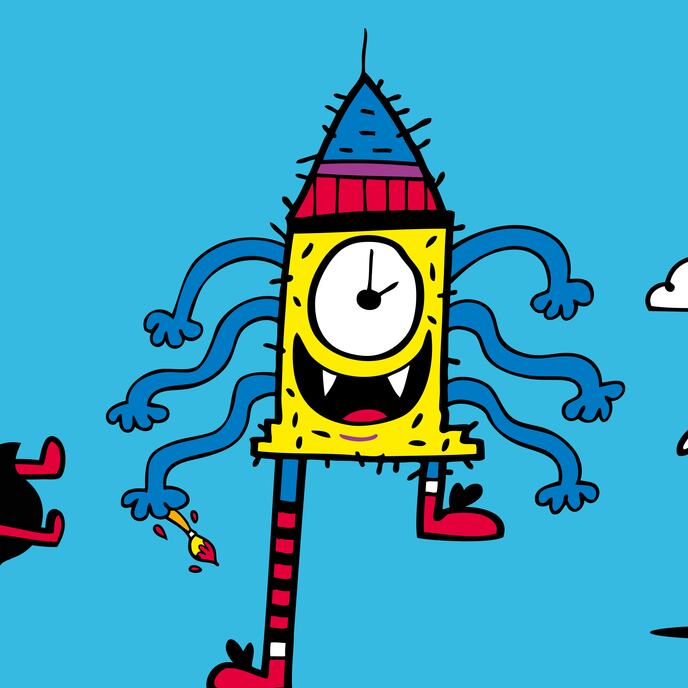 Head to the Southbank virtually and join their live-streamed fun for all the family. Fill your little one's world with colour at Kaleidoscope Concert, a sensory online experience for babies. Or find joy in your own dancing and moving with DYSCO, a playful and celebratory workshop for all ages.
To find out more and for booking info, click here

What Makes a Medieval Knight?
Family Live Stream
Saturday 13th February @ 9am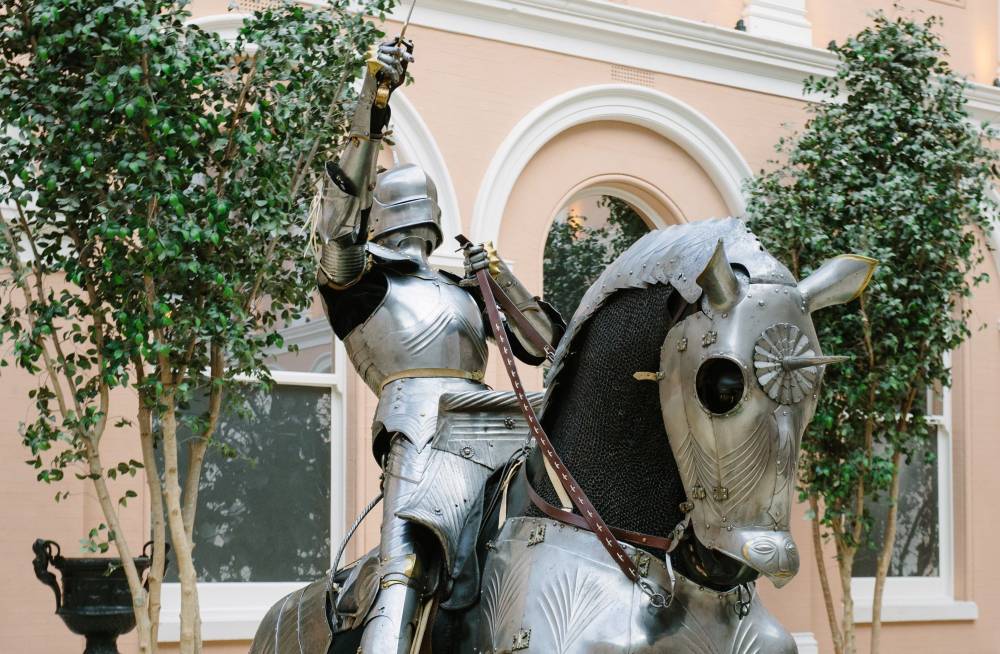 Pulling swords from stones, great castles with drawbridges, jousts on horseback, and perhaps even a dragon or two… We've all heard stories about brave knights in armour, but what was it really like to be one of the fighting men of medieval Europe, over 500 years ago?
Join The Wallace Collection to find out all you need to know about medieval knights. Artist Millie Nice will be showing you how to create and decorate your own armour plates, along with special guest, modern day jouster, Andy Deane. Joining us from the Royal Armouries in Leeds, Andy will answer all the important questions, such as why did knights wear armour, is armour really heavy, what did they eat for breakfast, and how did they go to the toilet in steel trousers?
The event will be live streamed on The Wallace Collection's YouTube Channel. Find out more and download your armour plate template.

Make a Dragon Puppet
Saturday 13th February @ 11am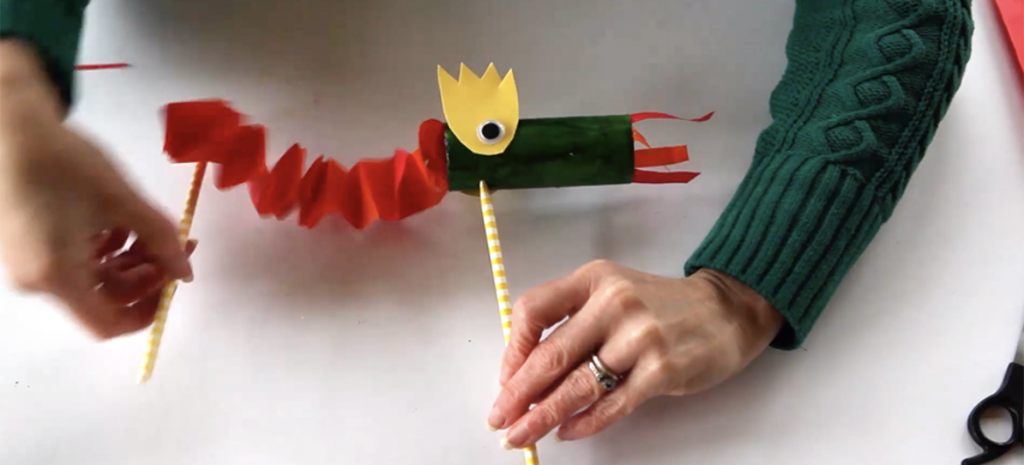 Head to the Void Gallery to join artist Sinead Crumlish and find out how to make your own dragon to celebrate Chinese New Year.
If you can't make the session on Saturday morning, the workshop will be uploaded to the Void Gallery's Vimeo channel so you can access it at your convenience. Find out what you need to take part here.

Sofa Acrobatics
Saturday 13th Feb & Monday 15th Feb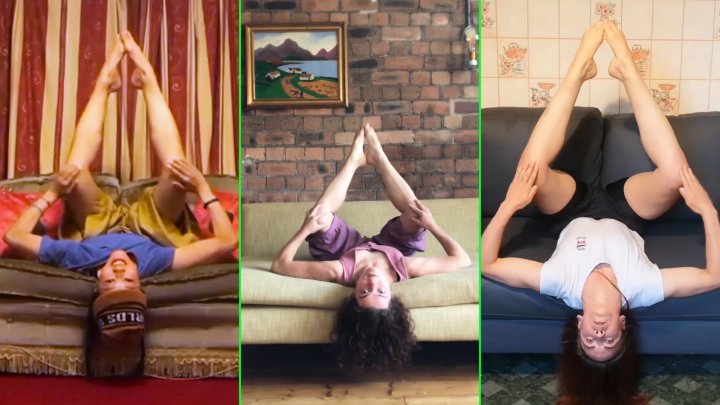 Sofa Acrobatics is part of The Spark Arts for Children Festival (13th- 20th February). Join Mimbre's acrobats for this family movement session of Sofa Acrobatics. Using each other for support and your sofa as a crashmat you'll get to explore some fun movement and adventurous shapes. The session will make slouching on the sofa into an art form, including pillow fights, human pyramids and the creation of your own sofa dance.
The event will take place on zoom, aimed all ages and levels. Tickets are limited. Suggested tickets price per household is £10 ( £1 minimum) To book find out more and book your ticket, click here.

To find out what else is happening during the festival, click here – all events are free or pay-what-you-can.

Chinese New Year at the National Maritime Museum
Saturday 13th February, all day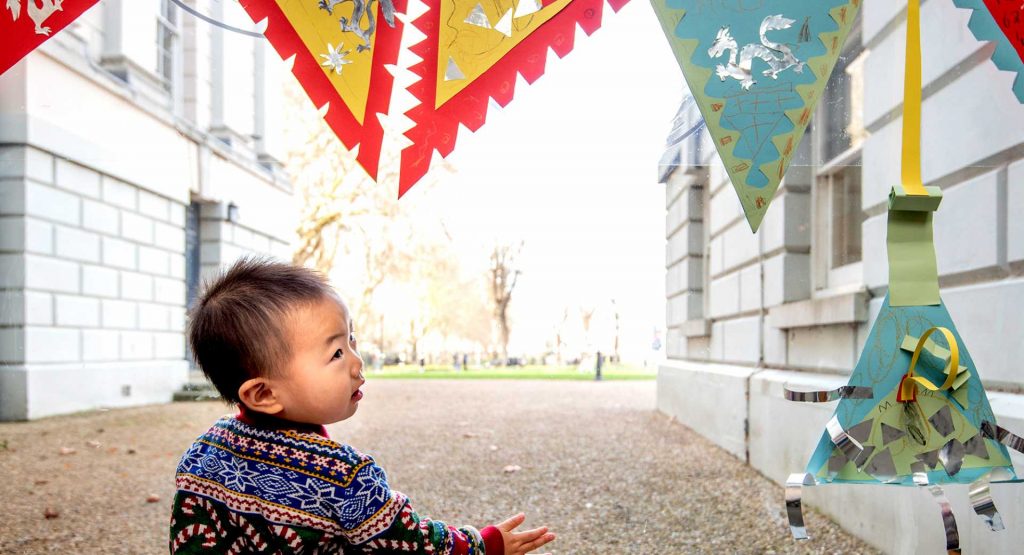 Celebrate the Year of the Ox online with a whole host of Chinese New Year activities, videos and performances curated by the National Maritime Museum. Learn about traditions, watch storytelling, find out how to make a hongbao (a red envelope, that traditionally contains money and symbolises good fortune and prosperity for the coming year) as well as watching special performances from 4pm on Facebook.
RMG will be adding activities in the build-up to the New Year, so keep checking for more great ideas and resources here.

Stories of the Skies
Sunday 14th February @ 7pm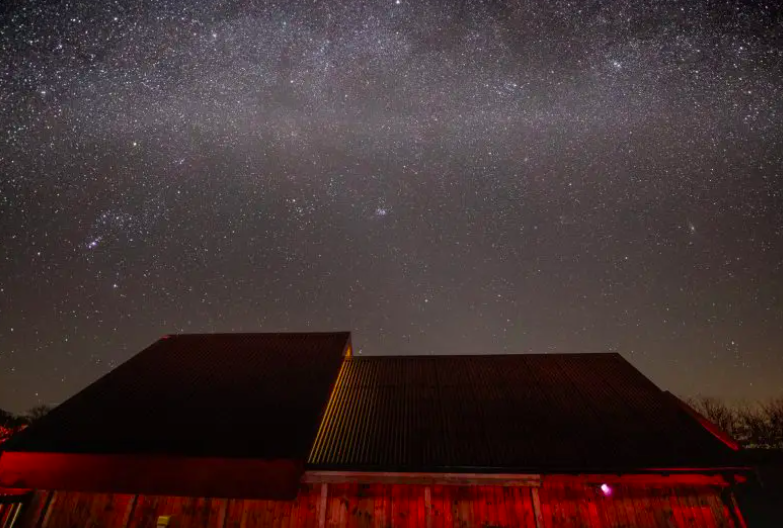 Stories of the Skies is part of the Northumberland Dark Skies Festival (12th – 21st Feb). Every night, a pageant of Greek mythology is enacted among the stars. Ian Ridpath, a renowned astronomy author, will recount these famous legends, illustrated by classic works of art, and identify the constellations associated with them.
To find out more, click here.

Chinese New Year
Digital celebrations with London Chinatown
Sunday 14th February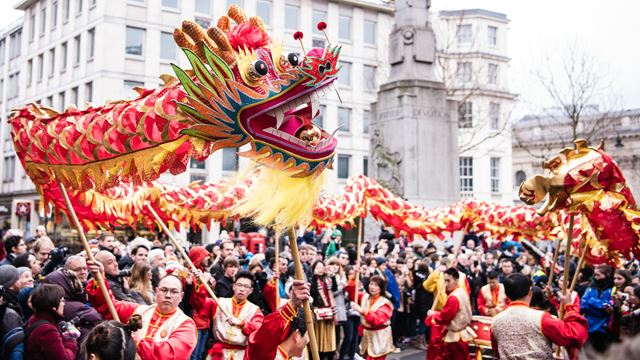 Chinese New Year is the 12th February and 2021 is the Year of the OX. The Chinese New Year festival, which is organised by the London Chinatown Chinese Association (LCCA), is taking place online on Sunday. There'll be a CNY comic strip to tell the story of the Ox and CNY traditions, Kim Joy (from Great British Bake Off) will be creating a Year of the Ox-themed desserts and Ping Coombes (MasterChef) will be creating a selection of CNY dishes. Plus there'll be performances as well as highlights from previous years' celebrations. Full itinerary here.
Head to the LCCA's YouTube channel to tune in on the day and follow on social using #StrongAsAnOx

Decoding Pictures with the National Gallery
Monday 15th February @ 11am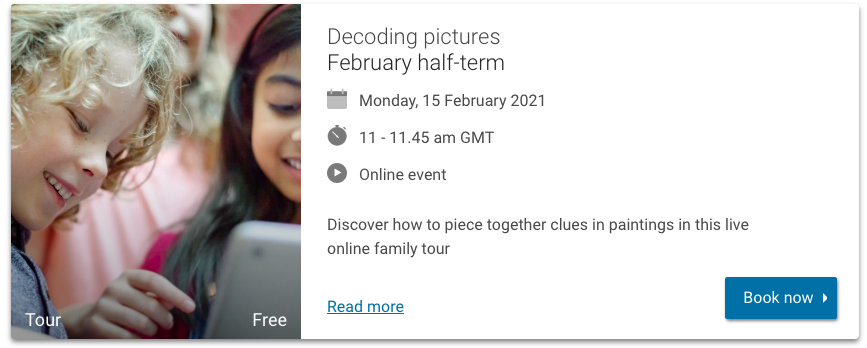 How do we look at pictures, and what can a painting really tell us?
Make a virtual visit to the National Gallery and get closer than ever to the collection. Meet Gallery Educator Ed Dickenson and learn fun tips and tricks to unlock secrets hidden in plain sight – even if you're seeing a painting for the first time.Discover how to figure out what a picture is all about through looking, questioning and voting together in this interactive session.
Aimed at ages 8+, access via Zoom. Tickets are free, but you'll need to book here.

Emerging from Winter: Royal Parks Virtual Discovery Week
Monday 15th – Friday 19th February
Although the chill in the air can make Spring still feel far away, Royal Parks virtual discovery week is here to guide you to look closely and see that Spring is actually right around the corner.
They've pulled together a week filled with spring-inspired activities to help you and the family stay busy and discover nature on your doorstep during half term.
Sign up for the free virtual discovery week here.

Say Cheese! Charles Dickens Museum
Monday 15th – Friday 19th February @11am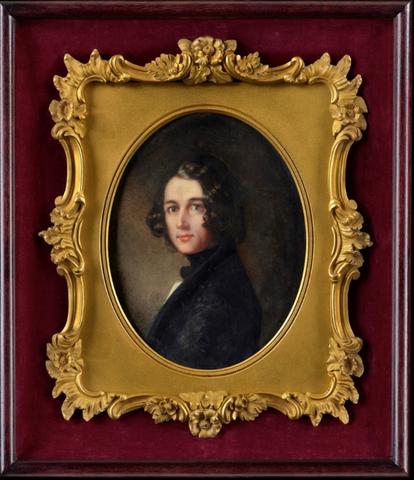 Ever thought our obsession with capturing endless images of ourselves is a modern- day phenomenon? Then think again! Get ready to Say Cheese! with the Education Team at the Charles Dickens Museum to find out more about the famous author's preoccupation with appearance. Investigate some of the photographs and portraits kept at the museum, look more closely at some of Dickens' most visual character descriptions and have a go at making your very own self-portrait for posterity.
Aimed at ages 11 – 14. Access via zoom, tickets are £5 per device (includes session & art pack). To find out more and book tickets, click here.

Fab Pharaohs Family Workshop
Saturday 13th – Sunday 21st February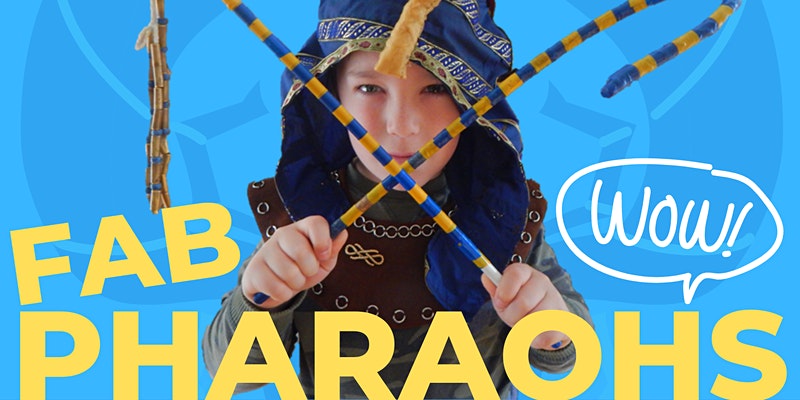 During this week-long series of workshops from The Egypt Centre, discover some of the most famous Pharaohs of ancient Egypt including Ramesses the Great, Cleopatra, and the boy king Tutankhamun. Learn to write your name in Hieroglyphs, watch a royal mummification demonstration and even have a go at making your very own Egyptian collars.
Aimed at ages 6-11. Tickets are £5 and you can drop in as many times as you like throughout the week. You will be sent a link to all of the activities a day before the workshop begins and live Zoom introductions will run on Mon 15th @ 11am, Wednesday 17th @ 12pm and Friday 19th @ 11am. To find out more and to book, click here.

Children's Football Writing Festival
Monday 15th – Friday 19th February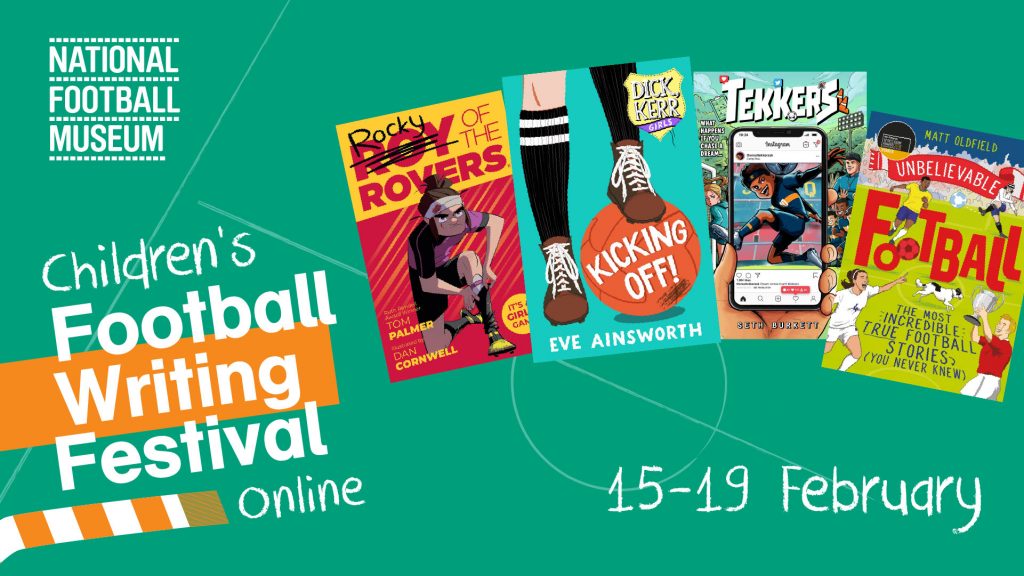 The National Football Museum is hosting some of its favourite children's authors online this February half term including Tom Palmer, Eve Ainsworth and Seth Burkett.
All of the talks and activities will be hosted on the museum's YouTube and Facebook channels and will include simple writing challenges to encourage children to pick up a pen and transfer some of their football flair to paper!
See the full itinerary and find out more here.

Design Quest: Under the sea online make along
The RIBA
Wednesday 17th February @ 10am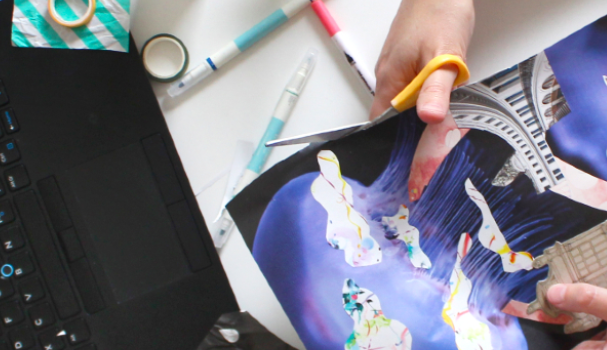 Our coral reefs are under threat, and these ecosystems are hugely important for the welfare of marine life! Our finned friends need your help. Where will everyone live? What will protect them from the open ocean? Who will save the coral? Join RIBA for an online creative architecture make along and help our finned friends with their housing crisis under the sea
Aimed at ages 6 – 10. Tickets are £5 excluding booking fee. Find out more here and learn what materials are needed.

Westminster Abbey and the World
Wednesday 17th @ 2pm & Thursday 18th February @11am & 2pm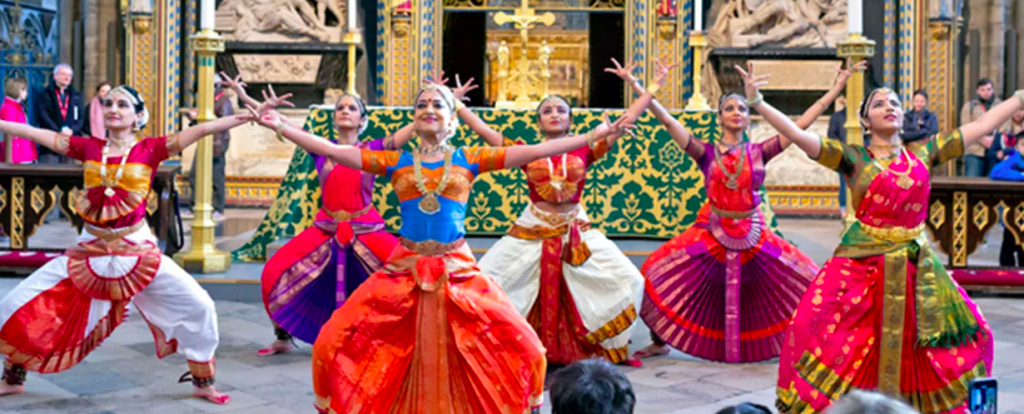 Explore how Westminster Abbey celebrates communities all over the world. Join this virtual tour full of fun and quizzes as you discover the links that this royal church has with the Commonwealth through shared history and the events that happen.The Commonwealth Day service is held at the Abbey every year to celebrate the worldwide family of nations which make up the Commonwealth.
Access via zoom, aimed at ages 5+. It's free but you'll need a ticket, book here.

Tom Gates: Ten Tremendous Tales with Liz Pichon
Thursday 18th February @ 10am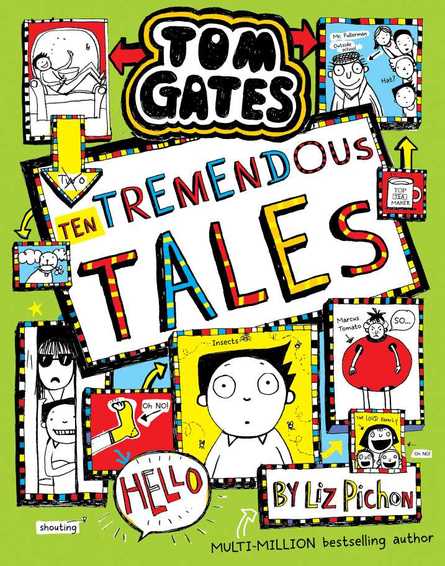 Join Liz Pichon as she celebrates Tom Gates' 10th Birthday. The latest book in the series – Ten Tremendous Tales – is out on Thursday 18th February and Seven Stories are hosting a special launch day celebration. Liz willl read one of the new stories, tell you all about how she created Tom and his adventures, and show you how to doodle in the same way. Don't forget to bring paper and pencils!
Aimed at ages 7 – 11. Join via zoom, tickets are £3 per device. To find out more and book, click here.
Seven Stories have also digitised three of their exhibitions including exhibitions on Judith Kerr and Enid Blyton that you can enjoy anytime you like. To start exploring the exhibitions, click here.

We're Going On A (Social Distancing) Bear Hunt
Friday 19th February @ 10am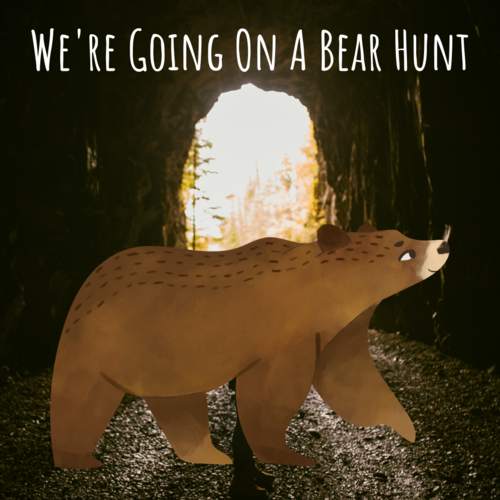 Part of Onceupona Virtual Children's Festival taking place Mon 15th – Sat 20th Feb, join this interactive and comical retelling of the family favourite We're Going On A Bear Hunt (social-distancing version), using music and puppetry.
Aimed at ages 2-8, tickets are free but you'll need to book here
With shows and storytelling happening throughout the week as part of the festival, click here to find out more. Tickets are £3.50 per household.

Kids Arts & Crafts Workshop hosted by John Lewis, Friday 19th February @10am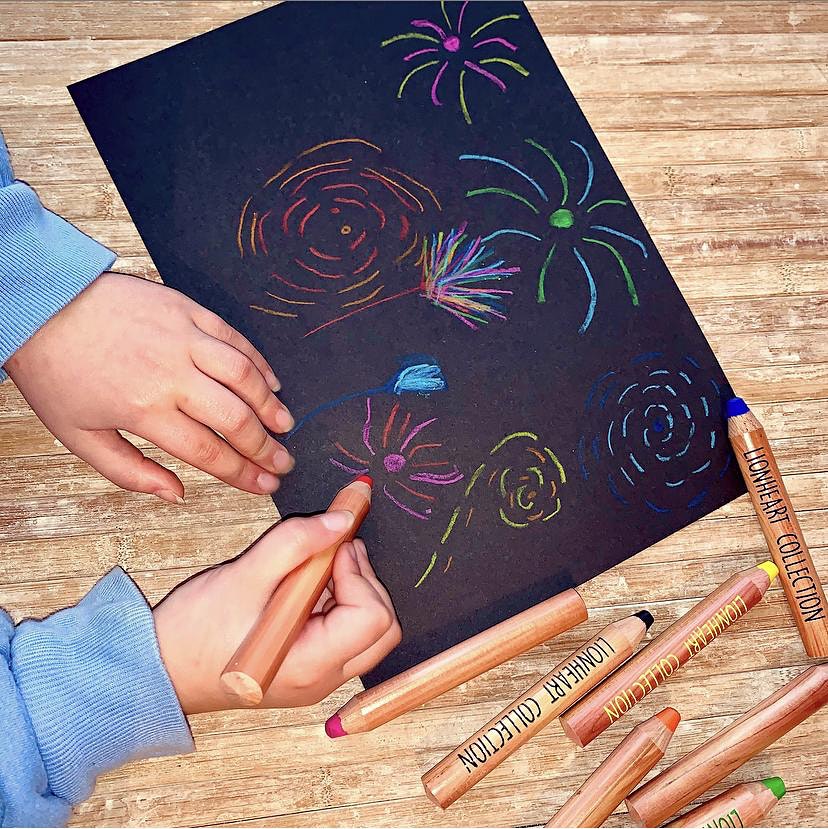 Hosted by John Lewis, especially for half term, this workshop encourages children to explore their creativity and learn letter formation, shapes and pattern creation, ideal for developing key motor skills.
The workshop will be led by Alice Mazzilli, an experienced calligrapher who has experience in teaching children handwriting and learning through creative classes.
Aimed at ages 3 – 6. To find out more about this event, click here.

Half Moon Theatre's Dust
Until 19th February @ 11am each day
Put your sofa in the front row with a new digital production of Dust, live-recorded at Half Moon Theatre. Written by acclaimed award-winning children's author Laura Dockrill, Dust uses puppetry and exquisite poetic language to explore a heartfelt story about love, loss, identity and memory.
When Little Titch and her scruffy rucksack arrive at the giant, pink house it is not what she expected – a blanket of thick grey dust covers everything in sight and it is wild and overgrown. Her new home is cold and unwelcoming until she meets Nelly, a flamboyant and loveable hoarder. Together the pair discover they have more in common than they first thought and that friendship can heal hidden wounds.
Aimed at ages 4 – 9. Tickets are free, but you'll need to book. Half Moon Theatre is a charity and donations are welcome. Find out more here.

Isadora Moon Day Online Event with Harriet Muncaster
Monday 22nd February @3.30pm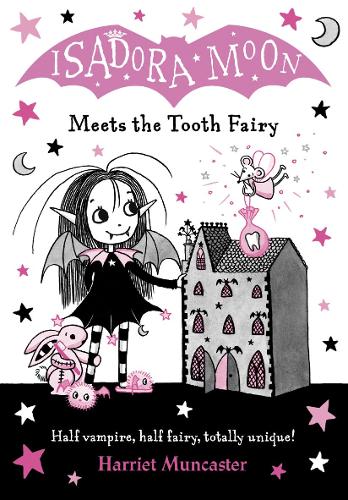 Join Waterstones online event to celebrate Isadora Moon Day 2021 as Harriet Muncaster (author and illustrator) talks about the latest instalments in her magical series, Mirabelle Breaks the Rules and Isadora Moon Meets the Tooth Fairy.
Discover how to draw Harriet's favourite characters in a virtual draw-along, find out which magical hybrid creature you are with a quiz, and see an exclusive sneak peek of a brand-new Isadora Moon animation! You'll even be able to ask Harriet your own questions.
Tickets are £5 to join the event, or £9 that includes a copy of Isadora Moon and the Tooth Fairy OR Mirabelle Breaks the Rules. Aimed at ages 5+, access is via zoom.
To find out more and book your ticket, click here.

The British Academy President's Medal: Margaret Atwood
Wednesday 24th February @ 6pm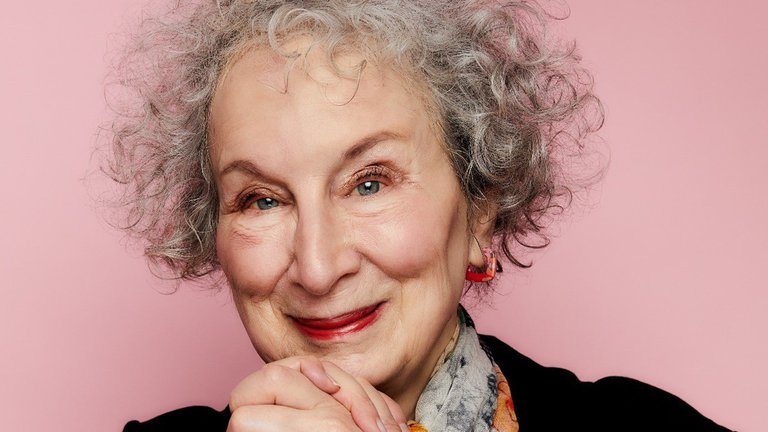 Margaret Atwood, writer and environmental activist and winner of the 2020 British Academy President's Medal, joins Professor Sir David Cannadine, President of the British Academy in conversation to discuss her life, work and activism.
Twice a winner of the Booker Prize, Margaret Atwood is a world-renowned writer of fiction, poetry, critical essays and graphic novels, whose work has been published in more than 45 countries. Known for her exploration of issues such as gender and identity, faith, politics and ecology, with notable works including The Handmaid's Tale (1985) and its much anticipated sequel The Testaments (2019). Her work has been adapted for stage and screen, most notably the Emmy award-winning The Handmaid's Tale (MGM/Hulu) which brought her novels to the attention of a new generation of readers. In addition to her prolific career as a writer, she is also celebrated for her environmental activism.
Sign up to watch the event live and have the opportunity to submit your question during the audience Q&A. A recording of this event will be added to British Academy's YouTube channel after the event has taken place.
Tickets are free but a donation of £5 is suggested. To find out more and to book your ticket, click here.

---
OUTDOOR ADVENTURES
Play 'Sounds of nature' bingo
National Trust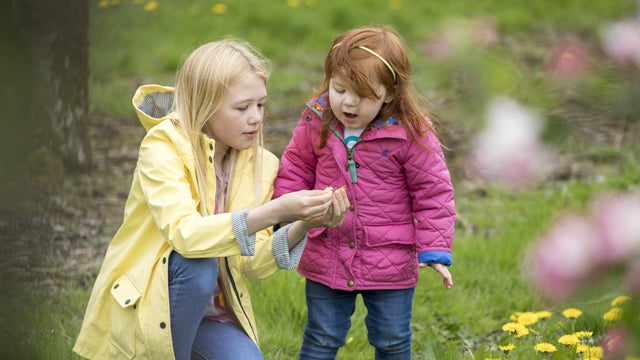 The National Trust have put together a 'sounds of nature' bingo for you to play on your own or with friends and relatives. You can play it at home or in your local park. With a downloadable scorecard, you can tick off all the sounds of nature that you hear.
Download your score card here.

Forests At Home
Forestry England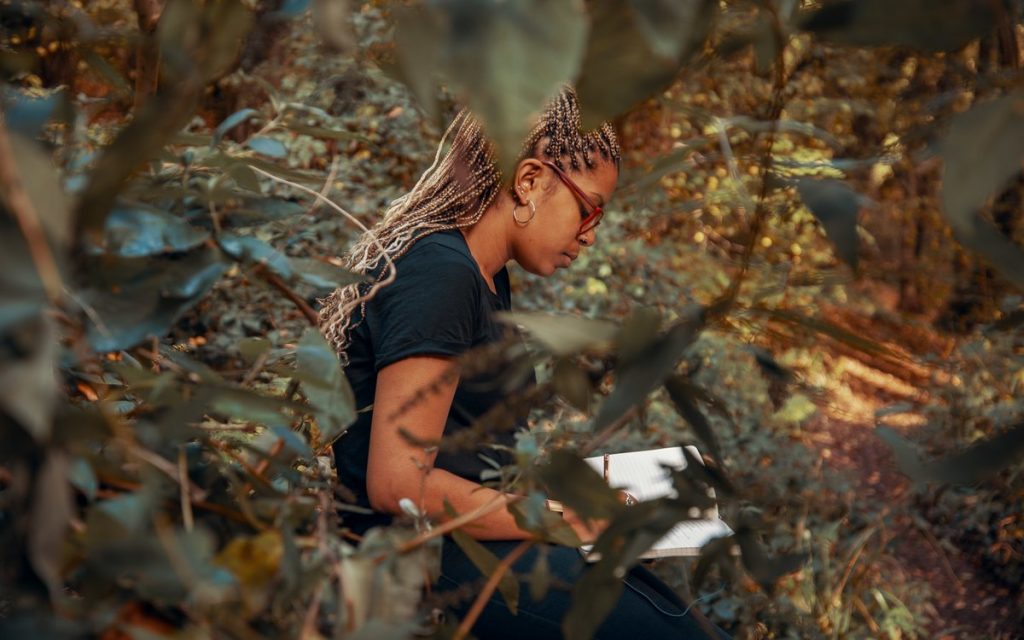 Forestry England is bringing the forest to you. With a selection of activity packs (they're free but you'll need to register ) you can become a tree explorer, discover the wonders of the night sky as well as finding out about forest bathing plus there are online exhibitions, wildlife stories and more.
Mini Beast Safari
RSPB

Part of the RSPB Wild Challenge, this activity is all about finding and getting to know minibeasts. Discovering more about habitats and learning about food chains. Find what you need here and why not find out how to join the Wild Challenge too, click here.

---
ONLINE ANYTIME
LSO's Where's Simon?
Online concert
Learn all about the orchestra and it's instruments in this new online concert from the London Symphony Orchestra. Find out how all the orchestra instruments work, why each LSO player thinks their instrument is the best, and how they sound individually while the players try and find out where LSO Music Director Sir Simon Rattle is so that they can start the rehearsal for their next important concert!
Aimed at ages 5+. Start your search for Simon here

Oliver Jeffers, activities to print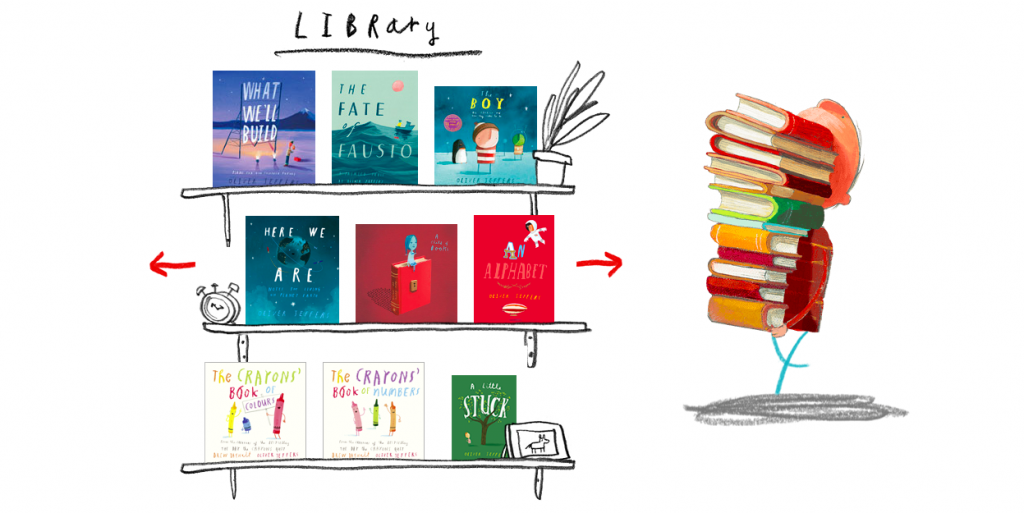 If you love Oliver Jeffers books, you'll love these printable activities themed around his stories and characters. There are puzzles, colouring and crafts. Make your own boy and penguin puppet from 'Up and Down', your own paper plane from the 'Great Paper Caper' or a kite from 'A Little Stuck'
Explore Oliver's world of activities here.

Build your own Board Game
Derby Museums
Part of the Derby Museums From Home series, learn how to build your own Board Game – a perfect afternoon activity when it's too cold to go outside. Board games have been played since civilisation began – they were important enough in Ancient Egyptian culture that some people were even buried with them! Derby Museums has a range of gaming items in its collection, from Roman counters, to 1940s board games. Learn how to create a traditional 'Race-to-the-End' game, inspired by the museum collections.
Aimed at ages 5+. To find out more and watch the video, click here.
There's plenty more activities and crafts you can enjoy from home including a pom-pom launcher, junk modelling and paper sculptures. Have a go here

Open the HomeTime Cupboard

Open the Booktrust's HomeTime cupboard and discover authors reading their stories, illustrators teaching you how to draw some of their top characters, activities to try, and lots of other stuff too.
---
MAKE THIS
Valentine Edibles
Have some fun this Valentine's and make some heart themed sweet treats to enjoy together or to give to someone you love. We love the cupid arrow pretzels but there are a few favourites in there. Be inspired here with 30 amazing ideas here.

Rainbow Pancakes & Polar Bear Marshmallow Hot Chocolate
For Pancake Day, or any other occasion make this colourful stack of pancakes to brighten up a winter's day. Get stacking here.
When it's cold outside, nothing quite beats a hot chocolate to get warm and cosy with. Marshmallows and a squirt of cream always take it to that 'super treat' level and so why not take it one step further and make a Polar Bear Marshmallow to top your hot chocolate with. Find out Eat Drink Love's recipe here.
Be My Valentine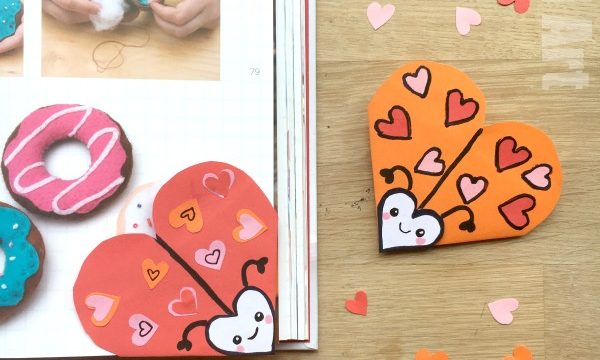 For Valentine's arts, crafts and cards inspiration, head to RedTed Art for tons of ideas, click here inspiration on card making, experiments and much more.
---
LISTEN TO THIS
For the kids
Journey with Story
Journey with Story is a children's storytelling podcast with a distinctive Celtic flavour. The creation of Kathleen T. Pelley, a picture book author, storyteller, and speaker, Journey with Story shares original stories, retellings of fairy tales and folktales, and beloved classics, all rooted in universal themes such as hope, love, and kindness.
Aimed at kids 4 – 10, start your Journey with Story here.

For the grownups
The Doctor's Kitchen
NHS doctor Rupy Aujla is a firm believer in the power of food and lifestyle change as medicine. His podcast covers a range of topics including eating for your brain, heart, mental health, immunity and women's health with some of the world's leading experts so you can pick and choose what sounds interesting or helpful to you. To learn more about guests and listen to old episodes click here.

---
WATCH THIS
Animals on the Loose: A You vs. Wild Movie
16th Feb, Netflix
Animals on the Loose: A You vs. Wild Movie, when wild animals escape from a sanctuary, Bear Grylls — and you — must pursue them and secure their protective habitat. An interactive special, you must help Bear find a mischievous baboon, track down a hungry lion, and fix the fence before more animals get out.

Mighty Express
Netflix, 3+
Mighty Express returns with more mega missions in this second season of this Netflix Original animated series. Catch a ride with the Mighty Express — a team of trains and their kid friends who overcome trouble on the tracks with quick thinking and teamwork!

Nadiya Bakes
Netflix, 12th Feb
Nadiya Bakes delightful cakes and heavenly breads pop from the oven as Nadiya Hussain returns to baking, her happy place, and spotlights creative kindred spirits.
Zathura: A Space Adventure
Netflix, PG
Zathura: A Space Adventure A mysterious game sends two brothers flying into space, where they must reach the planet Zathura — or be trapped in galactic limbo forever.
Greenland
Amazon Prime, (15)
Greenland sees a family fight for survival as a planet-killing comet races to Earth. As the global apocalypse approaches, John (Gerard Butler) and his family must embark on a perilous journey to survive and board a last-minute flight to a possible safe haven.
Brought to you by The LittleBird Family Pass – unmissable savings on all aspects of family life, all year round. Sign up here.