The LittleBird Family Pass Sparkling Top Picks for the 5th – 15th November
We know entering a second lockdown has its challenges but as always, the LittleBird team has rounded up some of the best online activities and events to help you and your family stay entertained, inspired and active over the next two weeks.
If you find our guide useful, please share Top Picks with your family and friends and sign up to the newsletter. We publish our blog every two weeks but we promise the fun below lasts a lot longer than that!
---
---
VIRTUAL EVENTS DATED
The Body Coach
Throughout November
Back for the second lockdown, The Body Coach, aka, Joe Wicks, returns throughout the month of November. Find him on YouTube here.
Bread Ahead Baking At Home,
Weeknights from 9th November @ 6pm
The original duo, Matthew and Erika, reunite as Bread Ahead Live Bakes go live again! Catch their new series of baking goodness every weeknight throughout November as they offer some cheer, laughs and lots of baking tips on Instagram Live.
Matthew will be whipping up some all time classic desserts on Fridays and revisiting your favourites from Bread Ahead's online baking books Monday-Thursday.
Reach for the Stars Digital
Weekends @11am & 2pm
Rocket into space with Nat as she overcomes her fears and strives to achieve her greatest ambition – to fly. Told through dazzling puppetry and inspired by the life of Mae Jemison, the first African American woman to go into space, this heart-warming and inspiring story encourages us all to strive for our goals.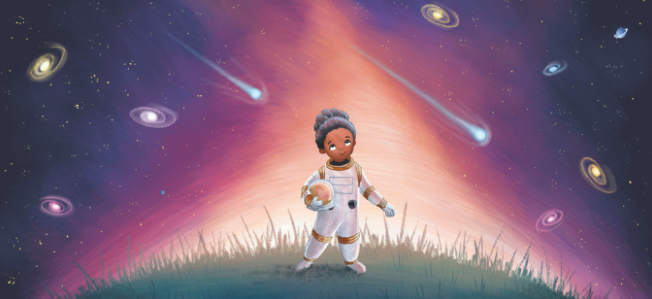 This interactive experience, delivered via Zoom, where you will be greeted by one of the Little Angel Theatre's talented performers, watch a recorded version of the show, and take part in games and activities.
Aimed at ages 6 – 11, tickets; £13.50 per household. With performance dates running on weekends from Saturday 7th November until Sunday 6th December. Learn more and book your tickets here.
Free guided online tour of the Palace of Westminster
Saturday 7th November @ 11am & 2pm

Explore the Palace of Westminster in a detailed tour taking you inside impressive rooms including the Commons Chamber, Lords Chamber and Central Lobby with its magnificent octagonal ceiling.

Your tour guide will share some of the fascinating history of the building, and talk about how each room is used today to support the work of the UK Parliament. Also included is Westminster Hall, the oldest part of the building and scene to many historic occasions including the trials of Guy Fawkes and King Charles I.

Hosted on Microsoft Teams Live Events, there's the opportunity to ask questions at the end of the talk. There are mid- week guided tours to. Find out more or book here.
Create your own Poppy
Remembrance Sunday 8th November
Remembrance Sunday is the second Sunday in November, the Sunday nearest to 11th November. You can cut, colour, knit, crochet, or create your own poppy from wood or metal.
Make your own poppy for Remembrance Sunday using materials you have at home with RAF Museum's template.
Melatopia Online Festival
Saturday 7th & Sunday 8th November
South Asian Festival London Mela goes online and reinvents itself as a digital and virtual reality event featuring South Asian music, dance, food and culture. The entire Melatopia event will be streamed on Facebook, Instagram or YouTube. You can also visit their site to find out all the details and for more ways to watch.
Nature Live Online: Life Under The Ice
Tuesday 10th November @ 12pm
Cyanobacteria are a group of organisms on which we all depend. They helped create the very oxygen vital for so much to survive and flourish and are some of the oldest living things on Earth.
Part of the Natural History Museums Nature Online Series, discover where these incredible organisms can be found thriving in some of the most inhospitable places on the planet including frozen lakes where no other life can be found. Join live at 12.00 GMT or set a reminder here.
If you can't make thus session, are interested in upcoming sessions or looking to watch previous talks, you can do it all on their site.
Mole and Gecko's Poetry Picnic
Sunday 15th November @ 3pm
Join poet Simon Mole and musician Gecko for a Socially Distanced Poetry Picnic. Mole and Gecko will play fun (and quite silly!) games to build confidence and skill with words, and then help you write a poem or a song with the power to send your picnic blanket skywards.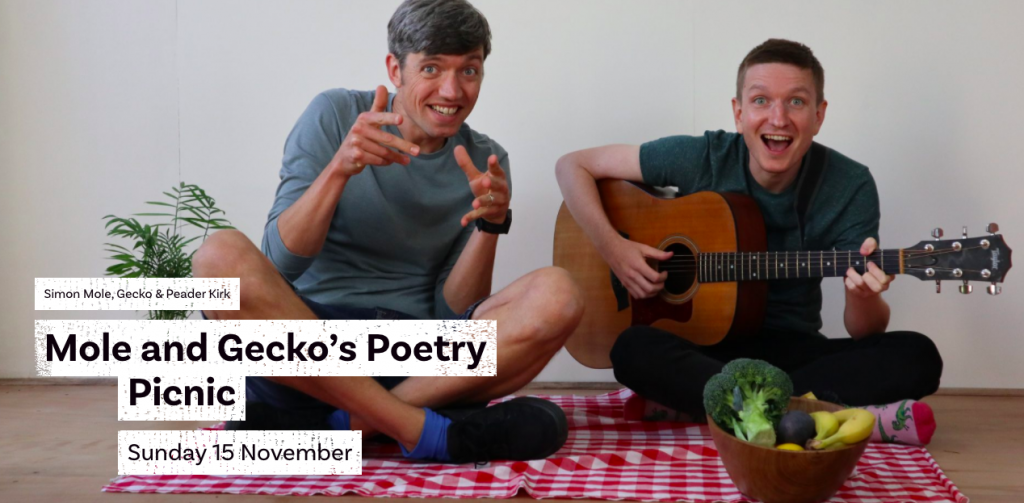 Where will we travel to today? The rhyme river. A Jazz Cave. Giggle town. It's totally up to you. And us a little bit to be honest. To find out how to join the picnic, click here.
---
ONLINE ANYTIME
The Little Inventors Pioneers Online Exhibition
Little Inventors is a creative education organisation that inspires imagination by taking children's amazing ideas seriously and their new online exhibition has done just that.
15 Little Inventors have been selected to become the first Little Inventors Pioneers to take part in a programme encouraging them to invent for a better world and to work with professional makers to bring their ideas to life. To see these amazing inventions, click here.
BONUS there are over 120 Mini Challenges with new inventive challenges posted each week, get designing now.
Being Shakespeare with Simon Callow
The Show Must Go On presents 'Being Shakespeare' featuring a tour de force performance from Simon Callow. This one-man show is about the life and work of the world's greatest playwright. An alternative way to find out more about the bard and offer a bit of background to those studying Shakespeare for their GCSEs.
Polka PlayMakers
Online from 4 Nov 2020 – 30 Ap 2021, Ages 5-12
Head to the Polka Theatre online to discover how they bring fantastic stories to life on stage. There's a whole host of people involved and Polka Playmakers is here to introduce some of their friends to you so that you can find out more about the people and what their job entails.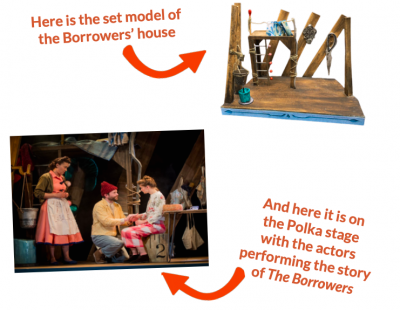 What knowledge, skills and experience do they bring to the show? Maybe you'll even hear a tale or two about some of the challenges they faced along the way…discover the different theatres roles how to put on a play here.
Tate Kids asks Which Art Activist Are You?
November sees Tate Kids launching two new interactive quizzes:

1. Which Art Activist Are You? Asks participants to answer a series of questions about how they like to work and interact with others to identify which well-known activist artist they are most similar to, such as Kara Walker, Ai Wei Wei and others. Take the quiz.

2. To coincide with a new free display at Tate Britain showcasing works of art with fairies including Mat Collishaw's magical three-dimensional animation Garden of Unearthly Delights 2009, kids can take the Which Arty Fairy Are You? Quiz. Take the quiz.
More quizzes, art activities and discovery available online now.
The British Library's interviews
Explore the British Library's archives of interviews with some of our most well known authors, poets and illustrators including Jacqueline Wilson, Joseph Coelho, Quentin Blake to hear memories, gain insight, find out secrets and discover their top tips. Find them and more here.

Museum of London's Lolly Stick Theatre
Create your very own lolly stick theatre and re-tell the story of the Great Fire of London. Follow simple instructions, with templates, to create your own theatre for your performance. Download instructions and colourful printouts here.

Astronomy At Home with Royal Observatory
Explore the night sky using the Royal Observatory's online resources and make-and-do activities specially designed by astronomers, all from the comfort of your own home.
Browse through videos that show you how to make your own Solar System in a box, draw your own star-forming nebula with NebulArt or make a galaxy of your own with Galaxy Goo. Travel through these videos to discover what space is really like. Tune in here.
---
MAKE THIS
Edible Sparklers
Whether you're celebrating Bonfire's Night or not, these are fun, simple and quick to make. Dip a pretzel (or bread) stick into some melted chocolate and then dip into sprinkles and ta dah! Edible sparkler or wand ready to wave and then gobble. Full recipe here.
Salted caramel sauce – an edible Christmas gift!
Edible homemade Christmas presents always go down a treat and this has an extra wow factor! Delicious on ice cream, drizzled on a mince pie, splashed on popcorn, as a dip for a fruit kebab; it's versatile, super quick and only has three ingredients. Full recipe here.
---
WATCH THIS
I'm A Celebrity….Get Me Out Of Here!
ITV, Sundays at 9pm from 15th November
Offering a bit of light relief and comfort TV, I'm A Celebrity…Get Me Out of Here is set in Wales this year. If you want to get in the mood and see Ant & Dec take their first ever bushtucker trial (after 18 years of hosting the show), tune in on Sunday 8th November at 8.10pm and watch a I'm A Celebrity…A Jungle Story
The Queen's Gambit – Netflix
The Queen's Gambit has been called the must-watch show on Netflix right now. In a nutshell, orphaned at 9, prodigious introvert Beth Harmon discovers and masters the game of chess in 1960s USA. But, child stardom comes at a price.

Watching gifted chess players is a reminder that brilliance exists in everyone, even if you don't understand their game!
Check out the official trailer:
Or what about a rerun of Dawson's Creek – now found on Netflix! And watch out for the 4th series of The Crown (out on 14th November).
---
DOWNLOAD THIS
My Dino Mission AR
Help a stranded dinosaur get back home in this new app from the Natural History Museum.

Use your smartphone or tablet to feed and care for the dinosaur, analyse evidence like footprints or x-ray photos and take part in photo missions to learn more about the chick.

As you complete fun learning missions, you'll find out how the dinosaur got here and how you can help it get back to the right time period. Featuring some of the latest AR technology and stunning graphics, interact with the chick and learn more about dinosaurs all from the comfort of your own home.
Download the app on Google Play or the App Store now.
---
LISTEN TO THIS
FOR KIDS
But Why: A Podcast For Curious Kids
But Why is a show led by you, kids! You ask the questions and we find the answers. It's a big interesting world out there. On But Why, we tackle topics large and small, about nature, words, even the end of the world.
FOR YOU
Unlocking us Podcast from Brené Brown
Join researcher and #1 New York Times best-selling author Brené Brown as she unpacks and explores the ideas, stories, experiences, books, films, and music that reflect the universal experiences of being human, from the bravest moments to the most brokenhearted.

Brought to you by The LittleBird Family Pass – saving families money all year round. To find out how, click here