What's On This Weekend – Saturday 18th & Sunday 19th July
FUN & FANTASTIC THINGS TO DO WITH THE KIDS IN LONDON THIS WEEKEND
 SATURDAY 18TH & SUNDAY 19TH JULY
WALTHAMSTOW GARDEN PARTY, LLOYD'S PARK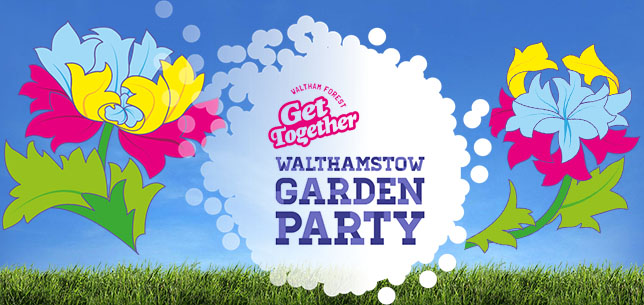 Ready to celebrate the start of the summer holidays? Then get yourselves to Lloyd's park for a lively weekend of music, theatre, dance, circus, film, spoken word, crafts and family fun. Featuring four stages, stalls and an extraordinary range of street food the weekend won't be long enough.
There's plenty going for the kids including the Mini Garden Party with drama and interactive storytelling, a mini disco, an adventure playground and the chance to meet salamanders, giant millipedes and snakes. There's a Family skate jam, Sport'ability area, kids yoga in East of Eden, outdoor performances, Barbican pop-up cinema and the fabulous sounding Craft marquee.  Screen printing, pendants & door signs making and decorating, create a medieval inspired fairytale booklet using paper printing plus the chance for kids aged 8+ to make their very own multi-note xylophone – wowzers!
When: Saturday 18th & Sunday 19th July, 12pm – 9.30pm (8pm Sunday)
Where: Lloyd's Park, E17
Age: Families
Cost: Free
LittleBird's Top Tip: Watch Wood Street Walls' artists paint bespoke murals live over the weekend. You and the kids can get involved too – contribute to a collaborative mural or use stencils and spray paint to make a personalised wooden sign to take home.
HORRIBLE HISTORIES BARMY BRITAIN – LIVE ON STAGE – SAVE 40% WITH LITTLEBIRD
Thanks to Horrible Histories, children are now fascinated by the past; the more disgusting and gruesome the fact, the better and if there's a catchy song too (Divorced, Beheaded, Died springs to mind) even better.
Horrible Histories Barmy Britain is a brand new show for the summer and is full of crazy new characters and rude new rulers from Britain's barmy past.  Will King John be a martyr for the Magna Carta? Will you see eye to eye with Admiral Nelson?  Does the Duke the Wellington get the boot? Party with the Puritans and vomit with the vile Victorians – all in the name of history!
When: Until 5th September
Where: Garrick Theatre, WC2H 0HH
Age: 6+
Cost: Tickets from £10.50, save 40% with LittleBird, book your tickets now
LittleBird's Top Tip: Enjoy plenty of savings on theatre trips with the kids this summer with LittleBird including Tiddler & Other Terrific Tales at the Leicester Square Theatre, The Railway Children at King's Cross Theatre and The Three Little Pigs at the Palace Theatre to name a few.
SECRETS OF ROMAN LONDONERS AT THE MUSEUM OF LONDON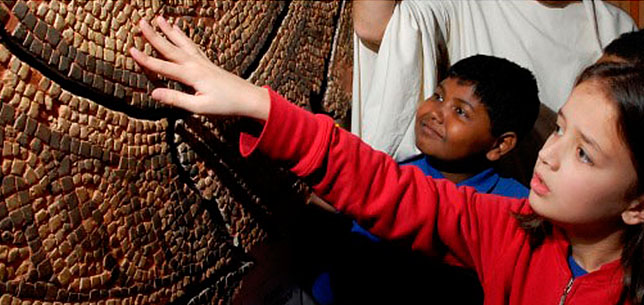 Part of the Museum of London's Festival of Archaeology, this Saturday Is Family Day where secrets of Roman Londoners where you and the kids get the chance to investigate what archaeology can reveal about life in Roman London.
In an array of workshops throughout the day, discover what people ate to where they came from and how they died with Museum of London experts. Let the kids write their own Roman-style curse, create a magic mosaic, see the remains of Roman meals from nearly 2000 years ago, get up close and personal with  Roman skeletons and explore what it was like to be a Roman Londoner by trying on costumes and playing Roman games.
When: Saturday 18th July, various times from 11am onwards
Where: Museum of London, EC2Y 5HN
Age: 5+
Cost: Free, drop ins
LittleBird's Top Tip: Kids eat free at the London Wall Restaurant and did you know the Barbican is a 5 minute walk away? Head over there for some laser art. Light Echoes allows you to enter a new world and watch as a single laser projects a sculptural wall of light, frame by frame, producing a finale that see data transformed into a wordscape (age 5+).
LONDON WONDERGROUNDS JAZZAMATAZZ, SOUTHBANK – SAVE 56% WITH LITTLEBIRD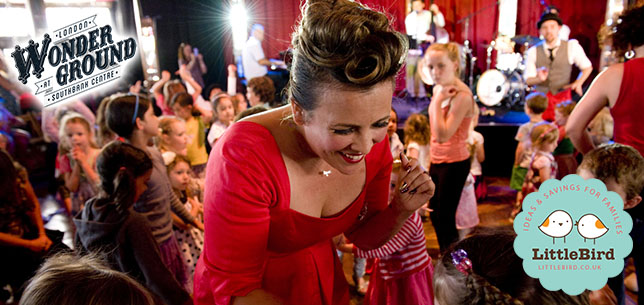 Take the kids to London Wonderground's spectacular spiegeltent this weekend and let them enjoy Jazzamatazz. Led by the talented Ali McGregor, the kids will love this jumpin', jivin' jazz experience.  Let the kids enjoy an hour of jazzy beats, sure to get them singing and prancing, twisting and dancing. You can join in or grab a drink and watch the youth tire themselves out on the dancefloor.
London Wonderground is a great place to hang out after the show. Enjoy delicious bites to eat, a bar area, fairground rides and a maze. London Wonderground is right next to the Jubilee Gardens and there's a playground there too – if anyone has any more energy left!
When: Saturday 18th & Sunday 19th July, 12pm
Where: Southbank, SE1 8XX
Age: 0 – 7
Cost: Adults and children £5 only with LittleBird, book your tickets here. Under 2's go free
LittleBird's Top Tip: This year's Festival of Love at the Southbank Centre is inspired by Nelson Mandela – his 67 years of service in the campaign for civil rights, 40 years as a campaigner and 27 a prisoner. So to honour the great man, this weekend is Mandela Weekend so be inspired, learn and celebrate.
FAMILY SATURDAY'S AT THE SKIP GARDEN, KING'S CROSS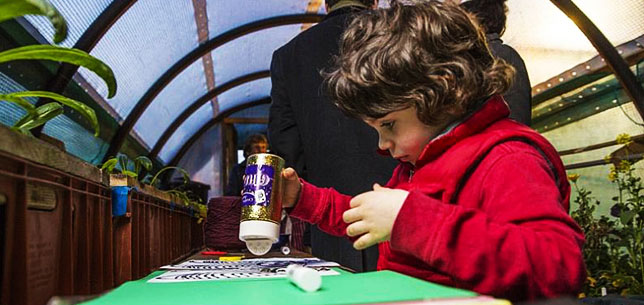 Families with under-5's are invited by Global Generation for gardening, cooking and crafts this Saturday.  So grab the kids and head to the Skip Garden –  a moveable, edible garden, right in the middle of the King's Cross.
Activities promise to be engaging and creative and expect little fingers to get mucky and sticky. Sessions include a fresh, home cooked meal – all for free! Older siblings, carers and grandparents are welcome as well.
Why not head to the outdoor art installation that you can swim in while you're here and experience Soil and Water: King's Cross Pond Club. Alternatively, let the kids splash about in the fountains at One Granary Square, there are an incredible 1,080 choreographed jets, each individually controlled and lit – what's not to like about that!
When: Saturday 18th July, 10am – 1pm
Where: Skip Garden, N1C 4AQ
Age: Under 5s
Cost: Free but spaces are limited (reserve your place by emailing ciara@globalgeneration.org.uk)
LittleBird's Top Tip: For families with older children, check out KERB & Emerald Street's all day brunch event in Cubitt Square.
BOND IN MOTION, COVENT GARDEN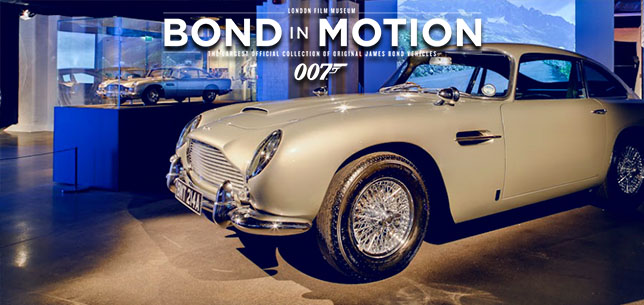 The name's Bond…Bond in Motion. This family friendly exhibition boasts the largest collection of original James Bond vehicles featured in some of the 23 Bond movies that have been made. From archetypal Bond car, the Aston Martin DB5, Goldfinger's Rolls-Royce Phantom III and The Spy Who Loved Me Lotus Esprit S1 submersible to various other 007 modes of transport including aircraft, boats and motorcycles and a Crocodile Submarine. There are examples of the creative process from the production company's art department including never-before-seen concept art and storyboards, offering a behind the scene view of how adrenalin pumping Bond action scenes are created.
When: Open 7 days a week, extended until autumn 2015
Where: London Film Museum, WC2E 7BN
Age: Families
Cost: Adult £14.50, Child £9.50, family ticket £38, under 5s free
LittleBird's Top Tip: You'll find the London Transport Museum also in Covent Garden with its newly opened family galleries , kids go free and adults pay £16 but your ticket is valid for 12 months offering unlimited entry.
TAKE ONE PICTURE AT THE NATIONAL GALLERY, TRAFALGAR SQUARE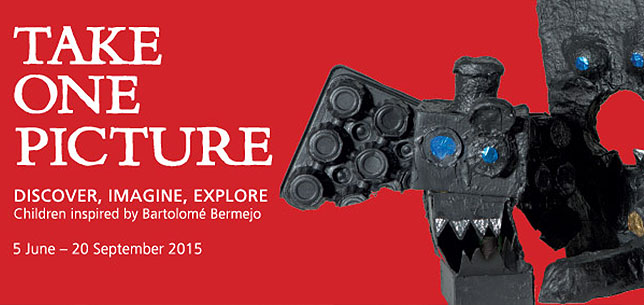 Take One Picture is the National Gallery's flagship project for primary schools. A free exhibition throughout the summer, the displayed works demonstrate the innovative ways in which schools have responded to Saint Michael Triumphant over the Devil by Bartolomé Bermejo. The children involved have used various types of media, from drawing to collage and metalwork, highlighting how subjective art is and how different people, in this case schools and their children, react and interpret the same picture.
Visiting on a Sunday? Then join artist Sarah Tombs in her Families workshop Leguminous Landscapes  – part of the Drawing Sunday regular family events and make sure you visit the Fourth Plinth Gift Horse by artist Hans Haacke outside the Gallery, situated in Trafalgar Square.
When: until 20th September
Where: The National Gallery, WC2N 5DN (Annenberg Court)
Age: Families
Cost: Free
LittleBird's Top Tip: If the kids are feeling inspired after the exhibition, pop into the National Portrait Gallery. It's free to enter and just round the corner.  There's a digital art space where you can look up particular portraits you'd like to see and create your own tour. Plus there are art stations with free sketch books available.
LAMBETH COUNTRY SHOW, BROCKWELL PARK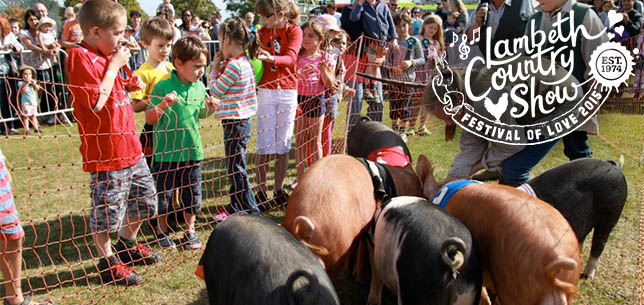 Now in its 41st year, the Lambeth Country Show returns to Brockwell Park offering the very best of the city and the countryside. Split into nine zones, there is something for all ages.  The Farm Zone hosts farm yard animals from Vauxhall City Farm, donkey rides and rare owls, plus sheep shearing demonstrations.  Activate zone's activities include Junior Shokk Bikes (Children's exercise bikes), Gym Tots, Ready Steady Go! – Smoothie Bikes and workshops as well as basketball, tennis, football and cricket. There's an Eco Zone, various performance stages promising an eclectic array of music, a Fun Fair as well as the Cultivate Zone offering dance and theatre along with the chance to dance, stretch your body and mind with some yoga and get Hula Hooping.
When: Saturday 18th & Sunday 19th July, 12pm – 8pm
Where: Brockwell Park, SE24 0PA
Age: Families
Cost: Free
LittleBird's Top Tip: Don't miss the Flower Zone with its renowned piece de resistance; the vegetable character competition!
FILM-IN-A-DAY FAMILY DAY AT THE SERPENTINE GALLERY, HYDE PARK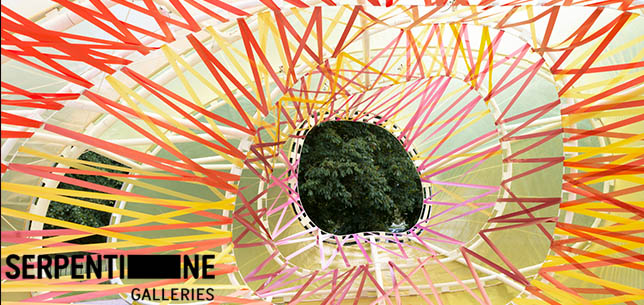 If you haven't taken the kids to see this year's  Serpentine Pavilion by Selgascano yet, this is the perfect reason to head over to Hyde Park. This Sunday, Artist Holly White and friends are inviting families to make a film-in-a-day, inspired by Lynette Yiadom-Boakye's practice of completing a painting in one day.
Holly will be turning the park into a film set for a futuristic space party. You and the kids work with a team of artists to create your own imaginary identities; join the party and make costumes, role play and dance as the day unfolds.
Resembling a multi coloured cocoon, the Serpentine Pavilion is home to a cafe and offers a social space to interact, ponder, excite and enjoy.
When: Sunday 19th July, 12pm – 5pm
Where: Sackler Centre for Education, Serpentine Galleries, W2 3XA
Cost: Free drop in
Age: Families
LittleBird's Top Tip: Make a day of it and pack your swimming bags and refresh in the Serpentine Lido or let the kids play in  Diana's Memorial Playground. Walk through the park heading towards Marble Arch and drop by Regent Streets Summer Streets – this Sunday it's all about Fashion.
THE BEACH BRENT CROSS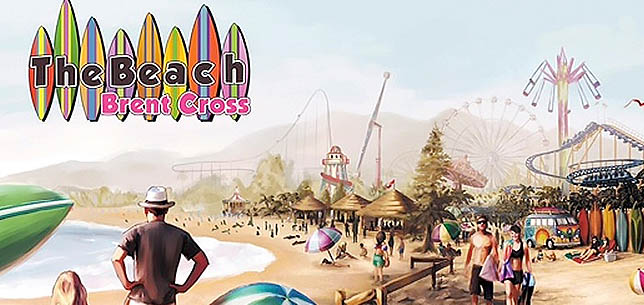 You don't have to leave London for beach time, we just need the weather! The Beach Brent Cross offers not only 259 tonnes of sand but 480 m2 of water play in the form of a giant paddling pool and water activities as well as rides and inflatable slides, a roller coaster, helter skelter, attractions galore, stalls, deckchairs, trampolines and more.
Pack a picnic, take some towels and don't forget your bucket and spade and sun cream. All rides and attractions take tokens that cost £1.20 each or 10 for a £10. Or, buy online via The Beach Brent Cross  booking page and get 25 tokens for just £20. Check out the events page for Punch and Judy shows and stilt walking throughout the school summer holidays and if you're arriving by car, there's plenty of free parking too!
When: until 2nd September, 12pm – 10pm
Where: Brent Cross Shopping Centre, NW4 3FP
Age: Families
Cost: £3 per person
LittleBird's Top Tip: There are beaches aplenty across London this summer with free beaches in front of the Royal Festival Hall on the Southbank, the Beach JW3 in West Hampstead, Royal Victoria Beach in Tower Hamlets and Camden Beach at the Roundhouse.