What's On This Weekend – Saturday 20th & Sunday 21st June
FUN & FANTASTIC THINGS TO DO WITH THE KIDS IN LONDON THIS WEEKEND
 SATURDAY 20TH & SUNDAY 21ST JUNE
WEST END LIVE, TRAFALGAR SQUARE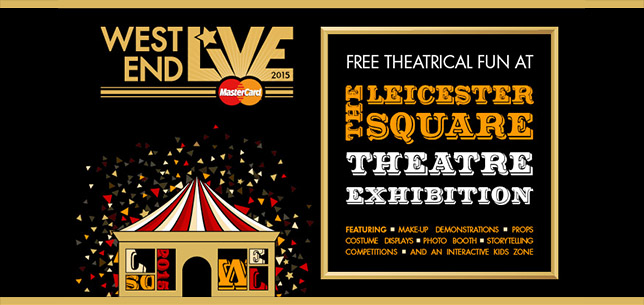 A fantastic opportunity to see some of the biggest West End shows for free – West End Live is back for the 11th year showcasing performances from some of the top theatre shows including Billy Elliot The Musical, Charlie and the Chocolate Factory, Matilda, War Horse, Lion King, Thriller and Stomp.  So whether you've seen them before or fancy a taster performance so you know what to book for Kids Week (1st – 31st August) when kids go free to top West End theatre shows.
The advice is to get there early as it's first come, first in – gates open 10.30am.Pack drinks and snacks and check the weather before you go – this is an outdoor event.
When: Saturday 20th June, 11am – 6pm & Sunday 21st June, 12pm – 6pm
Where: Trafalgar Square, WC2N 5DN
Age: Families
Cost: Free
LittleBird Top Tip: If you arrive on Sunday 21st and queues are afoot, the National Portrait Gallery has a Post-It Note animation drop in workshop for children aged 7+ – it's free and could act as a great diversion if your plans need to change; click here for more info. Plus the BP Portrait Award 2015 opens this week and is free too.
THE POWER OF POISON AT THE OLD TRUMAN BREWERY, BRICK LANE
SAVE 34% WITH LITTLEBIRD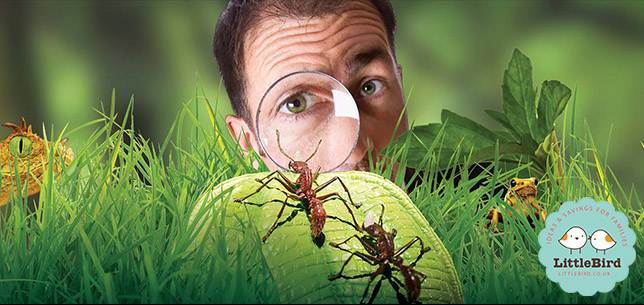 Discover the alluring, seductive and terrifying role of poison at the Old Truman Brewery and how it affects everyday life through nature, myth, medicine and healing. The Power of Poison creates an engaging and immersive exhibition through the use of interactive components, models, multimedia and live animals.
Poison, whether as a defence against predators, a source of magical strength, or a lifesaving medical treatment, is filled with mystery, intrigue, fascinating tales and surprising benefits. Investigate the reality behind renowned tales such as Snow White, Mad Hatters and Greek Legends and solve case studies using iPads studying evidence and comparing clues to figure out what poisoned a dog, an owl and Captain Cook.
When: Until 6th September
Where: Old Truman Brewery, E1 6QR
Age: 8+
Cost: Get up to 34% off your tickets with LittleBird with family tickets £18.50 (usually £28) book your tickets here. Vouchers valid until 6th September.
LittleBird's Top Tip: The Old Truman Brewery is just off Brick Lane, so why not enjoy a Nutella bagel from Beigel Bake or treat to the kids to a cereal cocktail at the Cereal Killer Cafe – mine's a Shooty Shooty Bang Bang!
CHILDREN'S ART WEEKEND AT THE ROYAL MEWS, BUCKINGHAM PALACE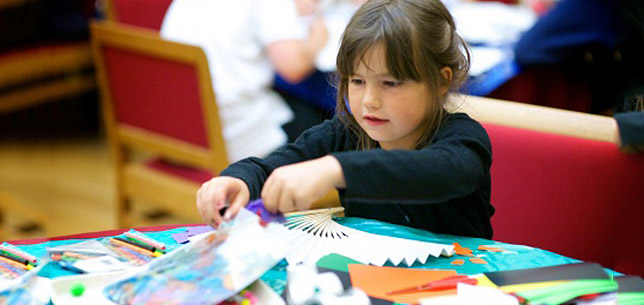 Children's Art Week comes to a close this weekend but there is still lots of creativity to enjoy. Head to The Royal Mews  and let the kids join a professional artist and make their own artwork capturing their visit to the Royal Mews.
Although the event is free, there is an admission price to The Royal Mews so make sure you allow extra time to see the Gold State Coach, go on the free family audio tour plus see the horses – all named by the Queen as well as the Rolls Royce Phantom VI, used by Kate Middleton on her wedding day.
When: Saturday 20th & Sunday 21st June, 11am – 4pm
Where: Royal Mews, Buckingham Palace,
Age: Suitable for everyone that loves the book
Cost: Free with standard admission price (adults £9, under 17s £5.40, under 5s free)
LittleBird's Top Tip: Children's Art Week runs until Sunday 21st June, is UK wide and promises more than 100 events. To find out more as well as you're nearest creative event, read our blog and  click here.
PHIL ELLIS'S FUNZ AND GAMEZ AT UDDERBELLY, SOUTHBANK
SAVE 36% WITH LITTLEBIRD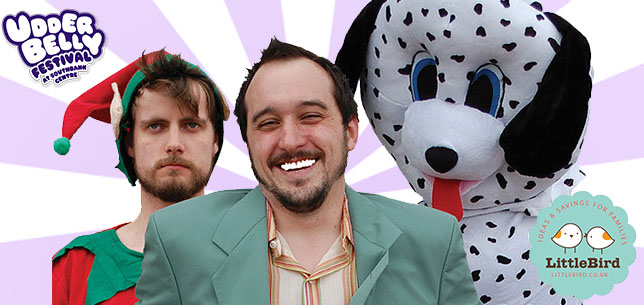 This weekend, enjoy a giggle-packed hour of family fun full with Phil Ellis's Funz and Gamez at the Udderbelly. Winner of the Foster's Edinburgh Comedy Award Panel Prize 2014, families are promised belly laughter, choreographed chaos and pure and utter silliness. Funz and Gamez was the undisputed anarchic cult hit of the Edinburgh Fringe and this time Phil Ellis has invited some friends to join him; Jim Elf and Bonzo the Dog.
Arrive early and enjoy hanging out on the Southbank – there's the Jubilee Gardens Playground and gardens directly in front of the London Eye, street theatre or simply head for the Udderbelly's pastures and soak up the atmosphere with a drink or an ice cream.
When: Saturday 20th & Sunday 21st June, 4.30pm
Where: Udderbelly, SE1 8XX
Age: 5+
Cost: £7 per ticket only with LittleBird, book your tickets here.
LittleBird Top Tip: It's International Yoga Day on Sunday 21st June so head to the Southbank early and make your way to South Bank Tower green space (nearest station Blackfriars) for the family yoga session between 11am – 11.45am. It's free and they will be plenty of mats for everyone. There are free yoga sessions from 9am.
TRACES AT THE PEACOCK, HOLBORN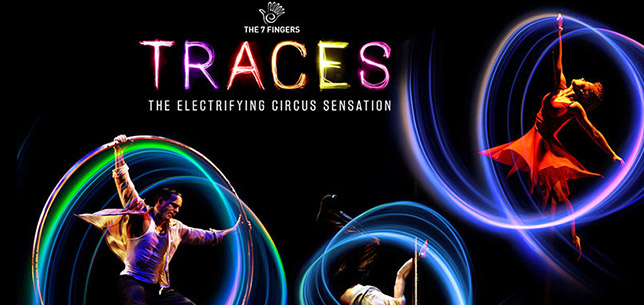 This is a trip to the theatre like no other! Traces – The 7 Fingers is a thrilling, gasp inducing performance and returns to the Peacock this summer. The Montreal-based collective leap up giant poles, tumble through hoops and balance effortlessly on each other's heads in a performance that mixes spectacle with storytelling. Film clips and narration allow us to follow the charismatic artists' lives and by the finale, you'll be hooting and rooting for them to pull off the seemingly impossible!
When: Runs until 12th July
Where: Peacock Theatre, WC2A 2HT
Age: 5+
Cost: Tickets start at £15 and under 16s go half price
LittleBird's Top Tip: You're not far from Lincoln's Inn Fields; London's largest public square. With sports grounds, sculptures and the yummy scrummy Benugo's Fields Bar & Kitchen where you can enjoy wood fired pizza. Benugo donates a percentage of every purchase you make to the nearby Sir John Soane's Museum, so you can enjoy your meal in the knowledge that you're helping to support the museum's work.
FOWL PLAY – A FARMYARD ADVENTURE AT THE PUPPET THEATRE BARGE, LITTLE VENICE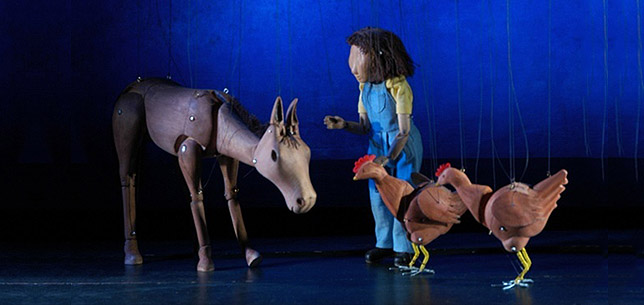 Enjoy a bit of Fowl Play in this unique setting on the Puppet Barge. Residing in Little Venice for most of the year before it goes off on its summer travels, the Puppet Barge is rich in atmosphere and provides the ideal setting for the magical and imaginative shows produced throughout the year.
Down on the farm a foal is born, causing much excitement among the animals. The chickens soon spread the news which leads to an unexpected turn of events in this farm yard adventure. The production features carved marionettes and original music.
When: Saturday 20th & Sunday 21st at 3pm with a Saturday morning performance at 11am
Where: The Puppet Theatre Barge, Little Venice, W9 2PF
Age: 3+
Cost: Adults £12, Children £8.50
LittleBird's Top Tip: Little Venice is a beautiful spot where the Grand Union and Regent's Canals meet, and offers an array of waterside cafes, pubs and eateries. You can take a boat trip along the canal or simply take a stroll along the bankside and enjoy the winding waterways – magical!
SOUTHWESTFEST FESTIVAL DAY, PIMLICO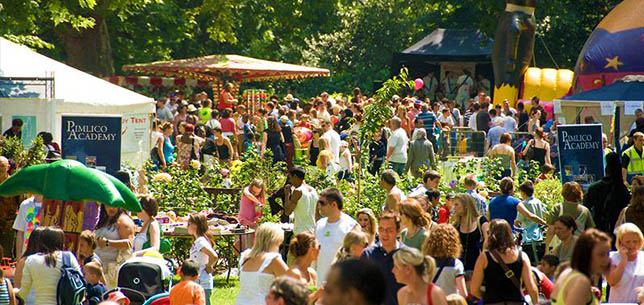 SouthWestFest Festival Day opens with a book themed children's Carnival Parade that includes vintage vehicles, a route master bus plus a 25 piece samba band! Two stages offer live performances and music, there's the Family Fun Marquee, crafts and activities and the chance for the kids to meet the animal stars from Vauxhall City Farm.  All the fun of the fair is promised with rides for all the family, a pop up portrait photo-booth, Peabody's Digi-Bus as well as Graffiti Art sessions.
SouthWestFest runs from 19th – 28th June. To download the 2015 brochure, click here
When: Saturday 20th June, 12pm – 6pm
Where: St George's Square, SW1V 3QW
Age: Families
Cost: Free
LittleBird's Top Tip: If you already have plans for this Saturday, put Peter Pan's Picnic in Millbank Gardens next Saturday 28th June in your diary. A great looking family event, for more info, click here
CROYDON HERITAGE DAY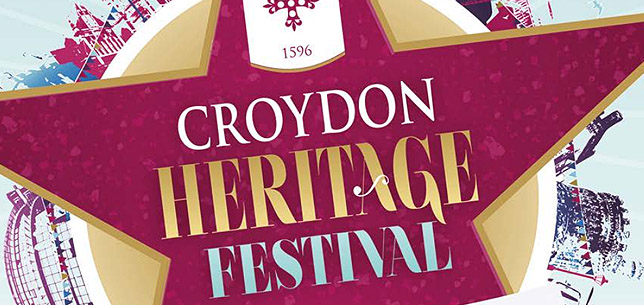 The Croydon Heritage Festival kick starts its celebratory week of events with Croydon Heritage Day. The streets will be filled with performances for families plus there will be music, drama and art as well as local craft and food stalls.
Expect carnival drums and musical performances as well as lively tap, jazz and street dance plus Bollywood, Indian Classical and Tudor dances as well as drama performances from Trinity and the BRIT Schools. There'll be steel pans, choir pieces from around the world as well as jazz, brass and neo-soul performances.
When: Saturday 20th June, 11am – 5.30pm
Where: North End, Croydon
Age: Families
Cost: Free
LittleBird Top Tip: The Croydon Heritage Festival runs from Saturday 20th – Sunday 28th June and highlights the links Croydon has with famous people and events from the past, present and future…. To see all events throughout the festival, click here
FAMILIES FUNDAY AT THE BFI, SOUTHBANK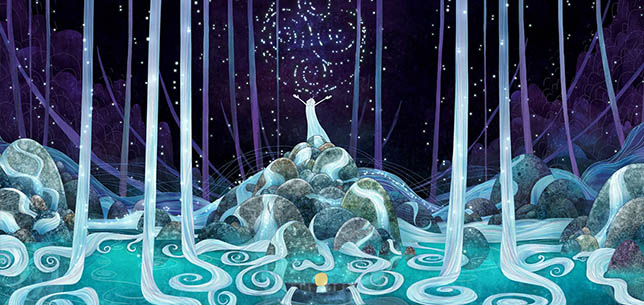 Head to the BFI's Funday family workshop and film this Sunday and enjoy hands on activities and crafts inspired by storytelling. Song of the Sea is a beautiful story that combines mythology and adventure.  The kiddies will get the chance to draw mythical creatures and stunning landscapes, and then bring them to life in an animation workshop. Plus there is the usual arts and crafts and prizes to be won.
The workshop runs between 11am – 12.30pm with Song of the Sea starting at 1pm so get ready to sit back and enjoy this animated tale from Ireland bursting with ancient magic and folklore. Ben's little sister Saoirse still can't speak, but is enchanted by the ancient sea shell that once belonged to their mother. Soon, Ben and Saoirse become immersed in a world of ancient magic and mystical creatures who help them understand their mother's fate, and Saoirse's true destiny.
When: Sunday 21st June, workshop 11am – 12.30pm, film starts 1pm
Where: BFI Southbank, SE1 8XT
Age: Families
Cost: Buy one adult and one child combo ticket for £10 (normal price Adults £11.75, Children £4)
LittleBird Top Tip: The BFI and LittleBird are handing out free BEAR paws at the workshop from our grrrrreat friends at BEAR so look out for your healthy goodies to enjoy during the film! To find out more about more family fun at the BFI Families; click here
STREATHAM COMMON KITE DAY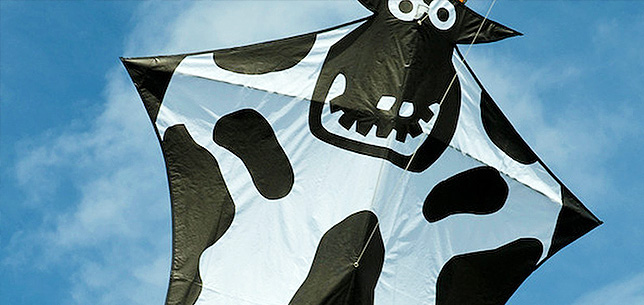 This Sunday sees the 17th Streatham Common Kite Day – with all things kite related promised; kite flying, kite buying and kite demonstrations plus flying tuition. The UK Champions will be there plus there will be displays to music, Cascade Kites and Smorg the Dragon!
Plenty of refreshments will be on hand including hog roasts and crepes as well as face painting and a bouncy castle. With some good weather and a bit of wind – a great family day out is promised.
When: Sunday 21st June, 11am – 5pm
Where: Streatham Common
Age:  Families
Cost: Free
LittleBird's Top Tip: Why not make your own kite and bring it along to the Kite Day. All you'll need is a bin-bag, two sticks, a bit of sellotape and some string; for instructions, click here