Keep them occupied this Summer!
It's time to start thinking about ways to keep your kids occupied during the long summer break. The Royal Institution's Summer Schools programme is packed full of fun, inspiring and educational workshops for those aged 7 to 18.
Sessions run from 27 July – 28 August, costs vary. To find out more, visit the Royal Institution website.
Image credit: Tim Mitchell
Lead by experts from the world of academia, education and industry, Summer Schools will introduce concepts of science, mathematics, engineering and computer science through interactive demonstrations and hands on challenges. Summer Schools go beyond the national curriculum, giving a unique opportunity for young people to expand their horizons. Build a robot, try your hand at computer coding or explore the enigma machine – with over seventy sessions to choose from, there's bound to be something that will inspire and challenge your child before they go back to school in September.
The sessions are aimed at all abilities, whether they're a scientific whizzkid or just want to find out more. In Mathematical Origami, a session for those aged 7 – 9 and 10 – 12, students get creative, practicing their paper folding skills to explore shapes like fractals and even solve equations! The older kids get a chance to show their creative flair too in Bringing the world to life, a session for those aged 13 – 15 in which they'll get to try their hand at projection mapping – an increasingly popular way to create spectacular light shows for public art or music concerts.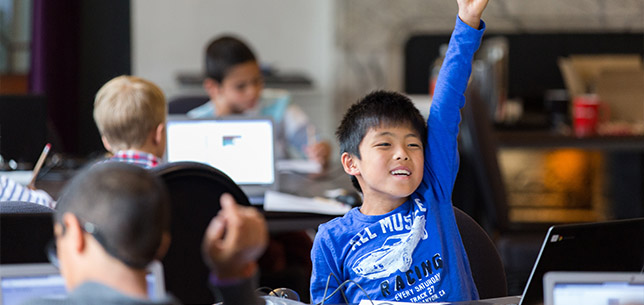 Image credit: Tim Mitchell
For those wanting to get ahead with coding, there's a variety of workshops looking at computer programming. Coding the web will teach your 10 – 12 year old how to become a future web designer and The artistry of algorithms will prepare your child with the basics of programming before they head off to University.
For the young inventers, Budding Entrepreneurs shows you how to create new ideas and bring them to market. Through a series of hands on challenges for 16 – 18 year olds, students will work in teams to build up their idea from scratch to create an exciting, innovative final product. Or if you just want to get hands on you can always try Engineering arches or Building bridges. Have a look through the programme and you're bound to find something exciting to keep your child active over the summer.