What's On This Weekend: 18th – 19th April
FUN & FANTASTIC THINGS TO DO WITH THE KIDS IN LONDON THIS WEEKEND
SATURDAY 18TH  & SUNDAY 19TH  APRIL
LONDON BOOK  & SCREEN WEEK, LONDON WIDE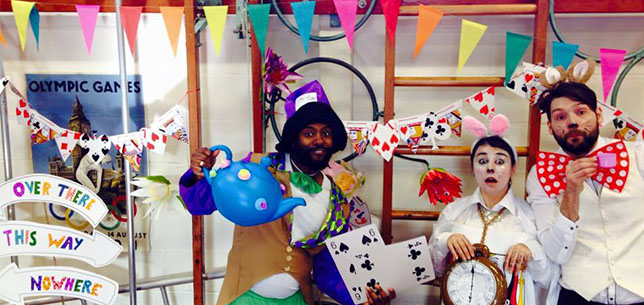 London Book & Screen Week comes to a close this weekend but there is still much to explore, discover and enjoy at an array of events that celebrate and applaude the written word in all it's forms.
Go on a book crawl,  fly high into the sky at the Polka Theatre in Operation Magic Carpet,  admire Nursery Classics at the V & A in Frederick Warne's picture books exhibition including Beatrix Potter and Edward Lear's The Owl and the Pussy Cat plus experience tea with the barmy and bonkers Maddest of all Hatters with Paper Chain Theatre's interactive and immersive  The Mad Hatter's Tea Party at Carnegie Library in Herne Hill.
When: Saturday 18th & Sunday 19th April
Where: London wide – check specific events near you
Age: Families
Cost: Varies – dependent on specific event
LittleBird Top Tip: Enjoy LittleBird's exclusive offer of £10 worth of free MeBooks – choose from a fabulous selection of classics, comics and bedtime stories from this award-winning app. You can personalise with your own narration and add sound effects too. As a member of LittleBird all you need to do is  Click here to claim your free code.
BALLOONS AT THE ARCELORMITTAL ORBIT, STRATFORD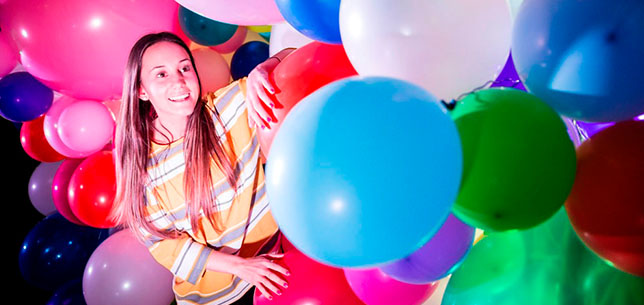 The ArcelorMittal Orbit has been celebrating it's first birthday this Easter and to mark the occasion, families are being invited to play with the 2,500 balloons that will be floating their way to the upper viewing platform. Children and adults alike can navigate their way through the maze of coloured balloons and play with the topsy-turvy reflections in two giant concave mirrors. Plus, there's a balloon modeller there between 1pm – 4pm – I'll have a sausage dog please!
 When: Saturday 18th & Sunday 19th April
Where: Arcelormittal Orbit, E20 2AD
Age: Families
Cost: Adults £15, Children £7 – buy online and save 20%
LittleBird Top Tip: With so much to see and do surrounding the ArcelorMittal Orbit you're spoilt for choice; there's the Queen Elizabeth Olympic Park home to the Copper Box Arena and  Lee Valley VeloPark to name a few and Westfield Stratford City.
THE LONDON TIME TOUR BUS,  TRAFALGAR SQUARE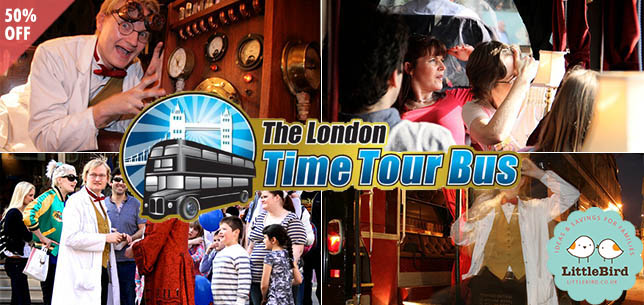 Voyage around London's famous sites on a classic 1960s Routemaster bus.  Enjoy this unique tour of London and journey through time as you visit iconic landmarks in central London. Let the quirky and enthusiastic Professor Quantum shares his time travelling tales with live theatrics and a quizzical air of mystery! The London Time Tour Bus brings history alive in this imaginative, time travelling experience.
If you can't make it this weekend, your LittleBird voucher is valid until 1st July so grab it now and enjoy 50% off any weekend or save it for a great day out in the May half term.
When: Saturday 18th & Sunday 19th April, 2.40pm
Where: Tours depart on Saturday & Sunday from Northumberland Avenue, just off Trafalgar Square
Age: Families
Cost: Tickets £12 – 50% off with LittleBird, click here to purchase your voucher
LittleBird Top Tip: A hop, skip and a jump from Trafalgar Square, there's lots to enjoy before or after your tour. St James Park is a 5 minute walk with pelicans, playgrounds, deck chairs and a cafe. Or pop into the National Gallery or the National Portrait Gallery and don't forget to look out for the fourth plinth new commission by Hans Haacke, Gift Horse on route.
RECORD STORE DAY 2015 ON BERWICK ST, SOHO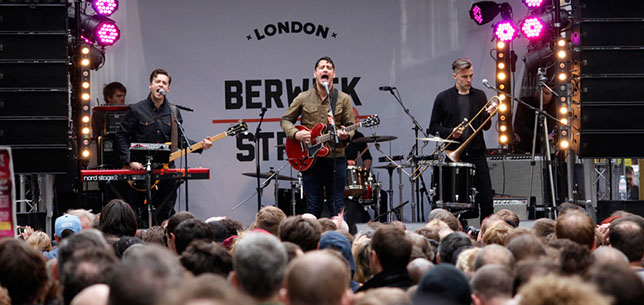 If the kids don't know what vinyl is and you still love it, then head to the heart of Soho this Saturday and enjoy this free music festival celebrating Record Store Day 2015 and educate your lovelies. There will be a stage with live performances a plenty including Young Knives, DJ Yoda, Lazy Talk, John Cooper Clarke and 2 Bears.  The celebrations will continue in store with five independent vinyl stores hosting a series of DJs, events and exclusive vinyl releases from 9am – expect live music, DJ sets, discounts and more.
There's a market to stroll around and pick up a tasty treat from the hot food stalls, you can pose for a photo in front of at Cass Art's Oasis vinyl wall plus visit Soho's largest comic store, Gosh!, to pick up a free 'zine'.
When: Saturday 18th April, 12pm – 6pm
Where: Berwick St, W1F 8SJ
Age: Families
Cost: Free
LittleBird Top Tip: If you want a sit down and the kids love pizza – you can't go wrong with Soho Joe's – fab pizza, fab prices!
VINTAGE RAMBERT FAMILY DANCE WORKSHOP AT THE SOUTHBANK CENTRE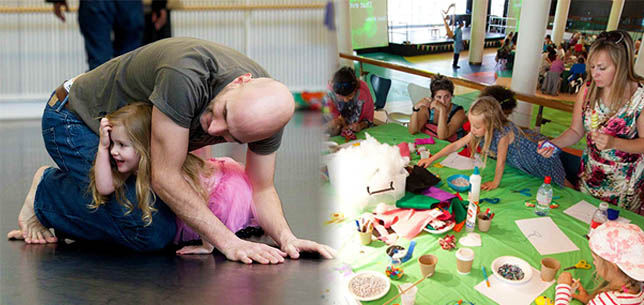 This Saturday you can learn to move like a dancer from the Rambert Dance Company! This free family workshop, inspired by early productions from Rambert Dance Company's history, promises families lots of fun and laughter through movement, dance and creative games.
After the workshop, get your sticky-back plastic at the ready and head for the Blue Peter style Crafty Makes workshop taking place between 12pm – 4pm (Level 2 Foyers).  Expert crafters are on hand to 'show you one they made earlier' and provide you with the materials to complete a 'make' of your own. Have fun with the kids transforming household junk and old packaging into games and toys.
When: Saturday 18th April, 11am – 12pm
Where: Royal Festival Hall, SE1 8XX (Clore Ballroom)
Age: 5+
Cost: Free
LittleBird Top Tip: The Rambert Workshop is part of the Changing Britain 1945 – 1979 Festival at the Southbank Centre this weekend and there are various free film, music and workshops exploring the culture, music and lifestyle from the 1940s to the 1970s happening between 11am – 11pm on Saturday and Sunday in The Clore Ballroom.
SPRING NATURE TRAIL ADVENTURE AT CAMLEY STREET NATURAL PARK, KINGS CROSS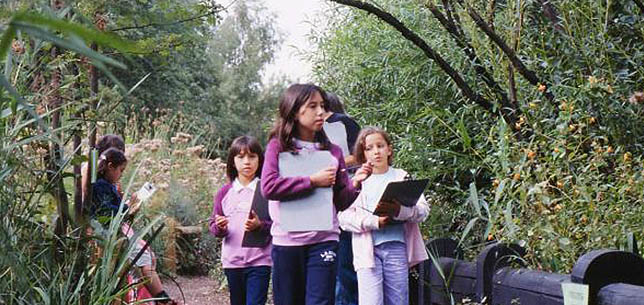 Put a Spring in your step this Saturday afternoon and visit Camley Street Natural Park and go on a family adventure. Camley Street Natural Park was created from an old coal yard back in 1984 and it now looked after by the London Wildlife Trust. The reserve has a visitor centre and provides natural habitat for birds, butterflies, amphibians and a rich variety of plant life.
This Saturday, enjoy the opportunity to explore all the different habitats (including pond, meadow and woodland) and the animals that call them home. Learn to recognise the first signs of spring with a guided walk around the reserve.
When: Saturday 18th April, 2pm – 4pm
Where: Camley Street Natural Park, N1C 4PW
Age: Families
Cost: Free – booking required
LittleBird Top Tip: You're not far from Kings Cross Granary Square; well worth a trip before the nature trail. Get a bite to eat from Caravan, sit on the canalside steps or watch the 1,000 choreographed fountains and look out for the natural bathing pond opening soon!
BUBBLES BUBBLES BUBBLES AT THE SCIENCE MUSEUM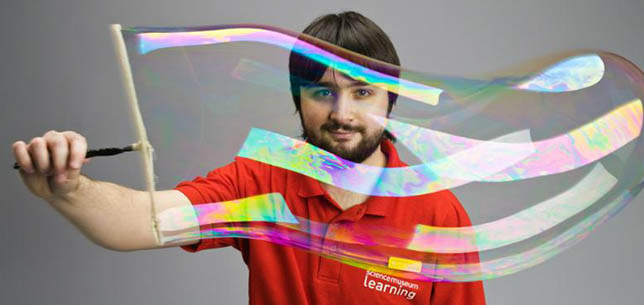 Enjoy Bubbles Bubbles Bubbles at the Science Museum this Saturday. A free show taking place 12.30pm, 2.30pm & 4.30pm – find out the Science Museum's secret bubble recipe and you might even get the chance to step inside their famous human bubble.
While you're here, take part in a live experiment and get to know yourselves as a family a little bit more….What makes you laugh and cry? Help the Science Museum's Live Science researchers from University College London discover more about how social experiences influence our responses to other people laughing and crying – it only takes 5 minutes and anyone over the age of 3 can tajke part.  Plus there's also the Cravings  exhibition to visit and explore how food affects your body, brain and eating habits. Help Heston Blumenthal find out more about how our senses can affect how we enjoy our food – you can take part in this experiment right now; click here  – snail porridge anyone?
When: Saturday 18th April, 11am – 1pm & 2pm – 5.30pm
Where: Science Museum, SW7 2DD
Age: 3+
Cost: Free
LittleBird's Top Tip: The Natural History Museum is just round the corner with the brand new exhibition Coral Reefs: Secret Cities of the Sea plus the Sensational Butterflies are back!
SPRING AT KEATS HOUSE, HAMPSTEAD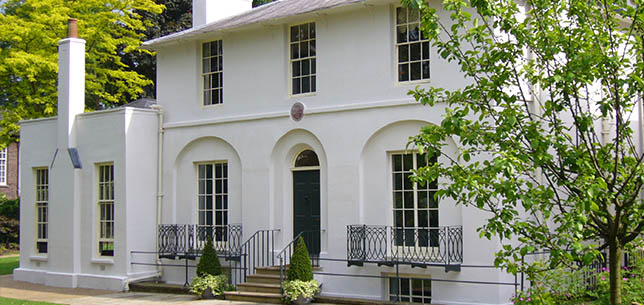 Spring is in the air… and  what better way to celebrate the new season than spending a Sunday afternoon in the beautiful Keats House and garden in their Family Fun Day. Be inspired by weather poems, make-your-own feather decorations and enjoy the famous Keats House Easter Egg Hunt – there is still chocolate to find!
Romantic poet John Keats spent two years (1818 – 1820) living at this house that we now know as Keats House and penned his famous 'Ode to a Nightingale' from under a plum tree in the garden.
When: Sunday 19th April, 1pm – 3pm
Where: Keats House, NW3 2RR
Age: 5+
Cost: Free drop in
LittleBird Top Tip: Go to Hampstead early, pack your swimming bags and enjoy an invigorating family open air swim!
POP-UP PORTRAIT PUPPETS AT THE NATIONAL PORTRAIT GALLERY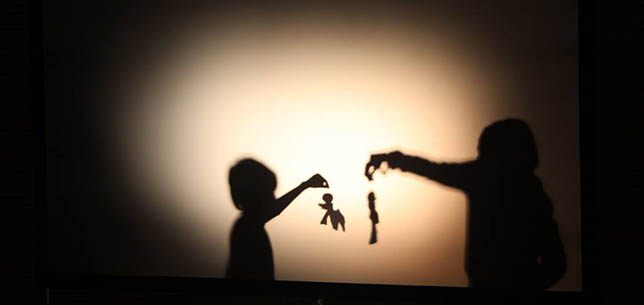 Imagine and create this Sunday at the National Portrait Gallery in this family drop in session: Pop-Up Portrait Puppets. Make a mixed-media shadow puppet of your favourite portrait and then create a performance of its magical journey. Tell a story, create a journey, Imagine where it will travel to and who it will meet on the way?
Enjoy the Gallery's digital art space where you can look up particular portraits you'd like to see and create your own tour. Plus there are art stations with free sketch books available.
When: Sunday 19th April, 3pm – 4.30pm
Where: National Portrait Gallery
Age: 7+
Cost: Free drop in
LittleBird Top Tip: While you're in Trafalgar Square, enjoy searching for Aardman's  Shaun the Sheep. There's over 100 giant sculptures involved in this art trail created by artists, celebrities and designers, placed in iconic locations and beautiful green spaces across London. Baa-rilliant!
MUSEUM DROP IN AT FULHAM PALACE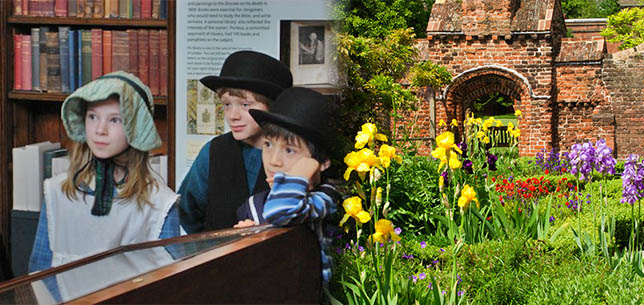 Pop along to Fulham Palace Museum this Sunday and getting ready to don some WW11 period costumes, get hands on with artefacts and learn all about the history of Fulham Palace.  There are displays of everyday objects that provide clues as to how people in the past lived, worked and played at Fulham Palace. Look out for the art cart in the museum – always available with a variety of activities for the kids to be inspired by and enjoy.
The extensive grounds and garden are not to be missed and the moat woodland walk is a must and with spring in the air. If the weathers looking good, pack a picnic and head to the gardens or enjoy The Drawing Room Cafe  where the seasonal menu changes daily.
When: Sunday 19th April, 2pm – 3.30pm
Where: Fulham Palace, SW6 6EA

Age: Families
Cost: Free – no booking necessary
LittleBird Top Tip: Fulham Palace runs a monthly Young Archaeologists' Club (£15 per session). Let the kids take a trip to the Thames and explore the local foreshore this Saturday 18th April and learn all about the history of the river Thames –  mudlarking is promised.