What's On This Weekend: 11th – 12th April
FUN & FANTASTIC THINGS TO DO WITH THE KIDS IN LONDON THIS WEEKEND
SATURDAY 11TH  & SUNDAY 12TH  APRIL
STORY SCRAMBLE AT THE TOWER OF LONDON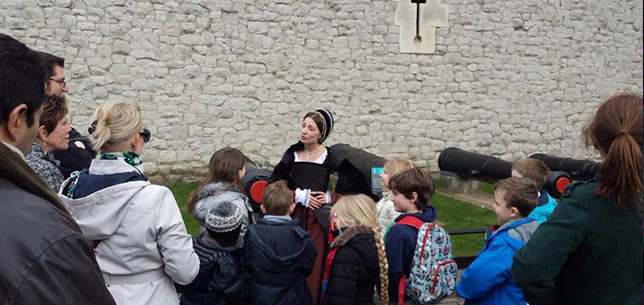 The Tower of London has lots of stories to tell. This weekend, enjoy this interactive trail and game especially created for families.  Some of the Tower's stories have been scrambled up and must be put back together again. See if you can connect the pieces as you explore 1000 years of history in just one day!
The Tower of London has absolutely tons for families to enjoy, explore, and discover – get taken on a tour of the Tower by one of the Yeoman Warder Towers (beefeaters to you and me!) or go on a trail as a family – packed with fun quizzes, activities, facts and illustrations – you'll explore the home of the Queen's Crown Jewels and the rooms of Edward I.
When: Saturday 11th & Sunday 12th April
Where: The Tower of London
Age: Families
Cost: Included in entry price – adult £24.50 (online £23.10) , child £11 (online £10.50) – under 5s go free
LittleBird's Top Tip: Legend has it that the kingdom and the Tower will fall if the six resident ravens ever leave the fortress. It was Charles II, according to the stories, who first insisted that the ravens of the Tower should be protected. Meet these legends in this video and see if you can spot them on your visit.
MADAGASCAR MAGNIFIED AT LONDON ZOO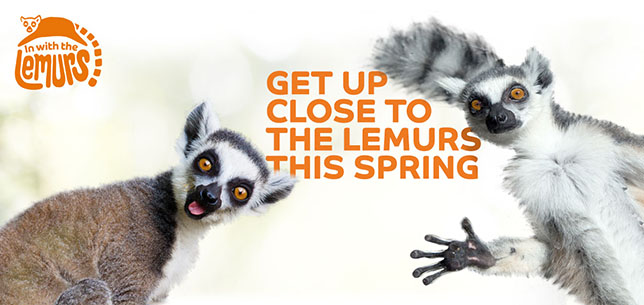 London Zoo has been celebrating it's new Lemur walkthrough, In With The Lemurs, this Easter and what better way to celebrate than exploring and discovering the unique world of Madagascar! If you haven't managed to get there yet this Easter, this weekend is your last chance. Enjoy Madagascar Magnified between 11am – 4pm where children can learn to leap like a lemur, have a go at grub grabbing in the Aye–Aye game and take part in the Great Lemur Dash.
There is also an exciting timetable full to the brim of talks and shows happening all over the zoo throughout the day including Penguin Beach Live!, Giants and Dragons and Giraffe High Tea.
When: Saturday 11th & Sunday 12th April (runs until 13th April)
Where: London Zoo, NW1 4RY
Age: Families
Cost: Online ticket costs – Adults £25, Children £18.50
LittleBird's Top Tip: Pick your hit list before you go with this map and download the free app to create your own tour!
ALICE'S ADVENTURES UNDERGROUND AT THE VAULTS, WATERLOO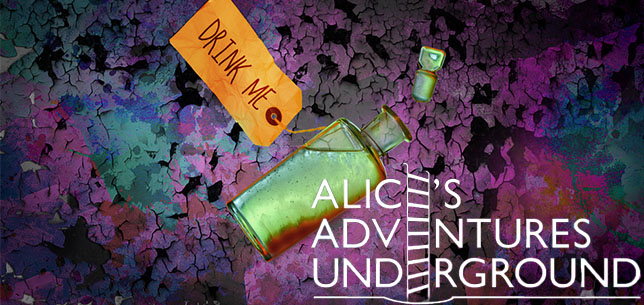 Fall down the rabbit hole this weekend as Les Enfants Terribles celebrate the 150th year of Lewis Carroll's Alice in Wonderland. In the Vaults deep underneath Waterloo Station discover a Wonderland in all its nonsensical glory – this is Alice's Adventures Underground.
As a family you'll journey down the rabbit hole to gorge on cakes that will have you bumping your head on the ceiling, you'll get to smoke a pipe with the Caterpillar as he tells you his psychedelic tale and of course take tea with the maddest of Hatters! All of this whilst trying to avoid losing your head at the hands of the fearsome Red Queen. This is Alice's journey and yours!
When: Saturday 11th & Sunday 12th April (runs until 31st May)
Where: The Vaults, SE1 7NN
Age: 11+
Cost: Saturday £47.50, Sunday £35
LittleBird's Top Tip: This show sounds amazing but it's worth noting that it's 90 minutes long and for most of that time, you and the kids will be standing up and there is a dress code requesting red and black attire!
AWESOME ANIMALS AT STRAWBERRY HILL HOUSE, TWICKENHAM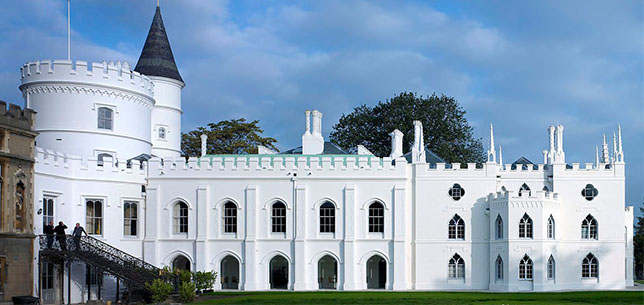 If you've never ventured to Strawberry Hill House – let some awesome animals entice you and the kids this Saturday.  Let the kids design and create their favourite animal in this drop in workshop; Awesome Animals using pompoms and other craft materials. Bunny, dog, panda, elephant, or anything cute and furry? Pompoms at the ready – and begin!
There is also the Cheeky Chickens Around the World free Easter trail to be enjoyed plus the beautiful surroundings of this magical gothic house and gardens. Look out for the Shell bench in the gardens – a great photo opportunity!
When: Saturday 11th April at 12.30pm
Where: Strawberry Hill House
Age: 3+
Cost: Entry is free for the kids with adults £12 – the workshop is £2 per child
LittleBird's Top Tip: Horace Walpole's 18th Century gothic house Strawberry Hill is right by the Thames Path – with a river walk making a perfect start or end to your day. Maybe a picnic by the river if the sun keeps shining….
SHH! WE HAVE A PLAN AT FOYLES BOOKSHOP IN WESTFIELD STRATFORD CITY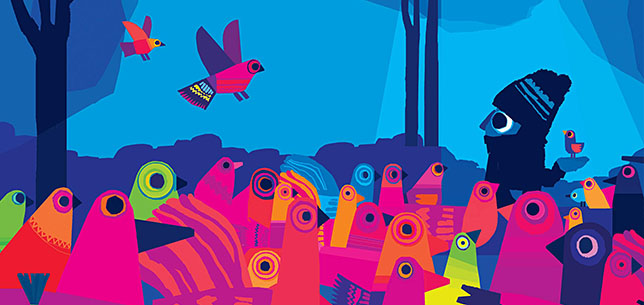 If it's time to top up on school uniform for the summer term, then head to Westfield Stratford City and spend the morning in Foyles. Let the kids join this celebration of Chris Haughton's newest picturebook Shh! We Have a Plan.  There'll be craft activities to get stuck into inspired by Haughton's unique illustration style plus  readings from his hilarious picturebooks.
When: Saturday 11th April, 11am – 12pm
Where: Westfield Stratford City, E20 1EJ
Age: 3+
Cost: Free – the event is ticketed and booking is advised
LittleBird's Top Tip: There's a Kids Club you can join that has lunch offers and events for the kids plus information like where to get your hands on a kiddy car and where you can find Playworld. 
BOAT RACE IN THE PARK IN BISHOPS PARK, FULHAM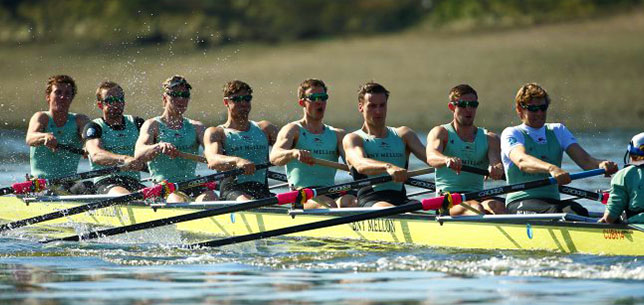 Bishops Park, named after it's former resident of Fulham Palace which lies within the park,  is a hive of activity on Boat Race Day. Bishops Park is located opposite the start of the race by Putney Bridge and offers a plethora of free entertainment. Family fun, live music, beer tents and food are all part of the build-up from 12pm along with big screens to ensure you don't miss anything.
2015 is the 161st Oxford and Cambridge Boat Race and sporting history is being made when both the men's and women's boat race hit the Thames on the same day. The women's race starts at 4.50pm and the men's race starts at 5.50pm.
When: Saturday 11th April, 12pm – 6.30pm
Where: Bishops Park, SW6 6SX
Age: Families
Cost: Free
LittleBird's Top Tip: Why not pop along to Fulham Palace while you're here  – the museum and gardens are free to enter and there's lots to explore and discover.
TOMORROW'S WORLD AT THE ROYAL ACADEMY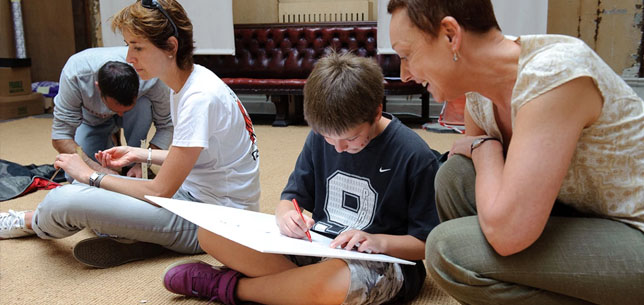 Head to the Royal Academy this Sunday for a free family workshop and be inspired by famous architects visions for future living, Tomorrow's World. You'll be asked to construct your own blueprint for the house of your dreams, be it a castle or a space station!
While you're here, enjoy the RA's Art Detective Family Trails, you can download the Richard Diebenkorn Trail inspired by the current Richard Diebenkorn exhibition. There's family friendly cafes and the beautiful Annenberg Courtyard – an inspiring space to sit and ponder or let the kids run around.
When: Sunday 12th April, 11am – 3pm
Where: Royal Academy, W1J 0BD
Age: Families
Cost: Free
LittleBird's Top Tip: Under 16s go free to all exhibitions at the RA and make a note for your diary that during the Summer Exhibition there are art trays available that contain free sketchbooks and pencils so you can take home your own masterpieces.
Make a day of it? You're ever so close to Piccadilly Circus and the iconic statue of Eros, and Fortnum and Mason is virtually opposite the Royal Academy – always good for a whizz around the chocolate and sweets departments on the ground floor; a cornucopia of naughtiness!
SUNDAY FUN-DAY AT CHELSEA PHYSIC GARDEN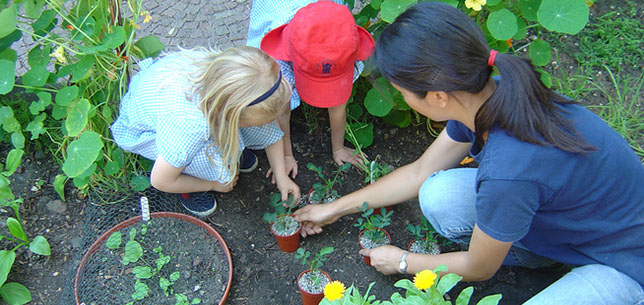 There will be a free drop in session for families in the Chelsea Physic Garden between 12 and 4pm this Sunday. Different themes reflecting the changing seasons in the Garden will be explored and all sessions promise to be hands on with activities for all the family. Get to know the Garden together and leave with newly discovered shared knowledge. Download a map and fact sheet before you go, it' full of interesting facts; what plants are edible, which are carnivorous and a warning about the poisonous ones!
In need of refreshments, there's the Tangerine Dream Cafe – serving their renowned homemade Amalfi lemonade; Saluti!
When: 12th April, 12pm – 4pm
Where: Chelsea Physic Gardens, SW3 4HS
Age: Families
Cost: Free drop in
LittleBird's Top Tip: You're a 15 minute walk away from the Saatchi Gallery  – free admission – situated in the fabulous Duke of York Square and about 15 minutes walking distance (in the other direction) from Battersea Park Zoo so for those of you that brought the discounted membership on LittleBird – it's another perfect opportunity to go.
THE SLIPPER AND THE ROSE AT THE BFI, SOUTHBANK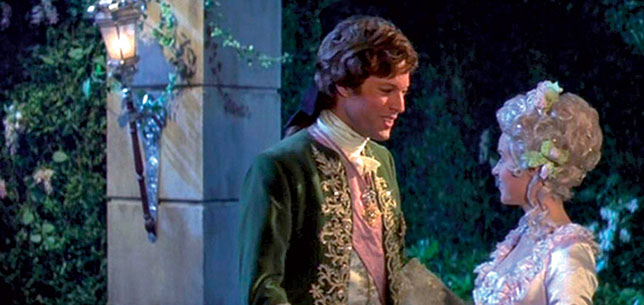 Inspired by the recent Disney Cinderella? Take the kids and have yourself a reminisce with this live action musical take on the classic story of Cinderella – The Slipper and The Rose starring Richard Chamberlain as Prince Charming at the BFI this Sunday. Featuring  songs from the Sherman Brothers (Mary Poppins, Chitty Chitty Bang Bang) – this is a visual treat for all the family.
Unhappy circumstance forces Cinderella to live in the cellar as the servant of her 'step-family.' Meanwhile, Prince Edward is under pressure to marry by arrangement rather than love, but with a few flicks of the fairy godmother's wand, their destinies are changed forever….and they all lived happily ever after; aaahhhh.
When: Sunday 12th April at 1pm
Where: BFI, W1T 1LN
Age: Families
Cost: Adult £11.75, children £4 – combo ticket for one adult & one child £10
LittleBird's Top Tip: Wondering what to do before? Pop along to the Southbank Centre and take part or simply enjoy listening to The Big Bank Bash: Sing It Big! 11am – 1pm. Then enjoy a tasty snack or scrummy treat at the Southbank Centre Market and pop up to the Queen Elizabeth Hall Roof Garden to enjoy a fab view of the Southbank and the River Thames whilst munching – the film doesn't start til 1pm so you've got plenty of time.
SHH….BANG AT THE ARTSDEPOT, NORTH FINCHLEY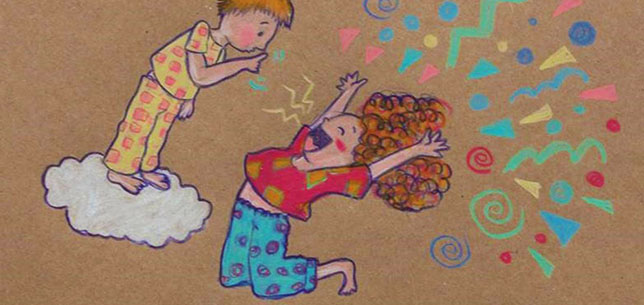 Presented by the wonderful Peut Etre Theatre Company, silence and noise are playfully explored in Shh…Bang! Using strong visuals, physical movement and music – this interactive performance presents dance-theatre.
"Quiet" lives in a muffled world of clouds and softness. Right next-door "Loud" collects more and more noises and wild sounds. In drawers and suitcases there are boings, splashes, bangs and swooshes. The poignant question is asked – How can Quiet and Loud possibly find a way to listen to each other….?
When: Sunday 12th April at 11am & 2pm
Where: Artsdepot, N12 0GA
Age: 3+
Cost: £7
LittleBird's Top Tip: During family shows the cafe  (on level 2) has children's lunchboxes available for £4.There's also free soft play area and book corner in the cafe too!