What's On This Weekend: 4th – 5th April
FUN & FANTASTIC THINGS TO DO WITH THE KIDS IN LONDON THIS WEEKEND
SATURDAY 4TH  & SUNDAY 5TH  APRIL
EASTER EGG HUNTS GALORE!
GIANT EASTER DUCK HUNT AT THE LONDON WETLAND CENTRE IN BARNES
•Runs throughout the Easter Bank Holiday weekend•
Some of the London Wetland Centre ducklings have gone missing and they need your help to find them? Follow this GIANT Easter duck trail to discover where the BIG Yellow Ducklings are hiding, disguised as the real ducks you will see.  If you discover them all, the kids receive a Cadbury's Freddo Frog. There's also the chance to decorate ducklings to take home in the duck painting eggs-travaganza or make an Easter card, 11am – 12.30pm.  Plus you can join in egg-citing games such as egg and spoon races and egg rolling at 3pm.
The London Wetland Centre is a great family day out; there's the outdoor adventure playground with zip wires, climbing walls, giant water vole tunnels and water games, the Discovery Centre and Pond Zone! Plus,  borrow a net and enjoy a spot of pond dipping at 1.30pm and 4pm.
When: Saturday 4th & Sunday 5th April
Where: London Wetland Centre, SW13 9WT
Age: Families
Cost: The trails cost £1 per person and there is a charge for the duck painting. Normal admission applies (adults £12.75, children £7).
LittleBird's Top Tip: Take a pack lunch as there are an abundance of picturesque picnic spots and don't miss the Otters: feeding times are 11am & 2pm daily.
CADBURY EASTER EGGSPLORATION – EVERYWHERE
•Runs throughout the Easter Bank Holiday weekend•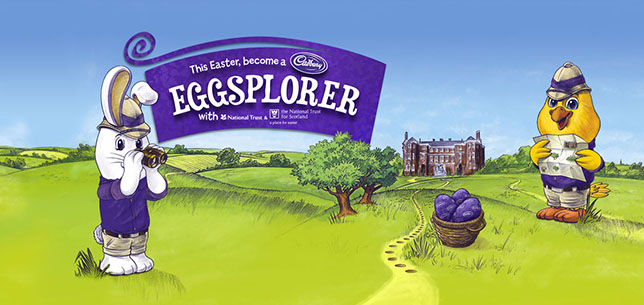 Cadbury's have teamed up with the National Trust once again this Easter and are providing the prizes for Easter trails at over 300 locations across the UK. To find the nearest adventure to you, click here.
All trails promise to inspire your child's inner adventurer and transform them into an Eggsplorer! Every trail starts at Base Camp where they will receive their Eggsplorer Trail Journal containing their eggspedition trail map and clues so they stay on track.On completing the trail, the kiddies will be rewarded with a delicious Cadbury Egghead.
When: until Sunday 12th April
Where: 300 locations throughout the UK
Age: Families
Cost: Varies depending on the venue
LittleBird's Top Tip: Take a picnic with you and enjoy the great outdoors – it's finally springtime!
EASTER EGG HUNT AT GABRIELS WHARF
•Runs throughout the Easter Bank Holiday weekend•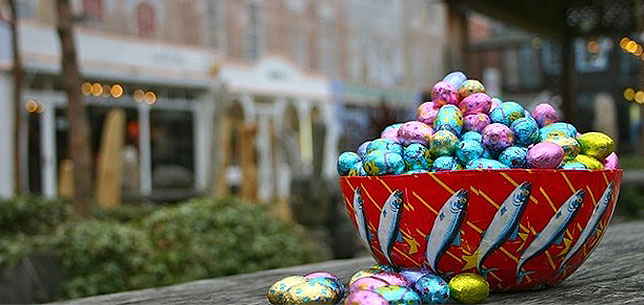 Hunt for chocolate eggs amidst the many designer craft shops at Gabriel's Wharf this Easter weekend on a special Easter Egg Hunt. Get the kiddies to keep an eye out for the special treats hidden within the windows of the shops and let them go inside to claim them.
There will also be a free Easter crafts workshop for children taking place on Saturday only between 11am – 4pm.
This is great way to enjoy a bit of window shopping in the guise of an Easter Hunt and discover the eclectic mix of boutiques at Gabriel's Wharf. You can also grab a coffee or a bite to eat in one of Gabriel's Wharf's great cafés or restaurants; sounds perfect!
When: Saturday 4th & Sunday 5th April,  11am – 6pm
Where: Gabriels Wharf, SE1 9PP
Age: Families
Cost: Free
LittleBird's Top Tip: If there's a low tide, look out for the sand sculptors in front of Gabriel's Wharf, down on the Thames beach – they always think of innovative and entertaining ways of getting you to part with a few pence and well worth it! On the Southbank, Gabriels Wharf lies between Tate Modern and the National Theatre and BFI so a great stroll either way.
MOVIE MAKER MISSION & THE EASTER WEEKEND AT HAMPTON COURT
•Runs throughout the Easter Bank Holiday weekend•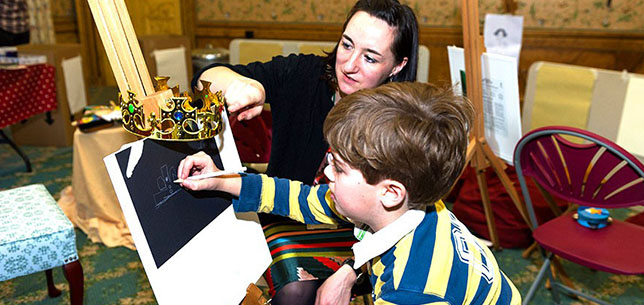 This Easter weekend sees the launch of TimePlays – stories from Hampton Court Palace's rich 500 year history will be brought to life in a series of micro plays.  You'll get to meet characters from the palace's past and witness scenes of court life from the Tudors to the Georgians.
Kids inspired by Shaun The Sheep and Aardman Animation? Then sign them up (at the family desk in the information centre) for this historical movie making workshop. They'll get to discover extraordinary stories of Hampton Court Palace, become an animator and create a short film clip to take home.
Don't miss the maze and enjoy discovering the illustrated deckchairs of famous characters from the palace's history dotted around the garden plus there will be live cookery in the Tudor and Chocolate Kitchens with the opportunity every day at 4pm for a toast to the next 500 years of Hampton Court Palace with a glass of wine from Henry VIII's wine fountain in Base Court; cheers!
When: Saturday 4th & Sunday 5th April
Where: Hampton Court Palace, KT8 9AU
Age: Families
Cost: Family ticket (2 adults & 3 children) £48.20 at the gate, £44.90 online
LittleBird's Top Tip: Get the kids excited before you go and enjoy these top tips in case they meet a king and why not get them to make a Georgian Bonnet to don on arrival.
GUESS HOW MUCH I LOVE YOU AT DISCOVER IN STRATFORD
•Runs throughout the Easter Bank Holiday weekend•
This Easter, Discover are celebrating the 20th anniversary of beloved picture book Guess How Much I Love You. Don your Nutbrown Hare ears, make a new Easter basket and follow the Easter bunny's trail to find a chocolate treat.
This weekend there is a sensory storytime with special guest storyteller Vanessa Wolf reading Guess How Much I Love You. This event is for 2 – 5 year olds at 12.30pm, 1.30pm, 2.30pm & 3.30pm and there are free goody bags too!
With a Story Trail and Story Garden to ignite and let your imaginations run wild, there's lots for all the family to enjoy plus there is a great cafe.
When: 4th & 5th April
Where: Discover Children's Story Centre, E15 4QZ
Age: 0 -11
Cost: £5 adult / child, £18 for a Family of 4
LittleBird's Top Tip: If you've got kiddies 6 and under, don't miss the Oliver Jeffers exhibition. Celebrating the 10th birthday of the classic How to Catch a Star,  Discover explores Oliver Jeffers' magical worlds bringing his fabulous picture books to life. Let the kids play in their favourite scenes from How to Catch a Star, Up and Down, Lost and Found and The Way Back Home.
ELLIE CASTLE'S EASTER EGG HUNT AT THE ART WORKS ELEPHANT IN ELEPHANT & CASTLE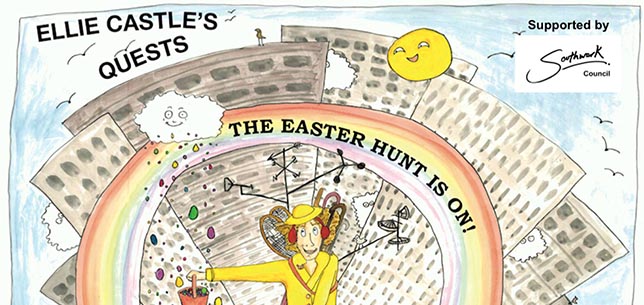 Head to The Art Works this Saturday and enjoy this interactive performance; Ellie Castle's Easter Hunt. You'll  be asked to help Ellie find out why the weather has changed in remarkable ways: the sun starts singing, the clouds have gone away and the rain has turned to chocolate! You'll join Ellie on a journey where you'll meet heaps of crazy characters, help solve clues and search out chocolate drops to stop the weather's weird habits.
The Art Works is a new creative hub working out of shipping containers in Elephant and Castle. There's a library with a children's area and studios offering an array of classes and gallery. Plus, there's an eclectic mix of street food.  From coffee, porridge and chapattis in the morning to Organic Flat breads and Mauritian Comfort food for lunch – yum!
When: 4th April, Hourly from 10am – 3pm
Where: The Art Works, SE17 1AY
Age: 5 – 10
Cost: Free – booking on day in Courtyard
LittleBird's Top Tip: As the show is approximately 40 minutes long, you could take a stroll to the Imperial War Museum – it's a 10 minute walk away. It's free entry and this weekend you can design a 1940s scarf at the Art Workshop.
CHOCCYWOCCYDOODAH'S  EASTER EGG HUNT AT THE ROOF GARDENS IN KENSINGTON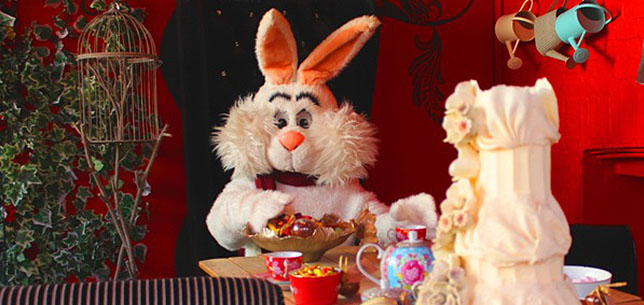 Enjoy a Choccywoccydoodah Easter Egg Hunt this Easter Sunday at the Kensington Roof Gardens. The bar is open at 11am for teas and coffees and something a little stronger from 12pm (come on – it is a bank holiday weekend after all!).  While the little ones unearth hidden delights under the watchful eye of the Easter Bunny, you can relax in the gardens. As an extra special treat all chocolate hunters will be given the opportunity to win a giant egg created by Choccywoccydoodah!
Wander through the different gardens – Spanish, Tudor and English Woodland and don't miss the infamous resident flamingos. It's worth noting the Roof Gardens are open all year round and free to wander around although the advice is to phone ahead on 0207 937 7994 and check there isn't a wedding booked.
When: Sunday 5th April, 11.45am
Where: The Roof Gardens, W8 5SA
Age: Families
Cost: Free
LittleBird's Top Tip: As you're in Kensington, you're not far from Kensington Palace – with interactive family trails and of course an Easter Trail this weekend too and the Diana Memorial Playground with it's Peter Pan theme – both perfect places to while away your Easter Sunday.
THE GREAT JUBILEE MARKET EASTER EGG HUNT IN COVENT GARDEN
Head to Covent Garden this Easter Sunday and enjoy The Great Jubilee Market Easter Egg Hunt. Let the kids explore the Jubilee Market stalls (a great way to engage them in a little shopping before they can declare complete boredom) to spot the decorated eggs.  Then all they need to do is look for the White Rabbit who is playing around in the Jubilee Market and they can then exchange their egg for a chocolate treat!
The Jubilee Market is full of arts and crafts,  antiques and collectibles stalls and definitely worth a wander around while the kids search for those eggs.
 When: Sunday 5th April, 11am – 3pm (also takes place on Good Friday)
Where: Jubilee Market, WC2E 8BD
Age: Families
Cost: Free
LittleBird's Top Tip: You'll find the  London Transport Museum in Covent Garden with it's newly opened family galleries  and if you have any Bond fanatics amongst you – the London Film Museum's Bond in Motion exhibition.
EASTER SUNDAY AT SPITALFIELDS CITY FARM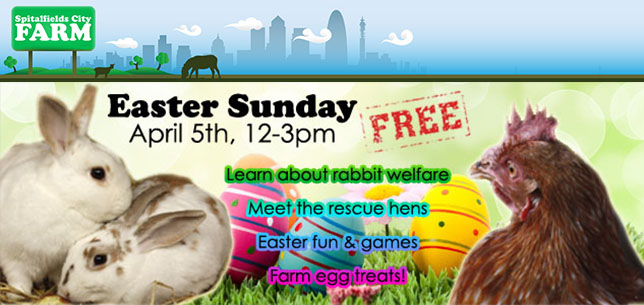 This Easter Sunday visit Spitalfields City Farm and let the kids learn about the animals and birds most associated with our  Easter celebrations and support the farms  rescue hens and rabbits. Learn about rabbit welfare, meet the rescue hens. Easter fun and games are promised along with farm egg treats and the opportunity to  enjoy cakes baked using eggs from the farms ex-battery chickens.
There are lots of farm animals for the kids to see including ferrets; Oscar, Marmalade and Marmite and Bayleaf the Donkey. Visit the gardens too – Spring is in the air!
When: Sunday 5th April, 12pm  – 3pm
Where: Spitalfields City Farm,  E1 5AR
Age: Families
Cost: Free
LittleBird's Top Tip: You're not far from The Art of the Brick exhibition – closing 12th April –  and the Cereal Killer Cafe – the UK's first specialist Cereal cafe – check out their newest cereal cocktail – the Easter Eggstravaganza – nom nom…
CRUISE DOWN THE THAMES – 50% OFF WITH LITTLEBIRD
•Runs throughout the Easter Bank Holiday weekend•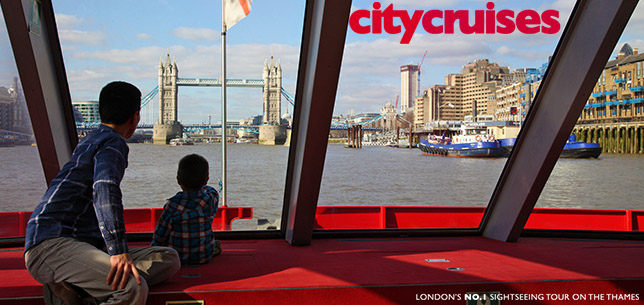 What better way to see London this Easter than a cruise on the Thames – and with LittleBird you can enjoy  50% off.  Step aboard this sightseeing cruise at Tower Pier for a 45 minute circular tour to Westminster and back cruising past HMS Belfast, the Tate Modern, Houses of Parliament, Somerset House and the London Eye to name a few.  You can listen to live commentary, treat yourselves to an ice cream from the cafe whilst enjoying the fantastic views from the open deck – dolce vita!  
When: Voucher valid until 22nd May
Where: Redeem your voucher at Tower pier with the first boat  at 10.00am and the last boat at 4.00pm.
Age: Families
Cost: Adults £6.50  and Children £3.25 . Under 5s go free.
LittleBird's Top Tip: If you can't enjoy the cruise this weekend, your LittleBird voucher is valid until 22nd May!