Festive Recipes – Herby Sausage and Apple Stuffing
We've asked some of our foodie friends their best festive recipes!
Our friends over at LEON have shared their gorgeous Herby sausage and Apple stuffing! Mmmm!! Perfect accompaniment for your Christmas dinner!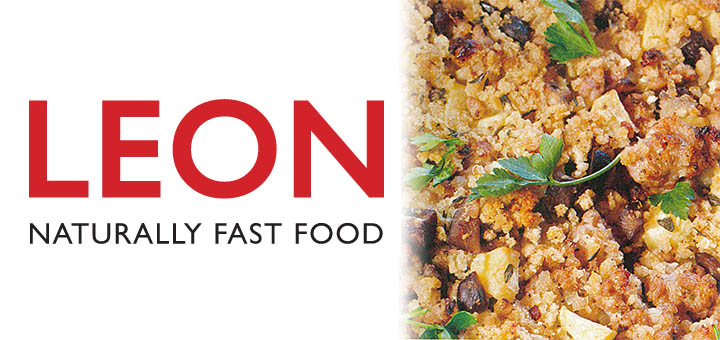 Serves: 6-8
Preparation time: 25 minutes
Cooking time: 55 minutes
Wheat Free
Gluten Free
Low Glycemic Load
Ingredients
1 tablespoon of olive oil
400g of gluten-free sausagemeat
The turkey liver, chopped (optional)
1 onion, chopped
2 apples, peeled, cored and chopped
125g cooked chestnuts, roughly chopped
125g of gluten-free breadcrumbs
8 small leaves of fresh sage, chopped
8 sprigs of fresh thyme, leaves picked
A pinch of ground allspice
125ml of good cider
50ml of water
Salt and freshly ground black pepper
Instructions:
Heat the olive oil in a pan and fry the sausagemeat until cooked. Remove with a slotted spoon and set aside. If there is a lot of fat left in the pan, drain some off.
If using, add the turkey liver to the pan and fry until cooked. Remove and set aside. Add the onions and apple to the pan and fry until slightly soft.
Put everything into a large bowl and mix together thoroughly, adding the cider and water. Drink the rest of the cider while greasing an ovenproof dish. Spoon the stuffing into the dish and pop into a preheated oven at 190 degrees Celsius or Gas Mark 5 for 30-35 minutes, or until crispy on top.