Festive Recipes – Christmas Flapjacks
We've asked some of our foodie friends their best festive recipes!
Our friend Jenny over at  Lunchbox Doctor has shared her delicious Flapjack recipe – perfect for little hands and delicious!
Christmas Flapjack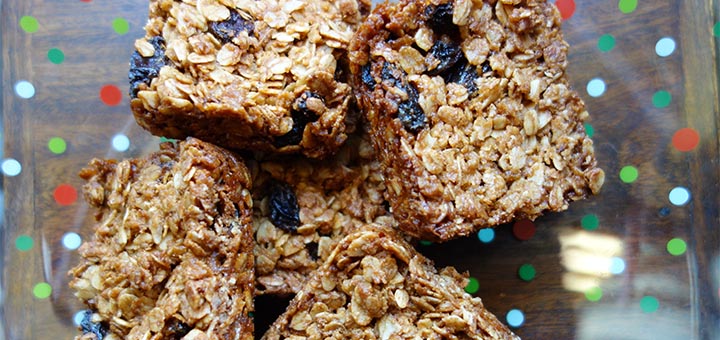 Ingredients 
100g butter, plus a little extra for greasing
1 heaped tbsp. molasses (available from supermarkets, health food stores and some pharmacies)
90g unrefined sugar
210g porridge oats
2 tsp ground cinnamon
40g crystalized ginger
50g sultanas
Instructions:
Pre-heat the oven to 170°C.
In a small saucepan melt the butter, molasses and sugar.
Meanwhile chop the ginger into small pieces and combine with the oats, cinnamon and sultanas.
When the butter and sugar mix is liquid add the oat mix and stir to combine.
Grease a brownie tin or muffin tin
Spread the mixture into the brownie or muffin holes and press down with your fingers or the back of a spoon.
Bake for 20 minutes. Leave to cool almost completely before removing from the tin.