Festive Recipes – Butternut Squash Risotto
We've asked some of our foodie friends their best festive recipes!
Our friends over at Simply Cook who have shared their Winter warming Butternut Squash Risotto!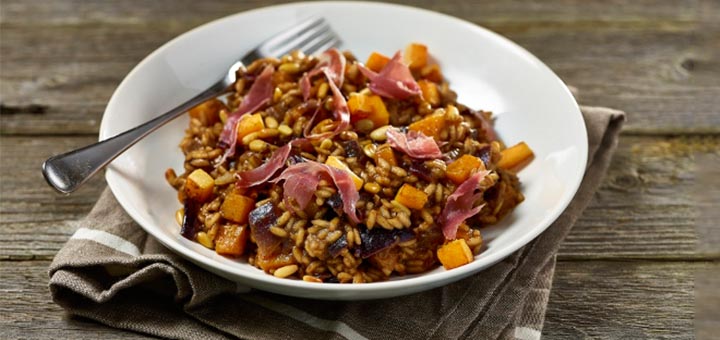 Ingredients 
Roasted Garlic Paste
Vegetable Stock
Spiced Blend
1 small onion, finely chopped
350g butternut squash, diced
150g arborio rice
40g parmesan, finely grated
30g pine nuts
2/3 tbsp sunflower / olive oil
40g butter
4 slices of prosciutto, torn into strips (Optional)
100ml white wine (Optional)
1. Prep the stock
• Bring 750ml of water to the boil in a saucepan and then add the Vegetable Stock. Keep warm on a low heat.
2. Start the risotto
• Add 1 tablespoon of oil to a heavy-based pan or frying pan and stir-fry the onion and Roasted Garlic Paste on a high heat until soft.
• Then add the Spice Blend and stir-fry for another minute.
• Add the rice and half of the butternut squash and fry for 4 minutes making sure all the grains are coated in the spice blend and translucent.
3. Begin adding the stock
• Add the wine (optional) to the rice mixture and cook until completely absorbed.
• Then start adding the warm stock (2 ladles at a time), stirring regularly and cooking until absorbed each time before adding more. This process should take approximately 15 minutes.
4. Meanwhile fry the remainder of the butternut squash, pine nuts and prosciutto
• In another pan or frying pan add 1 tablespoon of oil and bring the pan to high heat.
• Fry the remaining butternut squash for approximately 5 minutes, until lightly coloured.
• Add the pine nuts and prosciutto strips (optional) and cook for a further 2 minutes.
5. Finishing touches and serve!
• Finish the risotto by stirring in the butter and half of the parmesan.
• Serve on plates with the fried butternut squash, prosciutto, pine nuts and remaining parmesan scattered on top.