Father's Day – What it means to us!
Last year we asked our friends over at DAD.info to write about Father's Day and what it means to them. We were blown away by the results. As Fathers Day is DAD.info's 6th anniversary this year, we thought we would share some excerpts from those blogs with you.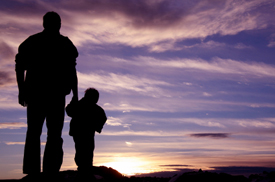 "As a father, my ideal Father's day would be where my boys laughed, smiled and enjoyed themselves with an abundance of good father/son time. It would be a day where I didn't have to worry about money, the cost of lunch or getting the boys back to my ex wife on time. So swimming in a lake, camping, climbing trees … or a day at a theme park, it doesn't matter…Being relaxed and worry free with my boys is all that should matter."
Mrunal – dad of Arun, Meri & Rohan
"Shortly before Father's day five years ago, Clare bought me a wonderful present. As we walked to Great Ormond Street Hospital to visit Rohan, who was in intensive care there, she presented me with a small, turquoise package. I recognised it as a jewellery box from Tiffany's. Inside was a pair of beautifully simple silver cufflinks. One had "Arun" engraved on it; the other "Rohan".
To this day I treasure these cufflinks and wear them only on the most precious occasions. They remind me of my boys and the hope and fear that came to characterise their first difficult months on this earth.
So, father's day is a bittersweet experience for me. It reminds me of what I have lost and of the travails that I have endured. However, much more than this it reminds me what being a father really means. Because I have lost a child I feel all too keenly what my children really mean to me and just how precious and fragile they are."
"I have a problem with Peppa Pig. More specifically, I have a problem with Daddy Pig. …Daddy Pig is hopeless, fat and most of his efforts to do anything end in a humorous failure.
Daddy Pig isn't the only strange father figure portrayed unflatteringly by the media. Almost every advert presents fathers as well-meaning comedic failures. And with Father's Day coming up, a glance at the cards on the shelves shows that dads are drunk, sport-obsessed, sex addicts.
The role of the father is under attack. The world seems to tell us we are expendable, optional extras of family life. My Dad though, was more than a punch line. His fathering has influenced every area of my character and taught me what it is to be a man. That is something worth celebrating."
"Every day my dad chooses to consider his children in every decision he makes. He considers the impact of his actions on us, long before he thinks of the consequences on his own life. And that's a big thing. For me though, an even bigger deal was the realisation that my dad did something even more amazing… He actually chose to do that just for me and he stuck at it through a lot of thick and thin. I don't mean he chose to have kids and all that comes with it (he definitely did that for my sisters) but he chose to be a dad to a little boy who didn't have a dad to look up to."
This year our bloggers will again be writing about Father's Day again during the week before the big day.
DAD.info is a parenting site for dads, though we've heard that mums visit as well.
The site has over 300 useful articles about everything dad related from Expecting to Education and Finances to Fun Things to do with your children. We publish daily DAD blogs written by dads about their own experience of fatherhood. We chat on the DAD Talk forum with the 9,500 DAD community members and publish daily news items. There also opportunities for you to win with dad.info in our regular competitions, and because we are all on a parenthood journey, we send out daily DAD email tips and also publish a weekly newsletter.
Last year over 700,000 dads visited the site – and we're looking to pass one million dads this year.
Pop over to dad.info and find out more about everything Dad!