Drayton Manor Sleepover…Choo Choo!
We invited LittleBird Mum Charlotte to visit Drayton Manor with her family for a full fun sleepover experience, read on to see how she got on…
If your little ones dream of hopping on board Thomas the Tank engine (or one of his acquaintances), hitching a ride on Harold, or getting carried away by the runaway carriages….then Drayton Manor, home to Europe's only Thomas land, is definitely the place to bring your young enthusiasts.
Both my children were restless with excitement when I told them we were in for a Drayton Manor treat, that included a sleepover at the onsite (Thomas-esque) hotel followed by a full day spent on the theme park rides and exploring the zoo. I have a 5 year old boy and a daughter who is 9, therefore not an easy crowd to please in one outing! However, Drayton Manor hit all the right notes…and even my too-cool-for-school daughter got a touch of Thomas mania!
Drayton manor is situated just a 10 minute drive from Junction 10 of the M42 and is well sign-posted from the motorway. We had no problems finding the entrance to the park and drove through the parking gates straight into the hotel parking that is conveniently situated to the left of the main car park. As it is only a few minutes walk to the main entrance of the park the logistics proved a smooth operation, even in pouring rain as we arrived! Good to know: Take your parking ticket with you to the hotel reception desk for free parking throughout your stay and visit to the park.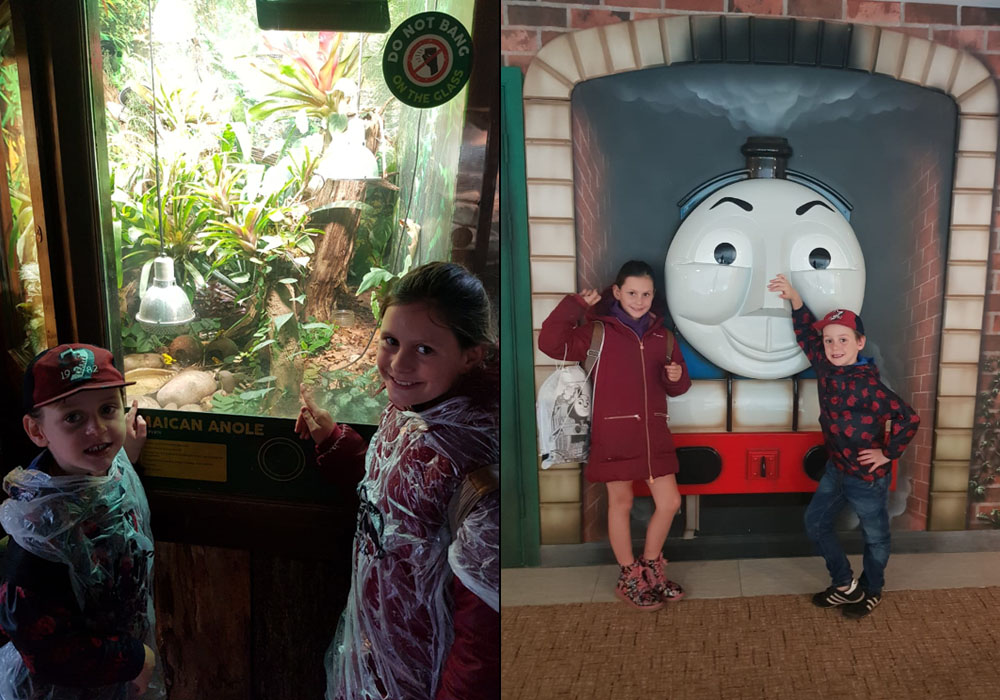 The family friendly environment of the Drayton Manor hotel is evident as soon as you walk through the reception door. There are small happy faces running around entertained by friendly staff and plenty of Thomas mementos, including a fully dedicated Thomas the Tank Engine shop, to greet you before you get to the reception desk. As we checked in both children were given their own Thomas gift bag that happily included a lot more than a sticker book and activity sheets. We had booked an adjoining room for two adults and four children with views over the extensive gardens and play areas. The rooms has ensuite bathrooms, a mini fridge, a wide screen TV, telephone and tea/coffee facilities with a few nice little treats included. One of the adjoining rooms included a king sized bed and three singles and the other had a king sized bed and a sofa bed, all of which were very comfortable and afforded a good nights sleep. Parklands is a large family friendly restaurant looking out onto the landscaped gardens and outdoor bar area. It serves a range of enticing dishes from the Al-a-carte menu in the evening, and offers a children's menu with a choice of two courses (£7.95 p/child) or three courses (£9.95 p/child).
Good to know: There is a variety of free children's entertainment that takes place in the holidays and at the weekends between 6pm -8pm and includes magic and puppet shows, action dances and competitions and is conveniently situated near the bar seating area outside the restaurant. If you are on a short hotel stay break it is worth arriving in time for if you want to wear your little ones out before bed ready for a busy day at the park.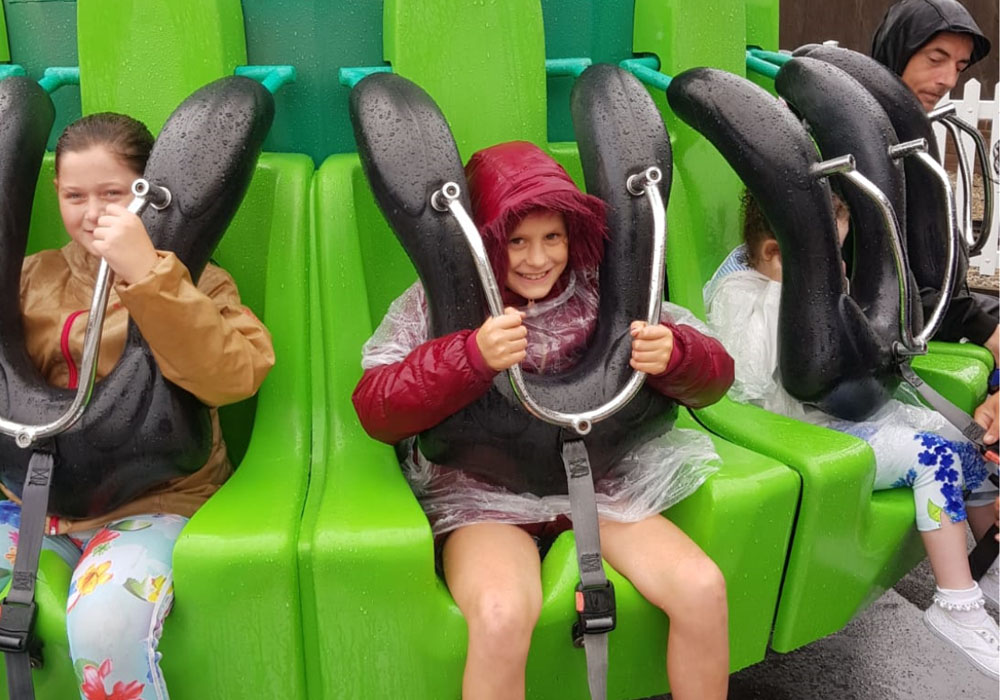 We fuelled up in the morning with the self-service breakfast buffet that included a full cooked breakfast and continental options and headed out to meet the Thomas Characters at the 9:30am meet and greet. The heavens opened and we were directed straight to the Thomas shop where there was a ready supply of ponchos and umbrellas to keep us dry. Despite the rain, all the Thomas rides were going and staff kept smiling and waving bravely throughout. We enjoyed a ride on Harold the helicopter, rocked out on the Rocking Bulstrode (The Thomas & Friends barge) and for the more daring there is the Troublesome Trucks runaway coaster and Crankie's Tower drop. Little ones can also enjoy spotting all their beloved Engine tours as they meander along the railway line to Knapsford station, passing famous characters such as the fat controller along the way.  On arriving at Knapsford, passengers can choose to disembark and wander around the outdoor zoo area, spotting some beautiful and exotic animals along the way, before returning to the main station and hopping on another ride. For the more cautious or younger children there are rides to suit including captain's sea adventures, lady's carousel and Sodor Classic cars.
Thomas land also has a good selection of cafes and food outlets to grab a drink, an ice cream or a hot chocolate with all the lashings, to the main cafe where you can purchase more substantial options such as baked potatoes, sandwiches and toasties, cakes, and hot and cold drinks. The main toilet block has plenty of facilities, helping to reduce queues on busy days and also provides disabled access, family and baby changing facilities.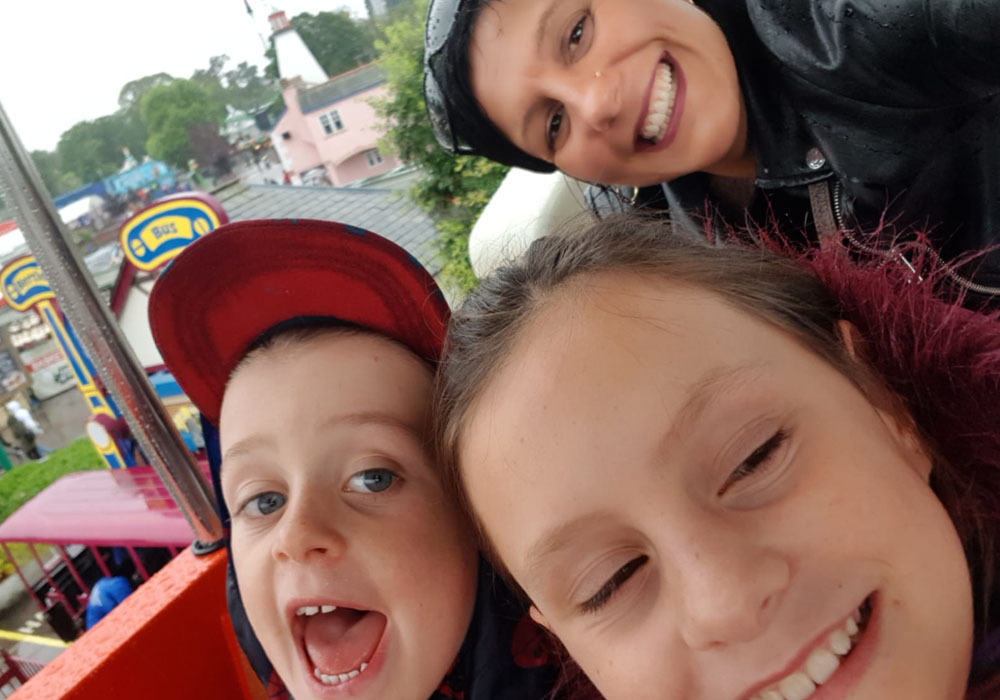 After a fun filled and happy day exploring the rides with some unexpected surprises for both my children we ventured into the Zoo area to explore some of the fascinating and exotic creatures that are well looked after at Drayton Manor. My 9 year old was fascinated by the large variety of exotic birds and reptile life in the Reptile area with the meerkats being a particular hit! As we headed out of the park my youngest became very giddy with excitement when he saw the interactive 4D Ice Age 4 film showing and after a final fling in the Sheriff's shootout and a spin on the Drunken Barrels (the last two indoor rides we could find) we all left the park tired, happy and full of fun memories….despite the rain!
Save money on Drayton Manor
Have a LittleBird Family Pass? Don't forget you can save on Entry Tickets with the Family Pass here.
Don't have a Family Pass and you want to save on entry too? Start your trial today, and enjoy all the benefits of the Family Pass for just £1 for 30 days here