Experience this Mega Maker Lab this August
LittleBird's Louisa was invited by The Institute of Imagination (iOi) to experience the mega Maker Lab with her two children last week and this is what they made of it…
This summer, Institute of Imagination have put on a special experience for visitors to come and make, create, explore and imagine! The exhibition is developed from 100 Primary School children who came up with the ideas for the Lab following a workshop in May bringing their ideas and designs together. The children explored the space thinking about the different activities and areas where visitors could engage of a journey of making, inventing, constructing and building using different materials bringing creations to life.
The event space is divided up into 5 zones  for you to explore in no particular order. The areas are clearly defined and consist of :
Imagine and play zone: unleash imaginations as a family with collaborative building activities and challenges including LEGO, giant marble runs and Stixx machines.
Ideas zone: get inspired by other young inventors and design and invent ideas to change the world in a cosy ideas den.
Challenge zone: take on BIG challenges like making a bot with motors and batteries, creating transport for the sky with wire to add to Super Sky City and pedal-powered plastic shredding.
Test arena: make something fly or move with tools and up-cycled materials in a giant maker space and test creations out with wind machines, ramps, flight spaces and more to discover the art of prototyping through junk modelling.
Tool bar: try out tools like glue guns, drills and LEDs in a safe space to bring ideas and inventions to life.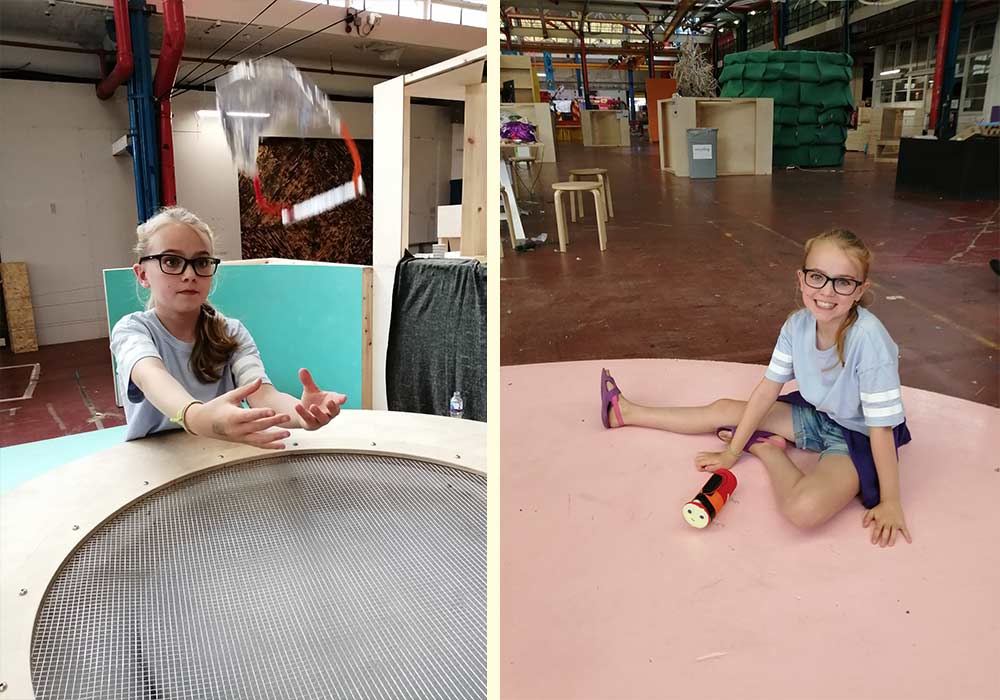 The experience is designed to last and engage children for 2-3 hours and this is ample to really get your teeth into what the Imagination lab is all about. But this experience isn't just about children, it really does encourage families to come together and build and create unifying minds and imaginations.
We spent most of our time in the Challenge and test area, where we made metal constructions for a Sky city twisting wires together and creating sculptures that could fly. We crushed coloured bottle tops by cycle power ready for recycling. We explored up-cycled materials and used the supervised Tool Station to help drill, glue, strip wires together to bring our caterpillar bot to life!  Next we thought about what would fly the best and after rustling through mixed medium up-cycle bins and using kebab sticks and lolly sticks as propellers, and we found a plain old plastic bag had the best lift off!  Children (and adults too!) were busy everywhere creating, exploring, imagining without any limitations!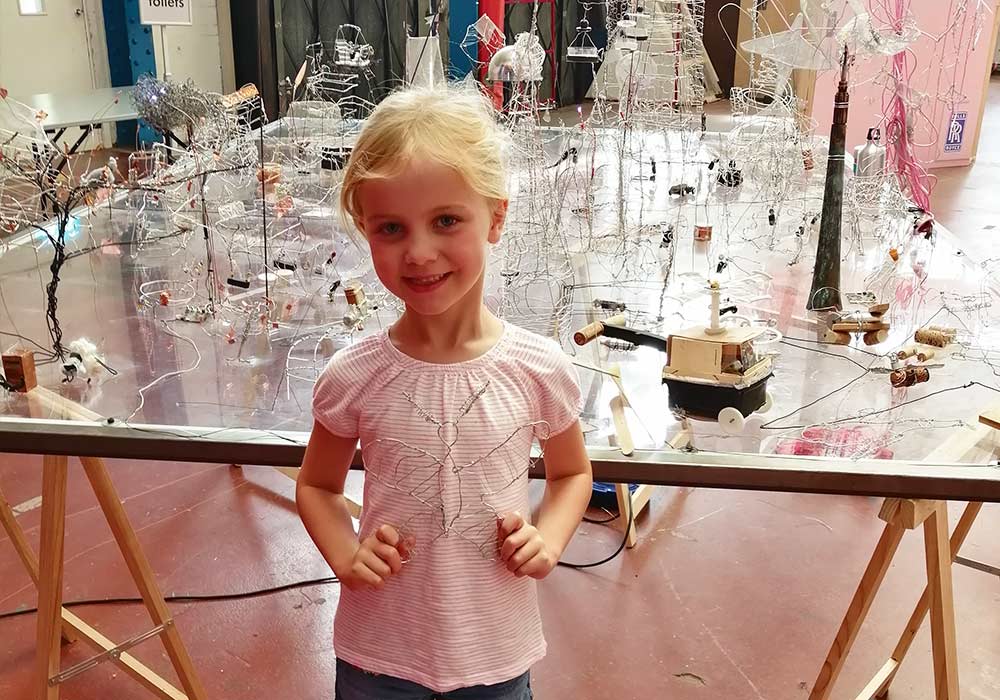 Other areas including building futuristic lego structures, marbles runs with plastic tubing, funnels, recycling materials and working out logistically how it would all come together using different shapes and sizes within a dedicated wall space. A 'Stixx house' made out of thinly rolled newspaper and held together with cable ties, or as some kids did, made Swords and bows and Arrows to take home.
We had a great few hours with ioi and would recommend it to any family wanting to spend time together with no other distractions other than to have fun and play and immerse yourselves into this world where are there no limits and anything is possible.
Things to know before you go:
The experience is for families with children ages 5-12 years.
Parents and carers must stay with their children during the experience and get involved too!
There is no café facilities on site, but you can bring food and drink and take some time out in the dedicated area to re-fuel the family
The Mega Maker Lab is a short walk from Vauxhall City Farm and Vauxhall Station/Tube so why not pop in and see the animals as part of your day out for a small donation to the farm.
There is a pop up London Fire Brigade Exhibition in the same hall as the Mega Maker Lab, with Firetrucks on display and all the equipment laid out to view
Don't forget you can save up to 20% off to the Mega Maker Lab this August including all Bank holiday weekend!