What's On This Weekend? Saturday 6th & Sunday 7th February
Fun and fantastic things to do with the kids in London this Weekend
Saturday 6th & Sunday 7th February
MAGIC LANTERN FESTIVAL AT CHISWICK HOUSE & GARDENS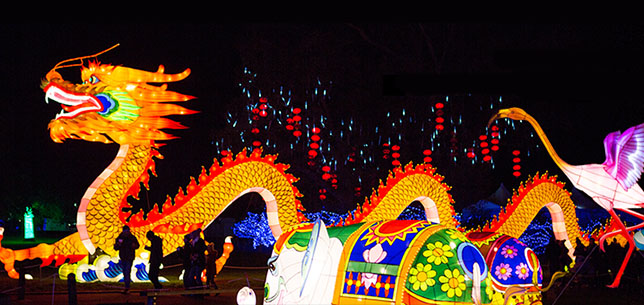 Make a date with Chiswick House & Gardens this weekend and experience amazing illuminations of art and light through giant sculpted lanterns in a variety of forms and structures – look out for tigers, elephants, peacocks, flamingos as well as a Tree of Life lantern, illuminating oversized
 mushrooms, plants and flowers and many more unique and stunning creations. 52 lanterns using 58,000 bulbs will light up the beautiful grounds of Chiswick House & Gardens in this UK  premier of the world famous Magical Lantern Festival, opening tonight, Wednesday 3rd February, at 5pm.
While you're here, soak up the carnival atmosphere with live cultural staged performances, feast on a range of international cuisines and take a stroll through the market where you can buy your own lantern. To mark the Year of the Monkey 2016, a Mount Huaguo lantern with an illuminated waterfall will provide the fairytale setting for an intricate recreation of the popular Chinese fable, The Monkey King.
When: until 6th March, from 5pm (Tues – Sunday)
Where: Chiswick House & Gardens, W4 2QN
Age: Families
Cost: Adults £12, Children £10
LittleBird's Top Tip: Next Sunday, 14th February, head to Trafalgar Square & Chinatown for London's Chinese New Year 2016 festivities and celebrate the Year of the Monkey. To find out more, click here.
PRINCESS & THE PEA AT THE VAULTS FESTIVAL, WATERLOO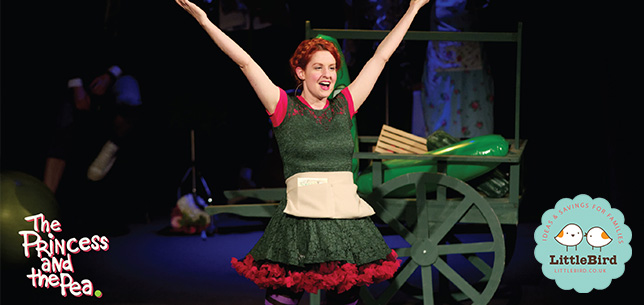 This weekend, get ready to enjoy the classic Hans Christian Anderson tale The Princess & The Pea at The Vaults 2016 Festival. This brand new, vibrant, chaotic and hilarious production is full of musical fruit, a ridiculous, vegetable-based test plus an organic, GM-free fresh produce shop.
Shy Prince Hogarth is looking for love and prefers a feisty gal named Princess. The good news is, she prefers him too – phew! The not so good news is that to win Hogarth's hand, the Princess needs to show a superhuman level of sensitivity in a silly, vegetable-based test. The Princess, relying on her own wits and sensitivity, has to teach the Prince that, above all else, what is most important is to remain true to yourself.
When: Saturday 6th & Sunday  7th  February, 3pm
Where: Under Waterloo Station, (turn right from Lower Marsh onto Leake St, SE1 7NN)
Age: 6+
Cost: £5 tickets only with LittleBird!
LittleBird's Top Tip: If Princess & The Pea is a favourite story, head to the House of Illustration in King's Cross and visit their current  Lauren Child's Dolls' House exhibition (ending this Sunday 7th Feb) showing Child's recently completed dolls' house, alongside original sets made for the illustrated book with three-dimensional miniature sets, The Princess and the Pea.
MIND SPACE AT THE SOUTHBANK CENTRE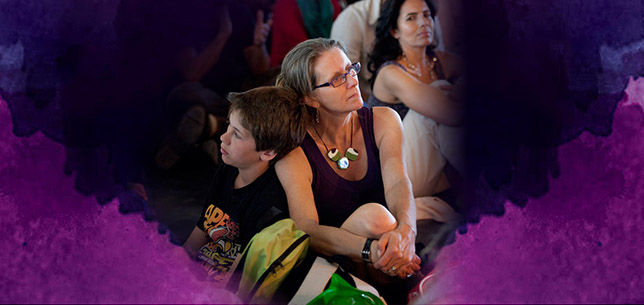 Part of the Southbank Centre's Changing Minds festival this weekend  exploring mental health and the arts, Mind Space offers free events throughout the weekend. Everyone is welcome to join in  –  there are yoga sessions available, the opportunity for a gong and Gamelan bath, a Tai Chi Taster as well as a Big Sing, for a full timetable, click here and you're invited to drop by at anytime,  pick a book from the festival library,  take a seat and read or simply take a moment to be mindful.  Head to Clore Ballroom at Royal Festival Hall and simply rest your mind.
Revitalise with a tasty snack or scrummy treat from the food market at the back of the Royal Festival Hall and pop up to the Queen Elizabeth Hall Roof Garden to enjoy a fab view of the Southbank and the River Thames – it's away from the crowds and perfect for a bit of peace and quiet.
When: Saturday 6th & Sunday 7th February, 10am – 11pm
Where: Southbank Centre, SE1 8XX
Age: All ages
Cost: Free
LittleBird's Top Tip: Check out the  Southbank Centre's Imagine Children's Festival this half term, opening on Wednesday 10th February with the fabulous looking brand new exhibition The Wondercrump World of Roald Dahl – celebrating the centenary of Roald Dahl's birth this year.
CHINESE NEW YEAR FAMILY FESTIVAL DAY AT THE NATIONAL GALLERY, TRAFALGAR SQUARE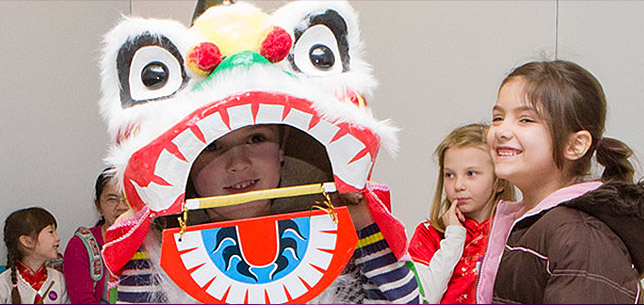 This Saturday the National Gallery celebrates the Year of the Monkey with a plethora of celebratory Chinese New Year family activities throughout the day. Listen to stories and learn how to play a variety of ancient Chinese instruments (10.30am – 11.15am), go on a Chinese Zodiac trail (available throughout the day), create and make Chinese masks inspired by the year of the monkey(11am – 12pm) as well as Mandarin nursery rhymes (11am – 11.40am) for the under 5s and lots, lots more.
Why not head into Leicester Square after and let the kids wander around M & M World. Did you know you can even personalise these little chocolate treats with messages and photos – a lovely idea for Valentine's Day next Sunday.  Chinatown lies directly behind so if you fancy continuing the celebrations and trying a different culinary experience, try some dim sum at Joy King Lau; delicious!
When: Saturday 6th February, 10am – 4pm
Where: The National Gallery, WC2N 5DN
Age: Families
Cost: Free drop in
LittleBird's Top Tip: If the kids are feeling inspired, pop into the National Portrait Gallery, free to enter and just round the corner.  There's a digital art space where you can look up particular portraits you'd like to see and create your own tour. Plus there are art stations with free sketch books available.
HARRY POTTER SIGHTSEEING TOUR – SAVE UP TO 62% WITH LITTLEBIRD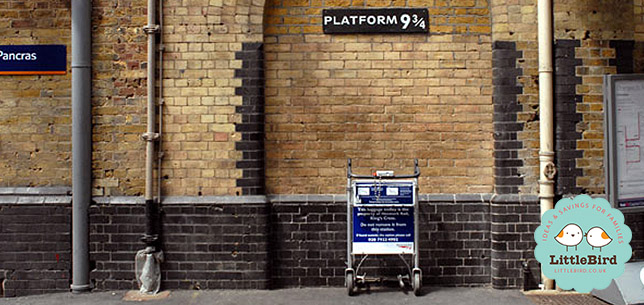 It's Harry Potter Book Night tomorrow, 4th February,  and you you may well be hosting an event or indeed invited to one. Why not discuss bringing JK Rowlings books to life in a magical Harry Potter sightseeing tour around London while you're with friends and fans and visit some of the places which inspired the Harry Potter books as well as  experiencing the London locations featured in the Harry Potter films. Make it a date with family and friends as you discover sights, facts and stories all about your favourite Wizard.
As you finish your tour at Kings Cross station (of course!), head to Granary Square, a 5 minute walk away,  grab a take out coffee from Caravan  and hang out by the 1,000 fountains (there's plenty of app fun to be had with the fountains) or pop inside Caravan and  enjoy some great food – their pizza's are yummy!
When: Saturdays at 12.30pm & Sundays at 10.30am
Where: Leicester Square, WC2H 7DE ( Meet TKTS Booth)
Age: Families
Cost: Save up to 62% with LittleBird, tickets from £10 – book now (vouchers valid until end 2016)
LittleBird's Top Tip: Colouring in is very 'now'. It's become synonymous with mindfulness, for children and grownups alike, so why not share this Harry Potter colouring in book and save 50% with LittleBird or treat the family to an experience they'll never forget and head to Warner Bros Studio tour – The Making of Harry Potter!
THE LONDON BRIDGE EXPERIENCE & TOMBS – SAVE 35% WITH LITTLEBIRD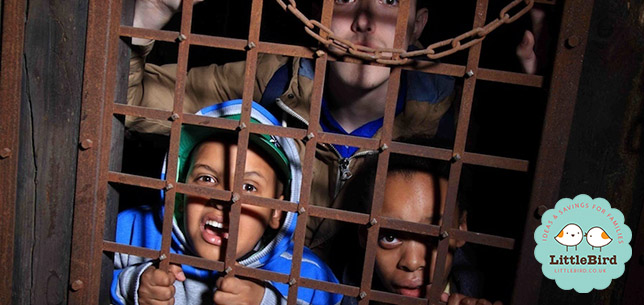 We know kids love to hear all about the gruesome parts of history so why not learn all about the horrid history of London Bridge at the London Bridge Experience & Tombs.  An experience that promises an interactive character led historical journey, taking you and the kids through 200 years of London Bridges's gruesome history  with tons of educational, entertaining and revolting facts.
Battle a Roman Army with Queen Boudica, experience medieval life and relive the Great Fire of London (a very timely experience as 2016 marks this infamous disaster's 350th anniversary) and watch out for Jack the Ripper. Young children can take the Guardian Tour while the older kids descend into the London Tombs and come face to face with evil clowns, confined spaces and nesting spiders – eek!
When: Open 7 days a week with LittleBird's saving available until 9th February
Where: London Bridge Experience & Tombs, SE1 2SY
Age: Families
Cost:  Adults & Children £13 – only with LittleBird – vouchers valid until 31st March
LittleBird's Top Tip: If you have younger ones in tow, divide and conquer with two of you heading to the Golden Hinde and saving 20% on tickets as you find out all about life on the ocean wave with tales of cabin boys' larks on board. You can then all meet at Tate Modern where kids eat for free – check out the menu here.
FOLEYAGE – A PARK MADE OF SOUND  AT SERPENTINE GALLERIES, HYDE PARK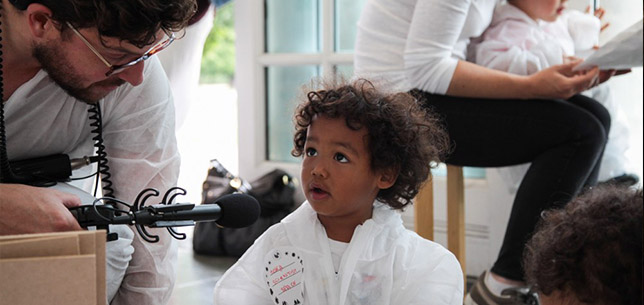 Enjoy a day out in Hyde Park this Sunday, pop along to the Serpentine Galleries and get ready to broadcast amongst the trees at a temporary Radio Station.  Run by Radio Anti (Artists Matthew de Kersaint Giraudeau and Ross Jardine ),  Foleyage – A Park Made Of Sound,  invites families to collect, create and manipulate sounds. Step up to the microphone in the studio or report from the field. Produce a peculiar soundscape from unexpected objects and broadcast your sounds from the Foley-stage and across the landscape as you collaboratively re-imagine Hyde Park.
 Situated in Hyde Park, the Serpentine Galleries couldn't have a better location – with so much to do, it's a perfect family day out. If we are blessed with some winter sun, you can pack a towel and head to Diana Memorial Fountain and let the kids get their feet wet.  If it's a bit rainy, check out what else is  going on at the Serpentine Galleries and whatever you do,  make sure you visit the shop – it has some beautiful children's books plus a secret back room, a treasure trove of heavily discounted books.
When: Sunday 7th February, 12pm – 5pm
Where: Serpentine Galleries, W2 3XA
Age: All ages
Cost: Free drop in
LittleBird's Top Tip: Make a day of it and let the kids play in  Diana's Memorial Playground – inspired by Peter Pan, the playground has a giant pirate ship as its centrepiece set in a massive sand pit plus there's a great cafe too!
TANGLED + Q&A WITH BYRON HOWARD + A SNEAK PEAK AT ZOOTROPOLIS AT THE BFI, SOUTHBANK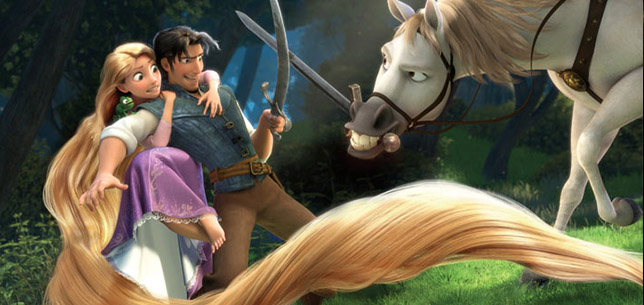 Part of the BFI's Decade of Disney season, Tangled offers a fresh take on the Rapunzel story with the unlikely pairing of a Princess with magical properties and a common thief and weaves it's magic spell creating yet another firm Disney favourite.  Tangled is Disney's 50th animated classic and boasts original watercolour designs by Disney veteran Glen Keane with Greno/Howard bringing a CG contemporary twist. There's a  Q & A with director Bryon Howard after the film where you and the kids will get to hear all about his re-telling of this classic story, ask a few questions yourselves,  as well as being one of the first to watch a sneak peak of Disney's new film Zootropolis, released this March.
When: Sunday 7th February, 11am
Where: BFI Southbank, SE1 8XT
Age: Families
Cost: Adults £11.75, children £4
LittleBird Top Tip: Buy one adult and one child combo ticket for £10 and did you know kids eat free all day, every day at the Riverfront at the BFI.  Interested in other films for families and activities this half term, click here.
PLAY ON, SHAKESPEARE! AT THE BARBICAN, IN THE CITY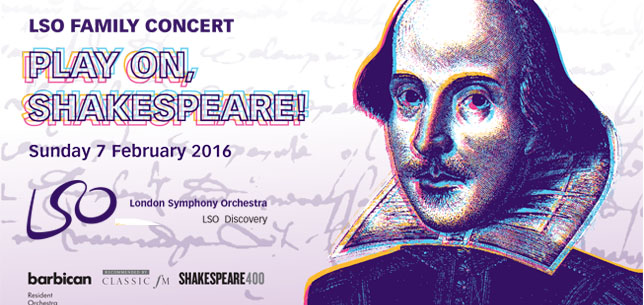 2016 marks 400 years since William Shakespeare's death and there are many celebrations planned throughout the year. This Sunday LSO Family Concerts are celebrating with an hour long concert to show all the family just how massively influential Britain's number one playwright really is. Play On, Shakespeare promises music (of course!), drama from a cast of actors, and plenty of opportunities for the kids to get involved.
There are pre-concert workshops (ticketed) too where the kids can join in with professional musicians to learn more about the programme plus plenty of  free activities in the foyers (1.10pm – 2.20pm)  from kicking up a storm with a body percussion version of The Tempest to making your own Elizabethan ruff, which were all the rage 400 years ago don't you know. There's the opportunity to make a quill and pen your own play or design and build a Tempest ship. Kids want to perform?  Look out for the singing workshops or let the kids try their hand at some simple stage-combat moves.
When: Sunday 7th February, 2.30pm – 3.30pm with free foyer activities from 1.10pm
Where: Barbican Centre, EC2Y 8DS
Age: 7 – 12 year olds
Cost: Adults £10, children £5
LittleBird's Top Tip: Definitely keep an eye on Shakespeare's Globe this year. Our friends over there have told us they have lots of special events and celebratory activities planned throughout the year and you can save on tickets – only with LittleBird.
PLAYFUL PETS & CURIOUS CREATURES AT THE ROYAL ACADEMY, PICCADILLY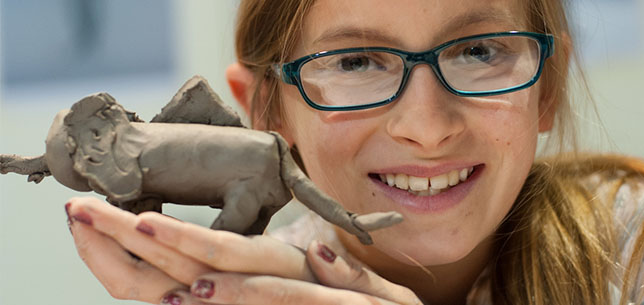 Head to the Royal Academy this Sunday for a free family workshop celebrating International Women's Day.  Get inspired by the playful sculptures of London based sculptor Cathie Pilkington as the Royal Academy celebrates the achievements of female artists today. Let the kids roll up their sleeves and get ready to create with clay to sculpt their own creatures and pets in this 3D multimedia sculpture festival, Playful Pets & Curious Creatures.
While you're here, enjoy the RA's Art Detective Family Trails, you can download the Ai Weiwei Art Detective Family Trail inspired by the current Ai Weiwei exhibition (running 20th November). Or why not make your own artist sketchbook to bring along, click here for instructions.
When: Sunday 7th February, 11am – 3pm
Where: Royal Academy, W1J 0BD
Age: Families
Cost: Free drop in
LittleBird's Top Tip: You're ever so close to Piccadilly Circus and Ripley's Believe it or Not! – the UK's most extraordinary attraction – with Planet Hollywood a hop, skip and a jump away! Treat the family to a meal at Planet Hollywood and then a fast track ticket to Ripley's Believe it or Not! If you like the idea but this weekend doesn't work – vouchers are valid throughout half term and Easter – no booking required!