What's On This Weekend? 20 – 21 December
FUN AND FANTASTIC THINGS TO DO WITH THE KIDS
SATURDAY 20TH & SUNDAY 21ST  DECEMBER, 2014
Raymond Briggs Father Christmas at the Lyric Theatre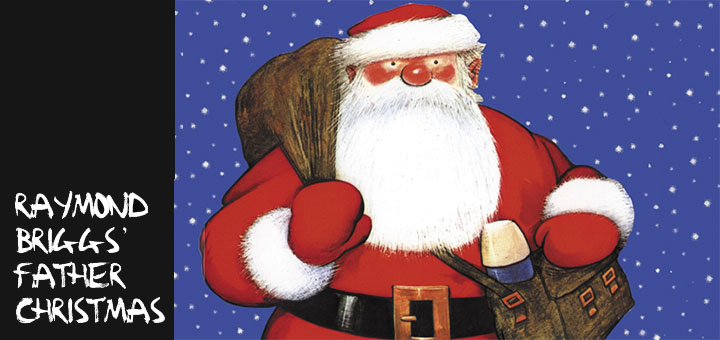 Raymond Briggs Father Christmas has become an iconic portrayal of the great man himself and if you haven't seen this theatre show, you Bloomin' better! Returning for it's third year, the show is full of warmth, fun and giggles and perfect for families with young children.
Father Christmas awakes from a dream of summer sun only to realise that it's bloomin' Christmas Eve and the start of his longest night of the year. He gathers the reindeer and prepares his sleigh, beginning the long journey into the snowy night to deliver presents to sleeping children all over the world. But things don't run smoothly and he soon encounters soot covered chimneys to squeeze through and treacherous weather conditions, all while plenty of mischief is had by his cheeky pets, Cat and Dog.
When: now until 31st December
Where: Lyric Theatre
Age: Under 6
Cost: Adults £10, Children £8
Winter Sun at Kings Cross Granary Square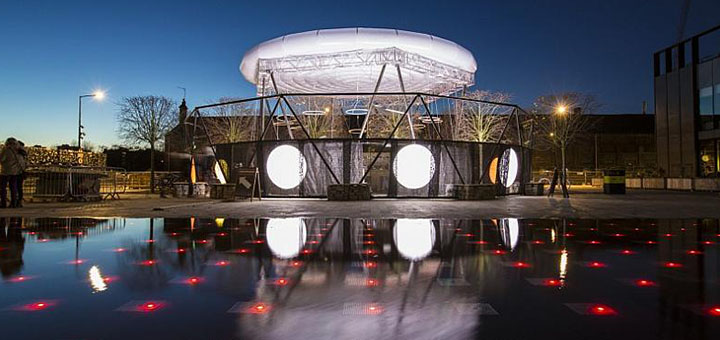 Winter Sun is a 'hearth'-like artwork inspired by our need for light in the darkness of winter. Winter Sun offers a place to gather together in a temporary structure of ever-changing light. With various free events throughout December,  choose from  Shadow Shapes  this Saturday 2.30pm – 4.30pm where you can go and create shadow shapes and experiment with your creations making shadow plays in the sunlight or pop along on Monday 22nd December and make a mirror ball to reflect winter light,  hang on your tree or have your own mini disco.
When: Shadow Shapes takes place on Saturday 20th December and the Mirror Ball event on  Monday 22nd December, both  2.30pm – 4.30pm
Where: Kings Cross Granary Square
Age: Families
Cost: Free
The Sky Tonight: Christmas Stars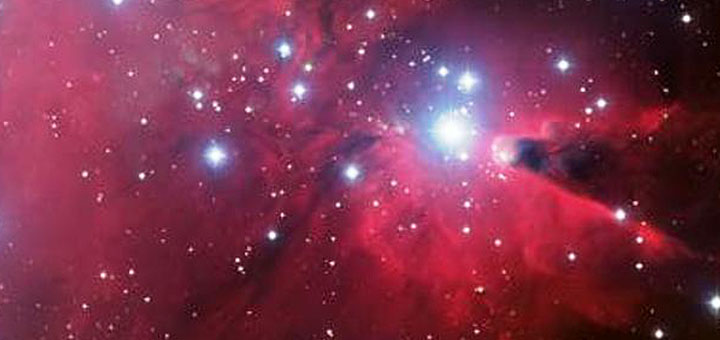 A seasonal themed planetarium show explores the latest ideas about what the Christmas Star might have been as well discovering what the night sky has to offer over the Christmas period and beyond, including the Moon, planets, stars and constellations, presented live by a Royal Observatory astronomer.
As you're in Greenwich Park, why not walk down and visit the National Maritime Museum, it's free, or pop along and see the deer. Still have Christmas shopping to do? Head towards the Cutty Sark and visit Greenwich Market – there are some great food stalls too if you're feeling a bit peckish.
When: until 23rd December, various show times
Where: Planetarium, Royal Observatory Greenwich
Age: Over 5s
Cost: £6.50 for adults, £4.50 for children,  £20 family ticket
The Snow Dragon at St James Theatre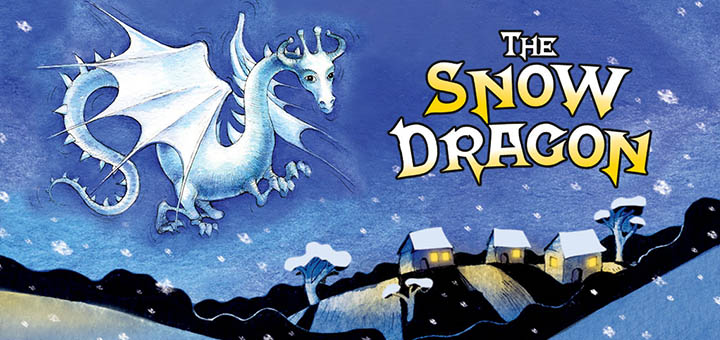 Visit St James Theatre this Christmas for storytelling, comedy and songs that create a magical and mysterious world. Billy has everything a young goat could need – and more besides. On New Year's Eve, Billy's parents tell him about the legendary Snow Dragon, who will bring him even more goodies during the night. But when Billy bumps into some wolves in the woods, New Year's Day seems a long way off.
Enjoy finding out how Billy escapes – and whether the Snow Dragon will bring him a present. Has Billy been naughty or nice? From the company that produced  The Gruffalo and The Snail and the Whale, this is a Tall Stories production.
Depending on whether you want to make a day of it,  St James Park isn't far and the Changing of the Guard takes place daily at 11am (10am on Sundays) and lasts about 30 minutes. It's  held on Horse Guards Parade by Whitehall, which is located east of St James's Park and don't forget the  Pelicans  – St James Park residents since 1664.
When: until 4th January
Where: St James Theatre
Age: 3+
Cost: from £16 with a family of four ticket £55
A Christmas Carol and Other Tales of Christmas Past at the Charles Dicken Museum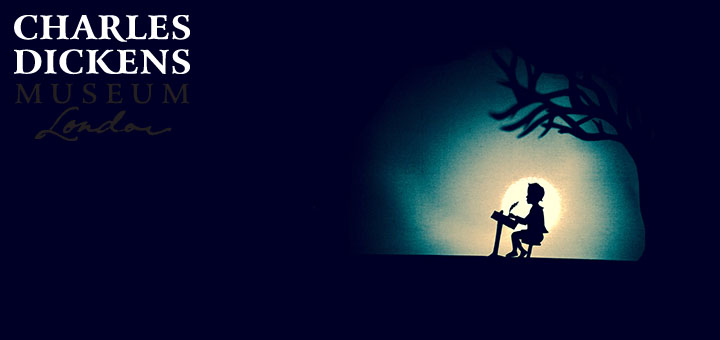 What could be more Christmassy than a retelling of Charles Dickens A Christmas Carol. A Christmas Carol is brought to life through shadow puppetry and captivating physical theatre. Enjoy lesser known Dickens Christmas Stories too as live actors with an identifiable and unique style of movement, create an atmosphere that entices you into an enchanting world.  Witness a  teacup turn into Tiny Tim and transformations from ghostly spirits to the miserly Scrooge with the flick of a top hat and the click of a cane.  It simply has to be seen to be believed!
For a breathe of fresh air and to let the kids run wild before sitting to watch a show, enjoy the fabulous Coram Fields – with playgrounds, a city farm and a cafe too plus a large adventure play area including an aerial slide.
When: until 30th December
Where: Charles Dickson Museum
Age: Families
Cost: Adults £15, Children £10
Treasure Island at the National Theatre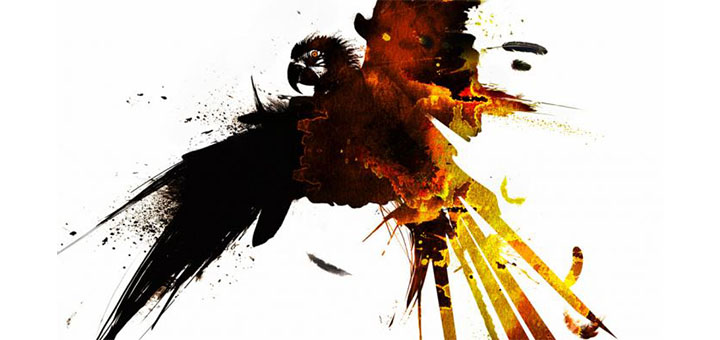 Not one of us must breathe a word of what we've found…
Robert Louis Stevenson's story of murder, money and mutiny is brought to life on the Olivier stage at the National this Winter. . Treasure Island is the classic tale of pirates and hidden treasure, 'Long John' Silver and maps plus the infamous parrot of course.
It's a dark, stormy night. The stars are out. Jim, the inn-keeper's granddaughter, opens the door to a terrifying stranger. At the old sailor's feet sits a huge sea-chest, full of secrets. Jim invites him in – and her dangerous voyage begins.
Can't make the National, see the live broadcast to cinemas on 22 January 2015 – to find the nearest cinema to you, click here
When: until 8th April
Where: National Theatre
Age: 10+
Cost: Tickets start at £15
Fly with the Snowman on Emirates Air Line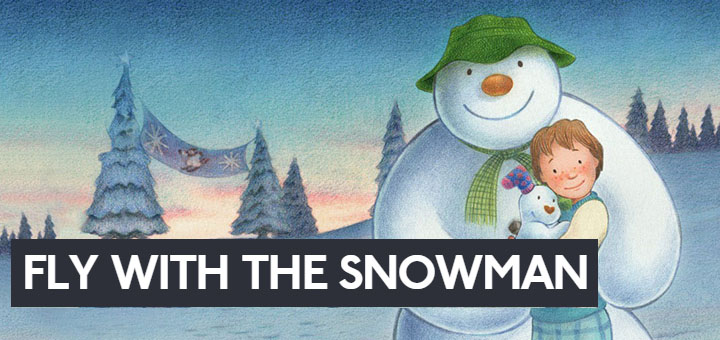 We're walking in the air…OK not quite, but as near as possible. This Christmas you can join The Snowman and The Snowdog on Emirates Air Line.  The Snowman's flight will be brought to life using immersive digital effects, including specially edited sequences of the film and soundtrack will be combined with new aerial footage of the cable car and its surrounding landmarks – treated to create wintery animation effects and featuring the film's characters.
You can also take your own photos with a life-sized Snowman model before boarding your flight. And, we're told, there are 15,000 free goodie bags for children – given away on a first come, first served basis containing a Snowman chocolate, in-flight binoculars, an i-spy challenge and a Snowman or Snowdog character mask.
When: now until 4th January
Where: Emirates Air Line
Age: Families
Cost: For the full experience, Adults £10, Children £6. Note though that if you're an Oyster Card holder get a discount on all online fares. Save £2.20 on the adult experience and £1.20 on the child experience.
The Hidden House at Westfield Stratford City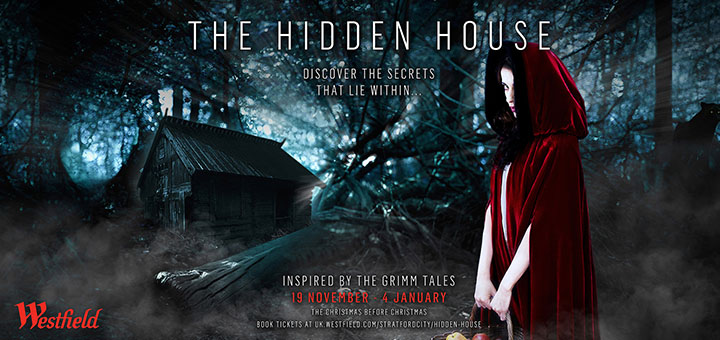 Finding it difficult to persuade the kids Christmas shopping is fun? This promised immersive experience might make them change their minds. Let the kids take a different kind of adventure this Christmas and discover the secrets inside The Hidden House. Inspired by the Grimm Tales, investigate the sudden disappearance of Red Riding Hood.
Set in a free-flow maze, the kids get to  journey through the different rooms of The Hidden House and uncover storytellers, princesses and fairy tale surprises in a high-tech environment. The kids mission, should they wish to accept, is to rescue Red Riding Hood…..
There are two experiences; The Hidden House for 8+ and The Hidden House (11am – 5pm): Darkest Secrets for 12+ (5pm – 10pm), for those who enjoy being scared.
There's something for everyone at Westfield with a Santa's Grotto for the younger members of your family and Playworld – specially-designed play area for under 5s.
When: now until the 4th January
Where: Westfield Stratford City
Age: 8+ and accompanying adults aren't required.
Cost: Tickets from £4
Winterville 2014 in Victoria Park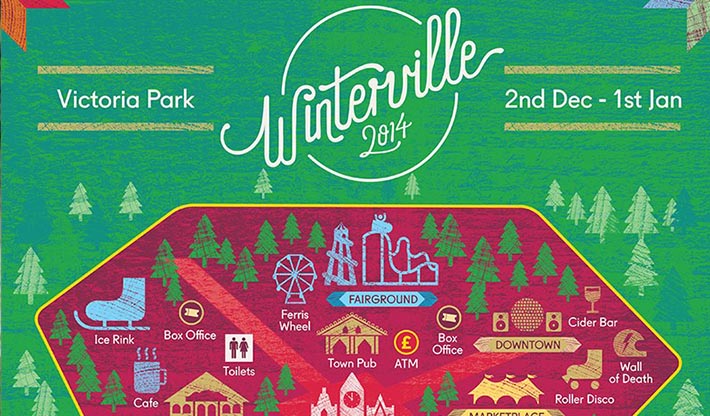 Experience Winterville 2014! With a festive array of entertainment and attractions for all the family, it has a groovy mix of family friendly fun.  There's an ice rink (of course), horse carriages so that you can arrive into the town of Winterville in style plus you get to say hello to the horses!, a gravity defying motordrome – the Wall of Death –  for all those thrill seekers and speed lovers, roller skating, Robin Hood Pantomime, a fairground plus Ferris Wheel,  not to mention the Kids Quarter. Check out the  House of Fairy Tales, face painting with props including tails for a photo call and free workshops this Friday 19th and Saturday 20th by the Super Cape-Abilities team. At 11am , 2pm and 4pm the kids can create their own unique Superhero identity and then decorate their own Super Cape-Abilities cape – 'Is it a bird….?' If you can't make the weekend, check out the family rave (yes I said rave!) on Tuesday 23rd December, for more info, click here
Where: Victoria Park
When: now until 1st January (closed 25th & 26th Dec) open 10am – til late
Age: Families
Cost: Free Entry with tickets required for the various attractions including ice rink, spiegeltent, roller disco, fairground, Ferris Wheel and Wall of Death and Horse Carriages.
Southbank Centre's Winter Festival – Christmas Tree Maze, Southbank Centre Express & more!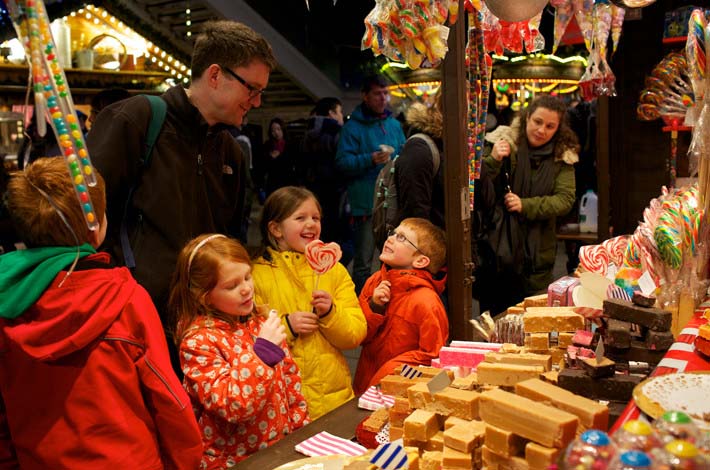 As part of the Southbank Centre Winter Festival, prepare to get lost in their magical maze! Built from 300 Christmas trees,  find your way to the middle and children will receive a gift. Been lost and found and need a sit down, jump on board the Southbank Centre Express. The train journeys from Hungerford Bridge to Festival Pier and back again providing the perfect opportunity for you to take in the sights, sounds and smells of this years Southbank Centre's festive makeover. The spectacular array of events, activities and outdoor art plus festive markets, make the Southbank Centre a must this Christmas.
When: until 11th January 2015
Where: Southbank Centre, Hungerford Car Park, 10am – 10pm
Age: families
Cost: Christmas Tree Maze and the Southbank Centre Express both cost £4 per person – buy tickets from the Box Office by the Hungerford Car Park, 10am – 10pm