WOW: City Lights and Woodland Shade at Japan House
When deciding which exhibitions to take the kids to, I am always looking for a standout factor that I know will pique their interest, something they can engage with on a visceral level. WOW: City Lights and Woodland Shade at Japan House has definitely fulfilled this.
This truly interactive exhibition features two digital installations by the multidisciplinary visual design studio, WOW. Visitors are invited to discover the contrasting worlds of Japan's urban future and rural traditions through mesmerising digital displays.
WOW's 'Tokyo Light Odyssey' welcomes visitors to experience a mind-bending 360-degree journey through Japan's capital city by night.  At once familiar – with neon lights emanating from train stations and convenience store logos floating in the darkness – the artists use omnidirectional motion graphics to contort the known world to present an entirely new interpretation of Tokyo's cityscape. Along the journey, visitors can ride the Yamanote Line, explore the skyscrapers and capsule hotels of the world's largest capital city and see the iconic Tokyo Tower seamlessly floating as a fragment of the night sky. The installation, which lasts five minutes and 25 seconds, promises to leave visitors with a lingering sense of having emerged from a dream.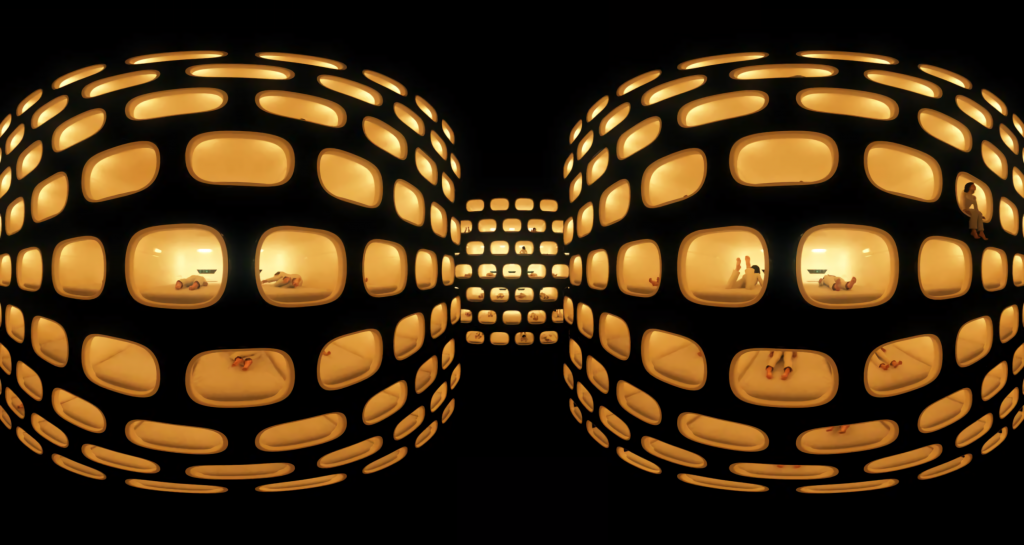 Credit: Image by WOW
While 'Tokyo Light Odyssey' focusses on scenes of the city, 'POPPO' is an excursion into the folk art of Japan's countryside. This digital display includes three different installations focusing on kokeshi – wooden dolls and O-taka poppo – carved wooden figures in the shape of hawks, both originating in the Tōhoku region of north-eastern Japan, highlighting WOW's roots in Sendai.
Upon entering the exhibition visitors are greeted by the 'POPPO Woods' – an installation which welcomes visitors to attach magnetic tree segments to the Gallery walls to summon digital birds. Each bird is unique to the region of Tōhoku and is a talismanic symbol.
Touch screens allow visitors to carve their own kokeshi doll or wooden toy and digitize them to become part of the exhibition, displayed on the walls of the Gallery.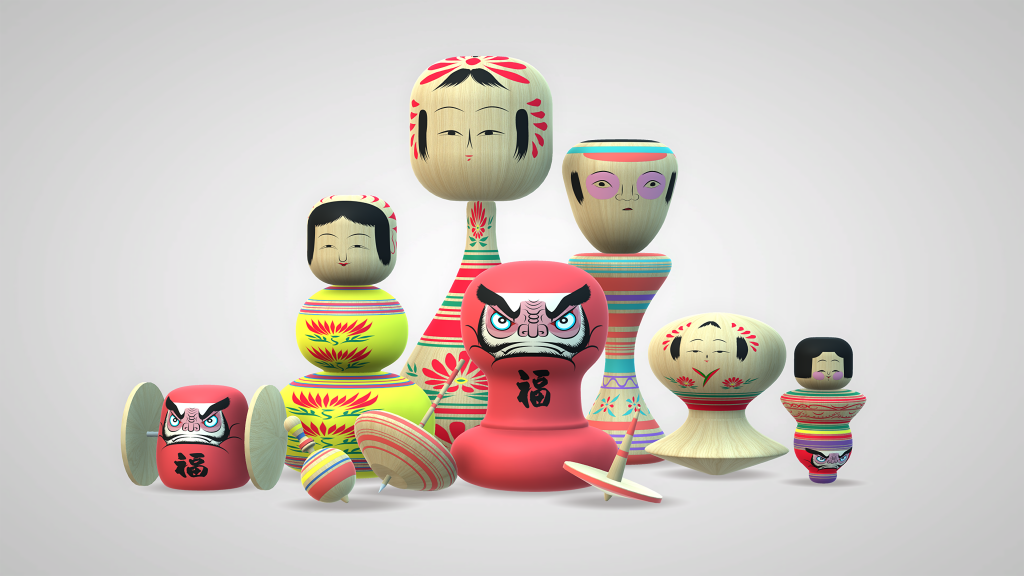 Credit: Image by WOW
In the final part of this installation, the faces of 130 citizens of Yamagata Prefecture are digitally projected on to unpainted wooden kokeshi dolls. The body of the dolls, which are imbued with auspicious meaning, are decorated using designs from a veteran Japanese kokeshi maker based in Zao Onsen. Photo technology also allows visitors to project their own faces on to the kokeshi to create their own unique doll.
WOW: City Lights and Woodland Shade runs until 22 March 2020. The exhibition is suitable for all ages and is free to attend.
Opening Hours
Monday to Saturday 10.00 – 20.00
Sunday and Bank Holidays 12.00 – 18.00
*Opening hours may vary depending on events, so please check their website on the day of your visit
Address:
Japan House, 101-111 Kensington High Street, London W8 5SA
More about Japan House
Japan House is the new cultural home of Japan in London.  Presenting the very best of Japanese art, design, gastronomy, innovation, and technology.  As well as featuring exhibitions they have a shop and a restaurant on site.