HelloFresh – Kid Friendly Family Recipes
LittleBird's Alex was invited to try HelloFresh, the kid-friendly family recipe box that takes the hassle out of meal planning and prep. She sampled 3 recipes for her family from their boxes! Read on to find out more…
Groundhog Day. That's how it feels in our house.
Monday meatballs.
Tuesday chops.
Wednesday curry.
Thursday pie or fish.
And Friday pizza.
The same meals on perpetual rotation for the family, all shopped for, planned and prepared whilst working, trying desperately to beat the clock and shuttling little ones to and from various after-school activities, play-dates and appointments. Boring, it works but would love to expand the repertoire. Sound familiar?
In desperate need of some inspiration for new quick, easy meal ideas, our family decided to give HelloFresh food delivery service a try for 3 meals over 3 days mid-week. We "outsourced" our meal times and this is how we fared.
The delivery arrived! A large box with 3 enclosed paper bags, each with everything we would need per meal and all packaged to remain cool and intact from the journey. First impressions were that it was super organised, all fruit and veg seemed extremely fresh and having everything pre-portioned into separate bags for each meal meant no sorting out of ingredients, it was just ready to go!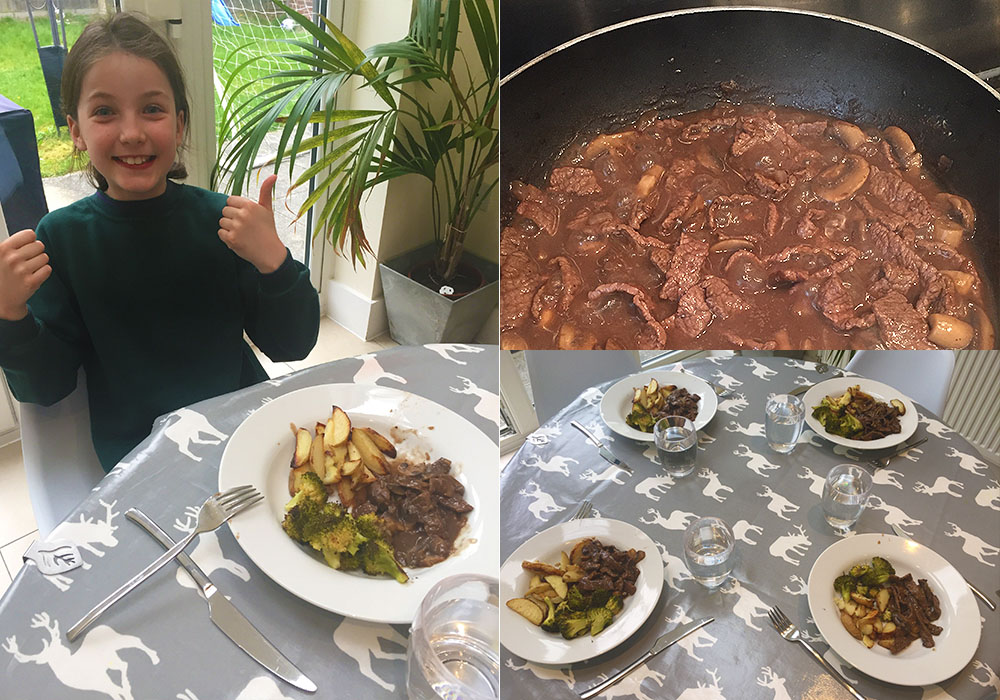 First off, we cooked Steak Strips and Cheesy Chips with Posh Gravy and Roasted Broccoli and it really was "we" not the royal "we"! The kids got involved, stirring, chopping (carefully!), arranging on trays and reading out instructions to me along the way.
Seeing the mushrooms go in prompted them both to loudly exclaim "euggggghhhh, I am not eating that Mummy!" but when the time came the meal was served, frenzied eating followed and I had four empty plates. Smugly asking "did you enjoy that?", I was rewarded with a massive thumbs up from the whole family.
Result!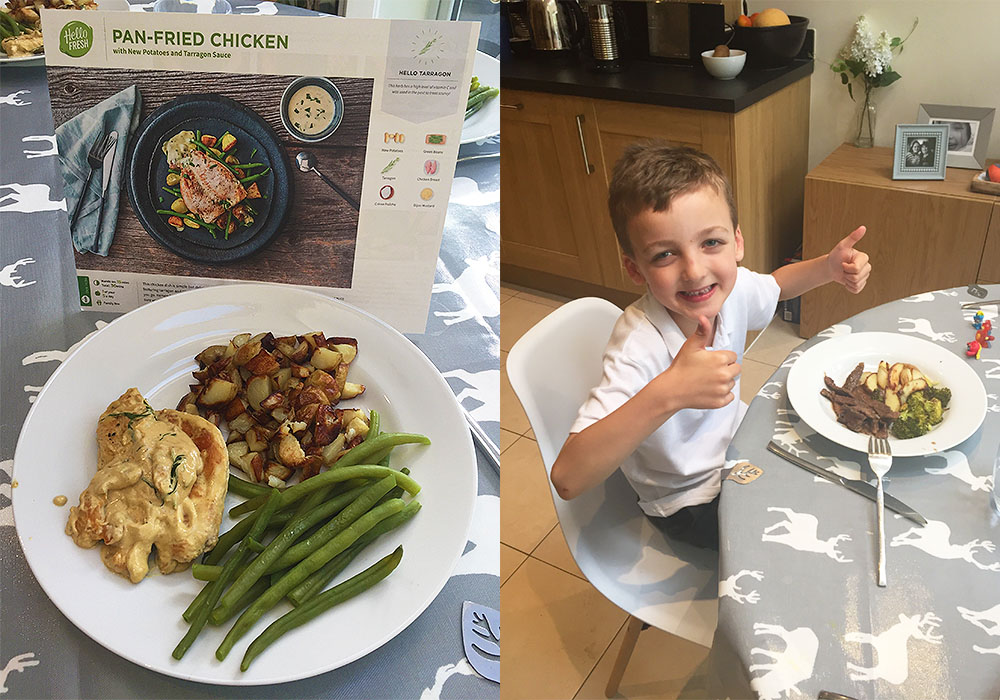 Next, we tackled Pan-fried Chicken with new Potatoes and Tarragon Sauce, labelled a simple but delicious meal and it truly was. Not so simple with my amateur-at-best cooking skills (somehow managed to set fire to the baking paper and had to evacuate the kitchen part way through 🙈) but the clear instructions were easy to follow and even included top tips on toning down the tarragon for little ones and doing taste tests throughout which really helped. Four empty plates again 😊.
Last but not least we tried the Cheesy Fish and Potato Gratin with Roasted Honeyed Carrots, a comforting and hearty meal that I just knew would be a hit. Sure enough, the kids gobbled it up, then channelled their inner Oliver promptly asking for more, of which there was, and again four empty plates and no leftovers.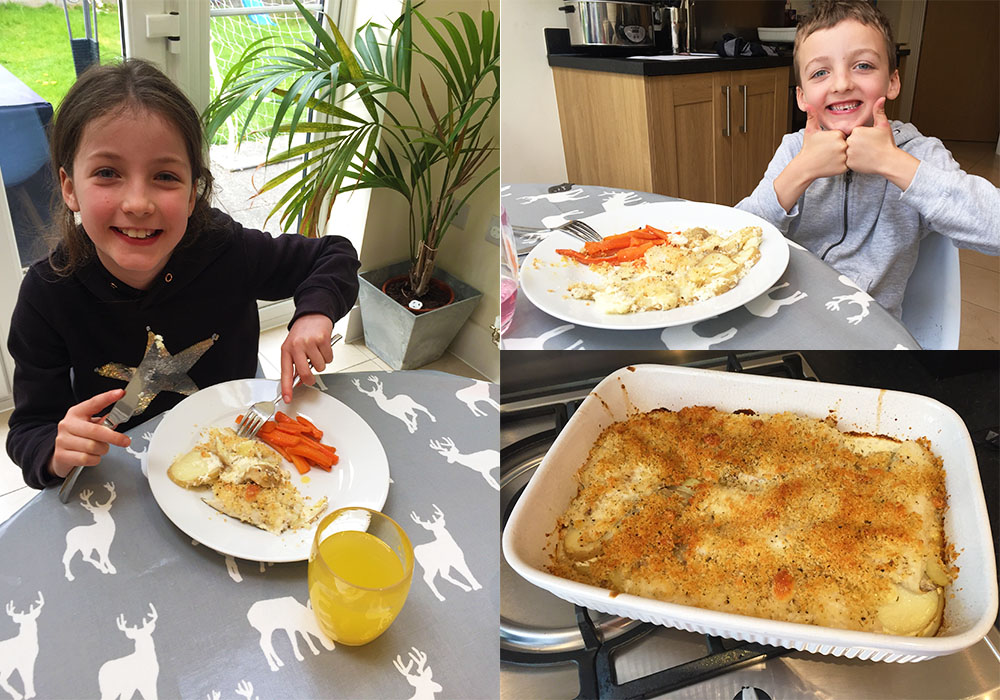 Three meals for a family of four, tried, tested and loved. I loved it not only because all meals were delicious, it was quick (everything could be prepared and on the table in 30-40 minutes), it was easy,  I didn't have to think about going shopping/planning/portions but for the first time in a very long while, I really felt like I had properly cooked for the family rather than provided them sustenance and "catered". It was a joy to see them try to lick the plates (really, they did try!) and there is no greater satisfaction than hearing your children ask for "more" at mealtimes.
The portions sizes are really generous, I had been worried that I may need to "top-up" ingredients for my hungry bunch but really there was no need. On each recipe card, there are clear instructions, nutritional advice per meal, top tips, allergen advice, a list of utensils you will need to prepare the meals and even some fun facts peppered in too! I also learnt a few new additions to my repertoire along the way, I learnt to butterfly chicken, I learnt that unlike in Maths, you can add but can't take away and I learnt to avoid overcrowding of my frying pan. Yes, it's a thing.
Thank you so much HelloFresh for the opportunity to try the family meals, a resounding "thumbs up" from our family and we look forward to see what we can cook up from you next!
Want to try HelloFresh for yourself? Save £15 on your first, second and third boxes here.