Paultons Park Family Break
To say my two kids' levels of excitement were through the roof when we told them about our two-day trip to Paultons Park would be a massive understatement. They could hardly contain themselves and to be fair, neither could my husband. Usually a man of few words, he was fizzing that he was really looking forward to it too – so it was me and my 3 (ahem!) kids off on an adventure.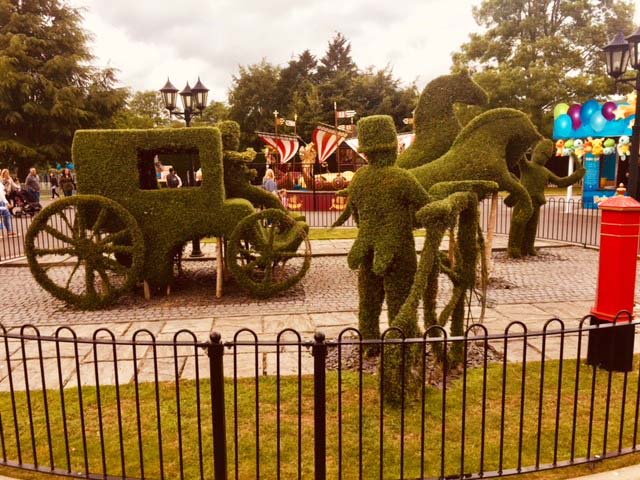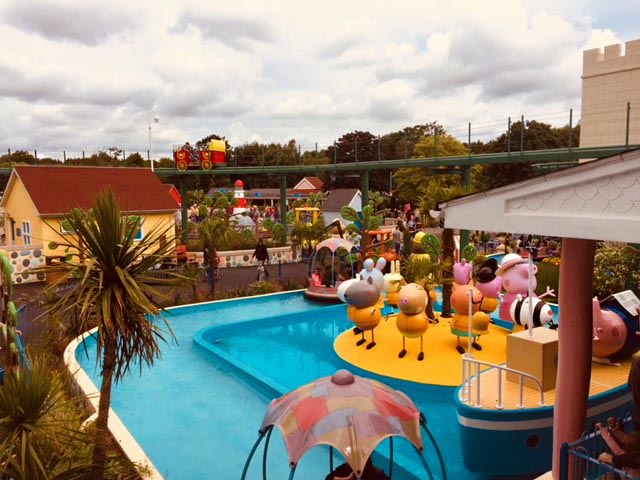 We arrived at Paultons Park for 10am when they opened on Saturday and found it very easy to park, with wardens showing us the way and surprisingly few cars. Keen to see and do everything, we went through the quick check-in process (no bag checks here) and we were off…
Replete with easy-to-read maps, we headed first to Peppa Pig World to check out the two new rides this summer – The Queen's Flying Coach Ride and Grampy Rabbit's Sailing Club.
Bright, colourful and a well-executed addition to Peppa Pig world, the kids loved clambering on board the boat and flying coach to be taken on a story journey with Peppa and her friends. They were not too old at ages 7 and 5 and they were quite surprised Mummy and Daddy knew all the characters! After rides in Peppa Pig world and seeing inside Peppa's house with its pancakes on the ceiling which never fail to amuse, we set off to explore Little Africa.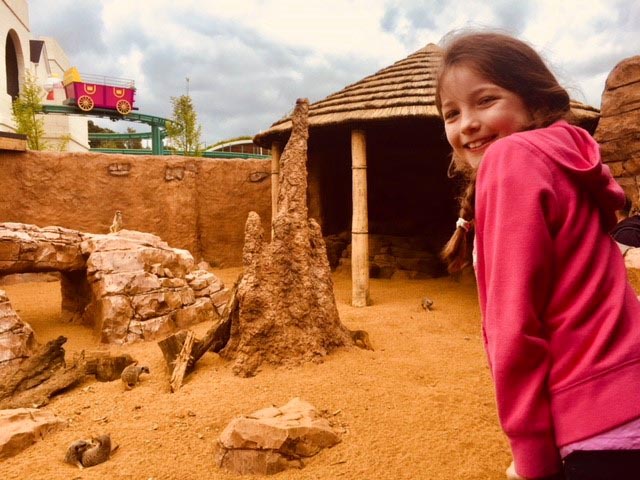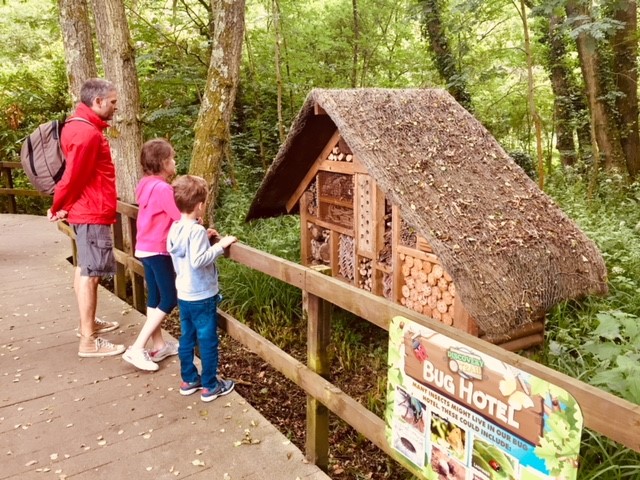 Located in the corner of Peppa Pig World, Little Africa is also new for 2018 and home to many small creatures indigenous to Africa, with a huge aviary at the centre where we saw Trumpeter Hornbills, Black-crowned Night Herons and Madagascan Teal. Flanked by lots of other small animals to view, the children loved the meerkats, porcupines and Monitor Lizards and signage was great, so we learnt about the animals, their food and their habitat too.
Next we went through the entrance to the nocturnal house, where in relative darkness we saw the beautiful Fennec Foxes, Giant Rats, miniscule African Pygmy Mice, giant Train Millipedes – the likes of which we had never seen before, so it was a real treat.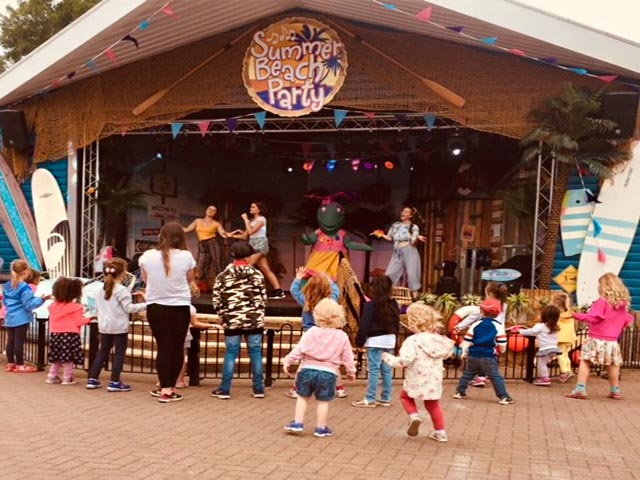 After a quick stop to see the cute Humboldt Penguins being fed, we lunched with a picnic at the "Summer Beach Party" on benches, where we enjoyed a 20-minute free show of singing and dancing with Manta the Ray, which the kids all joined in between mouthfuls of sandwich. It even got us adults tapping our feet!
I was genuinely astounded at how much else there is to do outside of Peppa Pig World, which I've never appreciated before. The beautiful Victorian carousel and classic spinning teacups; Critter Creek with rides and bugs; The Lost Kingdom with rides and animatronic dinosaurs aplenty; Splash Parks and wooden playparks; a 4D cinema, inflatables and lots of open park spaces to explore. The space is vast and any worries I had about filling two whole days at a theme park were soon long forgotten. It was also a pleasure to explore because, unlike other theme parks we have been to, the space never felt crowded and queues were minimal.
Our fearless 7-year old tried everything, from the Velociraptor to the Flight of the Pterosaur; The Edge (I am never doing that again!!) to the Cobra. Our more cautious 5-year-old (who once made me stop a ride mid-way through at Legoland) was more than happy on the smaller rides. The layout at the park was so clever in that if parents were tag-teaming rides with older and younger siblings who wanted to go on different things, it was very easy to do. There were also plenty of seats, benches, eateries, toilets and space around to relax and wait and the larger rides were surrounded by smaller rides which worked well.
Being a Saturday in June and relatively warm weather, I was anticipating crowds and long queue times but I was very pleasantly surprised. We never queued more than 15 minutes and on a number of rollercoaster rides we actually stayed on time and time again (until my daughter went a bit green and I hauled her off!) as there wasn't anyone waiting.
Leaving Paulton's Park at about 5pm, we headed to our hotel, room2 Southampton. Located in the centre of Southampton, it was only a 16-minute journey and the hotel was easy to find and very welcoming. Having checked-in in advance, we parked the car, collected our key cards in no time at all. The hotel itself only opened in May 2018 and was beautifully furnished in a contemporary style. We stayed in the Master Loft, which featured a floor-to-ceiling window and beautiful views over the park and docks.
(TIP: It's £15 extra to park in the hotel at night, spaces for which are limited so book early. However there is also a multi-storey nearby.)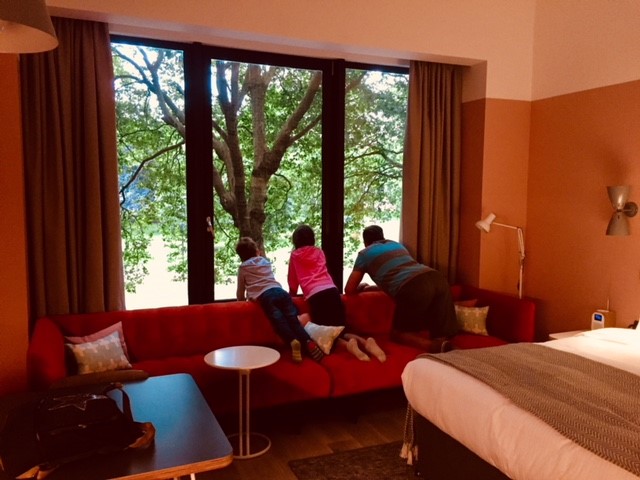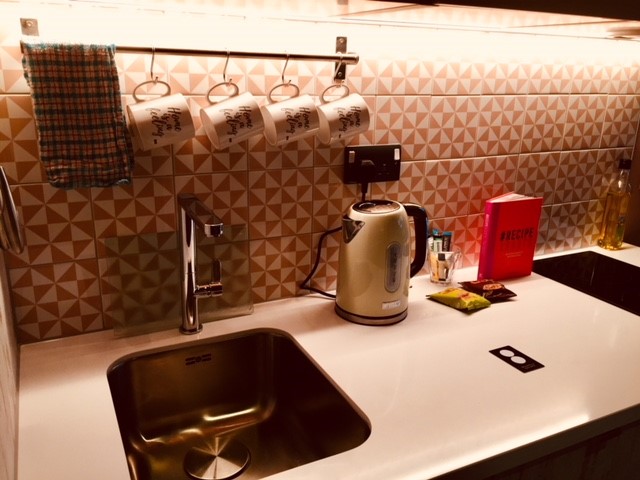 room2 Southampton's aim to provide a 'home from home' and without doubt, it really was. Usually one to take my anti-bac wipes everywhere, I just didn't need them here. We had a fully equipped kitchenette with everything you could possibly need to prepare and cook a meal (even olive oil and a lovely recipe book). The little touches made it, such as plenty of handy coat hooks, beautiful toiletries, a walk-in shower and even a "bits and bobs" box, complete with playing cards, calculator, pens, elastic bands and notebooks.
After a nice meal out across from the hotel, we settled for a good night's sleep in our super comfy beds.
(TIP: The hotel does not have a restaurant but does have a coffee and cocktail bar which serves pizzas and a range of all-day snacks.)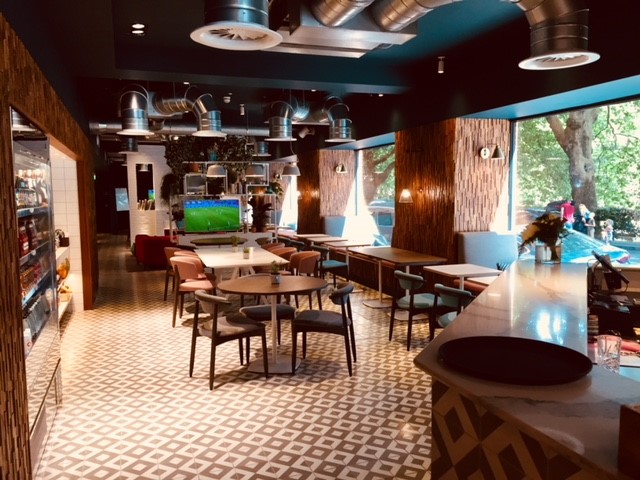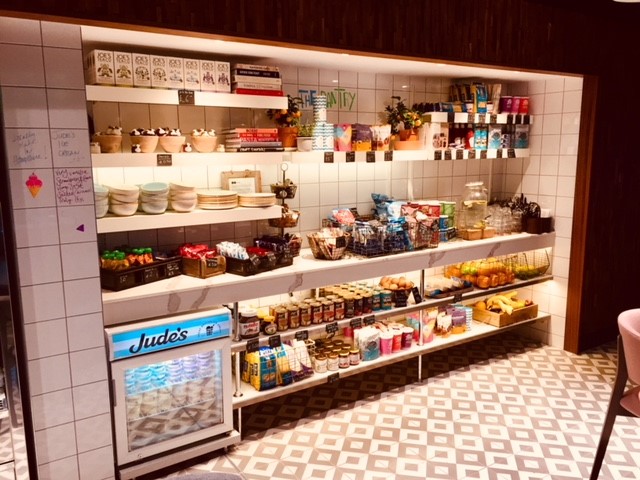 Excited for Day Two, the kids woke up early and so we headed downstairs where we were greeted by the lovely Claire, who showed us around and even helped the children cook their own delicious waffles. We boiled our own eggs but there was plenty of choice in breads and pastries (gluten free options too), make-your-own muesli, homemade banana and walnut loaf, and the coffee was heavenly. CBeebies was playing at the back of the restaurant, which was a lovely touch for families. There was also a laundry room and studio gym too (although with a second day at Paulton's ahead, I didn't feel the need to go!)
Check-out was easy – I had pre-registered a card, so handing back our room keys we found our car and set off for round two at Paulton's Park.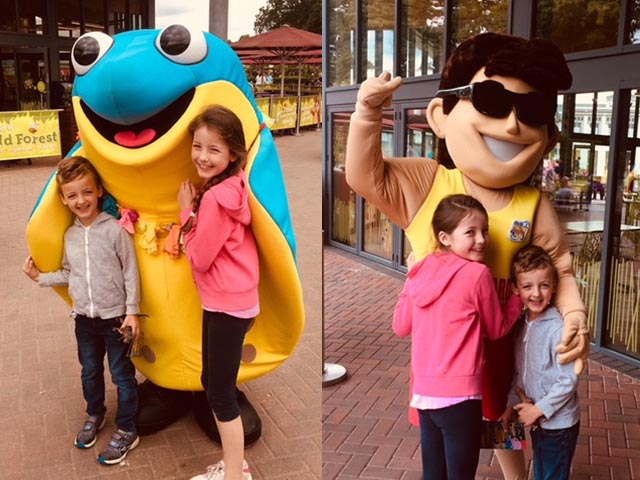 Revisiting our favourite spots, we discovered lots of extra hidden gems that we didn't see first time round. For lunch, we managed to find a great little healthy eatery near to Peppa Pig world, where we enjoyed a yummy tuna salad, thick vegetable soup and healthy lunchboxes for the kids (and then undid all the good work with hot chocolate and ice-cream later!)
We had a fantastic couple of days and can highly recommend Paultons Breaks to any family wishing to treat their children to a magical adventure away from home. It was amazing and quality family time, when our usual weekends are spent haring about from one party, to class, to shop, to another. The children had an absolute ball and were full of tales and stories all week at school – even drawing little animals they had seen and pleading for us to take them to the "real" Africa soon. Our 5-year-old son actually said he wanted to move house to live in Paultons Park forever and our 7-year-old daughter wants to do it all again every week. High praise and a testament to a fantastic couple of days, thank you so much Paultons Breaks and the fabulous, friendly and welcoming room2 Southampton hotel – we will be back.