Finding the funniest children's books of 2017…
Our good friends over at Scholastic UK designed the Laugh Out Loud Awards 2017 to celebrate the very funniest books in the world of children's fiction.
Having taken place for the first time last year, Scholastic set up the Lollies because they (and we!) believe funny books are the beating heart of the children's book world. There's nothing quite like a funny book for creating lifelong, passionate readers, and head Lollies judge Michael Rosen summed this up perfectly when he explained why he's championing the awards:
"Everyone who is interested in children's reading knows that for many, many children, the thing that gets them going is a book that makes them fall about laughing. Weirdly, they're not always that easy to find. This prize will be like a great big signpost saying 'This way laughs' and that could be the moment a child who doesn't read turns into one who does. I think that's really exciting."
The shortlist features the Lollies judges' twelve funniest reads, ranging from picture books up to books for 9-13 years. But now it's where you come in – because the winners of the Lollies are decided entirely by teachers, parents and children.
Below are the books which made the shortlist – which will you vote for?
What's more, we're running an awesome competition with The 2017 Lollies Book Awards where you could win a fun family day out and a bundle of laugh-out-loud books. We've got no fewer than TEN fantastic days out to give away this Summer, plus four Lollies shortlisted books in your chosen age category. Enter here for your chance to win!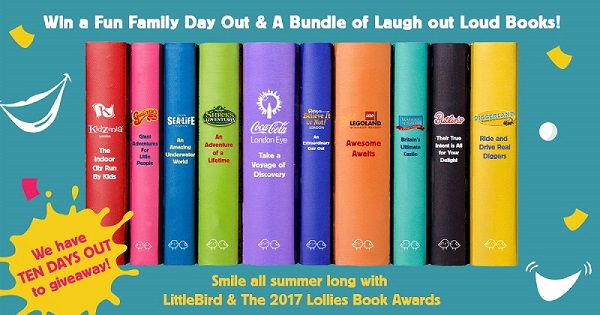 Picture Books
Oi, Dog! by Kes Gray/Jim Field
Eat Your People by Lou Kuenzler/David Wojtowycz
Prince of Pants by Alan Macdonald/Sarah McIntyre
Danny McGee Drinks the Sea by Andy Stanton/Neal Layton
6-8 years
Thimble Monkey Superstar by Jon Blake/Martin Chatterton
Hamish and the Neverpeople by Danny Wallace/Jamie Littler
Eddy Stone and the Epic Holiday Mash-Up by Simon Cherry
Future Ratboy and the Invasion of the Nom Noms by Jim Smith
9-13 years
I Don't Like Poetry by Joshua Seigal
The Best Medicine by Christine Hamill
My Gym Teacher is an Alien Overlord by David Solomons/Laura Ellen Anderson
AniMalcolm by David Baddiel/Jim Field