LittleBird Return to the Middle Ages at London's Medieval Banquet
London's Medieval Banquet
A Feast Fit for a King!
With a stylish selection of places to eat, a beautiful view of the water and of course being only a stone's throw from the Tower of London and Tower Bridge, St Katharine's Docks is a great area to visit of an evening, but there's even more going on here than first meets the eye as the LittleBird team discovered recently…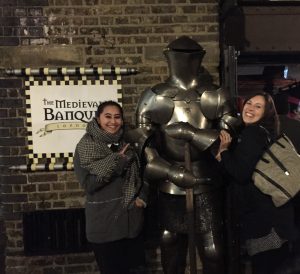 Venture through doors guarded by knights in shining armour (literally) and you're suddenly transported back to the Middle Ages, where Henry VIII and his court of knights, jesters, jugglers, acrobats and minstrels warmly await to entertain and feast with you at London's Medieval Banquet!
Descending in to the softly-lit depths of the impressive historical venue that is Ivory House, we were shown a trove of costumes and medieval-themed accessories, which are available to hire for the night should you wish to truly immerse yourself in the times!
Appropriately dressed, we were then seated at our banquet table where we discovered character sheets, to complete our medieval identities – you may here on in refer to me as Galien of Rooks Keep! Here we were also introduced to our 'Wench' for the evening, who briefed us on traditional medieval customs – let's just say that the table etiquette was a little different to the P's and Q's we teach our children nowadays!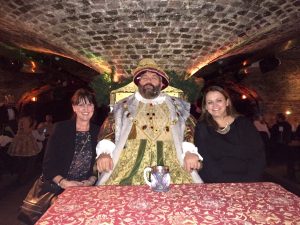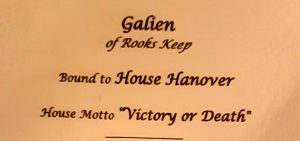 Following the 'Mead Oath' and a chorus of the House Song, table manners were quite enthusiastically flung out of the proverbial window as we sipped soup straight out of the bowl and drummed our fists on the table in applause of a sword fight! 'Please may I have a drink?' was exchanged for the cry of 'WENCH!' and our impressive 4-course meal of traditional medieval fare was punctuated (probably quite necessarily) by singing, dancing, juggling and acrobatics, as well as duelling knights…
The banquet itself was delicious with soup, meat and cheese platters, a hearty roast chicken main course and rounded off with a generous slice of fruit pie and cream. Washed down with ale and/or wine, it's needless to say that we were suitably full. Having feasted like Kings we then danced the rest of the evening away, to music which gradually brought us back to the 21st Century and reality…!
All that's left to say is a big thank you to all those involved at London's Medieval Banquet for a truly spectacular and thoroughly entertaining evening!
Yours,
Galien of Rooks Keep
(a.k.a Lizzie!)