What's On This Weekend? Saturday 27th & Sunday 28th February
Fun and fantastic things to do with the kids in London this Weekend
Saturday 27th & Sunday 28th February
THE MINI VAULTS UNDER WATERLOO STATION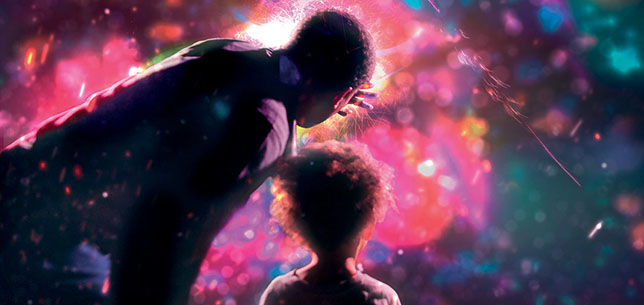 Head underground to the Mini VAULT Festival –  an explosion of spectacular family friendly activities, shows and events  in the secret tunnels under Waterloo. Enjoy a magical day out with fantastic shows and free festivities. As well as circus, magic, theatre and comedy, you and kids can experience interactive installations and enjoy storytelling, listen and dance to live music, play games,  have your face painted and more!
This weekend choose from Jellyfish; a puppet show about a mother, her son…and er, a jellyfish, Princess Charming; an interactive show with a big dressing up box at the centre of the fun, Keep Fit Fandango; a riot of dance, colour and electronic beats and Star Seekers ask you if you have ever dreamt of flying to the moon plus so much more.  Download the full programme here.
When: Saturday 27th & Sunday 28th February
Where: Under Waterloo Station, (turn right from Lower Marsh onto Leake St, SE1 7NN)
Age: under 11s
Cost: Festival entry is free but some shows require tickets with booking advised
LittleBird's Top Tip: If you can't make this weekend or simply love a party,  enjoy the Mini Rumpus 'Under the Sea' Party next Saturday 5th March at The Vaults. Save 25% with LittleBird on tickets – book now before tickets sell out!
DESTINATION SPACE AT THE SCIENCE MUSEUM, KENSINGTON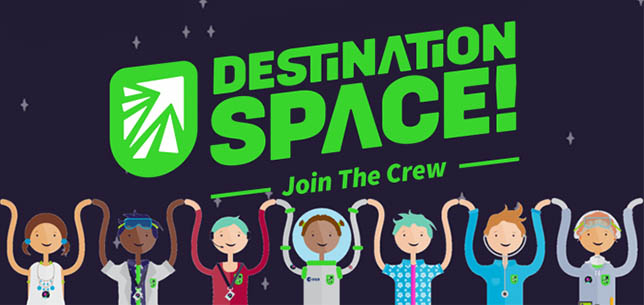 3 – 2 – 1 – Blast off! Enjoy Destination Space at the Science Museum this weekend and go on a journey through space in this fast-paced show! Help explode some rocket fuelled bubbles, melt some marshmallows and learn all about the challenges of space in this cosmic interactive family show.
Before or after the show, pop along to Churchill's Scientists exhibition and find out how Churchill's fascination with science led to the scientific achievements that helped Britain win the Second World War – it's free and finishes on 1st March.
Why not also visit the  Cravings  exhibition and explore how food affects your body, brain and eating habits. Help Heston Blumenthal find out more about how our senses can affect how we enjoy our food – you can take part in this experiment right now; click here  – snail porridge anyone?
When: Saturday 27th & Sunday 28th February,  1pm & 3pm
Where: Science Museum, SW7 2DD (The Theatre)
Age: 8+
Cost: Free
LittleBird's Top Tip: The Natural History Museum is just round the corner and if the kids have been inspired by our very own Tim Peake,  the Otherworlds: Visions of our Solar System exhibition is a must and the V&A is across the road and always has lots to offer families with art trails, hands on galleries and Back-Packs.
RUMPELSTILTSKIN  AT LITTLE ANGEL THEATRE, ISLINGTON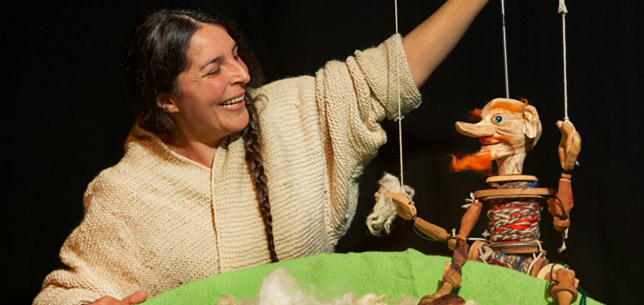 Head to the wonderful Little Angel Theatre this weekend for a woolly wonderland of a show with spinning, weaving, lively puppetry, music and storytelling. Enjoy Rumpelstiltskin as this classic tale is spun before your very eyes.
Auntie spins as hard as she can to make the wool for the King's special jumper. But the royals are out of cash, the girl who is helping is useless at spinning and the Prince just wants to be a shepherd. Everyone gets their threads in a twist and then Rumpel… you-know-who steps in. Who is he, where does he come from and can they guess his real name before he gets them all in a spin?
When: Saturday 27th & Sunday 28th February, 11am & 2pm
Where: Little Angel Theatre, N1 2DN
Age: 3 – 8
Cost: Adults £10, kids £8
LittleBird's Top Tip: If the kids are fascinated by puppets, take them to the Puppet Barge Theatre.  Opened in 1982 and described as "one of London's more elusive treasures", the  established 55-seat theatre with all modern facilities offers a unique atmosphere and provides the ideal setting for the magical and imaginative shows produced. Joey's Fireworks performs this weekend.
BABY LOVES DISCO GLITTER & GLOW, CLAPHAM – SAVE 34% WITH LITTLEBIRD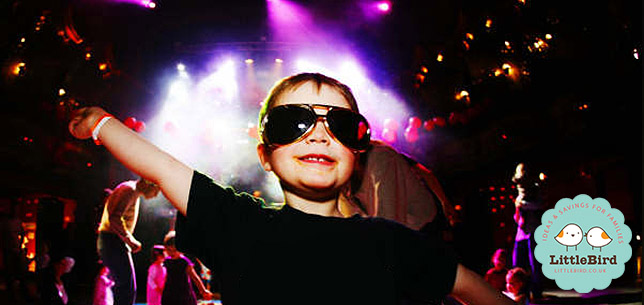 Illuminate your February and get back your ultraviolet smile – it's time to party! Baby Loves Disco Glitter & Glow arrives at the Aquum this Saturday. The original family dance party, you can expect all the usual BLD fun and games on and off the dancefloor, competitions and giveaways, face painting, themed craft activities, chill out zone with play tents, toys, inflatables and instruments for littles ones, dress-up, complimentary kids drinks and healthy snacks, plus a licensed bar…
If you can't make this Saturday, head to Tonbridge next Saturday 5th March and save 31% on Baby Loves Disco and if your movers and shakers are in the 4 – 11 year old age group, experience and save 25% on Pop Lock In – only with LittleBird.
When: Saturday 27th February, 1pm – 4pm
Where: Aquum, SW4 7UL
Age: 0 – 5
Cost: Save 34% with LittleBird, tickets £6 – book now
LittleBird Top Tip: If the kids 'Love to Dance', then do not miss Move It – the UK's biggest Dance Show. Celebrate all forms of dance and performing arts at Excel London 18th – 20th March, you can  save 45% on tickets with LittleBird.  Book now to avoid disappointment.
FAMILY FUN ON THE GOLDEN HINDE II, BANKSIDE – SAVE UP TO 29% WITH LITTLEBIRD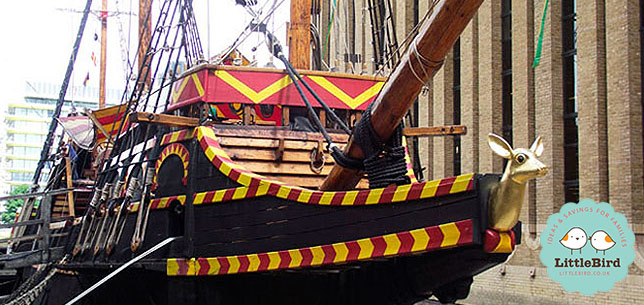 Ahoy there me hearties – come aboard and discover what life was like sailing on the ocean in the 16th Century. Costumed actors, stories, interactive games and activities are promised on the Golden Hinde. Choose from different experiences including Tudor Fun Days, Tudor Battles Experiences and Francis Drake Fun Days and learn about the history of the famous vessel and Sir Francis Drake. Life on the ocean wave comes to life with all the tales of cabin boys' larks on board and the chances of returning with treasure.
When: Throughout the year
Where: Golden Hinde, SE1 9DG
Age: 6+
Cost: Book your tickets through LittleBird and enjoy a 20% saving on a child ticket £3.50 and save 29% on an adult ticket £5
LittleBird's Top Tip: Kids love an experience? Why not treat them to an unforgettable sleepover experience on the Golden Hinde and save 10% with LittleBird. Be trained in navigation, barber surgery and gunning and then bed down for the night amongst the weapons on the Gun Deck – it's a sailor's life for me hey!
SOCIAL FABRIC AT THE WILLIAM MORRIS GALLERY, WALTHAMSTOW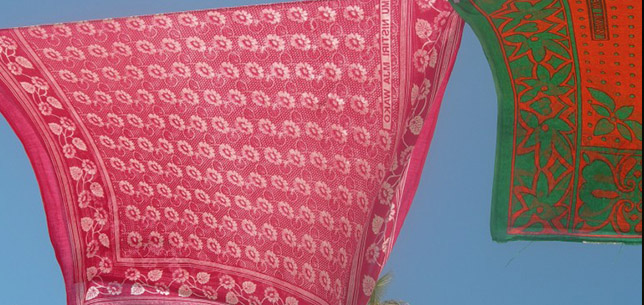 Head to the William Morris Gallery this Saturday for their monthly family day and let the kids create their own kanga (a colourful, printed textile popular in African countries) using traditional block printing and find out about the messages printed on them in the current exhibition Social Fabric: African Textiles Today.
William Morris was a textile designer and craftsman, writer, poet and political activist. The gallery celebrates William Morris's life and work and the displays are designed to be fun for families, with hands-on, interactive exhibits. There's a shop too and a yummy looking Tea Room (overlooking Lloyd Park) that uses locally-sourced, seasonal ingredients and helps to support the Gallery too.
When: Saturday 27th February, 1pm – 4pm
Where: William Morris Gallery, E17 4PP
Age: Families
Cost: Free, drop in
LittleBird Top Tip: The William Morris Gallery is set within Lloyd Park so enjoy the fresh air and let the kids enjoy the nature play area, outdoor gym, outdoor table tennis (bring your own bats and balls) and if there are any skaters amongst you; bring your boards along as there's a skate park too.
PARTY PLANNERS AT SUTTON HOUSE & BREAKER'S YARD, HACKNEY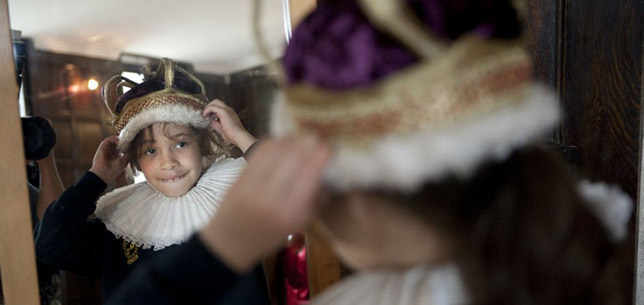 Dress up as royalty this Saturday and host your own party at Sutton House Free Big Day Out. Enjoy Party Planners –  will the kids choose the grandest Hall as their party venue or the magical caravan as THE place to host the celebrations.
Head to the Breaker's Yard and build a sand castle fit for a King; climb in and out of  bouncy tyres; challenge your family to a hula hoop competition or drive the royal green bus. The Breaker's Yard is Sutton House's new Pocket Park designed by Dan Lobb in collaboration with The House Fairy Tales. Inside the caravan is the National Trust's smallest stately home…Sutton House & Breaker's Yard needs your families help this Saturday to make lots of party bunting ready for their big Easter party.
When: Sunday 28th February,  12pm – 4.30pm
Where: Sutton House, E9 6JQ
Age: Families
Cost: Free, drop in
LittleBird's Top Tip: Sutton House has family trails and treasure chests so you and the kids can spend time exploring and discovering the lives of the people that lived in Sutton House through puppets, costumes and even a soft textile tea set – anyone fancy a cuppa?
LONDON MOTOR MUSEUM, HAYES – SAVE 55% WITH LITTLEBIRD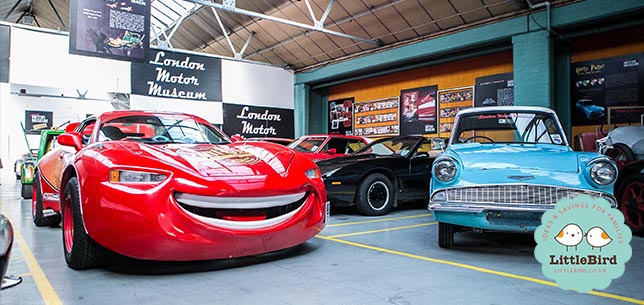 Kids love Top Gear? Take them to car heaven this weekend to the London Motor Museum where they can enjoy The Super Paddock featured at Top Gear Live 2012 boasting the world record breaking SSC Ultimate Aero TT, A Gumpert Apollo and the timeless Lamborghini Countach QV5000. There's also the Bat Cave – home to the 1966 Batmobile which featured in the TV series starring Adam West and also the 1989 which features in Tim Burton's gothic classic starring Michael Keaton plus movie cars including Starsky and Hutch's Gran Torino, Mr Bean's Mini, a DMC Delorean.
Don't miss the London Motor Museum Workshop allowing visitors behind the scenes access to the customisation process of some of the museum's most prized processions. There's a cinema too showing cult Herbie classic if you need a rest and hungry tummies will love the 1960s themed Burger Bus Stop offering an automotive-themed range of gourmet burgers on a bus!
When: Daily
Where: Motor Museum, UB3 4SB
Age: Families
Cost: Save 55% with LittleBird Adults £13, Children £9 – buy now!
LittleBird's Top Tip: LittleBird vouchers are valid until 31st March – over the Easter weekend; a great idea for a day out with the kids.
CUT & PASTE AT THE PUMPHOUSE GALLERY, BATTERSEA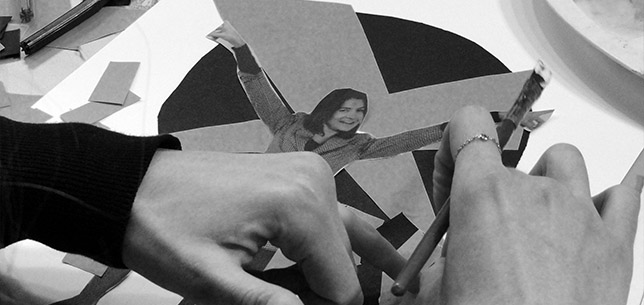 In the centre of Battersea Park you'll find the Pumphouse Gallery  – a gallery that looks to explore the different ways art can be made, experienced and interpreted and this coming Sunday's workshop does exactly that.
The current exhibition Progress Report from the Strategic Sanctuary for the Destruction of Free Will sees artists Pil and Galia Kollectiv transform the Pumphouse Gallery into a makeshift film set. Shooting film during the gallery's closing hours, the artists screen short missives as the exhibition progresses. This Sunday, taking themes from the exhibition, workshops will range from creating cardboard sets to making costumes – drop in and join in as you and the kids get to experiment with a range of creative hands on activities.
When: Sunday 28th February, 11.30am – 3.30pm
Where: The Pumphouse Gallery, SW11 4NJ
Age: Families
Cost: Free
LittleBird's Top Tip: Situated in the historic Battersea Park, there's a playground for the younger ones and an adventure playground aimed at 5 – 16 year olds, a cafe and, of course, Battersea Park Zoo – did you buy the LittleBird membership saving at the Zoo? Plus Go Ape has finally arrived in London and it's in Battersea Park!
THE DISNEY / LASSETER SHORT FILMS AT THE BFI, SOUTHBANK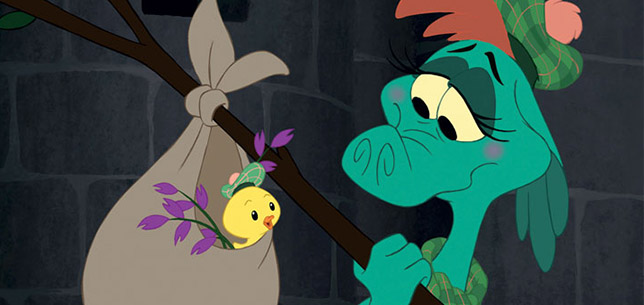 John Lasseter has been a driving force for Disney and has continued to push the envelope in animation terms by using short films to tell important stories and try out different styles. In this homage to John Lasseter, the BFI have put together a special compilation and hope to offer a range of shorts featuring some of your favourite Disney characters including How to Hook Up Your Home Theatre (2007); The Ballad of Nessie (2011); Tangled Ever After (2012); Get a Horse (2013); Feast (2014), and Frozen Fever (2015).
There's a workshop before (free to ticket holders) where the kids imaginations can run wild as they create their own fantastical worlds in this hands-on arts and crafts workshop. They'll be inspired by Disney's unique collection of characters, from Frozen's Elsa with her icy powers to bumbling Pascal and Maximus of Tangled, or maybe even Mickey Mouse himself! Plus there'll be prizes and treats for the best stories.
When: Sunday 28th January, film starts 1pm
Where: BFI Southbank, SE1 8XT
Age: Families
Cost: Adults £11.75, children £4
LittleBird Top Tip: Buy one adult and one child combo ticket for £10 and remember kids eat free all day, every day at the Riverfront at the BFI. You can also enjoy free babyccinos for your little ones with a £2 coffee at Riverfront Bar & Kitchen – just show your family cinema ticket to redeem offer. Plus make a note to visit the BFI's amazing Mediatheque. For more info, click here.