How to Go to the Cinema for Less
Everyone loves to go to the cinema, but it's so expensive! Especially with nearly every major blockbuster being in 3D. Then there's the extortionate prices of the food and drinks, taking the family to the cinema now is almost as expensive as trying to go to a theme park. But there are so many amazing films coming out this year, as you can see in our Fantastic Films and When to Find Them post, that you just can't miss out by not going to the movies. So with Half Term coming up we decided to share some of the tricks we've picked up on how to get those tickets for as little as possible.
Age Specific Deals

Most major cinemas offer discounts for kids at specific times:
Cineworld Movies for Juniors – £1.50 tickets for both adults and kids on selected Saturday and Sunday morning screenings.
Empire Junior Screenings – Saturday and Sundays at 'pocket money prices' for both adults and children.
Odeon Kids Movies – Discounted at certain cinemas on Saturday and Sunday mornings and through the school holidays with tickets at £2.50. Check your local cinema listings for more details. Adult tickets for 13-17-year-olds at Odeon cinemas also have 15% knocked off. Those buying family entry will also get all their tickets at child prices.
Vue Mini Mornings – Has £1.99 tickets for both kids and accompanying adults on selected weekend mornings and throughout school holidays. Vue also offers 20% off adult tickets for teens aged 13-18 years old. With a family ticket, everyone pays the child ticket price (four people, with a minimum of two children in a group).
Picturehouse Cinema Kid's Club -For kids aged 3-12 tickets for children and their accompanying adults are just £1.50 each! Don't forget about Toddler Time showings as well where tickets are £3 for children and free for accompanying adults!
Student Tickets – Make sure that you or your student-aged kids have their ID to hand as you'll be able to get hold of discounted tickets at most cinemas.
Senior Tickets – Most cinemas offer discounted tickets for seniors and a couple also run senior screenings that come with a free hot drink and biscuit to enjoy while watching the film. Vue has their Seniors Club, Odeon has Senior Screen with tickets for £3 and Empire has Senior Screenings on Wednesday mornings.
Carers – If you are receiving Disability Living Allowance, Attendance Allowance or are registered blind you can apply for a CEA card that allows a carer (parent, family member, worker etc.) to enter the cinema for free when you buy a full-price ticket.
Weekdays

Supersaver Tickets at Odeon mean that you can get great discounts on tickets Monday to Thursday before 5pm
Tuesdays are the day to see all the latest blockbusters with Bargain Tuesdays at Cineworld, Super Tuesdays at Vue if you sign up means a third off adult tickets all day long and Empire cinema's Sav£rday Tuesday deal where tickets can be as low as £4.50 (Bank Holidays, Impact, Luxury and VIP seating, Opera, 3D, Special Promotions and the Leicester Square Venue are all excluded from the deal)
Empire cinemas also offer Last Chance to See Thursdays for films that are coming to the end of their run.
Membership Schemes

Cineworld Unlimited Card – Access to as many movies as you like from £16.90 a month. And something else… if you manage to recommend the Unlimited pass to a friend you both receive one month's free membership! So recommend 12 friends and you get a full year of free Unlimited cinema!
Odeon Premiere Club – Allows you to earn 10 points for every £1 you spend in the cinema. These points can then be spent on tickets, food or drink. There are also regular points offers and special members' discounts. The club does cost to join, with membership options starting from £1.99, but you get some free points to start you off when you sign up.
Picturehouse – Four free tickets, up to £2 off tickets for a year, 10% off food and drink at the cinema, priority booking and a host of other discounts at restaurants and cafes such as Strada and GBK. A single membership costs between £15 and £55. Joint membership (two people at one address) costs between £90 and £95. What's more, you'll get three months free if you renew by direct debit.
Showcase Insider Club – Offers £6.25 tickets on Sundays after 7pm, and all day Mondays and Tuesdays. You'll also get money off food and drink and the chance to win tickets to free preview screenings.
Cheaper Cinemas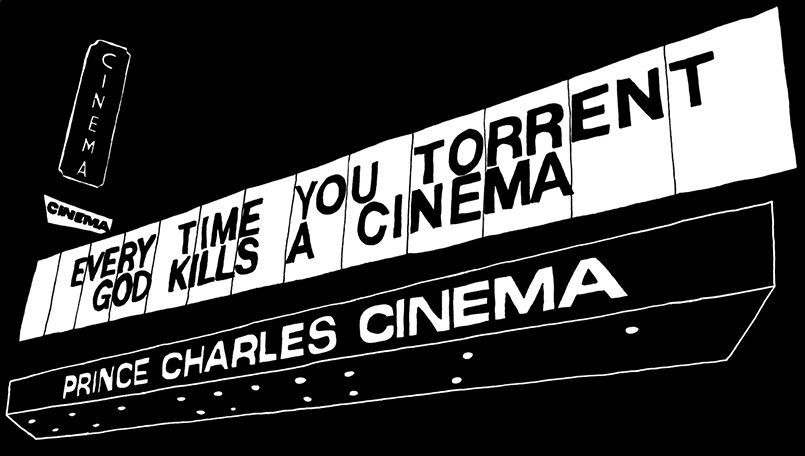 Prince Charles Cinema – Prince Charles is situated just off Leicester Square and is the cheapest cinema in whole London. By paying £10 annually or £50 for lifetime membership you become a member and watch movies for £4-£8
BFI – The BFI are the official lovers of film so of course they'd have some great offers when it comes to watching films for less. Their prices are usually Under 16s £4, adult £11.75, concs £9.20 which is already a lot lower than the bigger chains but if you get a Combo ticket offer (excludes special screenings) then 1 adult + 1 child £10 (Members pay £1.50 less). Not only are their ticket prices low but did you know you can enjoy free babyccinos for your little ones with a £2 coffee at Riverfront Bar & Kitchen just show your family cinema ticket to redeem offer. AND Kids Eat Free! – One free kid's meal with every adult's meal. Only valid when a  BFI family ticket is presented,  before you order.
Barbican Cinema – Every Monday by booking online beforehand you can watch new films at the Barbican cinema for only £6.00. Moreover, every Tuesday if you're a student you gain entry to any new release film for just £5 (£7 for 3D films), upon presentation of a valid student card. If you're with kids be sure to check out the Framed Film Club a year-round programme of film and learning for young people that takes place every Saturday morning for just £3.50.
Coronet Cinema – Every Tuesday Coronet Cinema gives you the opportunity to watch a movie for a mere £3.50. The cinema has two screens. One big screen where they project the latest releases and one smaller for the films in their second week of screening. On Mondays, students can go for £4.50.
RichMix – Are you a Tower Hamlet resident? If so, you can start your week by watching brand new film releases as well as independent and world documentaries for only £5! The only thing you need is to show your Tower Hamlets library card or Idea Store card. For those not from Tower Hamlets there's the Rich Mix Six where all adults can buy tickets for just £6 and kids for £4. There's also the Kid's Cine Time which presents a selection of films for all the family yo enjoy every Saturday and Sunday morning at 12pm for just £1.75 for both kids and adults!
Genesis Cinema – Just a stone's throw from Stepney Green tube and a stroll from Whitechapel Station, East London's oldest cinema, originally the Paragon Music Hall built in 1885, is a beacon of Hollywood Neon on the Mile End Road, comprising a 5 screen cinema, bar, coffee shop and gallery. Tickets are just £4 on Mondays and Wednesdays, and with the introduction of Meerkat Movies, you can now see a film in one of London's most beautiful cinemas for £3.50 on Tuesdays and £2 on Wednesdays.
Start Collecting offers

O2 Priority – Nearly always has cinema deals just keep checking the website and app for updates and discounts.
Nectar Card – You can redeem Nectar Points at Vue Cinemas! 500 points = £2.50 off your ticket.
Tesco Clubcard Vouchers – These can be exchanged for admission tokens at 3 cinema chains: Cineworld, Odeon and Movie House.
Sun+ – You can access Sun Perks and collect codes to get a range of cinema offers.
Times+ – Members get 2-for-1 Odeon cinema tickets every Saturday and Sunday, half price Picture House membership and access to regular free preview screenings.
Telegraph Subscribers – Subscribers can attend free preview screenings.
Meerkat Movies – 2-for-1 cinema tickets when you buy through comparethemarket.com.
Go to Free Preview Screenings

To promote new films free tickets are often given away as a way to generate buzz. However only selected titles are previewed so you'll need to sign up to specific sites to get hold of screening codes as they are released.
Students will obviously know about the E4 Slackers club at Picturehouse cinemas but it is worth signing up to sites like Show Film First, Total Film Club, Paramount Previews and Disney Screenings to take advantage of their free tickets. It's also a good idea to register to the Free Movies UK forum as members share detail of the latest free screenings.
Voucher Codes
Watch out for voucher code and cashback deals on sites like VoucherCodes.co.uk, MyVoucherCodes, Quidco and TopCashback.
Enjoy free babyccinos for your little ones with a £2 coffee at Riverfront Bar & Kitchen. T&C: Show your family cinema ticket to redeem offer. AND Kids Eat Free at Riverfront Bar & Kitchen – one free kids meal with every adult's meal. Only valid when a  BFI family ticket is presented,  before you order.