What's On This Weekend? Saturday 30th & Sunday 31st January
Fun and fantastic things to do with the kids in London
Saturday 30th  & Sunday 31st  January
KIDZANIA, LONDON WESTFIELD – LITTLEBIRD EXCLUSIVE – ADULT ENTRY 1P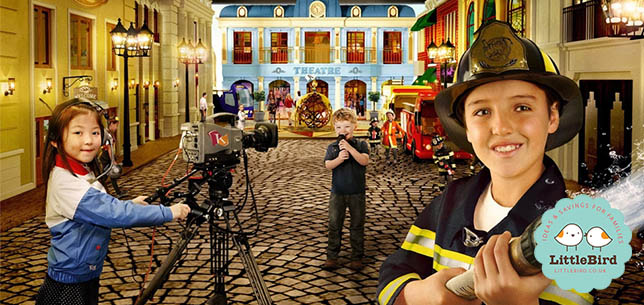 Imagine a whole city built for kids; they run the city, get paid (in Kidzos) and then decide what to spend their wages on. No need to imagine anymore, role-play heaven awaits at KidZania's Westfield London.
Let the Kids spend the day being a pilot, a radio DJ, a dentist, a fruitologist, a firefighter, and a doctor or newspaper editor.  There is more than 60 real life role-play activities in the bank, on stage, in a science lab, a hotel, a recycling centre, fashion studio, dance club and chocolate factory. Each experience is crafted to teach kids life skills including creativity, critical thinking, communication, teamwork and independence. Most of all, though, it's learning through hands-on experience and plenty of fun!
When: open 7 days a week
Where: Westfield London, W12 7GA (KidZania London is located on the first floor between Marks & Spencer's and Gap)
Age: 4 – 14
Cost: Adults 1p, 4 – 14-year-olds £29.50, 1 – 3-year-olds £10, under 1s free – LittleBird's Exclusive –  valid until 24th March (excluding 13th – 21st Feb) Book Now
LittleBird's Top Tip: Every child is given a tracking monitor that they wear on their wrist so you know where your child is at all times which means you can enjoy The Parents Lounge. Take a book and enjoy the quiet reading area, enjoy free Wi-Fi Internet access, computers plus there's that all important coffee shop too!
THE MINI VAULTS UNDER WATERLOO STATION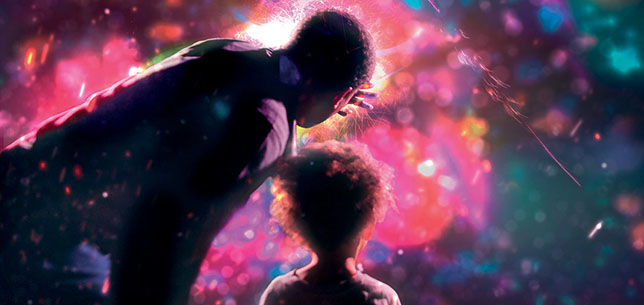 Head underground to the Mini VAULT Festival –  an explosion of spectacular family friendly activities, shows and events  in the secret tunnels under Waterloo. Enjoy a magical day out with fantastic shows and free festivities. As well as circus, magic, theatre and comedy, you and kids can experience interactive installations and have storytelling, listen and dance to live music, play games or have your face painted and more!
This weekend choose from a beautifully bonkers circus troupe Pirates of the Carabina, Arabic music from 47 Soul and songs and silliness courtesy of Mrs H and the Singalong Band all for free or book Assembly of Animals – a performed sculpture, Comedy Club 4 Kids or workshops that offer an imagination workout, family palm reading and more. Download the full programme here.
When: Sat 30th & Sun 31st Jan, from 10 am (and the following weekends 13th&14th Feb, 27th&28th Feb)
Where: Under Waterloo Station, (turn right from Lower Marsh onto Leake St, SE1 7NN)
Age: under 11s
Cost: Festival entry is free but some shows require tickets with booking advised
LittleBird's Top Tip: After being underground for a few hours, some fresh air will be needed so head over to the Jubilee Gardens; a lovely green space in front of the spectacular London Eye with a great playground.
FOR THE LOVE OF FILM: EXHIBITION AT BAFTA, PICCADILLY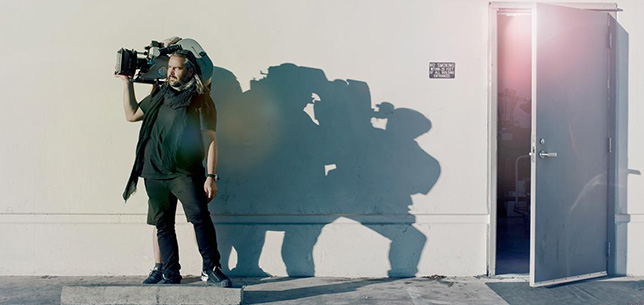 This weekend only, BAFTA opens it doors with For The Love of Film: Exhibition showcasing specially commissioned work by photographer Phil Fisk that celebrates the passion and craft that goes into creating a film. A free exhibition (with advance booking essential), it includes  portraits and behind-the-scenes images which shine a light on the whole film making process, from famous faces in front of the camera – David Oyelowo (Selma, Interstellar) and Andy Serkis (The Lord of the Rings, Star Wars: The Force Awakens) to the magicians behind the scenes – director Terry Gilliam (Brazil, Tideland). The different roles captured range from casting agents to the starry cast, cinematographers to costume designers, alongside some sneak peaks into the world of the movie set, including Harry Potter.
When: Saturday 30th & Sunday 31st January, 10am – 5pm
Where: BAFTA, W1J 9LN
Age: All
Cost: Free but booking is essential
LittleBird's Top Tip: Feeling inspired by the world of film and now in need of some popcorn, a sit-down and, of course, a film. Head over to the recently opened chic and wonderfully spacious Picturehouse Central, a few minutes' walk from Piccadilly Circus. Even if the film times don't work, this is a great space to grab a drink and a hangout plus Ripley's Believe It Or Not  is virtually next door!
THE MINOTAUR AT THE UNICORN THEATRE, LONDON BRIDGE – SAVE 25% WITH LITTLEBIRD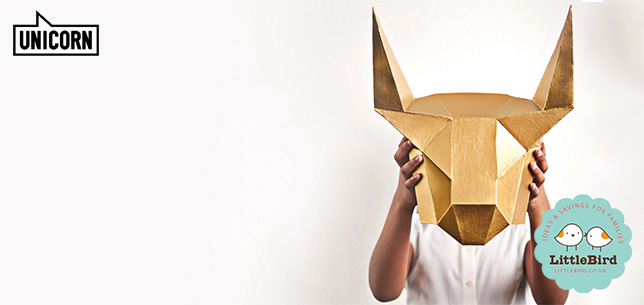 Enjoy a bit of Greek mythology? Then this playful, clever retelling of the well-known Greek myth offers families an action-packed theatrical treat! The Minotaur  is set in Crete,  in an impossible labyrinth, where a fearsome and lonely beast lives with the head of a bull and the body of a man. Only his sister Ariadne cares for him, and she dreams of setting them both free from the rule of their selfish father, the King. But when Ariadne sees her chance to escape, she makes a terrible pact with the enemy's son that will change everyone's future for better or for worse. No one ever returns from the labyrinth….
The Unicorn Theatre is in a fabulous location, set back from the Thames making  you and the kids a hop, skip and a jump from The Scoop, 1,000 person sunken amphitheatre,  where the kids can tire themselves out running up and down the steps.  Tower Bridge, with it's new glass floor,  is to your right and the Tower of London is across the river. There are lots of eateries too including Leon and Dim T plus Strada that has fountain fun outside its main entrance.
When: runs until 2nd April
Where: Unicorn Theatre, SE1 2HZ
Age: 8+
Cost: Book with LittleBird & save 25% on selected shows until 21st Feb (includes half term)
LittleBird's Top Tip: If you have younger kids, check out The Unicorn's Jeramee, Hartleby & Oooglemore production. A  comical family show about three people who have a lot to say but only three words with which to say it. Save up to 30% on tickets and book with LittleBird (includes half term shows).
TINTIN: HERGE'S MASTERPIECE AT SOMERSET HOUSE – LAST CHANCE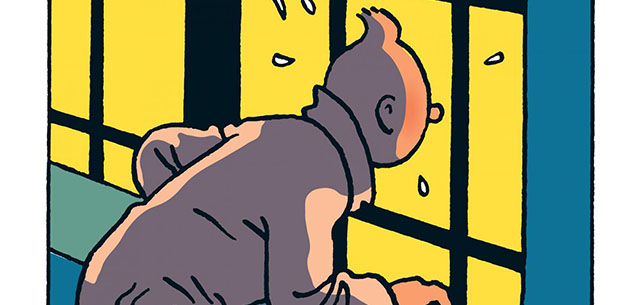 This weekend is your last chance to step inside the wonderfully eccentric world of artist-author Hergé and his world renown intrepid young reporter Tintin as Somerset House celebrates TINTIN: Hergé's Masterpiece.  Since Tintin first appeared in Hergé's weekly cartoon strip in Le Petit Vingtième in Brussels in 1929, he has become one of the most iconic comic-strip heroes along with other favourite characters, his trusty dog Snowy, Captain Haddock, Professor Calculus, and Thomson and Thompson. The exhibition explores the evolution of the artwork of Hergé featuring pencil sketches, character drawings, and watercolours alongside original artwork from the finished stories.
While you're here, why not go on an adventure trail and enjoy Father Thames: the bearded river god trail at Somerset House. Download the activity sheet here before you go and discover Somerset House's unofficial mascot. Fancy making a day of it? Covent Garden isn't far and always worth a visit – with plenty of street theatre and opera singers to enjoy.
When: Saturday 30th & Sunday 31st January (final weekend)
Where: Somerset House, WC2R 1LA (Terrace Rooms
Age: Families
Cost: Free
LittleBird's Top Tip: Inspired by the exhibition? Save 51% on Tintin young readers classic collections. Each Tintin young readers book contains the complete comic story, an eight-page character gallery before the story begins, and a 24-page section of bonus material containing details of the real-life inspiration for the stories, with photos, maps and Hergé artwork.
CIRCA'S  THE RETURN AT THE BARBICAN,  IN THE CITY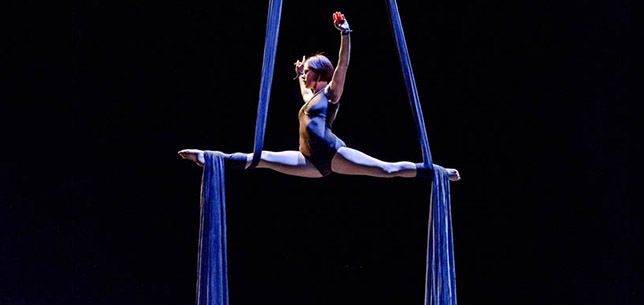 Part of the London International Mime Festival 2016 (running until 6th Feb), The Barbican welcomes back the Australian company that has transformed contemporary circus. Circa The Return offers another genre-defying show, celebrating the expressive possibilities of the human body pushed to extremes.
Akin to a physical poem, the staging sees six highly skilled artists precariously lift, hold, levitate and fall, their movements driven by desire and absence. Combining music and acrobatics,  Circa promises a theatrical experience that will take your breath away.
When: Sat 30th &  Sun 31st at 7.45pm (with Sat mat at 2.30pm)
Where: The Barbican, EC2Y 8DS
Age: 12+
Cost: Tickets from £16
LittleBird's Top Tip: The Barbican's The World of Charles & Ray Eames exhibition (running until 14th Feb 2016)  is on too for those budding designers and you're a 10-minute walk from the Museum of London.
OF SOIL & WATER: KING'S CROSS POND CLUB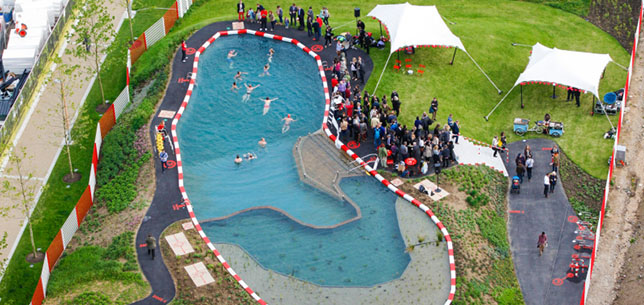 Kids love swimming? Why not enjoy a family swim with a difference this weekend in an open air art installation swimming pool  – not many people can say they have swum in art!  Of Soil and Water: King's Cross Pond Club is a unique  art installation that highlights the relationship between nature and the urban environment. A natural bathing pond, right in the middle of the King's Cross development site, this is yet another reason to head to Kings Cross at the weekends.
King's Cross Pond Club is the UK's first ever man-made freshwater public bathing pond.  It is entirely chemical free using wetland and submerged water plants to filter the water and keep it clear. There are toilets, lockers and showers.  If you're in need of sustenance after a swim, pick up some tasties from the Skip Garden, and head to Lewis Cubitt Park as you can't eat by the pond. If an open air swim is a bit of a tall order,  remember Granary Square is home to 1,000 fountains so watery fun can be had whatever!
When: Saturday  & Sunday, with sessions at 10am, 12pm & 2pm
Where: King's Cross Pond Club, NC1
Age: Families
Cost: £3.50
LittleBird's Top Tip: The British Library is close by with their current, and free to enter, Alice in Wonderland exhibition. While you're here, take the kids to see the Magna Carta, Shakespeare first edition of plays published in 1623 and Dickens handwritten draft of Nicholas Nickleby, penned around July 1838. There's a family trail to – Download a PDF copy or collect from the Box Office in the main entrance.
THE BIG GARDEN BIRDWATCH AT THE HORNIMAN MUSEUM, FOREST HILL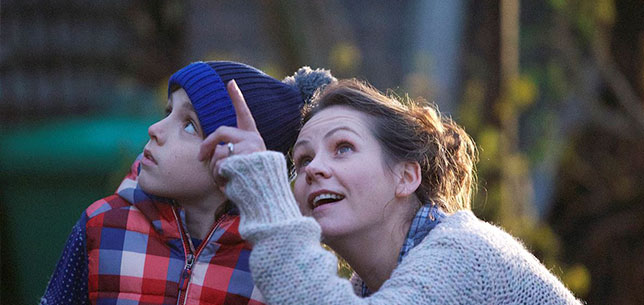 This weekend is the RSPB Big Garden BirdWatch weekend.  Every January the RSPB encourages everyone to get involved in  a nationwide bird count in order to check the number and diversity of birds in our parks and gardens. This Sunday the Horniman Museum is hosting a Big Garden Birdwatch so pop along and join the RSPB for a day celebrating bird life and finding out what species are in the Horniman's Gardens Pavilion.
You and the kids can take part in a birdwatch survey, go on a garden bird walk, make a bird feeder and see some bird taxidermy up close. The RSPB will be on hand to help identify birds and answer your questions, along with bird expert David Darrell–Lambert from Bird Brain UK who will be leading walks and talks all about the birds around the  gardens.
When: Sunday 31st January, 11 am – 3.30pm
Where: Horniman Museum, SE23 3PQ
Age: Families
Cost: Free
LittleBird Top Tip: Entry to the Horniman Museum is free if you fancy a bit of inside time and there's plenty happening including the Hands On Base and Storytime sessions – check out Sunday's calendar here and note the Horniman has an aquarium too but you need to pay to enter (a family ticket costs £7.50).
LOW TIDE WALKS AT CREEKSIDE,  DEPTFORD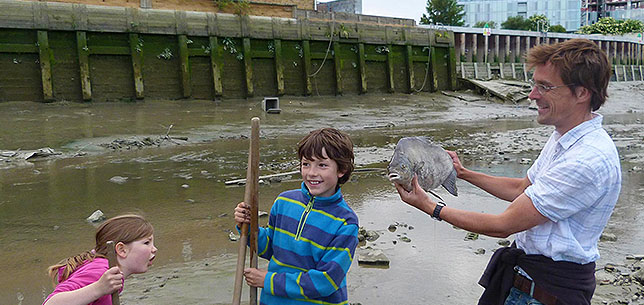 You'll never believe what you might find in Deptford Creek! Walk through a wild river, discover the rich and varied history of the area and experience diverse urban wildlife up close. This hugely popular, monthly event invites you to walk on the bed of a wild river. The low tide walk gives you a different perspective of London and urban wildlife. Led by the Creekside Discovery Centre  conservationist with 30 years experience, you and the family are guaranteed some good, clean, muddy fun!
Waders, a waterproof and a walking stick are provided and you're advised to wear old comfy clothes – so you / the kids can get as muddy as you like. Don't worry about keeping clean – celebrate the mud!
When: Sunday 31st January, 11 am – 1 pm (expeditions last about two and half hours and booking is essential)
Where: Creekside Discovery Centre, SE8 4SA
Age: 8+
Cost: Adult £10, Children £8.50,  family ticket (2 adults & 2 children) £30
LittleBird's Top Tip: Greenwich Market is about a 15 minute walk away, a perfect  place to grab a bite to eat after your river walk and have a wander around the markets or if there's some winter sun, find a seat by the Cutty's Sark. If you have any energy left – enjoy Greenwich Park and enter the Maritime Museum (it's free) via The Sammy Ofer Wing.
COMMEMORATE THE EXECUTION OF KING CHARLES 1 ON THE MALL, CENTRAL LONDON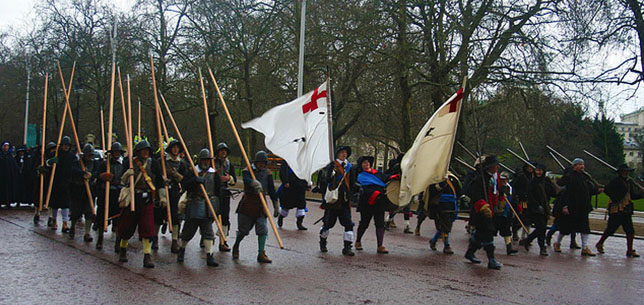 Kids love watching Horrible Histories? Then this historical reenactment is for them. This commemoration of the execution of Kings Charles 1 happens every year. Around 500 members of the King's Army of the English Civil War Society will march in the footsteps of King Charles I – a great way to engage kids in history and bring events of the past to life.
Charles I  was beheaded on January 30th 1649, the only king to be publicly executed in Britain. He wore several shirts as the weather was cold and he didn't want to shiver because  the assembled crowd might think he was trembling with fear. As soon as he was executed, he was portrayed as a martyr for his faith and for many years muffled peals of bells rang throughout the country on this day. The Society of King Charles the Martyr organise this event.
When: Sunday 31st January, 11.30am
Where: The Mall, SW1
Age: Families
Cost: Free
LittleBird Top Tip: After the Parade, if the weather's good, let the kids have some wild time in St James Park! There's a playground with a giant sandpit, deck chairs (to rent) and a cafe for coffees and  don't forget to the take the kids to see the pelicans. If the weather's not so great, head to Trafalgar Square and  pop into the National Gallery or the National Portrait Gallery (free entry) and don't forget to look out for the fourth plinth commission by Hans Haacke, Gift Horse on route.