Tasty Winter Warmers and a Delicious New App from Riverford!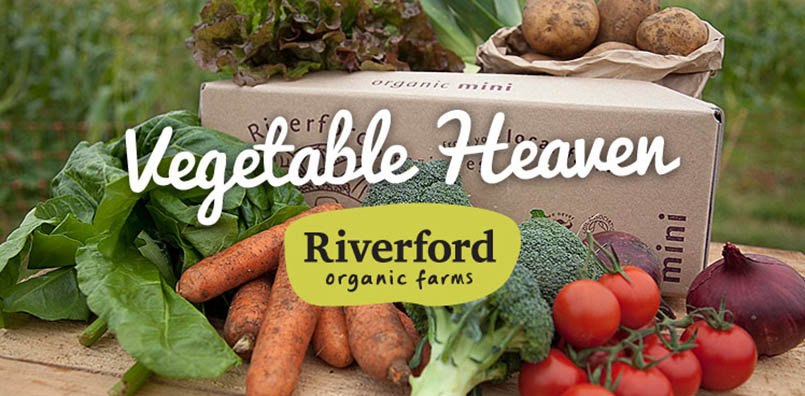 Our friends over at Riverford have got some rather tasty winter warmers for the cold weather we've been having.
We've picked a couple of our favourites from their fab and free recipe booklet that you can download. We also discovered they have a free app that offers recipes and inspiration for when all you have left are a few lone vegetables in your fridge and no idea what to do with them. You simply spin the wheel and hey presto – tea inspiration! It's not just for those days when you're desperate either, containing over 700 recipes that you can search for by ingredient, cuisine, season or occasion you'll never be stuck for what to cook again! Download the Riverford Recipe app by clicking here.
Purple Sprouting Broccoli with Chorizo & Potatoes – Serves 2, Prep 10 mins, Cook 30 mins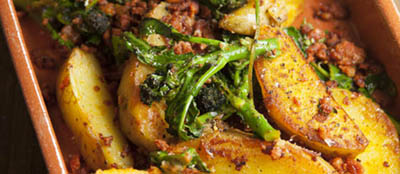 This recipe is simple and can be done as a side or (by increasing the quantities slightly) a main course. Perfect for those mid-week days when you just don't have the energy to do anything complicated.
300g potatoes (preferably small), left whole in their skins.
200g purple sprouting broccoli.
1 Riverford cooking chorizo sausage.
Oil for frying, e.g. light olive.
Lemon wedges and a little chopped fresh parsley to serve (optional).
Boil the potatoes whole in salted water until tender, 20mins or so depending on size. Boil or steam the purple sprouting broccoli for 3-4mins, ntil just tender. Drain and refresh in very cold water, then drain again. Peel the skin off the chorizo. Chop the potatoes into wedges. Heat 1 tbsp oil in a frying pan, crumble in the chorizo, add the potato and fry for a few mins to coo the chorizo and crisp the potato. Add the broccoli and fry for 1 min to warm through. Season with salt and pepper. Serve with a squeeze of lemon and some parsley.
Sausage, Jerusalem Artichoke and Savoy Tray Bake Serves 2, Prep 15 mins, Cook 45 mins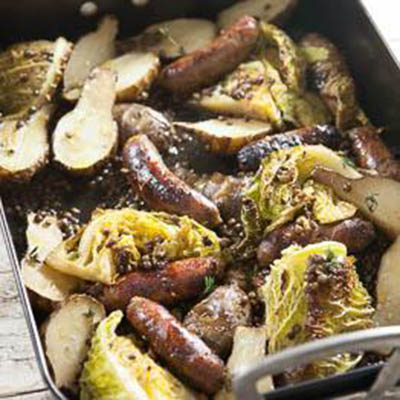 We love this one because it is so adaptable. If you have fussy eaters in the house who refuse to try the knobbly looking Jerusalem artichokes then it's really easy to swap them out for parsnip, sweet potato or squash so you can still make this awesome dish, just without the extra side of tantrum.
Oil for frying.
8 sausages.
1 ltr hot chicken or light beef stock (you may not need it all).
600g Jerusalem artichokes (Or whatever vegetable you are substituting with) scrubbed and cut into half or wedges.
80g puy lentils, rinsed and drained.
Leaves from 4 large thyme sprigs.
1 tsp fennel seeds.
¼ tsp dried chilli flake.
Finely grated zest from ½ a lemon.
1 savoy cabbage, outer leaves removed, cut into wedges with the root intact.
Preheat the oven to 180oC. Heat 1 tbsp oil in a flame and oven proof roasting tin (or use a frying pan and transfer it into a tin later). Brown the sausage on all sides. Add 800ml stock. Repove from the hea, cover with foil and bake for 15mins. Add the artichokes, lentils, thyme, fennel seeds, chilli, lemon zest and season with salt and pepper. Cook for 15 mins, uncovered, then tuck in the cabbage and spoon over a little more stock. Cook for another 10-15 mins, until everything is tender.