What's On This Weekend – Saturday 5th and Sunday 6th December
Fun and fantastic things to do with the kids in London this Weekend
Saturday 5th & Sunday 6th December
THE LEGO SANTA EXPRESS IN COVENT GARDEN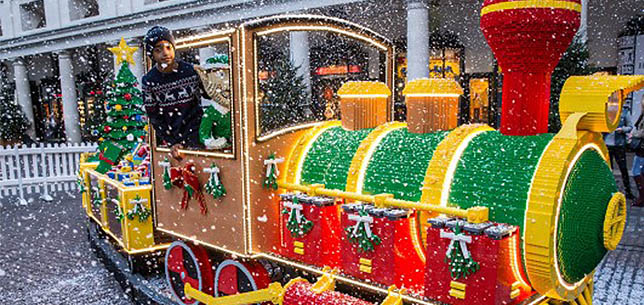 If you've enjoyed the previous festive LEGO builds in Covent Garden in recent years, then you'll love this years – climb aboard the LEGO Santa Express. Made with 500,000 LEGO bricks, the Santa Express  features three carriages, the engine and driver's cabin, a carriage full of presents with  the final carriage delivering a Christmas Tree.   The Christmas Elf will be in charge and takes position in the driving seat.   This years LEGO Santa Express is complete with special effects including smoke from the funnel, sounds and lights. Designed by the UK's only LEGO Certified Professional, Duncan Titmarsh,  the Santa Express has been in development for the last 3 months created by Duncan and a team of eight builders.
While you're in Covent Garden, enjoy a kiss under the 40 magnificent mistletoe chandeliers making up this years Christmas lights in the Market Building and look out for the reindeer's petting corner – the kids can help hand feed Dasher, Dancer, Prancer, Vixen, Comet, Cupid, Donner or Blitzen.
When: until 29th December
Where: North/East Covent Garden Piazza, WC2H 7AD
Age: All
Cost: Free
LittleBird's Top Tip: Love LEGO? Then don't miss BRICK 2015, built for LEGO fans,  next weekend 11th – 13th December at London Excel. Enjoy an exclusive 37% saving on family tickets for Friday 11th December only with LittleBird – book now.
LONDON BRIDGE CITY ELPLESS ELVES TRAIL, HAY'S GALLERIA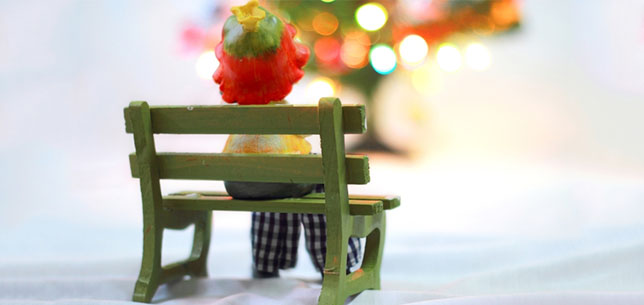 There are lost elves in London who need help to find their way back to Santa's Workshop – it's up to your kids to save the day!  Festive and magical, the kids will love  this interactive Elpless Elves Trail this  Saturday. Taking the kids around London Bridge City, performers will be stationed at various stops as the hunt for Santa's Elves begins…. It starts at Hay's Galleria and although it's free, you'll need to book a ticket online here and trails last approx. 45 mins.
There's a Christmas market,  carol singers in the afternoon plus an installation by designer Leo Woolcock. London Bridge City Pier's twin pagodas are  lit by a series of changing light ribbons, creating waves and patterns of starlight – magical!
When: Saturday 5th December, 12pm, 1pm, 2.15pm & 3.15pm
Where: Hay's Galleria, SE1 2HD
Age: 5 – 10 year olds
Cost: Free with advance booking required
LittleBird's Top Tip: There are free festive crafts for the kids at Gabriel Wharf's Magical Christmas  just by the Oxo Tower this Saturday – make Christmas cards and decorations 12pm – 3pm and enjoy Christmas carols at 4pm.
THE NUTCRACKER AT THE ARTS THEATRE, WEST END – SAVE UP TO 35% WITH LITTLEBIRD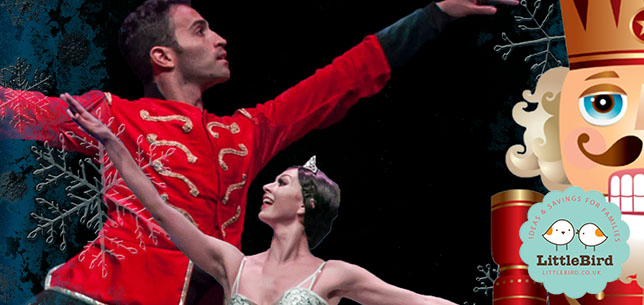 Synonymous with Christmas, The Nutcracker makes us think of Christmas Eve, magical lands and dancing sweets making Let's All Dance's production of The Nutcracker at the Arts Theatre a classic Christmas treat for children of all ages.
Tchaikovsky's iconic score takes us on a wonderful adventure as we journey through the magical night with Clara and the Nutcracker Prince, meet the Mouse King and join the Sugar Plum Fairy in the beautiful Land of Sweets. Fabulous dancers, beautiful costumes along with original music will enchant and engage young and old.
When: until 27th December
Where:  The Arts Theatre, WC2H 7JB
Age: All ages
Cost: Save up to 35% with LittleBird; Adult tickets £10, Children £8.50 & Family tickets £35 – book now
LittleBird's Top Tip: The Arts Theatre is in a brilliant location, sandwiched between Leicester Square (with it's Christmas funfair) and Covent Garden (make sure you visit this years LEGO festive build – a LEGO Santa Express)
LIGHTS ARE SHINING AT THE FESTIVAL HALL, SOUTHBANK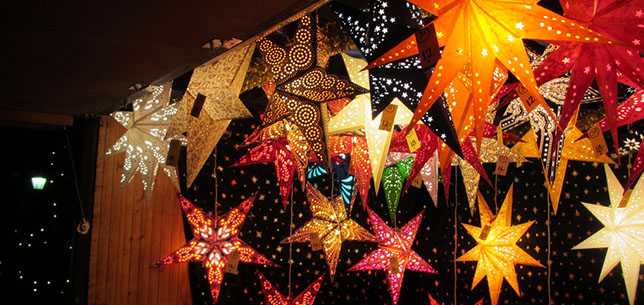 You might be heading to the Southbank for many reason's – festive food and gift ideas are promised at the Winter Market on the Southbank and there's a Christmas Market in front of  Tate Modern too with a carousel, a Santa's grotto and of course yummy food and plenty of present inspiration.
After a browse around the markets, head to Royal Festival Hall for some warmth. The kids will love Lights Are Shining as they'll have  the chance to create a lantern to help them remember someone by or to capture a wish for the New Year.  There is then the opportunity to learn songs in time for a parade along the riverfront, lanterns in hand, to a finale at Jubilee Gardens.
When: Saturday 5th December, Lantern-making and Big Sing – 12.30pm – 4.30pm, Parade from 5pm
Where: Royal Festival Hall, (Clore Ballroom)
Age: All
Cost: Free
LittleBird's Top Tip: Check out Frostival at the London Eye – enjoy ice skating and then relax on the London Eye and take in the views and this looks fabulous –  A Quackmas Carol courtesy of Duck Tours offering a festive sightseeing trip around London.
DR SEUSS'S THE LORAX AT THE OLD VIC – SAVE UP TO 50% WITH LITTLEBIRD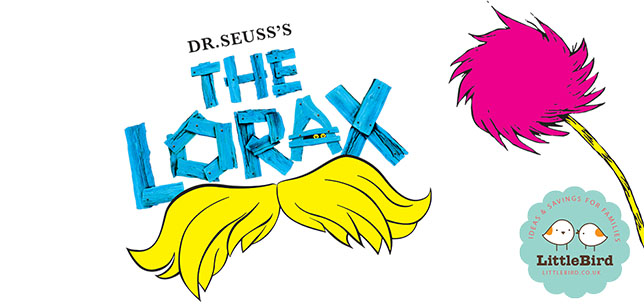 Loved by all, Dr Seuss is a firm family favourite. His renowned The Cat in The Hat and How The Grinch Stole Christmas have capaputled him into every family home and this Christmas The Lorax has been brought to life at the historic Old Vic. "I am the Lorax. I speak for the trees!" If you haven't seen the film yet, The Lorax is Dr Seuss's eco-fable about a cantankerous critter who's mission is to protect the earth from the greedy, tree-chopping, Thneed-knitting businessman known only as The Once-ler.  Families are  promised theatrical invention aplenty, puppetry, songs and of course zany humour – it is Dr Seuss after all! Check out the trailer here.
When: until 16th January 2016
Where:  The Old Vic, SE1 8NB
Age: 6+
Cost: Save up to 50% off tickets with LittleBird – Book now
LittleBird's Top Tip: You're not far from the Southbank so depending on whether you're enjoying a matinee or an evening performance of The Lorax, you could enjoy some yummy edibles or simply soak up the festive atmosphere at the Southbank Centre's  Winter Market.
FLY WITH THE SNOWMAN ON EMIRATES AIR LINE, NORTH GREENWICH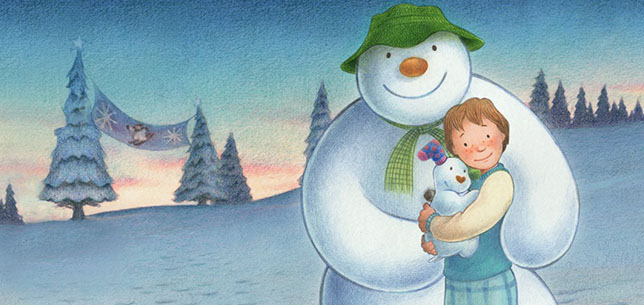 We're walking in the air…OK not quite, but as near as possible. This Christmas you can join The Snowman and The Snowdog on Emirates Air Line.  The Snowman's flight will be brought to life using immersive digital effects, including specially edited sequences of the film and the soundtrack will be combined with new aerial footage of the cable car and its surrounding landmarks – treated to create wintery animation effects and featuring the film's characters.
You can also take your own family photo with a life-size Snowman model before boarding your flight or take a 'selfie' or a 'famelfie' on a replica ski chairlift complete with a snow machine and The Snowman and The Snowdog as the backdrop!. And, we're told, there are goodie bags for children – given away on a first come, first served basis and contain a Snowman chocolate, in-flight binoculars and a Snowman or Snowdog character mask.
Get the kids excited about their flight with The Snowman and The Snowdog with these free activity sheets.
When: now until 4th January
Where: Emirates Air Line, SE10 0PH
Age: Families
Cost: Prices from £8.40 for adults and £5.00 for children and note Oyster Card holders get a discount on all online fares..
LittleBird's Top Tip: While you're in North Greenwich, head to the Sky Studios at the 02 and step into an adventure! Try on Cinderella's slipper and take on robot drones in Iron Man's legendary Hulkbuster armour and then report on those memorable movie moments live to camera in Sky News studios – and it's all free this Christmas!
RAYMOND BRIGGS FATHER CHRISTMAS AT THE LYRIC, HAMMERSMITH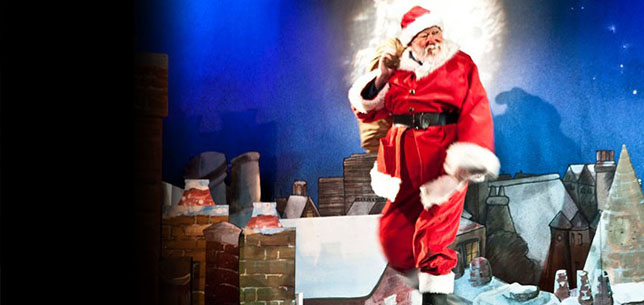 Raymond Briggs Father Christmas has become an iconic portrayal of the great man himself and if you haven't seen this theatre show, you Bloomin' better! Returning for it's fourth  year, the show is full of warmth, fun and giggles and perfect for families with young children.
Father Christmas awakes from a dream of summer sun only to realise that it's bloomin' Christmas Eve and the start of his longest night of the year. He gathers the reindeer and prepares his sleigh, beginning the long journey into the snowy night to deliver presents to sleeping children all over the world. But things don't run smoothly and he soon encounters soot covered chimneys to squeeze through and treacherous weather conditions, all while plenty of mischief is had by his cheeky pets, Cat and Dog.
When: until 24th December
Where: Lyric Theatre, W6 0QL
Age: Under 6
Cost: All tickets £10
LittleBird's Top Tip: If you're looking for festive theatre with great savings, you're in the right place. LittleBird have a  33% saving for  The Snow Queen at the Arts Theatre,  a 22% saving at The Nutcracker The Musical at the Pleasance Theatre and a 36% saving for  Hans Christian Andersen's The Tinderbox at Charing Cross Theatre.
A VICTORIAN CHRISTMAS AT THE LONDON MUSEUM OF WATER & STEAM, BRENTFORD – SAVE UP TO 43% WITH LITTLEBIRD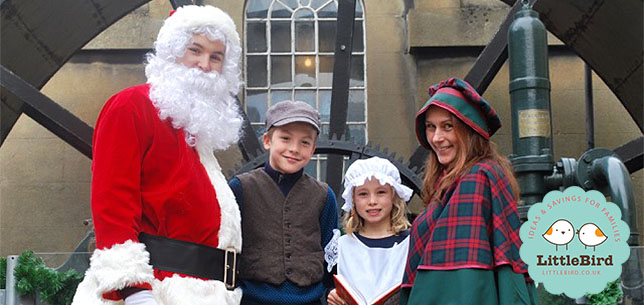 Head to London Museum of Water & Steam this weekend for a Victorian Christmas. The Steam Hall will be filled with festive music and there will be  seasonal crafts for the kids to enjoy as well as a Christmas trail and Santa will be visiting too! The kids will love a ride on Thomas Wicksteed, the Museum's very own steam locomotive,  as well as enjoy the museums fun interactive displays and wonderfully wet Splash Zone.
As well the Splash Zone, there is the museum garden, the new Waterworks gallery with interactive exhibits, a cafe and a shop too.
When: Victorian Christmas events until 20th Dec with Santa visits 5 & 6, 12 & 13, 19 & 20 Dec
Where: London Museum of Water & Steam, TW8 0EN
Age: Families
Cost:  Save up to 43% on a family weekday ticket and up to 27% of a family weekend ticket with Littlebird
LittleBird's Top Tip: Children go free with a paying adult if they are dressed up in festive or Victorian fancy dress so if you don't need a family ticket,  you can save up to 43% on adult tickets only with LittleBird.
MEET SANTA & HIS HUSKIES  AT THE LONDON WETLAND CENTRE IN BARNES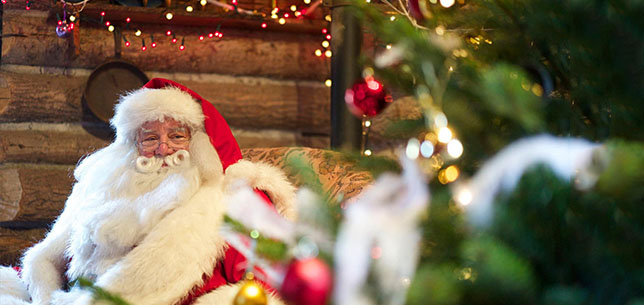 Get into the festive mood at WWT London Wetland Centre this weekend and let the kids hop aboard a husky sleigh ride, visit Santa in his grotto in the northern pine forest or enjoy a donkey ride. Santa's elves are on hand getting ready for the big day and the kids are invited to join in the fun making pinecone animals including owls, reindeer and bears and creating string stars and ribbon Christmas trees.
The London Wetland Centre is a great family day out; there's the outdoor adventure playground with zip wires, climbing walls, giant water vole tunnels and water games, the Discovery Centre and Pond Zone!
When: Saturday 5th & Sunday 6th December
Where: London Wetland Centre, SW13 9WT
Age: Families
Cost: Normal admission is adults £12.75, children £7 (Huskies & donkey rides are for under 8's and are free. The visit to Santa plus goody bag is £6 per child.
LittleBird's Top Tip: Don't miss the Otters: feeding times are 11am & 2pm daily and note on Sunday only there are Fullers Shire Horse dray rides from 12.00-3pm.
ICE SKATING AT WEMBLEY PARK – SAVE UP TO 36% WITH LITTLEBIRD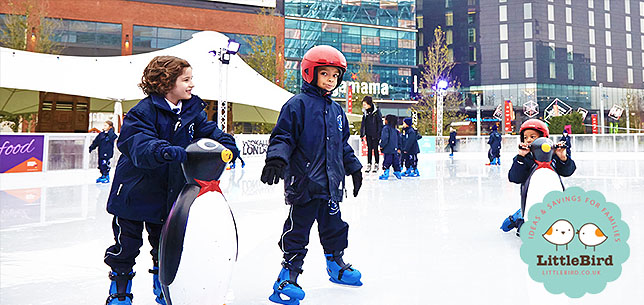 If you're looking for a festive day out but need to get some shopping done – ice Skating at Wembley Park is the perfect place. Located in betweeen Wembley Arena and the Designer Outlet, Wembley Park has not only an ice rink but a Christmas Market, designer shops, a Street Food Market & Craft Beer,  a fairground and a Cineworld too – enough to entertain everyone while you keep on top of your Christmas shopping.
If you're taking tots, there are a limited supply of penguin skate aids, which cost £5, available on a first-come first served basis from the skate hire counter – no advance booking available. Ice marshalls will be on hand to offer an ice skating tip or two or simply to help you up and of course waterproof clothing is a good idea for all! So what are you waiting for – get your skates on!
When: save on LittleBird until 11th Dec with the ice rink open until 3rd Jan
Where:  Wembley Park Boulevard, HA9 0QL.
Age: 5+
Cost: Save up to 36% with peak and off peak entry, book now.
LittleBird's Top Tip: Fancy sailing with Santa on the River Thames? You can this Christmas! Enjoy a 20% saving with Sail with Santa . This unique experience, new for 2015,  includes a tour, drinks, snacks and a gift for the kids.