What's On This Weekend? Saturday 19th & Sunday 20th December
Fun and fantastic things to do with the kids in London this Weekend
Saturday 19th & Sunday 20th December
WINTERVILLE, VICTORIA PARK – 2 FOR 1 ON ICE SKATING & THE CIRCUS WITH LITTLEBIRD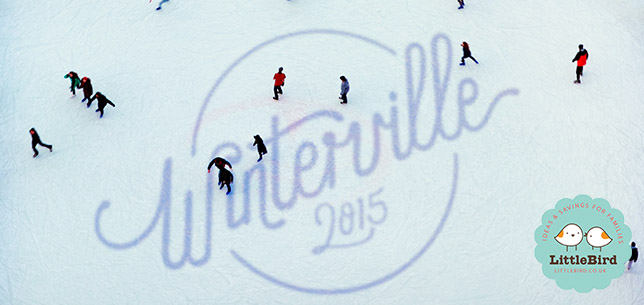 If you're looking for a festive family experience with a little  je ne se qua, then look no further – grab the kids and head to Victoria Park and immerse yourselves in Winterville.   Free to enter, and promising a groovy mix of family friendly fun, Winterville IS London's alternative festive destination.
Yes, there's ice skating, a Snow White Pantomime, the fabulous Moscow State Circus and of course a fairground. But then the 'alternative festive destination' starts to shine – head to the Kids Shack and let the kids enjoy a reimagined Santa's Grotto, designed by Bearded Kitten – it's seriously silly! The Kids Shack is also home to the Pop Tots Salon, cafe, soft play , a children's market featuring all things kid related.  There's Plonk Crazy Golf to be enjoyed that will see you and family driving through snow drifts, past evil ice beasts and into foggy valleys! You can then get cosy in the secluded depths of a magical (indoor) woodland with Backyard Cinema and enjoy your favourite festive films in this pop up cinema only accessible through a secret tunnel of trees. There's Pop Shop, with a Pop Art theme and Bizarre Bazaar, a Vaudeville-Victorian marketplace plus a heated uncover Food Hall and Bar Humbug.
Where: Victoria Park, E9
When: until 23rd December
Age: All
Cost: Free Entry with 2 for 1 tickets on ice skating and at the Circus – use code "promo" to purchase
LittleBird's Top Tip: Head to the  Kids Shack & Grotto  and enjoy a hot chocolate in the cafe, have a wander around the children's market or go and find Santa in his seriously silly Grotto with visits costing £5.  Check out all the family friendly fun you can have here.
SLAVA'S SNOWSHOW AT ROYAL FESTIVAL HALL, SOUTHBANK – SAVE 50% WITH LITTLEBIRD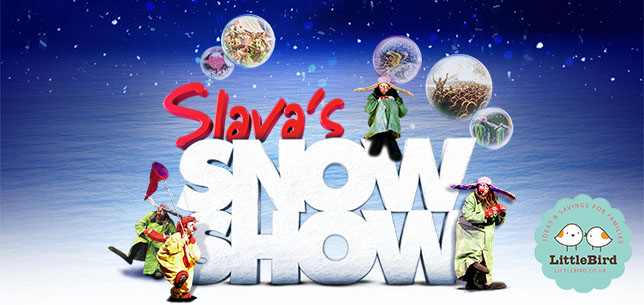 Renowned as an theatrical festive adventure like no other, Slava's Snowshow returns to the Royal Festival Hall this Christmas. An award winning international sensation, Slava's Snowshow offers a unique experience  promising a joyous dream-like world.  Both heartwarming and funny, featuring breath-taking visual effects that culminate in a blizzard that leaves you literally knee deep in snow Slava's Snowshow is a sensory wintery experience like no other.
The Southbank is a top destination for families at Christmas with so much to do.  Before and after the show you can munch on festive food whilst finding some inspiration for those last minute gift ideas at the Winter Market on the Southbank or head towards Tate Modern for the  Christmas Market  with a carousel, a santa's grotto and where more yummy food and present ideas await.
When: until 3rd January 2016 – with a 50% LittleBird saving on selected performances.
Where: Royal Festival Hall, SE1 8XX
Age: 8+
Cost: Tickets from £17.50 only on LittleBird,  book now
LittleBird's Top Tip: Check out Frostival at the London Eye – enjoy ice skating and then relax on the London Eye and take in the views and this looks fabulous –  A Quackmas Carol courtesy of Duck Tours offering a festive sightseeing trip around London.
SANTA'S WONDERLAND ON THE GOLDEN HINDE, LONDON BRIDGE  – SAVE 25% WITH LITTLEBIRD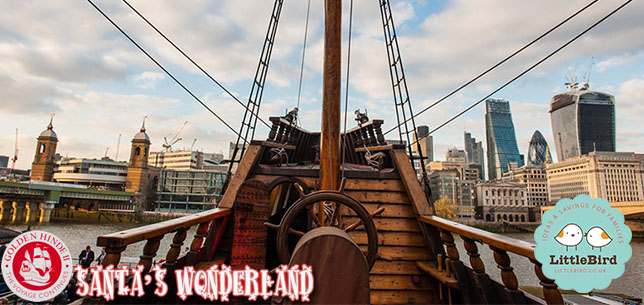 Enjoy a Santa experience with a difference this Christmas on board Sir Francis Drake's famous galleon the Golden Hinde. Santa's Wonderland invites the kids to meet not only Mr Claus but Mrs Claus too with gifts presented to all those children who have been good this year! Hear tales from the 'Biggest Elf of Them All', enjoy a sing-a-long as well as festive crafts with friendly Pirate elves and enjoy a mince pie and a hot drink too.
You're right by Borough Market making this a perfect opportunity to pick up some tasty treats for festive feasting. In need of a bit of recipe inspiration this Christmas, click here.
When: until 23rd December
Where: Golden Hinde, SE1 9DG
Age: 4 – 16
Cost: Book your tickets through LittleBird and enjoy a 25% saving; adult & child ticket £15
LittleBird's Top Tip: The Golden Hinde is a short walk from the Shakespeare's Globe – enjoy an 11% saving on tickets with LittleBird this Christmas holiday.
THE HEIGHT OF WINTER AT THE  SHARD, LONDON BRIDGE
Experience The Height of Winter from inside the crystalline world at the top of The Shard. The fantabulous British experience designers Bompas and Parr have transformed The Shard into an enchanting, sensory winter experience. Theatrical ice crystals and frost will wow grown ups and kids alike  800ft above the city of London on the open-air Level 72 Skydeck.
Expect super-scaled crystals, carolling plants, gem-studded snow dunes, a touch-responsive iridescent grotto and glowing crystal benches. Bompas and Parr have also created the following edible treats to ooh and ahh over; Snow White Hot Chocolate, Mulled Champagne and Christmas Candy Floss.
With the 360 degree view of London the kids will delight in seeing the entire city decorated and glistening all at once .  You can take turns spotting iconic landmarks and enjoy the interactive complimentary audio guides or listening to the interesting facts on the interactive Tell:scopes  while you munch on Christmas Candy Floss – want one!
When: until 31st January
Where: The Shard, SE1 9SG
Age: All
Cost: Adults £25.95, Children £19.95
LittleBird Top Tip: Enjoy a wander around the  London Bridge City Christmas Market  and this Saturday listen to some carols courtesy of London Baptist Association Christmas Carols between 1pm – 3pm at More London.
GET HAPPY AT THE BARBICAN, IN THE CITY – SAVE 42% WITH LITTLEBIRD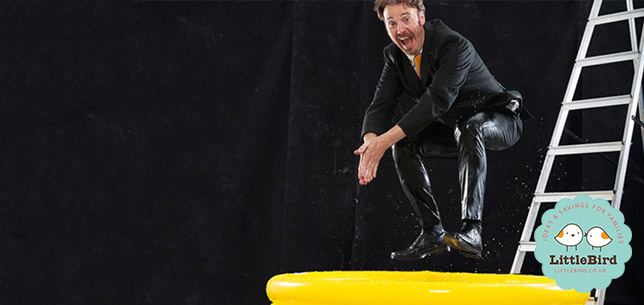 Told by an Idiot Get Happy  at The Pit in the Barbican Centre will have you laughing out loud as you and the kids enter a world of artfully controlled chaos bursting with quirky playfulness and madcap humour. Watch the strangest egg sandwich made in front of your eyes, witness shoes that have magical powers and there's a mysterious bag afoot. Physical comedy, acrobatics, live music and silly dancing feature in this Christmas show perfect for the whole family.
The Barbican is a great space to hang out with the family, with plenty of places to eat and drink and of course the current exhibition in the Art Gallery, The World of Charles and Ray Eames. If you see the show on Sunday, the Barbican's Conservatory is open to the public – a unique hidden tropical oasis in the heart of the city.
When: until 30th December with LittleBird savings on selected shows
Where: The Pit, Barbican Centre, EC2Y 8DS
Age: 4+
Cost: £12 or £7 on selected performances with LittleBird
LittleBird's Top Tip: The Museum of London is a short walk away and Father Christmas is in residence. Meet the man of the moment in his secret grotto in the Museum of London's festive 19th century Victorian Walk. Booking is advised.
CHRISTMAS AT KEW GARDENS
A favourite with all families, Kew Garden's a great day out any time of the year. This Christmas Kew's glittering night-time trail returns including dancing illuminated fountains with  glowing waterside reflections, a Tunnel of Lights, a Choir of Holly Bushes as well as a scented Fire Garden.
As you make your way around the trail, you'll be tempted by the aroma of roasting chestnuts, spiced cider and hot chocolate. There is a Victorian carousel, helter skelter and other family rides (£2 per ride) at White Peaks – the outdoor adventure playground providing fun for the young ones  and don't forget to make time for a visit to Santa and his elves. If an evening trail doesn't suit with little ones, enjoy Christmas in the day – take a walk through the wintery grounds then warm up with a hot chocolate and a mince pie before visiting Santa's grotto.
Where: Kew Gardens, TW9 3AB
When: until 2nd January 2016, timed entrance between 5pm – 8.15pm
Age: Families
Cost: Adults £16, Children £10 (advance ticket prices), under 4s free – booking recommended
LittleBird's Top Tip: Why not download the Families at Kew discovery and activity map: Family day out at Kew map; epic adventures await!
CHRISTMAS PAST AT THE GEFFRYE MUSEUM
Celebrating 400 Years of Seasonal Traditions in English Homes, the Geffrye Museum's annual Christmas Past Gallery brings the yuletide traditions of the past to life. Discover how families celebrated Christmas through decoration, light, music, greenery and of course culinary dishes and treats.
Each year, the Geffrye Museum's eleven period living rooms are transformed to give families a magical glimpse into how Christmas has been celebrated in English middle-class homes over the past 400 years. Step back through the centuries and discover the origins and understand the meanings of some of the rich and vibrant traditions of Christmas past, from feasting, dancing and kissing under the mistletoe to playing parlour games, hanging up stockings, sending cards and decorating the tree.
There's a cafe with a great value children's menu plus a shop full of great Christmas present ideas.
When: until 3rd January 2016
Where: Geffrye Museum,E2 8EA
Age: Families
Cost: Free
LittleBird's Top Tip: If you're up with the larks (aka the little ones)  – you could drop by the Columbia Road Shops & Flower Market first and then after the exhibition, head to Rich Mix for their Kids' Cine Time, there's a 12pm showing of Get Santa this weekend and the tickets cost a fab £1.75
SANTA'S GROTTO IN CANARY WHARF
Canary Wharf Santa's Grotto is back – hurrah! Visit Santa in his whimsical Grotto in Jubilee Place.  Santa's band of cheeky elves and helpers are on hand to  entertain  the children as they queue to meet Santa. Pre-booking isn't required but there can be queues so allow plenty of time to avoid disappointment.
Plus, there's lots of free Children's Festive Activities taking place throughout the malls.
Children can have their faces painted with a multitude of seasonal designs as well as take part in exciting festive art and craft workshops in both Cabot Place and Canada Place. With  ice skating  on hand too – you might well want to spend the whole day!
When: until 24th December at 11am – 5pm
Where: Jubilee Place, Canary Wharf, E14 5NY
Age: Families
Cost: Free with a recommended donation of £2 to the  Richard House Children's Hospice
LittleBird's Top Tip: Why not hop on a tube to the 02 and head to the Sky Studios at the 02 and step into an adventure! Try on Cinderella's slipper and take on robot drones in Iron Man's legendary Hulkbuster armour and then report on those memorable movie moments live to camera in Sky News studios – and it's all free this Christmas!
THE LEGO SANTA EXPRESS IN COVENT GARDEN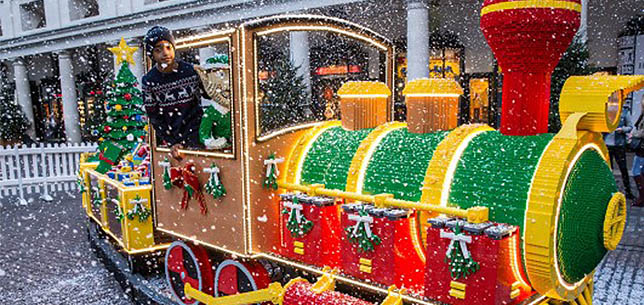 If you've enjoyed the previous festive LEGO builds in Covent Garden in recent years, then you'll love this years – climb aboard the LEGO Santa Express. Made with 500,000 LEGO bricks, the Santa Express  features three carriages, the engine and driver's cabin, a carriage full of presents with  the final carriage delivering a Christmas Tree.   The Christmas Elf will be in charge and takes position in the driving seat.   This years LEGO Santa Express is complete with special effects including smoke from the funnel, sounds and lights. Designed by the UK's only LEGO Certified Professional, Duncan Titmarsh,  the Santa Express has been in development for the last 3 months created by Duncan and a team of eight builders.
While you're in Covent Garden, enjoy a kiss under the 40 magnificent mistletoe chandeliers making up this years Christmas lights in the Market Building and look out for the reindeer's petting corner – the kids can help hand feed Dasher, Dancer, Prancer, Vixen, Comet, Cupid, Donner or Blitzen.
When: until 29th December
Where: North/East Covent Garden Piazza, WC2H 7AD
Age: All
Cost: Free
LittleBird's Top Tip: Pop into the London Transport Museum for some Christmas Holiday fun with Dreamtime – let the kids imagine themselves on the streets of London as they slither beneath it, and send ping pong balls flying high on a winter parachute creating a truly wintery blizzard. Adults tickets are £16 but valid for a whole year with kids going free – a good investment.
SAIL WITH SANTA & CRUISE DOWN THE THAMES –  SAVE 20% WITH LITTLEBIRD
Santa's going on the river – ho ho, ho – and you and the kids can go with him. Enjoy Christmas on the River Thames and treat the kids to a Sail with Santa experience. Sharing the cruise with the main man himself, the kids will enjoy plenty santa fun, story telling, festive music and receive a present too. There's refreshments for all during the cruise with a soft drink and a cookie for the kids, a glass of mulled wine and a mince pie for the grown ups. This is a circular tour taking in the iconic landscape of the River Thames at a most magical time of year – cruise past  HMS Belfast, the Tate Modern, Houses of Parliament, Somerset House and the London Eye either on the top deck or in the warmth of the riverboat! The cruise last one hour.
When: Daily from 19th – 24th December
Where: Boats depart from Tower Pier at 10am, 11.15am, 12.30pm, 1.45pm, 3.30pm.
Age: All
Cost: Enjoy a  20% saving with LittleBird – Adults; £20 and Children  £12 – book your tickets here
LittleBird's Top Tip: Cross over Tower Bridge and after sailing past it, why not climb aboard HMS Belfast. You can enjoy LittleBird's exclusive FREE voucher entitling families to a 25% saving, plus the London Bridge City Christmas Market is on too.