What's On This Weekend Saturday 21st & Sunday 22nd November
Fun and fantastic things to do with the kids in London this Weekend
Saturday 21st & Sunday 22nd November
SOUTH KENSINGTON KIDS FESTIVAL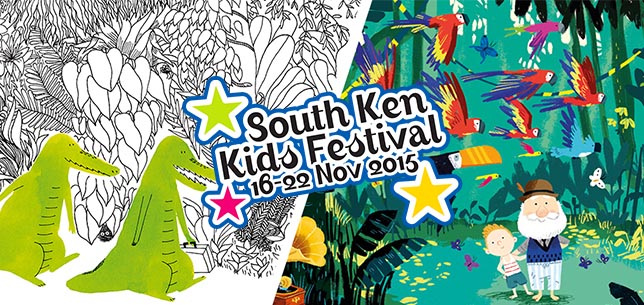 A score of children's book artists are taking over the Institut français and London-based schools for a week of family fun, with workshops, drawing duos, films, live music, and more at this year's South Ken Kids Festival.
Taking place throughout the week, this festival offers a  unique opportunity to meet celebrated artists from both sides of the channel including Beatrice Alemagna, Stephanie Blake, Françoize Boucher, Joseph Coelho, Bruno Heitz,Claude Ponti, Michael Rosen, Tony Ross, Axel Scheffler, and of course the festival's beloved patron Quentin Blake! Walk in activities, booking signings and artists in residence are in abundance. On Saturday get tickets for Impro!, a live drawing and music improvisation event starring rising star Airelle Besson and her wild trumpet improvisation or watch Drawing Duo Tony Ross and Claude Ponti celebrate 150 years of Alice in Wonderland and on Sunday there's the chance to book a workshop with Emily Hughes. For a full programme of events, click here
When: until 22nd November
Where: Institut français,SW7 2DT
Age: Families
Cost: Tickets start from £5
LittleBird's Top Tip: Fancy winning some books? Why not enter LittleBird's  HarperCollins competitions to win either a BING bundle or a Kindle along with David Baddiel's new book; The Person Controller.
FRAMED FILM FESTIVAL AT THE BARBICAN, THE CITY
 Budding filmmakers, intrigued by special effects or just love watching films? Then don't miss the Barbican's annual Framed Film Festival this weekend. Choose from children's films from all over the world  ranging from stories of adventure and animals to magic and poetry. There's Animal Magic with An Vrombaut with an introduction from An Vrombaut, of 64 Zoo Lane fame, Mune – new CGI adventure about friendship and courage and the new Snoppy movie.
Throughout the weekend there are free activity workshops in the Benugo cinema café between Cinema 2 and 3. Kids can take part in a live colouring wall with Anorak, the chance to experiment with green screen and take part in crafts with the animator An Vrombaut. There's something to keep everyone entertained.
When: Saturday 21st & Sunday 22nd November
Where: The Barbican, EC2Y 8DS
Age: Films vary between U and PG
Cost: Tickets are £5 and workshops are free
LittleBird Top Tip: On Sunday the Barbican conservatory will be open – it's the second biggest Conservatory in London and home to exotic fish and over 2,000 species of tropical plants and trees.The World of Charles & Ray Eames exhibition (running until 14th Feb 2016)  is on too for those budding designers.
SKATE AT SOMERSET HOUSE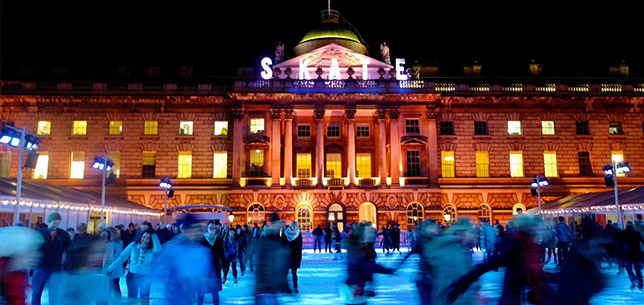 Celebrate the festive season in style at London's most beautiful ice rink at Somerset House. Enjoy a day time skate and check out the Polar Bear stabilisers (there's even a polar bear club and skate school for young children) or book for when the sun goes down and you might be able to squeeze in some apres-skate with a naughty cocktail or indulgent fondue and hot choc's for the kids – of course!
For the second year, Somerset House have partnered with Fortnum and Mason's and as well as Fortnum's Lodge (offering tasty pastries, welsh rabbit, hot chocolates and other delights), there is a Christmas Arcade for some bespoke christmas shopping – a seasonal pop-up version of the classic Piccadilly store, there will be an array of rooms dedicated to showcasing Fortnum's festive favourites  – it's like a Fortnum and Mason's mini me.
When: until 10th January 2016
Where: Somerset House, WC2R 1LA
Age: Families
Cost: Tickets from  £7.50
LittleBird's Top Tip: You're a 10 minute walk from Covent Garden and the London Transport Museum with its family galleries. Or you can just enjoy this years Christmas lights in the Market Building and enjoy for a kiss under the 40 magnificent mistletoe chandeliers.
RAILWAY CHILDREN, KINGS CROSS – SAVE 43% WITH LITTLEBIRD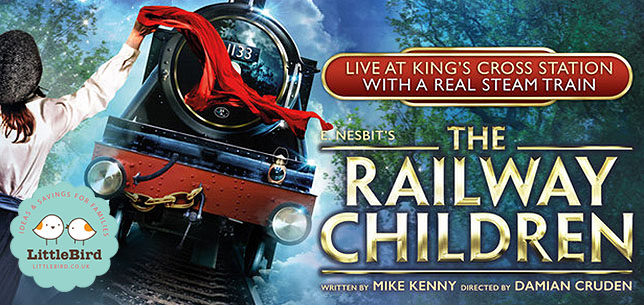 From book, to film (who can forget the 1970's movie version starring Jenny Agutter?), to stage production –  you'll need your hankies at the ready! A perfect theatrical treat, The Railway Children at the King's Cross Theatre offers a unique experience. This award winning  show features a stage built around a real train track, and a  60 tonne vintage locomotive that steams into the theatre. Let the kids enjoy E. Nesbit's classic tale and discover how  Bobbie, Peter and Phyllis became The Railway Children as they go on an adventure to solve the mystery of their missing father.
When: until 10th April 2016 with LittleBird savings on performances until 30th Nov
Where: King's Cross Theatre, N1C 4UR
Age: 2+
Cost: Premium tickets from £69.50 so book with LittleBird for performances until 30th Nov & save 43%
LittleBird's Top Tip: Discover Kings Cross with trails and tours galore – there are maps and apps to interact with and you must download Granary Squirt.  The app turns your smartphone into your very own fountain remote control between 5pm and 8pm everyday – excellent fun – or head to Camley Street Natural Park – a beautiful urban nature reserve where you'll forget you are in the heart of the city!
LAUREN CHILD BOOK SIGNING IN MUSWELL HILL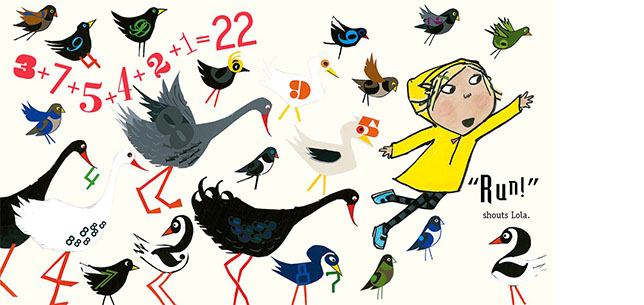 Lauren Child will be celebrating her new Charlie and Lola and  Ruby Redfort books by visiting Children's Bookshop, Muswell Hill. A literary jewel in Muswell Hill, Children's Bookshop was established in 1974 with a deep rooted passion for books.  Family owned, it's most important aim is to create book lovers of the future by enthusing children about the wonders of books and what better way to inspire than to meet your literary heroes and heroines.
If the kids want to research a bit of background into their favourite characters before meeting Lauren Child, Ruby Redfort lovers need to pop over to the  Ruby Redfort website and for Charlie and Lola, click here.
When: Saturday 21st November, 11am – 12pm
Where: Children's Book Shop, N10 3HP
Age: All
Cost: Free
LittleBird's Top Tip: If you and kids love Lauren Child, then don't miss her new exhibition, Lauren Child's Dolls' House,  at the House of Illustration in King's Cross. The exhibition showcases Child's recently completed dolls' house, alongside original sets made for the illustrated book with three-dimensional miniature sets, The Princess and the Pea.
MUD FUN WITH  BOW BEASTIES, TOWER HAMLETS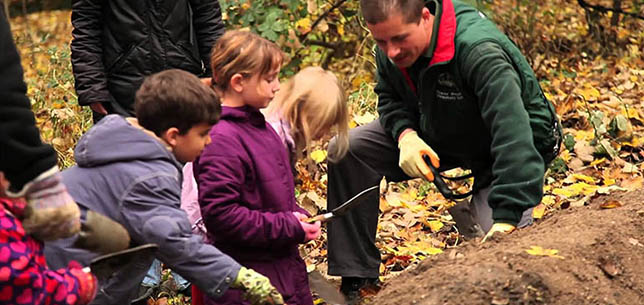 Bow Beasties is Tower Hamlets Cemetery Park wildlife watch club for all of the family to enjoy! The Park, with its ponds, flower rich woodlands and meadows is now a designated Local Nature Reserve and a Site of Metropolitan Importance for Nature Conservation.
Join Bow Beasties Ken and Zoe (along with their two children, and dog Quinn) for an exciting range of activities, all of which take place within the fabulous resource of the Cemetery Park. This Saturday it's all about mud! Mud kitchen fun and leaf art are on the agenda so you're asked bring along old kitchen utensils and pots and pans.  It's gonna get mucky, so a change of clothes and waterproofs is highly recommended. Bow Beasties happens every 3rd Saturday of the month (except for August). It's FREE and there is no need to book (unless otherwise stated).
When: Saturday 21st November, 10.30am – 12.30pm
Where: Tower Hamlets Cemetery Park (meet at Soanes Centre)
Age: Families
Cost: Free
LittleBird's Top Tip: If you fancy spending the whole day out in the fresh air you're not far from Mile End Park, and there's plenty to do, see and enjoy including an Ecology Park and Pavilion, the Arts Park and Pavilion plus a playground, climbing wall and skate park. You can walk through Mile End Park and end up in Victoria Park – soon to be home to Winterville – from 26th Nov you'll be able to ice skate, go to the circus, funfair, panto, play crazy golf, watch a film or simply soak up the festive atmosphere – it's free entry.
SYON PARK'S ENCHANTED WOODLAND, BRENTFORD – SAVE 50% WITH LITTLEBIRD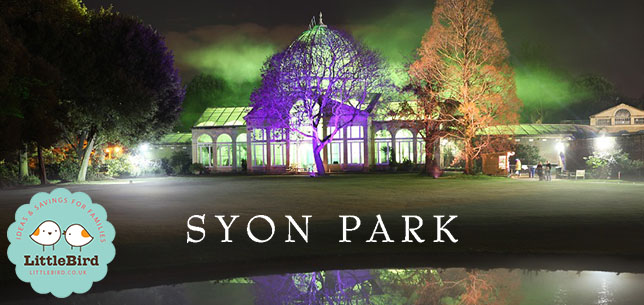 2015 is the 10th anniversary of Syon Park's Enchanted Woodland walk. Wrap up warm and enjoy this magical and festive experience as you follow the illuminated trail through Capability Brown gardens and the historic arboretum, round the ornamental lake ending at the Great Conservatory where a spectacular finale of music and light await. Listen carefully… which one of you will hear the laughter of fairies first?  Find the tiny lanterns, wonderful colours & sounds and oooh and ahhh at the beautiful lighting effects twinkling around the park. Warming drinks as well as a BBQ are on hand to enjoy before or after your enchanted woodland walk.
When: Friday's, Saturday's & Sunday until 6th December, doors open 5pm with LittleBird savings on Friday 20th & Sunday 22nd Nov
Where: Syon Park, TW8 8JF
Age: Families
Cost: Adults £9, Children £3 – so book with LittleBird and go this Friday 20th & Sunday 22nd and save 50%
LittleBird's Top Tip: The London Museum of Water & Steam isn't far and this December you can save 43% with LittleBird and enjoy a traditional Victorian Christmas with arts & crafts, carol singers, a Christmas trail and of course the main man himself – Santa!
BADDIES: THE MUSICAL AT THE UNICORN THEATRE, LONDON BRIDGE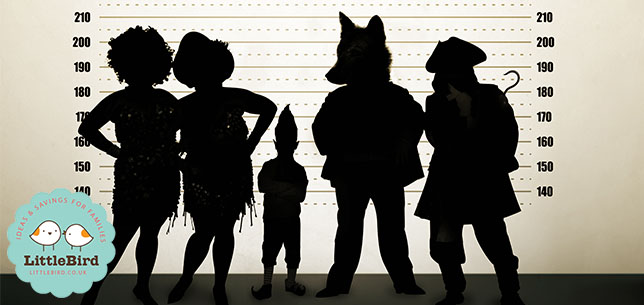 So you think being bad is wrong? Think again…. Baddies: The Musical at the Unicorn asks you to reconsider. The Big Bad Wolf's in serious trouble – he's been ripped from his story and thrown in jail for being too good at being bad! How are you supposed to tell who the good guys are when there are no baddies around? This Christmas, someone's decided to change the fairytale rulebook and no-one seems to know why. Step into the lives of everyone's favourite villainous characters and find out….
If you go this weekend, look out for the Unicorn's Up Club crafty fairytale-inspired workshop after this Saturday's (21st) matinee performance. This event is part of UP Club+, tickets are £8 and booking is advisable. To see what fun has been had before at the Up Club, check out the Up Club blog here.
When: until 24th December with LittleBird savings on performances on 21st & 22nd Nov
Where: Unicorn Theatre, SE1 2HZ
Age: 6+
Cost: Tickets from £16 but book with LittleBird for 21st & 22nd Nov and save 35%
LittleBird's Top Tip: The Unicorn is set back from the Thames so you're a hop, skip and a jump from the Scoop and HMS Belfast – enjoy LittleBird's FREE voucher for 25% off family tickets. Tower Bridge is to your right and the Tower of London across the river. Lots of eateries too including Leon and Strada.  A great place to spend the whole day with plenty to do, see, eat and enjoy!
DRESSED BY ANGELS AT THE OLD TRUMAN BREWERY, BRICK LANE  – SAVE 27% WITH LITTLEBIRD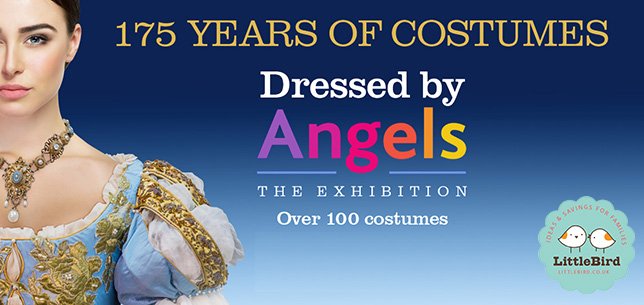 Head to the Old Truman Brewery and take a peek at the new exhibition Dressed by Angels – showcasing 175 years' worth of costumes from film, TV & theatre from Angel Costumes. Over 100 costumes have been selected from Angel's illustrious back catalogue offering you and the kids a chance to see costumes made for such screen legends including Fred Astaire, Noel Coward, Laurence Olivier, Tom Baker, Judi Dench and Meryl Streep.
Iconic TV costumes such as Doctor Who, Dad's Army and Only Fools and Horses are displayed and  as well as major films including Elizabeth, Star Wars, Cleopatra and Chitty Chitty Bang Bang. Even West End theatre is featured with Wicked and Wolf Hall highlighting modern stage production costumes.  The exhibition includes photographs, letters and artefacts that provide history as well as personalising the costumes,  offering an insight into showbiz history.
When: until 3rd January 2016 with LittleBird savings on until 29th  Nov – weekends only
Where: Old Truman Brewery, E1 6QR
Age: Families
Cost: Tickets from £10.80 but book with LittleBird for weekends in Nov and save 27%
LittleBird's Top Tip: The Old Truman Brewery is just off  Brick Lane, so why not arrive early and enjoy a Nutella bagel from Beigel Bake before the exhibition or head over to Rich Mix and catch the Kids Cine Time – at £1.75 it's great value and Boxtrolls is playing this weekend.
ROALD DAHL'S THE GIRAFFE AND THE PELLY AND ME AT LITTLE ANGEL THEATRE, ISLINGTON
One of Roald Dahl's lesser known books, The Giraffe and The Pelly and Me is presented this Christmas as a musical spectacular by the wonderful Little Angel Theatre. Magically brought to life by the creative team behind Little Angel show stoppers including 'Fantastic Mr Fox' and 'The Mouse Queen', The Giraffe and The Pelly and Me is the story about a young boy who befriends a Giraffe, a Pelican (or "Pelly") and a Monkey. Take the kids and join them on their unexpected adventures when these unlikely friends create the 'Ladderless Window Cleaning Company'.
If you can't make this weekend,  a unique experience awaits on Saturday 12th December. A Family Gala Performance is planned where the kids have the chance to meet the puppets and explore backstage at Little Angel Theatre.
When: until 31st January 2016
Where: Little Angel Theatre, N1 2DN
Age: 4 – 11 but children can be admitted from age 3
Cost: Tickets from £12 and note, if you can go on a Friday at 5pm, all tickets are only £5.
LittleBird's Top Tip: If you're kids are Roald Dahl fans, enjoy 50% off these Roald Dahl activity sets; perfect stocking fillers this Christmas!